Top 8 Poker Hand Calculators – Best tools for measuring hand equity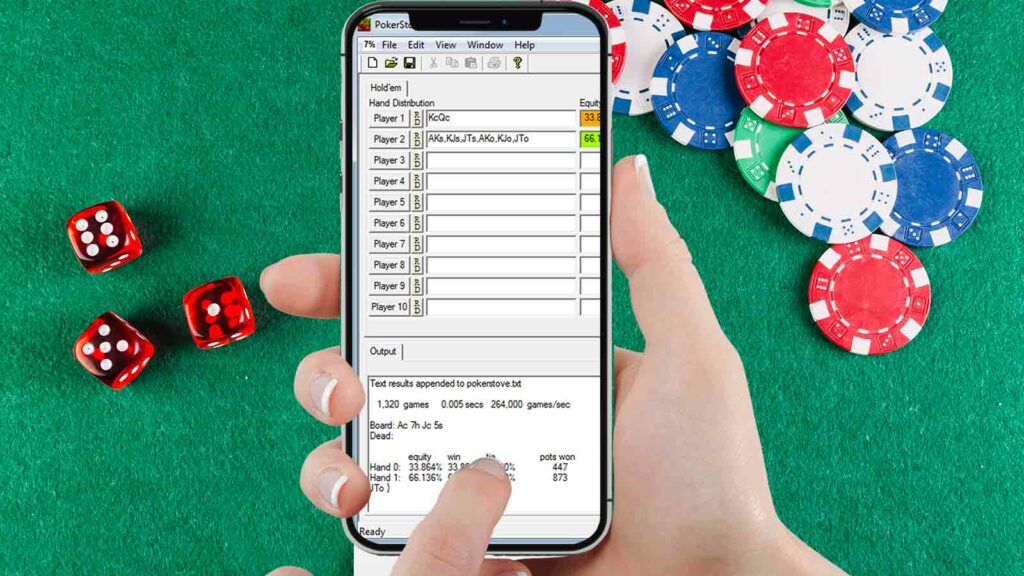 Poker hand calculator is a handy tool used by professional players for improving their strategy and figuring out the best possible outcome. In essence, a hand calculator is a software that allows you to figure out your equity against your opponent's actual hand or ranges of hands. Equity can be used to make better decisions during the preflop and post-flop rounds.
Therefore, knowing how to calculate your equity can be very beneficial, and it represents a crucial part of a successful poker strategy. Using a poker hand calculator in real-time is nearly impossible due to the dynamics of the game. Fortunately, with enough off table practice, you will build up your intuition when estimating your equities during a real poker match.
How to use a poker hand calculator?
Nowadays, any poker enthusiast with a stable internet connection and enough motivation can quickly gain access to an advanced hand calculator within minutes. If you're a complete beginner with poker, the software might seem overly complicated at first. Still, once you understand the concepts behind it, you will start noticing patterns and new ways of playing.
In simple terms, a poker hand calculator allows you to select the variation you're playing and the other cards that are in play. Once you've configured these parameters, the software will calculate your odds and hand equity. This program simulates a real poker hand, so using it will give you an edge over your opponents. Using it will improve your decision-making process and help you avoid crucial mistakes.
There are hundreds of equity calculators available online, but not all of them are free or beginner-friendly. Let's have a look at the best poker hand calculator available on the market:
Equilab (Free)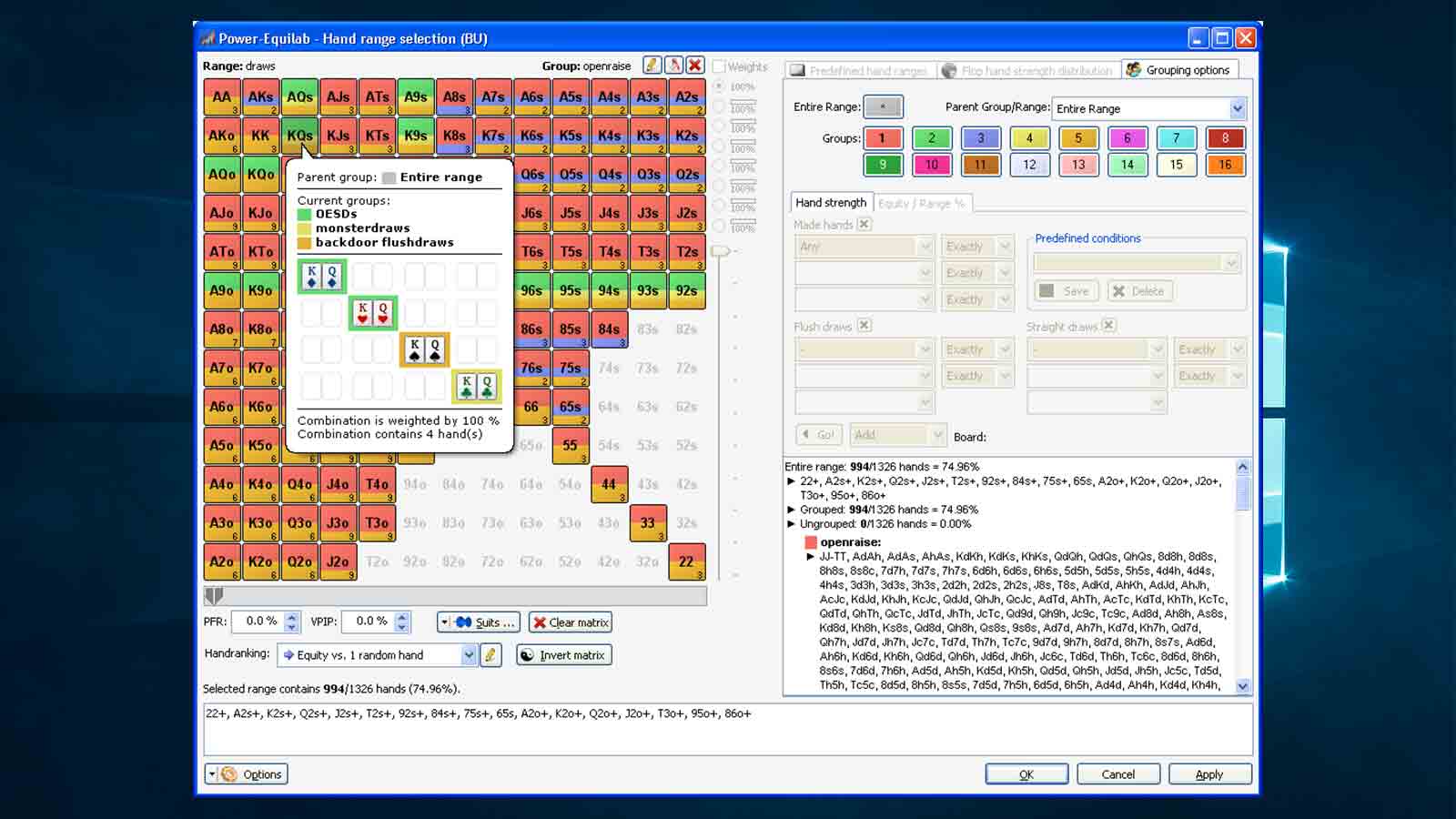 Equilab is the staple poker hand calculator, developed by PokerStrategy. The software has been endorsed by many pro players, including Daniel Negreanu. He considers Equilab a must-have tool for any amateur player that wants to improve their skill level.
Using the software is a piece of cake. All you have to do is input your hand and your opponents' ranges or hands. Once you've set up the simulation, click on the "Evaluate" button, and the program will compute your hand equity.
In addition to the equity calculator, Equilab offers a wide range of statistical tools, including board texture analysis and equity quizzes, that will improve your ability to calculate your poker odds in real-time. The only downside of this app is the outdated user interface, which might seem a little confusing at first.
After trying out this software, we've concluded that Equilab is the most complex poker calculator available for free. If you want to hone your skills, make sure you test it and see if you get better results with your poker games.
Pokerstove (Free)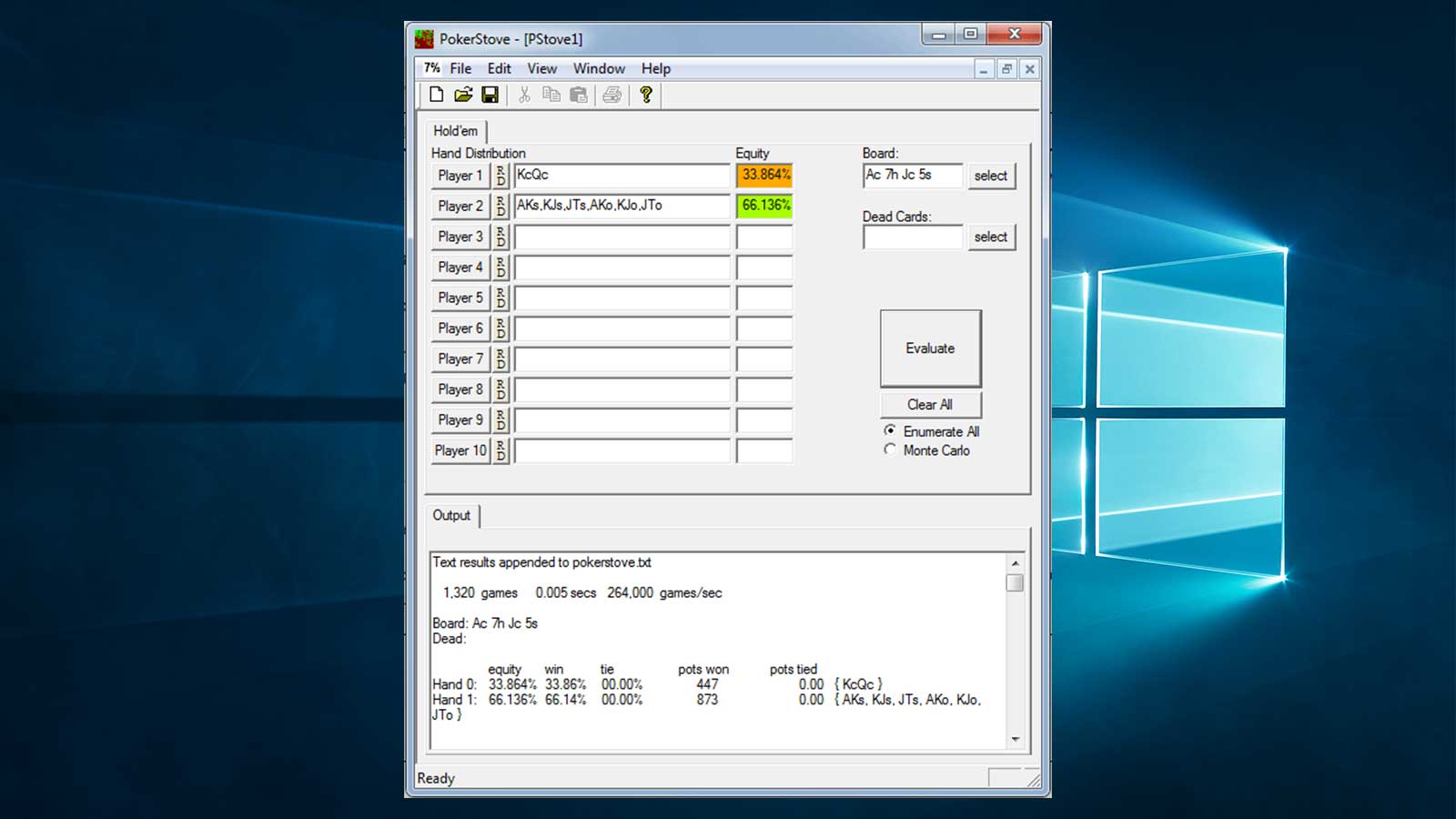 Released over a decade ago, Pokerstove is a highly accurate poker hand calculator that can be downloaded for free. To use the tool, you will have to plug in hands, percentages, or ranges for you and your opponents and let the program work its magic.
Despite having an out-of-date interface, Pokerstove's user experience is highly intuitive, and even those that are less experienced with this type of software will easily navigate through the app's function. This software is an excellent choice for any amateur poker player that wants to learn more about odds and ranges. However, it lacks more advanced features like hand simulations.
We've tested Pokerstove, and the results were promising. After using it for a while, we've managed to improve our long-term gameplay. As you might already know, winning a poker hand might be rewarding, but your goal is to win the war, not the battle. Therefore, using this software can be very beneficial for your overall strategy in the long-run.
Ace Poker Drills (Freemium)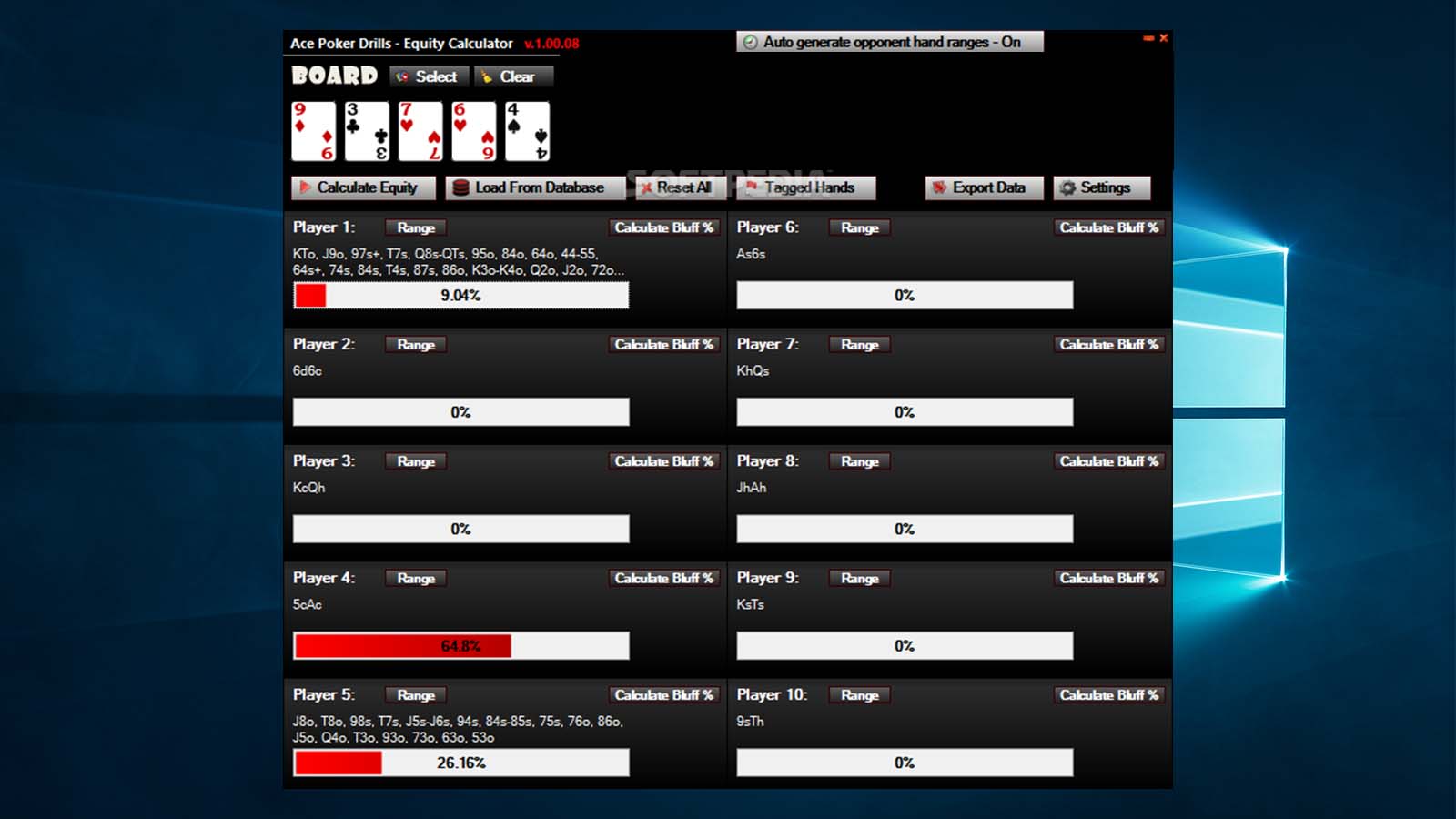 Ace Poker Drills is a great poker software provider that has a variety of tools, like poker odds and outs trainer, preflop training, and equity calculator. Their poker hand calculator is intuitive and straightforward, which makes it an ideal choice for beginners and small stakes players.
What makes Ace Poker Drills unique is the fact that it puts you in preflop or post-flop situations in a poker quiz-like format, offering you feedback on how to improve your decision-making process. Additionally, this software teaches you how to count outs and convert them to odds.
This tool allows you to keep track of your progress and improve your long-term strategy by analyzing the charts it creates based on the decisions you make. Ace Poker Drills is the only software that offers these advanced features and a complex poker hand calculator. Many experts think the poker tools provided by this developer are the best on the market.
The software has a free version, but if you want to use it at its full capacity, you will have to purchase the complete package for £24.99. We've tested the paid version of Ace Poker Drills, and the results are excellent. Not only will you be able to calculate your outs and convert them to odds, but you will also learn a lot from your mistakes by using their quiz system.
Pokerini (Free)
If you're looking for an easy to use poker hand equity calculator that allows you to change and compare scenarios instantly, Pokerini is an ideal choice. The great thing about this software is that it can be configured for most variations of poker, including Hold'Em, Omaha, 7 Stud, and Razz.
Pokerini poker hand calculator is free, but it is only available on Windows. By using this software, you will learn how a small change can affect your hand strength and evaluate your hand equity, both pre and post-flop.
Whenever you specify a starting range for your hand, the starting hands will be ranked according to the range criterion you've selected. The ranking is relative, and it highly depends on various factors, including how many opponents you're facing and how aggressive your opponents play. Play around with these criteria, and you will eventually configure the tool to your playstyle.
If you want to use a more versatile poker hand calculator, Pokerini is an ideal choice that allows customization. This feature is excellent, especially for a more advanced player, because you can configure the calculator to fit your style.
HandCombos (Free)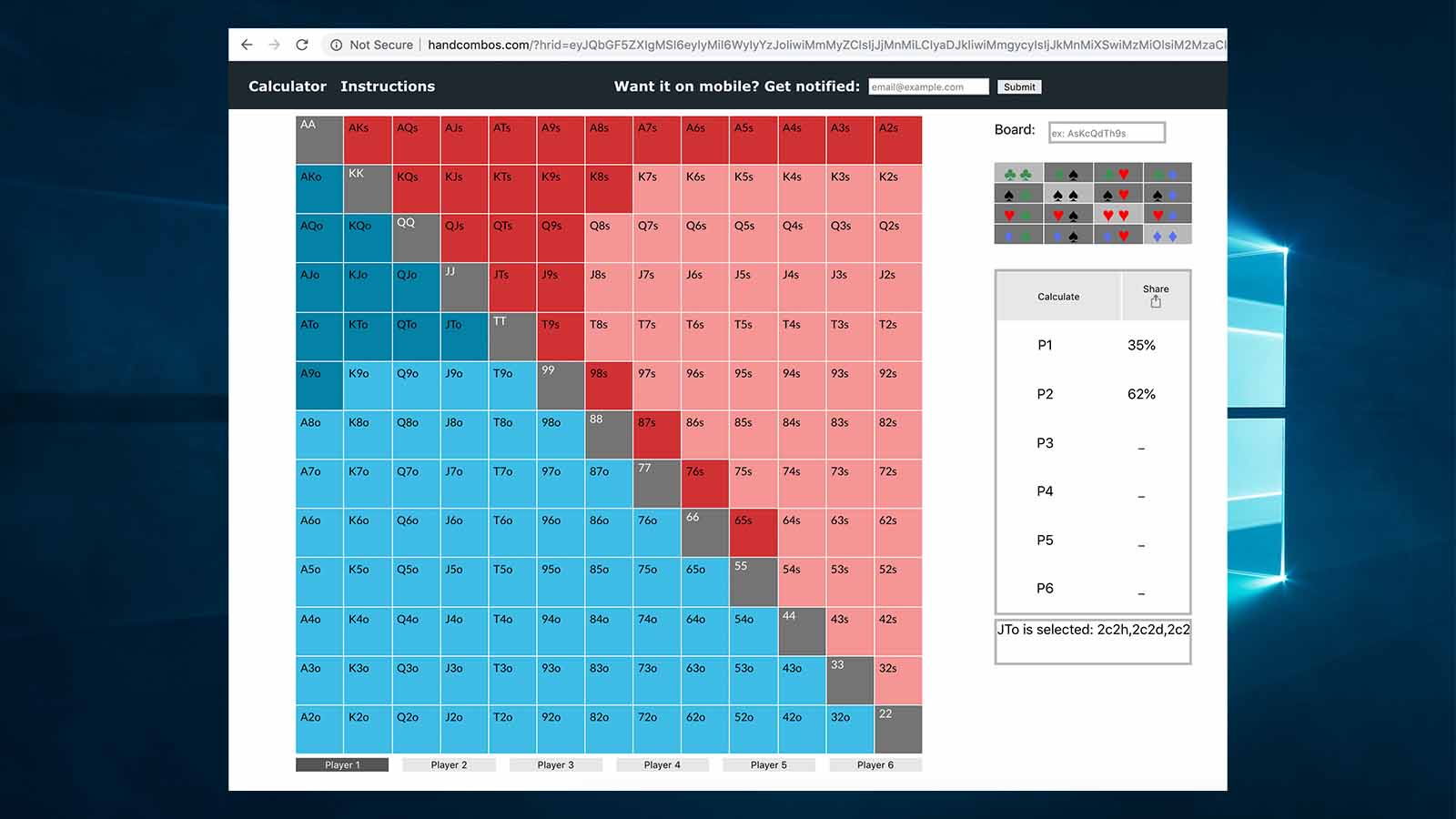 HandCombos is a free browser-based equity calculator that allows you to calculate your odds straight from your browser. If you don't have time or don't want to download any additional software, navigate to the HandCombos official webpage and plug in the hands or range of hands. The tool will instantly compute your equity, which will allow you to learn from your previous mistakes and improve your poker skills.
We tried HandCombos, and the results were better than expected. The fluid interface allows anyone to quickly configure the poker hand calculator and get results within seconds!
Poker Cruncher ( Freemium)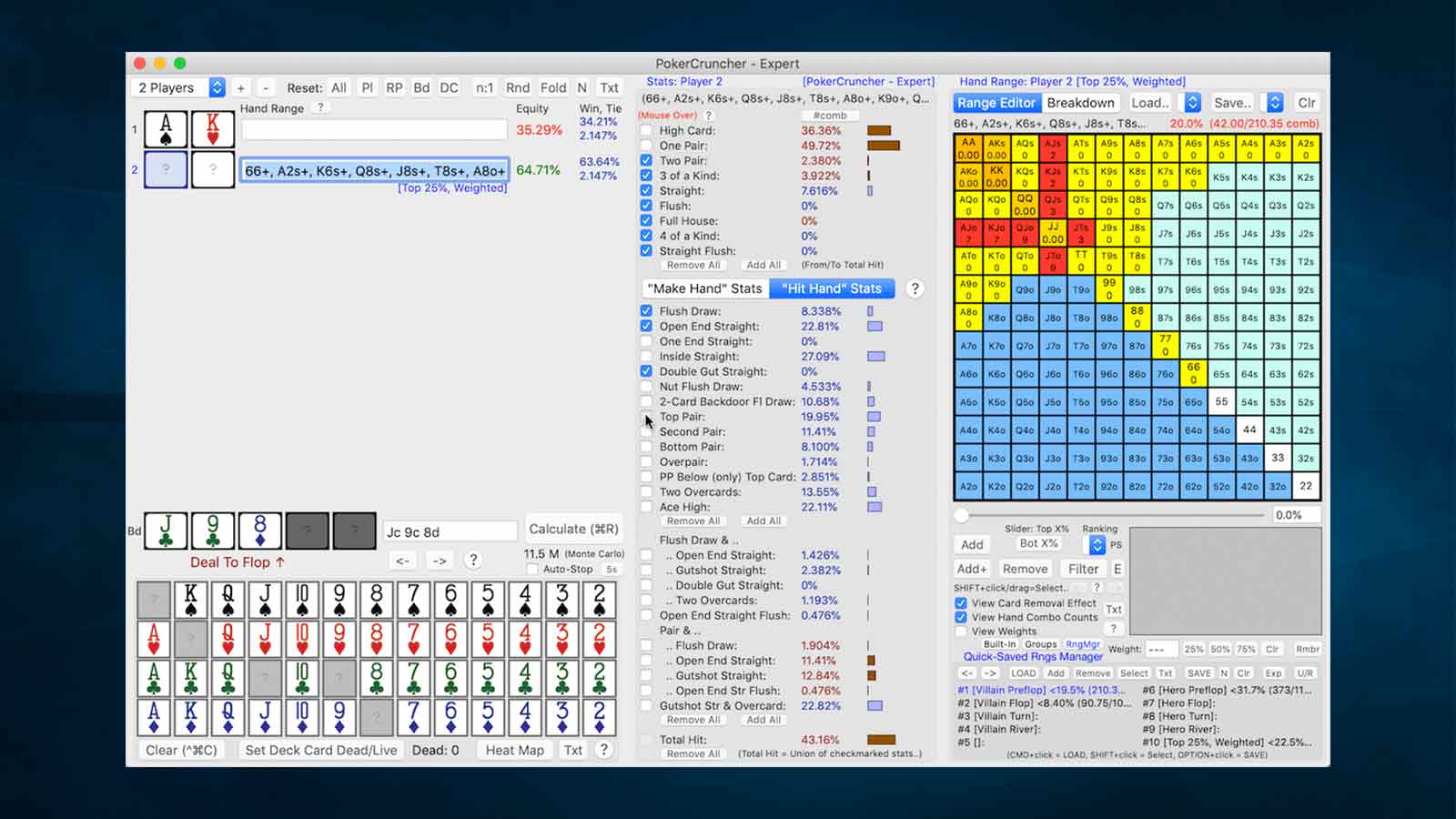 Poker Cruncher has three versions available – free, £12.99, or £20.99. While the free version isn't as advanced as the paid version, it offers a facile way to calculate your preflop odds. The great advantage of Poker Cruncher is the fact that it is available on multiple platforms such as Windows, macOS, iOS, and Android.
The £12.99 version called Poker Cruncher Advanced offers range vs. range calculations, board texture statistics, and a wide variety of other helpful data, which will help you start thinking like a pro poker player.  If you want to get the most out of this powerful tool, you can purchase the £20.99 bundle, which includes Tournament Cruncher, Poker Odds Teacher, Hold'em Odds Quizzer, and Poker Cruncher Advanced.
 We've tested the Poker Cruncher Advanced version, and it's safe to say that this poker software developer has put in a lot of effort to deliver a high-quality product. The creators of this project are ex-professional players passionate about poker maths. They decided to develop this program to help amateur poker players join the action and improve their results by analyzing their plays and learning from their mistakes.
Flopzilla (£25)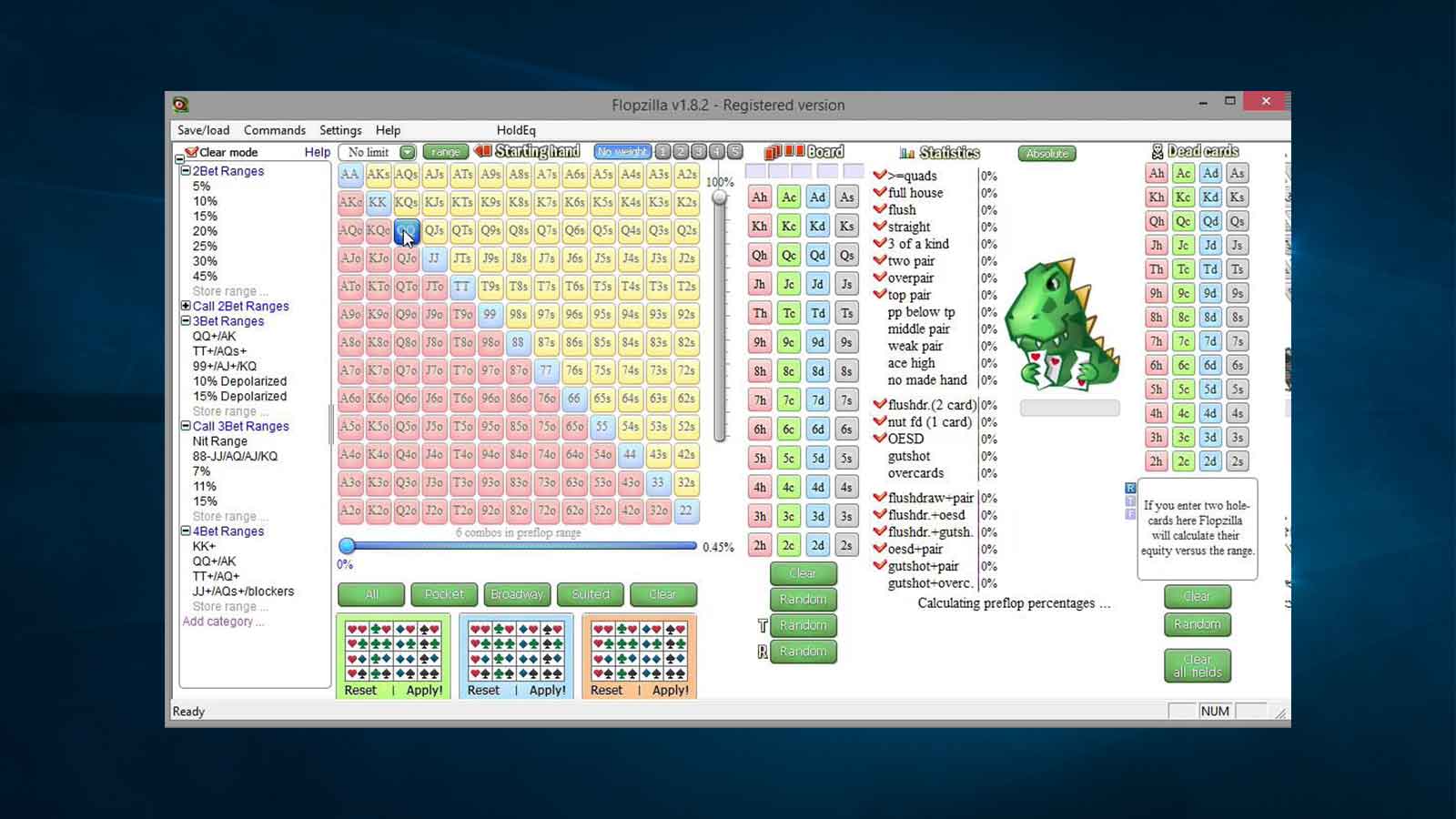 Flopzilla is by far the most advanced poker hand calculator on the market. This software was designed for players that want to figure out how a range will hit the board quickly. All you need to do is input your preflop range and aboard, and then just let the tool work out how often that range will hit hands like gutshot draw, flush draw, top pair, or middle pair.
The interface of Flopzilla is easy to navigate, and the calculations will occur so fast that they didn't even implement a "Calculate" button. Any changes made on the ranges will instantly update the result. Using Flopzilla will take you on a learning journey that will help you predict what your opponents might be up to when facing dry boards or dynamic textures.
If you want to expand your knowledge beyond the preflop round, the software has a quick and easy-to-use filter that allows you to remove hands from the range. The hands that you want filtered out will be grayed out in the matrix, and you will see the number of combos left for each starting hand.
While Flopzilla comes with a price tag of £25, it is worth it. The software is superior to any simple poker hand calculator, as it has various statistical analysis tools that will allow you to improve your gameplay and get notable results.
PokerRanger (£79)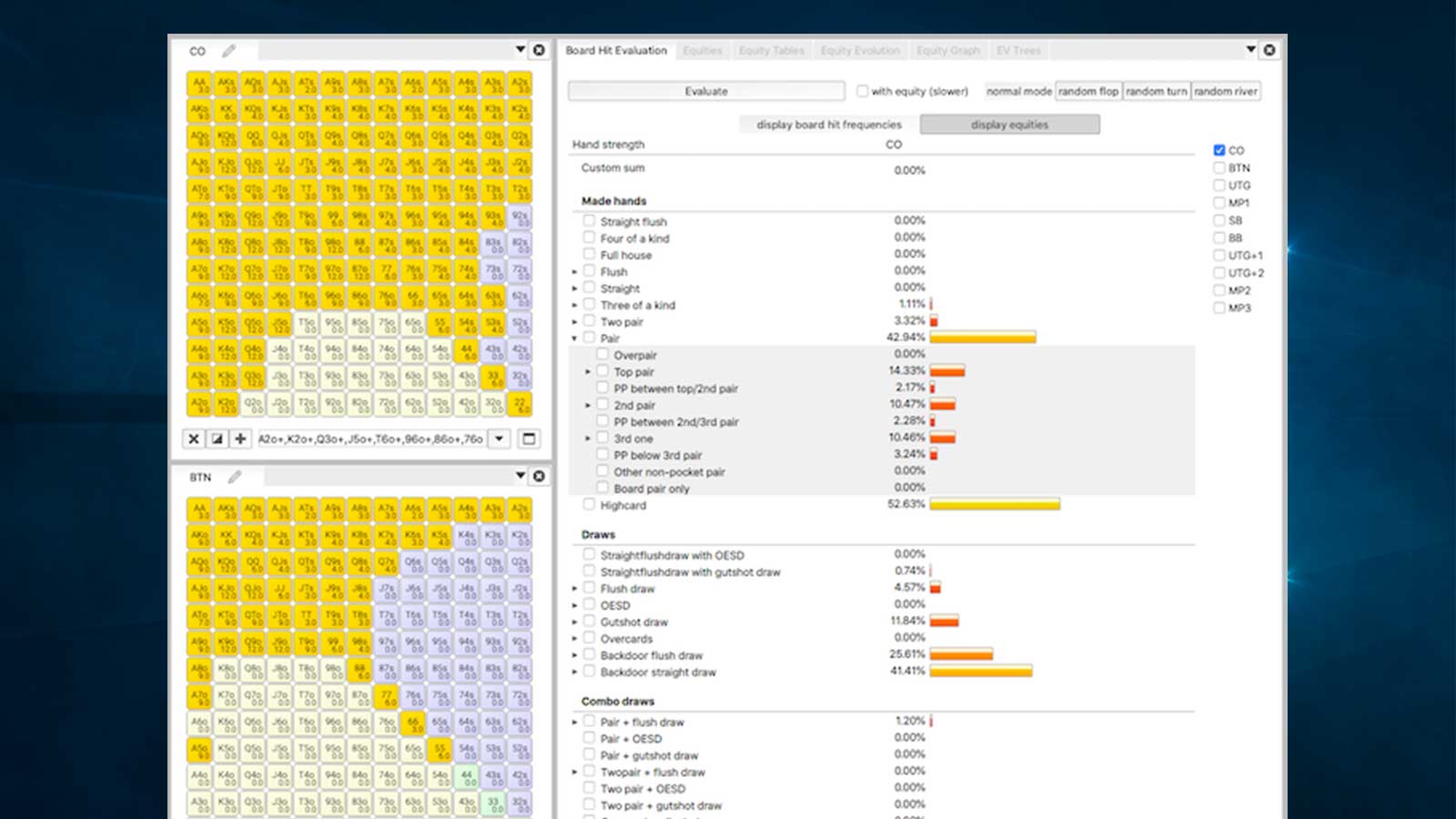 PokerRanger is a comprehensive poker analysis tool that will help you grow as a player if you're using it regularly. Keep in mind that this software costs £79. Still, if money isn't an issue, you can grab it and improve your knowledge of ranging, hand combos, board textures, and expected value.
Using PokerRanger allows you to calculate the equity of each hand, analyze different lines like bet/call or bet/raise and learn how often a specific hand will win. The advantage of paid software is that it has a more fluid user interface. For instance, the equity table allows you to analyze a heatmap version of the ranges matrix, which is a great way to understand how it works.
After playing around with PokerRanger for a while, we've concluded that it is the best software for training your equity evaluation skills. With the equity trainer, you will get near-perfect equity estimates against one or two opposing ranges.
The bottom line
Poker is a complex game that takes time and skill to master. From learning basic mathematical concepts to analyzing advanced statistics and making hand predictions, you will need to train your brain regularly if you want to think like a pro. Using an advanced poker hand calculator will allow you to develop your poker mindset. Once you're familiar with calculating ranges, odds, and equity, your opponents will stand no chance against you.
Before you join a poker table or visit an online UK casino, download one of the equity calculators mentioned above and run some simulations. This training will allow you to make better decisions and win more in the long-run. Good luck!