Maxims Club London Casino Review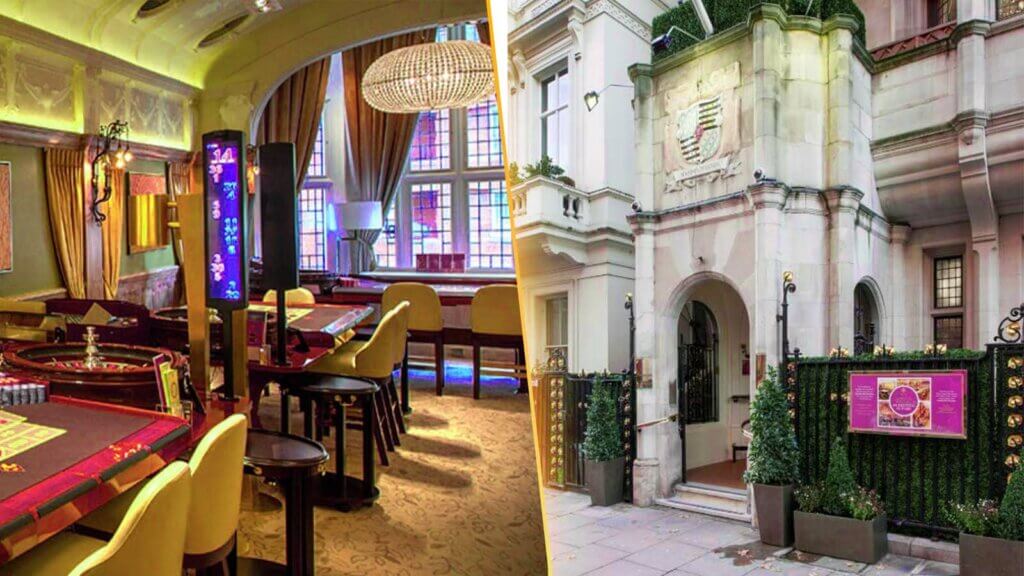 Maxims Club Casino, initially known as the Palace Gate House, is a luxurious casino in London. Read on to learn what our experts learned during their visit!
Maxims Club Casino ratings
| | |
| --- | --- |
| Overall Rating | 3.66/5 |
| Slot Machines | 2/5 |
| Casino Games | 4/5 |
| Staff & Service | 4/5 |
| Loyalty & Rewards | 3/5 |
| Casino Atmosphere | 4/5 |
| House Rules | 3.5/5 |
| Players Feedback | 3.8/5 |
| Operator | 5/5 |
Rating process for Maxims Club casino
Our casino bonus experts have developed a thorough rating process to help players find the best casino venues. The rating criteria consider various factors contributing to a player's overall gaming experience.
These factors include game variety, amenities, venue design, service, entertainment and overall atmosphere.
By evaluating each casino based on these criteria, KingCasinoBonus ensures that players can access reliable and trustworthy information to make informed decisions when visiting UK-based casinos.
How we inspected Maxims Club casino
Date of visit: 11/16/2022

Time of visit: 14h – 16h

Initial bankroll: £200

What we played: Poker

Final bankroll: £0

Next visit: 05/20/2023
What we looked at
After a personal visit to the Maxims Club Casino and spending actual money, we can give you an in-depth and hands-on review of our local UK casinos. We take your level of satisfaction seriously, so we comprehensively evaluate the operating company owner and past user experiences before finalising any budget or recommending a visit to the establishment.
Our experts devote themselves to providing in-depth analysis of all criteria that would interest all players. Our ratings follow a strict review system that reflects the quality of services provided by Maxims Club Casino.
After visiting the casino, we apply a rigorous set of objective criteria to evaluate the casino's features and game selection and employ subjective methods to gauge the quality of the house rules.
What we found
| | |
| --- | --- |
| Address | 1a Palace Gates Rd, Palace Gate, South Kensington, London W8 5LS, UK |
| Open hours | 24/7 |
| Membership | Not Required (only for casino area) |
| Minimum age | 18 |
| ID checks | Yes for non-members |
| Game types | Poker, Blackjack, Roulette |
| Tables | 7 |
| Slot machines | None |
| Gaming terminals | None |
| Payment | Cash, Card, Chips |
| Average betting range | £20 – £5000 |
| Free drinks | No |
| Restaurant | Yes |
| Hotel | No |
| Poker tournaments (UK) | Private events can be arranged |
Slot machines – 2/5
The gentleman's club, Maxims Casino, does not host any slot machines in the venue and probably was not designed with that in mind. The casino mainly focuses on table games made for mid to high-range players. There are dedicated rooms for this purpose which adds to the exclusiveness of the venue.
How many slot machines does Maxims Club casino have?
There are currently no slot machines or electronic terminals in the venue. This might change in the future.
Do the slot machines accept coins?
If there were slot machines, they would work with betting slips or membership cards. Both of these would be managed at the reception.
Slot machine providers
The casino currently hosts no slot machine provider games.
Local progressive jackpots
There are no slots, as mentioned before; this includes any jackpot. This is because most table games are already played from mid to high stakes, with maximum bets of up to £10,000. Winning a bet like that will leave you with a hefty sum of money.
Casino games – 4/5
When you arrive at the casino door, you will notice the plaque which reads 'Maxima Petenda'. This is Latin and roughly translates to 'The Best Thereof' and gives a good impression of what to expect before you enter.
The casino has been styled for vintage gamblers that like an excluded area to let lose their skills on the table. All of the most famous movies were inspired by table games (with slot machines being second to that).
Roulette tables, Blackjack tables and Poker tables are found in the designated rooms of Maxims Club casino. Feel free to drink while you play; these sections are spacious, comfortable and decked out with high-end decor for that classy finish.
Game types
Roulette: 3 tables

Blackjack: 2 tables

Poker: 2 tables
Betting limits
| Game | Minimum bet | Maximum bet |
| --- | --- | --- |
| Roulette | £1 | £1,500 |
| Blackjack | £10 | £10,000 |
| Poker | £10 | £2500 |
Can anyone bet the highest limits?
That depends on your bankroll and play style. Maxims Club casino offers mid to high-range gambling with a designated room for VIP players.
Maxims Club casino poker tournaments
There are no tournaments at Maxims Club Casino. However, accommodations for this can be made. You must contact the casino to make reservations if you have a social gathering that would like a spectacular poker, blackjack or roulette event.
Staff & service – 4/5
Located on the lower floor of the casino, the restaurant and staff make everyone feel like a celebrity.
You do not need to be a member to partake in the food and drinks; the only check is that you must be of legal age. Basking in the exquisite decor, you are pampered with comfortable seating at your table. The waiter is prompt and friendly as they take your order while conversing.
The menu is divided into three cuisines; Asian, European and Middle Eastern-inspired dishes. While it might seem odd for the restaurant to take on so much variation considering its size, rest assured that the meals and drinks are superb and of high quality.
Food & drinks
The restaurant at Maxims Club Casino operates every week from 7 pm to 3 am. If you feel like relaxing with a drink, you will find the Whiskey Lounge Bar on the same floor as the dining area. The bar features over 120 exquisite whiskeys worldwide and fine wines, spirits and cocktails. Drinks are relatively well priced, as is the food.
In the dining area, you get to choose from delicious starters such as the Seared Scallops with Crispy Chorizo and Pea Purée for £14, mains like the Szechuan Prawns with green and red peppers and water chestnuts in chilli sauce for £22 and delectable desserts like the Classic Chocolate Fondant.
The waiters ensure you are well looked after, creating a pleasant atmosphere that compliments the food and drinks that come with it.
How much do you tip at Maxims Club casino?
Adhering to standard etiquette is essential when tipping at Maxim's Casino in London. Generally, it's customary to tip around 10-15% of your winnings to the dealer and any other staff who have provided exceptional service. However, if you've had a particularly unlucky night and haven't won anything, there's no obligation to tip.
Does Maxims Club Casino offer free drinks?
No complimentary drinks are offered, mainly because of the size and exclusiveness of the establishment. Professionals prepare all food and beverages, so having something like free drinks would cheapen the experience.
Is there a buffet at Maxims Club Casino?
Maxims Club Casino does not offer any buffet events. The establishment is suited for fine dining, where each meal is crafted with high-quality ingredients and professional chefs. If you would like a buffet-styled private event, it could be arranged by contacting the casino.
Parking
Parking is available outside the venue. However, there won't always be spots available. The nearest alternative area to park in is the Royal Garden Hotel.
Prices are £12 for every 2 hours spent, and the location holds 140 spots to park in. The place is 9 minutes away on foot; you can also contact the hotel to reserve a spot before coming.
Accommodation
Accommodation isn't offered at Maxims Club Casino because no rooms or spaces are available. For lodging options, the closest place would be the Royal Garden Hotel.
The 5-star luxury hotel boasts a staggering 395 rooms and 17 suites. They offer a fantastic Chinese restaurant to dine in and a health club to keep in shape. For two adults, the cost starts at around £260 per night.
Do you tip room service at Maxims Club Casino?
There is no accommodation to do any tipping at the casino. For the closest option, which is 9 minutes away on foot, the 5-star Royal Garden Hotel is known as a sophisticated lodging facility. Tips are expected for the services provided by staff.
Are there smoking areas?
Smoking is not permitted within the casino or dining area. As stated in the UK ban, smoking is prohibited around enclosed areas. You will have to take one outside the venue.
Security
Security operates around the clock since the venue is open all hours of the day and every day of the week.
The doorman checks that no persons under the legal age possessing unusual items or harmful objects may enter. Besides the CCTV cameras placed carefully, the casino section only allows members to use their specialised rooms.
Since plenty of high rollers frequent the venue, this is done as an added layer of protection.
Loyalty & rewards – 3/5
The casino does not operate on a loyalty program. The reward is part of an exclusive group, an exquisite club for members enjoying fine dining and high-end table game facilities. It's simple for anyone of legal age to join; all you need to do is have your ID ready and head to reception.
Maxims Club casino is not meant to have any reward scheme since this would dampen the posh exterior it tries to portray.
How does the Maxims Club casino rewards program work?
It's doubtful that the casino will ever have those incentives. This kind of rule is also determined by the company that owns it. Since its inception, there has not been a sign of any reward system.
This could only happen if a significant transformation occurs within the building, turning all parts into a fully-fledged casino with slot machines included.
What you get
During our visit, we have not succeeded to gather data regarding this aspect.
How to claim rewards/ How to register in the program
Unfortunately, we do not hold information on this matter.
Casino atmosphere – 4/5
Maxims Club Casino is known for its luxurious and sophisticated atmosphere. From the moment you step inside, you'll be transported to a world of luxury and elegance at this exclusive venue.
The decor is tastefully done with plush furnishings, intricately placed chandeliers and beautiful artwork adorning the walls. The dim lighting adds to the allure of the casino, creating an intimate and exclusive ambience.
Their staff are friendly and attentive, catering to your every need, and the gaming options are high stakes, making for an exciting and thrilling experience.
Besides the casino's luxurious eating options, visitors will find the surrounding area bustling with activity and plenty of restaurants, bars and other amenities well within distance. Maxims Club Casino is another London casino that provides an unforgettable atmosphere for a night of entertainment.
View from the inside
Design experience
Maxims Club Casino offers a luxurious gaming experience like no other. The casino's design is a testament to its commitment to luxury, elegant decor and attention to detail. It possesses a design experience that exudes sophistication in every detail.
The attention to detail is evident in every corner, while the casino offers a seamless blend of classic and modern design elements, making it a visual feast for the eyes. Every inch of casino space is designed in a way that makes you feel like you're in a high-end establishment.
Are you allowed to take photos in Maxims Club Casino?
Photos are only allowed within the restaurant area. Any other places, such as the casino rooms, are strictly forbidden. This is done for the safety and security of all members.
Location and surroundings
Surrounded by lush trees and greenery, Maxims Club casino sits in a snug area accompanied by buildings that have sophisticated architecture such as itself. While much has changed since the Victorian-styled venue was built in the 1860s, the area is still home to big spenders with the Royal Garden Hotel in mind.
Do you need a passport to go to Maxims Club casino?
If you do not have an ID, then a passport can be used as an alternative to enter or register with the casino.
Events
The casino hosts no events. It has continuously operated this way. However, the casino does encourage patrons and members to contact them if they would like to arrange something special. This could be a private event with table games or a buffet can be set with the restaurant.
The venue allows you to mix dishes, so there is quite a bit of arrangement flexibility.
House rules (T&Cs)- 3.5/5
The casino follows all the standard rules at a high-end venue. Tight security procedures ensure only patrons that fit the correct profile may enter. This means being of legal age, having no harmful or unusual objects, being well dressed and becoming a member if you want to partake in gambling.
You can reach the current owners (Sonco Group) through their contact numbers or email for a detailed breakdown of the terms and conditions.
When is Maxims Club casino open?
Maxims Club casino opens 24 hours a day, seven days a week.
Does Maxims Club casino charge an entry fee?
There is no fee to enter the restaurant or casino areas. All that is needed is the legal requirements to enter the premises.
Do you always need a reservation to play at Maxims Club casino?
No reservations are needed; however, it would be best to call beforehand if you are coming as a group during a busy period.
How to join Maxims Club casino
Joining as a member is a simple matter. Just make sure you have your ID, Drivers licence or passport, be of legal age and head to the reception area. Fill in all your details, and once your application has been accepted, you will be free to enter anytime.
Dress code
The dress code is smart casual, but looking inside makes you want to wear a classy suit or elegant dress. Anything that seems too simple or unnatural, such as clothes meant for the beach, baggy or don't fit the likeness of the casino, is not allowed.
Standout rules at Maxims Club casino
No cameras, laptops or unusual tech

Pictures can only be taken in the dining area with a mobile phone

No harassment in any form is allowed in the venue

Hygiene must be a top priority
Players feedback – 3.8/5
Patrons visit regularly and love to give feedback on their experiences. Restaurant and casino goers like to check out new places to explore and enjoy.
A considerable part that influences their decision is the ratings others have given on the place. This could be anything from the dining experience, service received, the atmosphere of the venue, or game offerings.
Maxims Club Casino player reviews
Google – 4.2/5
Barry Goldlist wrote:
"Beautiful casino. Fantastic food, wonderful atmosphere and amazing, attentive service by every staff we encountered".
Tripadvisor – 3.5/5
henryschoice wrote:
"This fantastic place for gambling AND FOOD gives a gambler all possibilities. You get fantastic specialities like European, Asian and Middle Eastern cuisines prepared by top chefs and a fantastic atmosphere. Never been disappointed, And the wine list and the service are exceptional".
Most common issues
The bets are high for new players

No slots or gaming terminals are available

Parking can be tricky
Operator – 5/5
Who owns Maxims Club Casino?
The Royal Borough of Kensington and Chelsea Council governs the casino. They regulate all aspects of the casino to ensure a safe gambling venue. The gambling company was previously owned by the Genting Group in 2019. Sonco Gaming bought it for £40 million.
Sonco Gaming Inc is currently listed on the stock market and hopes to use Maxims Club casino as a foothold into the UK market.
Other casinos by the same operator
Grey Eagle Resort Casino —Tsuut'ina, AB

Casino New Brunswick—Moncton, NB

Great Blue Heron Casino—Scugog, ON

River Cree Casino—Enoch, AB
Contact info
| | |
| --- | --- |
| Website | http://www.sonco.ca/index_files/Page366.htm |
| Email address | [email protected] |
| Telephone number | (902) 429-8200 |
| Other | None |
Who are the top competitors of Maxims Club Casino?
Maxims Club Casino vs Cromwell Mint Casino
Maxims club casino is an excellent venue with plenty of variety in drinks, food and gambling facilities that are pretty classy. If this doesn't suit your taste, the Cromwell Mint casino is a location that fits all kinds of play styles.
What is Cromwell Mint casino best recognised for?
The casino hosts many special events such as Bollywood Night, Win 1 Million Points and the Sunday Lunch.
Maxims Club Casino vs Gloucester Casino
If you think options are slim, look and find Gloucester Casino as another alternative to the classy location known as Maxims Club Casino. They are also open 24 hours a day and feature many great amenities.
What is Gloucester Casino best recognised for?
If you're playing slots, electronic roulette or table games between 3 pm and 4 pm, you can look forward to a complimentary afternoon tea served with cream and jam scones.
What sets Maxims Club Casino apart from its competitors?
The fantastic food, brilliant service and atmosphere are exceptional. Many casinos lack these features, especially when running a huge venue. Maxims Club casino has polished what it has to near perfection.
Pros and Cons
| Pros | Cons |
| --- | --- |
| High-end casino table games | No slot machines |
| Superb customer service | No loyalty programs |
| Delicious and elegant dining options | No parking spots |
Is Maxims Club Casino your best place to play?
After thoroughly reviewing Maxims Club Casino, it has become clear that this establishment offers a luxurious and high-class gaming experience, similar to the one we have found during our previous visits to famous venues like the Aspers London Casino.
Maxims Club Casino boasts various games, including traditional table games with significant bet limits for high-stakes players. The game room has an exceptionally sophisticated atmosphere, and the staff is knowledgeable and friendly.
Guests are in for a treat as the restaurant and bar offer delicious food and drinks. Overall, Maxims Club Casino in London is a top-notch casino that will impress any gaming enthusiast.