Exclusive Interview With Dwight Yorke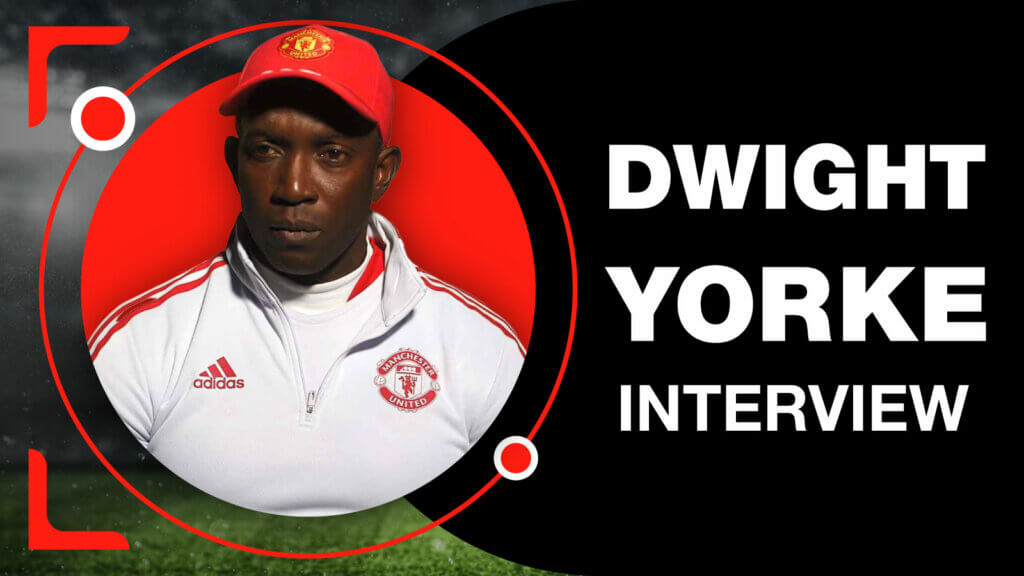 "Ten Hag needs to be called out for poor results and Man United need to learn how to win ugly, only De Bruyne makes it into my 1999 treble side – Haaland would have no chance of replacing me or Cole, Man City's potential treble should be an incentive for Man United to win FA Cup."
Erik ten Hag has now lost more games (9) than Ole Gunnar Solskjaer did in his two full seasons at Man United, 2019/20 (8) and 2020/21 (6), could this be an issue?
DY: "Erik ten Hag losing nine games in the Premier League does raise some issues. If you are a Manchester United manager, you will always be scrutinised for little details or mistakes. There's nowhere to hide. Ole Gunnar Solskjaer had a better record than Ten Hag in his full two seasons managing the club, people talk about the progress we've made and the better style of football being played.
Manchester United have reached the FA Cup final, won the Carabao Cup and made it far in the Europa League so that is progress, but Ten Hag losing more Premier League games than Solskjaer in the 2019/20 and 2020/21 seasons has to be called out. The results have not been good enough this season, Manchester United are looking over their shoulder and are desperately trying to hold onto fourth place, I'm not sure that's where the club wants to be.
You can't hide in these circumstances, the players and the manager alike need to be called out. Ten Hag gets the praise when the team is playing well, he has to take the criticism when it goes wrong too. The disappointing thing in my observation of these games is that Manchester United don't know how to win ugly, it always has to be a pretty game of football. We rarely win games 1-0, football is not about scoring loads of goals, it's about getting the results and rolling your sleeves up in certain games, like the West Ham game."
Choose one, would you rather stop Manchester City from winning the Treble by winning the FA Cup final or guarantee top four for Champions League football next season?
DY: "I'm going to be very biased and stop Manchester City from winning the treble so they can't join us. If Manchester City wins the treble, they're not surpassing the 1999 treble side, they're matching us, so I'm not too fussed if they do it. They will be joining a unique club with an elite group of players. Ideally, I'd like to keep the treble record a bit longer but records are there to be broken at the end of the day.
If Manchester City were going to break our record by winning the quadruple, then yes I'd make winning the FA Cup a priority and happily miss out on Champions League football if it meant stopping that. The threat of Manchester City winning the treble should be enough incentive for Manchester United to go out and win the FA Cup so they can protect our history."
Who can you see as a replacement to David de Gea? Any keeper caught your eye?
DY:  "I have not seen any outstanding goalkeepers that are far greater than David de Gea, so I wouldn't swap him for anyone at the moment, even with the mistakes he's made recently. I really don't think there are many better goalkeepers in the world than De Gea.
Is David Raya better than De Gea? I don't think so. Manchester United will be looking for a better player as well as a character who can come in and deal with the step-up of playing for Manchester United. Maybe Dean Henderson can do it, but I'm not so sure."
Who would you have in your Man United team out of this Man City team to make a possible ultimate English treble side? De Bruyne, Haaland, Rodri, Stones?
DY: "If there is anyone who has a really good chance to get in our 1999 treble side, then it's Kevin De Bruyne. You can't ignore what a quality player he is, but you have to figure out where he would start. But he's the only one, even as great as Erling Haaland is, we had a certain way to play up front. It's not about who can score more goals but about the style of the team and how it won the treble. I wouldn't say we lacked De Bruyne's qualities in the team because we had Paul Scholes, but he does have this deceptive explosiveness that I like.
I don't want to be critical because we were a great team. Kyle Walker wouldn't get in front of Gary Neville because of the way we played. I don't want to stir the pot, just deal with the facts. Walker would not get in ahead of Neville but he is a damn good player. John Stones wouldn't get anywhere near Jaap Stam or Ronny Johnsen. Haaland would not get into our team with the way we played, no chance. Why would you want to disrupt the link-up play me and Andy Cole had? Haaland may get 50 goals by himself but me and Cole got that combined with an added chemistry."
Gary Neville seemed confident that Man City will be seeing Arsenal's win against Newcastle as a big blow in the title race because they can't rotate their team against Everton, do you agree?
DY: "I'm sure Pep Guardiola would've liked Arsenal to get turned over at St James' Park but it wasn't meant to be. Realistically, Manchester City just need to win all their games, that should be their focus, not worrying about any other team but your next opponent. Yes, Manchester City won't be able to rotate as much against Everton because they need to win that, but they still have Phil Foden and Riyad Mahrez to come off the bench, they can seriously cause problems.
I'm not buying into what Gary [Neville] said about Arsenal's win against Newcastle being a blow to Manchester City, they've got enough quality in their team to continue their winning run. Manchester City won't be travelling slowly, they'll be in a private jet and coming home quickly to do lots of recoveries to be ready for the next game. I think Everton have no chance unless they put up a performance again like they did against Brighton."
Wayne Rooney has said this Man City team will destroy Real Madrid and will be up there with Man Utd treble side as the best English sides ever. Do you find his comments strange, especially as a United legend?
DY: "A team that has won the treble is better than a team that has won the double, so Manchester City this season could be better than Manchester United's 2008 side with Wayne Rooney, Cristiano Ronaldo and Carlos Tevez, it's simple as. People tend to try and compare the 2008 team with my 1999 team, there's no comparison.
Yes, they had world-class players who went on to win some of the best individual awards like the Ballon d'Or, but you have to judge a book by its cover. It's a flawless debate where people speak a load of spew, if Manchester City wins the treble, they are a better side than the 2008 side and join the 1999 team as they are the only sides to ever do it. You have to be realistic and push your ego to the side, Manchester City can be a part of an elite group.
If Manchester United's 1999 and 2008 teams played each other in a one-off game, it would be tight. But we beat them on statistics, we won the treble and they couldn't. From an individual standpoint, they had a couple of better players but that's it."
Jude Bellingham looks to have picked Real Madrid over Man City or Liverpool, is staying abroad the best decision for his career?
DY: "Jude Bellingham is only 19 and he's England's best midfielder. It's quite the turnaround to be a 17-year-old to go abroad and play for Borussia Dortmund and then become one of the best attacking midfielders in world football. Why would you not go to Real Madrid? Not many English players have managed that.
If it doesn't work out, then he'll have a lot of options back in England. To go and regularly play in the Santiago Bernabeu is quite an attraction, but not many players can make that transition. I think Bellingham can perform at whatever club he goes to."