Defining Bonus Abuse: How To Recognize It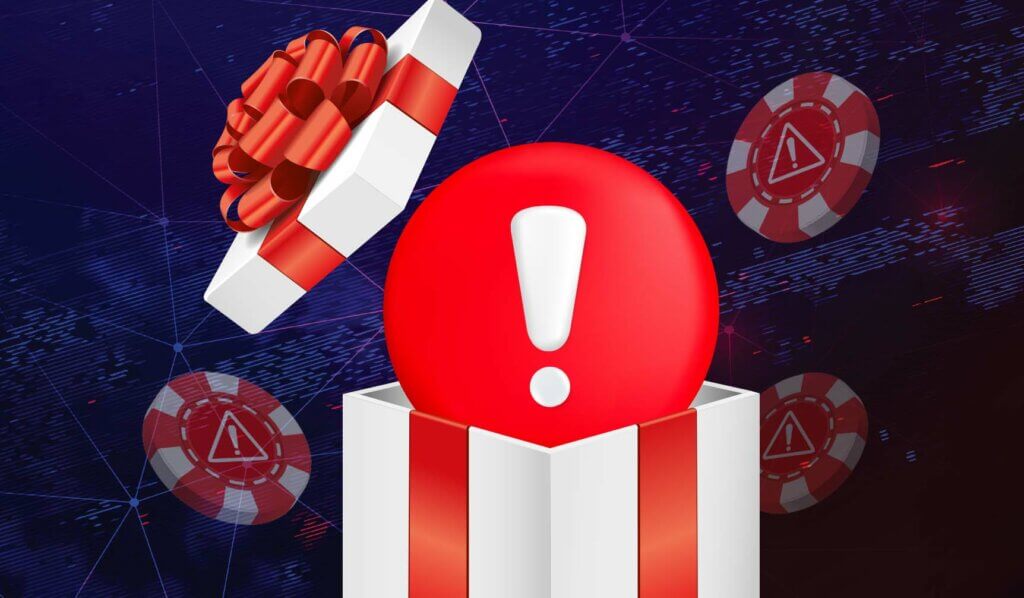 Online casinos are famous for their bonus offers, which players sometimes abuse. Read on to learn what casino bonus abuse is and how to avoid it.
Types of Bonus Abuse
This is done in sports betting by placing bets on all match outcomes using the free bonus. By doing this, you can gamble without risking much money.
This type of abuse is also known as matched betting.
You will lose your funds and likely get banned if you're caught.
Collusive play means controlling multiple accounts for an unfair advantage in multiplayer games. Fraudulent players use this practice to abuse bonuses.
Chips are lost on purpose to a chosen player. These intentional losses are done through weak bets or creating multiple accounts, which they lose to.
The overall aim here is to influence the outcome of the hand. If found, players can be banned.
This type of bonus abuse implies playing multiple bets with lower risks, with the main aim of reaching bonus wagering requirements while reducing risks and potential losses.
It involves placing the bets using mathematical calculations while taking advantage of free bets.
The Most Common Bonus Abuse Behaviors
Our casino bonus experts analysed the most common bonus abuse practices.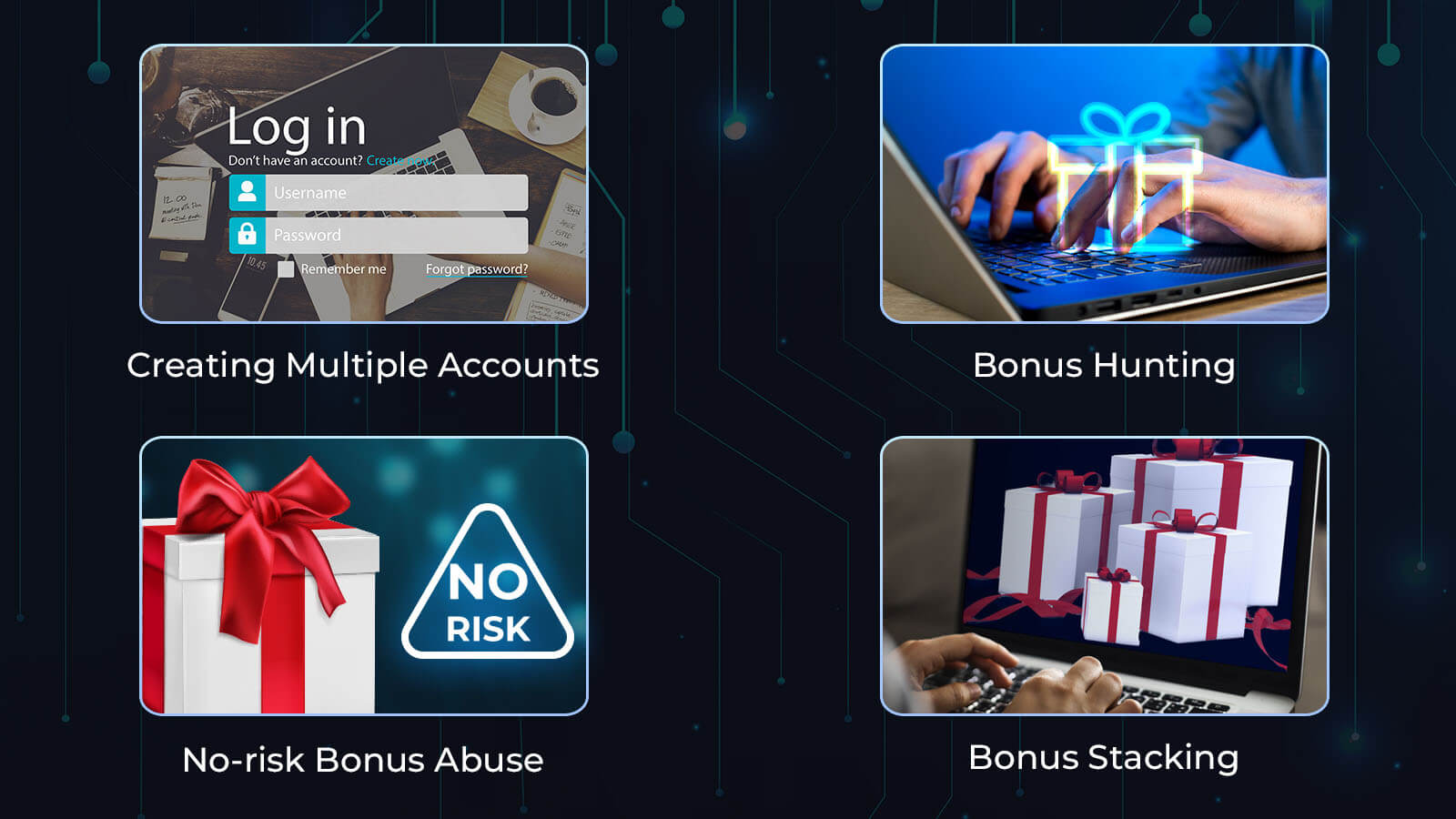 Creating Multiple Accounts
Terms and conditions for bonuses on betting platforms state you are entitled to one bonus offer per player. Fraudsters, however, try to cheat the system by creating multiple accounts they can use to unlock a bonus multiple times.
It is common for players who create multiple accounts to use different email addresses and details stolen from people online. Some even change their IP using a VPN to hide their identity whenever they revisit the site to create a new account.
At the end of this recurring process, fraudsters who intend to cheat the system can have multiple accounts for carrying out different online casino abuse.
Bonus Hunting
Most online gambling platforms have one or more bonuses you can claim when you create an account.
Bonus hunting refers to opening accounts on multiple online casinos with the intention of accessing bonuses and never committing to real money wagering.
No-risk Bonus Abuse
This is using low-risk strategies like making opposing bets so that either way, you still win. No-risk bonus also involves betting on low-risk game rounds with high winning chances.
This aims to meet the wagering requirement on the bonus funds while ensuring you lose just a little of your bonus funds.
Bonus Stacking
Bonus stacking is claiming multiple bonuses and trying to use them simultaneously. This process involves using promo offers and bonuses outside their intended use.
This can give an unfair advantage to players, allowing users to boost their winnings significantly.
By doing this, you risk losing any earnings made from bonus stacking when the casino figures out you are cheating.
Casino Bonus Bagging vs Bonus Abuse: Is It The Same Thing?
Bonus bagging uses "free bets" and "risk-free bets" that betting platforms offer to "bag" as much as they can win. In this case, the player may use risk-free bets to play bets and anti-bets, ensuring they win, no matter the game's outcome, without spending their money.
Casino bonus bagging can be done within the terms and conditions. The abuse involves profiting from bonuses on betting platforms by exploiting the loopholes in the terms and conditions.
While bagging bonuses, there is this thin line between playing fair and leaning toward cheating. Make sure not to cross it.
Both of these behaviours involve using casino bonuses to make a profit. If you do bonus bag bonuses outside the terms and conditions, it becomes bonus abuse, and it will be punished by casino operators accordingly.
The Mechanisms Behind Bonus Bagging
Our team has explored the main aspects behind bonus bagging for a better understanding.
Casino Bonus Bagging
This targets online casino bonuses and promo offers with conditions that can help players win without playing with their money.
Over the years, many casino players have formed strategies for bagging bonuses in online casinos.
Common Bonus Bagging Practices
Placing small bets on low-risk games until the wagering requirement is met. Once met, players cash out the bonus without playing again

Playing only games with high payout percentages

Claiming many casino bonuses with the singular aim of withdrawing profits, which breaches the casino's terms and conditions

Accessing bonuses with the single aim of cashing out the profit
For Example
A top online casino offers a welcome bonus of 100% up to $100 with 40 free spins on a certain slot. You sign up and deposit $100, then get a total of $200 plus 40 free spins. You then go ahead to play many slot games with the combined funds.
The casino has a wagering requirement of 25x; in this case, it'll be 25 multiplied by £100 (bonus amount), which is £2500. You then keep playing slot games till you reach the requirement, and after everything, you are left with £250 in your account. This process is called "bagging."
Sportsbook Bonus Bagging
This is a process of targeting bonuses on sportsbook platforms by trying to win using the bonus the bookmaker offers you as a welcome bonus.
A sportsbook welcome package includes a reward added to any winning bet of a player in the beginning. If the stake results in a loss, you don't lose anything since you didn't stake with your money.
Some Examples of Rewards Certain Players Try To Exploit Are:
Risk-free bet

Sign up bonus

Referral bonus

Reload bonus
For Example
A gambler is getting three free bets from three different bookmakers and uses these bets to wager on the three outcomes of a match–win, lose, or draw. Whichever of the three outcomes happens, they will win with one of the free bets.
Affiliate Bonus Abuse Fraud: How It Works
A player signs up on a casino as an affiliate who earns revenue based on referrals

The affiliate advertises the casino's promo and bonuses to attract new players

The player now attempts to teach his referral strategies that abuse the casino's bonuses

The referred player goes to the casino to play games by abusing bonuses to win

When the referred player wins, the affiliate gets commissions for these wins

The more the referred player abuses the bonus and wins, the higher the commission received by the affiliate
How Bonus Abuse & Bonus Bagging Are Prevented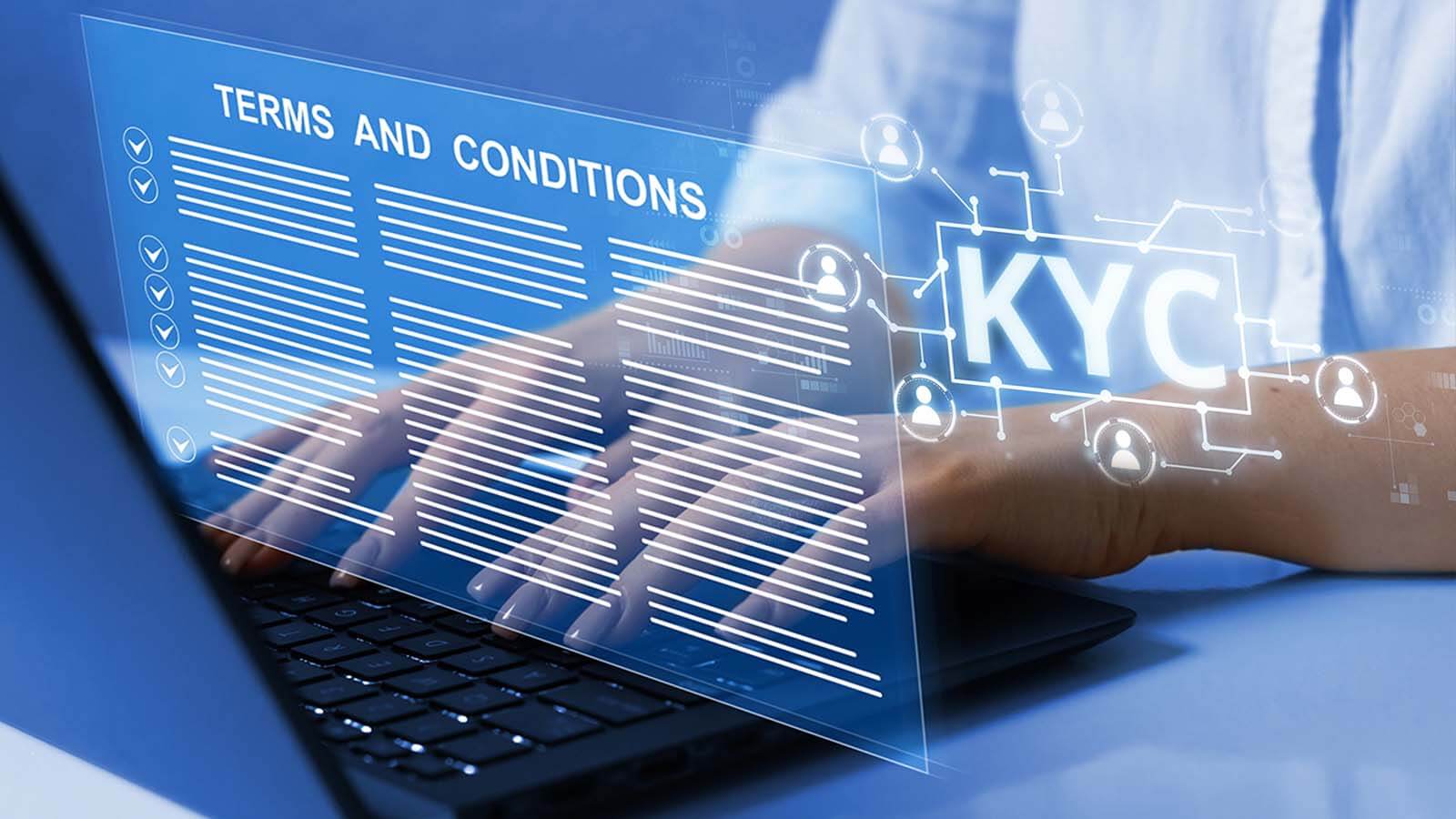 This is the standard method betting platforms use to reduce business losses. By reducing the amount you can payout from bonuses, you can limit how much bonus the abusers can exploit.
Strict and clear terms and conditions
In terms and conditions, betting platforms indicate all the wagering requirements, eligibility criteria, bet limits, restrictions, and other conditions players must obey.
With strict and clear terms, betting platforms can clarify what is and isn't abuse.
Identifying and blocking users with suspicious IP, devices, and patterns of play
Casinos and bookmakers watch out for players who use TOR browsers and VPNs, new visitors who use the same combination of software & hardware, or who play less risky games.
To prevent multiple account openings, betting platforms can ask for more information to know their customers
better. These verifications can include requesting IDs, personal documents like bank statements, or proof of address.
Casino Bagging: What Are The Consequences?
Betting platforms punish players who abuse their bonuses with strict penalties such as cancelling the bonus and its winnings, suspending the user account, or banning and blacklisting the player's IP address.
Betting platforms will punish players caught exploiting their bonuses through casino bagging. By doing this, betting platforms make sure that players gamble fairly.
The terms and conditions may state the sanctions for each abuse, or they could opt for outright banning any player caught abusing bonuses.
To Sum It Up
Bonus abuse is exploiting those casino bonuses betting platforms offer as a welcome package for choosing to use their platforms.
Bonus bagging can be done legally, but you must read the terms and conditions to know what isn't right.
These methods can make fraudsters profit significantly but ultimately harm the casino or bookmaker businesses. Keep in mind that if caught abusing bonuses, you will be punished.
Now that you understand what bonus abuse is, you should avoid doing it to avoid being banned from top online casinos.
References