Aspers London Casino Review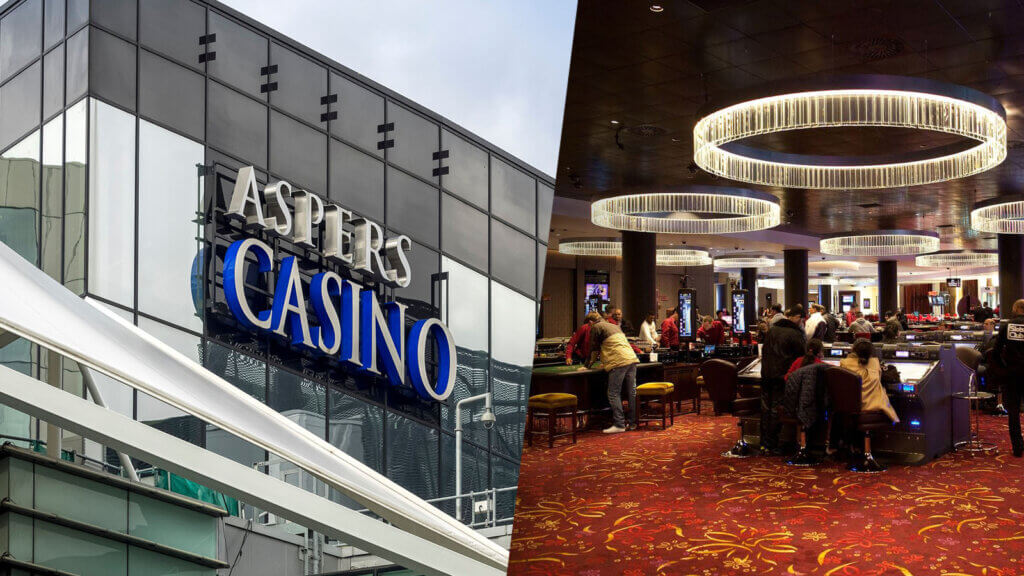 Aspers Casino in Westfield Stratford City is a betting venue where one can play and dine in class. Read on to learn what we discovered after visiting it!
Aspers Casino ratings
| | |
| --- | --- |
| Overall Rating | 4.43/5 |
| Slot Machines | 5/5 |
| Casino Games | 5/5 |
| Staff & Service | 4/5 |
| Loyalty & Rewards | 5/5 |
| Casino Atmosphere | 4/5 |
| House Rules | 4/5 |
| Players Feedback | 3.5/5 |
| Operator | 5/5 |
Our rating and review process for Aspers casino
Our casino bonus experts thoroughly inspect casinos on how well they treat all patrons that enter their gambling venue. When visiting Aspers casino, we analysed the same particularities as we have done before for other establishments, including Forty Five Casino and Les Ambassadeurs Casino.
What kind of facilities are presented, are they well maintained, and do they go above and beyond in customer service? Other aspects may include:
The types of table games offered in the casino

Events and promotions you can partake in

Eating establishments within the casino
We take our ratings quite seriously. This ensures that anyone visiting the casino will have walked in the same shoes and experienced things as we have.

How we inspected Aspers Casino
Date of visit: 11/21/2022

Time of visit: 14h – 16h

Initial bankroll: £100

What we played: Blackjack

Final bankroll: £0

Next visit: 05/22/2023
What we looked at
Our review system follows strict criteria so that our experts rate each aspect of Aspers Casino. To narrow things down to the most critical parts, we checked the number of slot machines available, how stringent the house rules are and what kind of atmosphere the casino exudes.
Visits to Aspers Casino should be pleasant and need specific features to make it stand out. This is how we know it will make a lasting impression.
What we found
| | |
| --- | --- |
| Address | The Loft, Olympic Park, 312 Montfichet Rd, London E20 1ET |
| Open hours | 10am to 5am |
| Membership | Not required |
| Minimum age | 18 |
| ID checks | Yes for non-members |
| Game types | Poker, Sports Betting, Roulette, Blackjack, Slots, Punto Banco |
| Tables | 40 |
| Slot machines | 150+ |
| Gaming terminals | 150 |
| Payment | Cash, Card, Chips |
| Average betting range | £0.50 – £200 |
| Free drinks | With membership |
| Restaurant | Yes |
| Hotel | No |
| Poker tournaments (UK) | Spring Poker Fest, Road to Vegas |
Slot machines – 5/5
Aspers Casino offers an exciting array of slot machines to play on. With over 150 to choose from, it's daunting for the inexperienced. Thankfully, the staff will gladly guide you on the mechanics.
These slots are backed by famous software studios that take pride in producing entertaining games. To top things off, you can look forward to titles ranging from classic, modern and progressive jackpot types.
Slots we played at Aspers Casino
| Slot machine | Payout rate | Min/max bet | Game type |
| --- | --- | --- | --- |
| Elvis Lives | 95.72% | £0.50 – £100 | 5-reels, 12 rows |
| Whale Song | 95% | £1 – £100 | 5-reels, 15 paylines |
| Winter Queen | 95.02% | £0.40 – £60 | 5-reels, 40 paylines |
How many slot machines does Aspers Casino have?
The casino hosts a multitude of more than 150 slot games. Many of these machines are pre-packed with several titles within them.
Do the slot machines accept coins?
All machines accept notes, slip tickets and preloaded membership cards. Having an Aspers membership card rewards points when playing with it.
Slot machine providers
Local progressive jackpots
Aspers Casino comes with a wide selection of gaming options. Included are progressive jackpot slots that have a large prize attached to them.
Jackpot prize amounts range from £3000 up to a whopping £20,000. Some games with this feature are the Lucky Landings slot (Lucky Lemmings in some locations), Sex and the City slot and many more.
One of the most important aspects KingCasinoBonus experts focus on is game variety. As it was the case for other London Casino reviews compiled, our experts paid attention to all opportunities Aspers Casino offers.
Casino games – 5/5
Table games are what give any casino that extra touch of class. These games are carried out by professional live dealers who know how to heighten the thrill and excitement of it.
For roulette tables, bets are from £0.50 up to £2000; blackjack goes from £5 to £1000, and poker from £1 to £100. The game terminals all have a choice of poker, craps, roulette, baccarat and blackjack.
Game types
Roulette: 10 tables + 150 terminals

Blackjack: 10 tables + 150 terminals

Poker: 15 tables + 150 terminals

Baccarat/Punto Banco/Sic Bo: 5 tables + 150 terminals
Betting limits
| Game | Minimum bet | Maximum bet |
| --- | --- | --- |
| Roulette | £0.50 | £2000 |
| Blackjack | £5 | £1000 |
| Poker | £1 | £100 |
Do you need VIP access to bet higher limits?
Increased bet limits are reserved for special events. Asper's card members can only access these amounts.
Aspers casino poker tournaments
The casino promotes some of the most exciting poker tournaments in Stratford City. At the time of writing, Aspers Casino is currently holding the Spring Poker Fest, which runs from the 24th of April to the 7th of May. There is also the big Road to Vegas event, which runs from the 1st of January up till the 18th of June.
If you're not already signed up for notifications through email and text, you can also get info on the latest events through Twitter, Facebook and Instagram.
Staff & service – 4/5
Aspers Casino creates an enticing atmosphere for those who want to play games or grab a bite. Polite servers are ready to help you find a seating arrangement, especially if you arrive as a group.
Clary's Restaurant is one of the establishments in the casino where you can relax and enjoy a delicious meal. Tanzibar and The Sky Bar & Terrace are spots perfect for a drink, snacks, and a laugh.
Food & drinks
Clary's Restaurant opens Mondays to Fridays from 5 pm to 3 am, Saturdays and Sundays from 12 pm to 3 am. If you want a great deal, get the Premium Package for £50 per person and choose from a starter like the Crostini with Cheese, mains such as the Battered Cod and desserts like the Chocolate Fudge Cake.
The Sky Bar & Terrace boasts a fantastic view and comes with drinks and snacks if you want to relax, unwind and enjoy the live music.
Both bars offer the same beverages and feature ciders, stiff drinks, mojitos, cocktails, martinis and many more options. There are also meals from Zanzibar, like the Aspers Beef Burger, which can be £9.75, £11.70 or £13.00, depending on your membership level.
How much do you tip at Aspers Casino?
Tips are charged at 10% of the total meal value. You will likely tip more since the service and value are worth it.
Does Aspers Casino offer free drinks?
Free drinks such as complimentary bottled water, coffee, tea and soft drinks are offered to all card members. This is served on the casino floor, so you won't have to leave your game to quench your thirst.
Is there a buffet at Aspers Casino?
Aspers Casino does occasionally have Chinese buffets close to the tables. If you want to know when the next one is happening, check out their feed on social media.
Parking
Free parking is offered to card members of the casino and can be confirmed at Guest Services. This is available to Giraffe members from 7 pm and all day to Elephant members.
If you pass through and stay longer than expected, parking prices are £16 for 24 hours.
Accommodation
Aspers Casino does not have accommodation. However, they are affiliated with The Holiday Inn, which is nearby. It takes less than 2 minutes to get there and offers a fantastic selection of amenities like a fitness centre, free WiFi and more.
Aspers World members can use a 12% discount by booking through the casino webpage. The Holiday Inn is a 3-star hotel, and prices start at £150 per night.
Do you tip room service at Aspers Casino?
Tipping is not applicable at Aspers Casino since the venue has no accommodation options. This can be done at The Holiday Inn or Staybridge Suites, which are the recommended destinations by the casino.
Are there smoking areas?
You won't find any smoking sections in the casino or enclosed areas. This is because of the UK smoking ban that was declared in 2007. Going outside or on the terrace is best if you like lighting a cigarette.
Security
The doorman reserves the right to judge who can enter the casino. This could be the dress code, identification of legal age or an individual that's heavily intoxicated. Aspers Casino strives to maintain an entertaining environment while also being safe and orderly.
No electronic devices, unusual objects or firearms are allowed, which makes perfect sense. CCTV cameras are mounted around the casino, and staff are constantly vigilant about finding suspicious individuals that might've slipped in.
Loyalty & rewards – 5/5
We've dissected many parts of Aspers Casino to see if it truly has its patrons in mind. One significant aspect is the practice of loyalty programs that many popular establishments have. We look at what makes Aspers Casino unique in this regard. Are their incentives worth the effort, and what does it take to get them?
How does the Aspers casino rewards program work?
The Aspers World membership is a 3-tier system. Once a member, you get points for using certain parts of the casino; besides using it to enter without ID identification, points worth £1 for every 100 owned can be exchanged within the casino. The three levels are:
Collect Aspers World Points when using all table games, electronic terminals, slots, and purchasing food and drinks. Get exclusive benefits that come with it.
What you get
Free parking (confirm with Guest Services)

Higher discounts on food and drinks depending on tier level

Earn points for giving feedback through surveys

Get Freeplay Xtra and Freeplay Chips

Free coffee, tea and soft drinks

Access to special events

Cloakroom access (not available at Newcastle venue)
How to claim rewards/ How to register in the program
Register by heading to the Guest Services section of the casino

Make sure to have your ID and fill in all your details

You will get your membership card on the spot to use it immediately

Load the card up with cash to start accumulating points

Use your points on games by inserting your membership card

Present it at the restaurant or bar area to exchange points for meals and drinks

You can also get discounts depending on your membership level
Casino atmosphere – 4/5
Once you pass the glass doors, you're greeted with many slot machines, gaming terminals and tables further down. The red carpet with floral patterns, light charcoal walls, and lighting arrangement is well-designed and suits the feel of a casino environment. The Sky Bar & Terrace is on the floor above and has live music and a great view.
It's especially nice to take some time away from the casino area, has a smoke break or enjoy the scenery with a drink or snack.
View from the inside
Design experience
Aspers Casino is a luxury experience. The venue is designed with a high-end look and maintains this through its features, dress code, customer service and cleanliness.
Are you allowed to take photos in Aspers Casino?
All electronic devices such as laptops, mobile phones, cameras, suspicious objects, and weapons are prohibited. This is to ensure the safety and integrity of the casino.
Location and surroundings
It is located in Stratford City on the 3rd floor of the Aspers shopping centre and's known as one the largest casinos in the UK.
It sits close to many amenities, including Forever21, the Chestnut Plaza and 3-star hotels like the Holiday Inn. Surrounded by many modern buildings in a bustling business area, Aspers Casino offers a big slice of the gambler's experience while providing dining options and a view of the cityscape.
Do you need a passport to go to Aspers Casino?
A passport can also be used if you do not have any ID as a form of identification. If you're already a club member, you only need to present your card when entering the casino.
Events
Aspers Casino regularly hosts professional live singers. They perform covers of popular songs as a tribute to the artists. Live shows are usually on weekends, and entry is free. You can find out more by subscribing via email or checking the casino's social media online.
House rules (T&Cs)- 4/5
Aspers Casino follows strict but necessary rules regarding patrons visiting their establishments. All information regarding these measures can be found on their website's terms and conditions.
They have a no-photos policy which includes no electronics or items that can cause harm. This ensures that all business operations and security measures are working, clean and in place.
When is Aspers Casino open?
The casino times run from Sunday to Thursday, 10 am to 5 am, and Friday to Saturday from 10 am to 6 am.
Does Aspers Casino charge entry?
There is no fee to enter the casino. This is for members and non-members.
Do you always need a reservation to play at Aspers Casino?
There are no reservations needed. However, the option is there to make one at Clary's restaurant. Table games work differently and could have waiting times on a busy day.
How to join Aspers casino
It is not mandatory to have a membership when playing at Aspers Casino. Anyone of legal age can enter and have a blast in the gaming area, eat at the dining area and enjoy the live entertainment.
If you want to get the whole experience, becoming a member is highly recommended, and it won't cost you anything to join. Speak to Guest Services, present your ID, enter your details, and they will take care of the rest.
Dress code
The dress code of all patrons is smart casual, which fits in with the appeal of the casino venue. Outfits that are tattered, sportswear, beach wear and anything unusual are prohibited.
Standout rules at Aspers Casino
Aspers reserves the right to shut down any part of the casino for the removal of patrons within that area

Alcoholic drinks brought/sneaked into the casino are not allowed

Patrons not smoking in the designated areas will be asked to leave

Aspers Casino has the final say in all disputes within the establishment
Players feedback – 3.5/5
Patrons can be visitors, regulars and members. Some may come and go, but a casino truly shines when it retains that player. If you're returning to Aspers Casino, they are doing something right.
Aspers Casino player reviews
Google – 3.9/5
BL4K wrote:
"London only has 'Super casinos'. Slots for days in here. Most casinos are limited to 20 slots, but this one isn't. Huge room with plenty going on. Just needs a craps table to be complete"!
Tripadvisor – 3.0/5
Hillybeck wrote:
"Enjoyed our visit here on Saturday evening. It was my first visit to a casino, but it was a relaxing and enjoyable experience. The staff were really friendly, the atmosphere was formal but very pleasant and free unlimited hot drinks and non-alcoholic cans of drink were readily available. I will definitely return".
Most common issues
Any unwelcome behaviour (by the doorman's judgement) will restrict entry into the casino

Low staffing at times

No craps tables
Operator – 5/5
Aspers UK Holdings Ltd is a stock-listed company that owns several casinos in the United Kingdom.
Their casinos are regulated under the governing eye of the UK Gambling Commission, which maintains fair and just betting mechanics within any gaming establishment they manage.
Who owns Aspers Casino?
Chairman Damian Aspinall and Crown Resorts of Australia are currently running the casino. This joint operation between both parties is a 50/50 ownership.
Both groups finalise any profound changes, improvements or issues. Aspers aims to provide a safe gambling environment in its casinos, which has been the mentality since its inception.
Other casinos by the same operator
Aspers Milton Keynes

Aspers Northampton

Aspers Newcastle
Contact info
| | |
| --- | --- |
| Website | http://www.aspersstratford.co.uk/ |
| Email address | |
| Telephone number | 020 8536 5636 |
| Other | Facebook, Twitter, Instagram |
Who are the top competitors of Aspers Casino?
Aspers Casino vs Admiral Casino
Aspers Casino is a fine establishment with all the bells and whistles you would expect from a gambling venue. If things are unplanned, Admiral Casino will handle your gaming requirements. The venue isn't a super casino, but it has its charm.
What makes Admiral Casino a good destination?
Open 24/7, you get a superb collection of the latest slot titles in one place. There is also a chance to win some nice jackpots worth £500.
Aspers casino vs The Hippodrome casino
The Hippodrome might be far from Aspers Casino, but it makes up for it in class and entertainment. The casino hosts many activities, including eateries and a casino area.
What makes The Hippodrome casino a good destination?
French crêpes, authentic Chinese dishes, a rooftop terrace, Magic Mike Live and a marvellous gaming area. The Hippodrome has you covered on all accounts for a great day or night out.
What sets Aspers Casino apart from its competitors?
Aspers Casino is massive and is known to be one of the largest gambling venues in the UK. Their membership benefits are second to none and make the casino experience even more special.
Pros and Cons
| Pros | Cons |
| --- | --- |
| Sports betting facilities | Low staff |
| Membership points and incentives | No craps tables |
| Regular live performances | Not open 24/7 |
Is Aspers Casino your best place to play?
Aspers Casino tries to give all its patrons an exceptional experience. From the moment they enter until they leave, the staff's work doesn't go unappreciated.
This can be seen in their customer service, entertainment, eating establishments, large membership benefits and colossal gaming area.