London Hippodrome Casino Review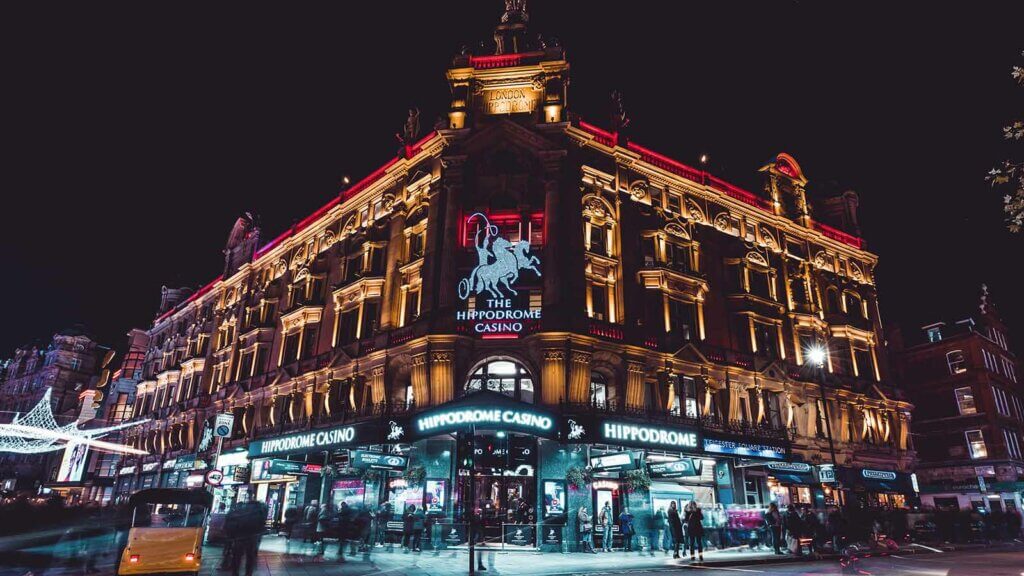 Are you looking to visit the Hippodrome London Casino and place a bet? Should you? Find the expert's take on the venue from our Hippodrome Casino review!
Hippodrome Ratings
| | |
| --- | --- |
| Overall Rating | 4.5/5 |
| Slot Machines | 5/5 |
| Casino Games | 4/5 |
| Staff & Service | 4.5/5 |
| Loyalty & Rewards | 5/5 |
| Casino Atmosphere | 5/5 |
| House Rules | 5/5 |
| Player's Feedback | 4.1/5 |
| Operator | 3.5/5 |
Table of Content
Rating and review process explained
KingCasinoBonus experts analyse local casinos with the same scrutiny we select our top UK online casinos. Eight casino features make up our ratings to provide you with a comprehensive assessment of Hippodrome Casino London. The final rating is the average point of the casinos' most essential features.
How we inspected the Hippodrome London Casino
Date of visit: 12/02/2022
Time of visit: 19h – 21h
Initial bankroll for gambling: £100
Money spent otherwise: £200
What we played: Roulette, slots.
Final bankroll: £0
Next visit: 05/29/2023
What we looked at
Most importantly, our first-hand approach for reviewing online casinos extends to the local ones. During our visit to the Hippodrome, we tried several slot machines and played at two roulette tables, as well as exploring the restaurant menu and rooftop terrace.
Aiming to leave no stone unturned in our inspection, we apply both objective and subjective research methods:
Objectively, we count the available games and take note of the services provided. We also check its licensing, house rules and players feedback.

Subjectively, we give our original take on the casino's atmosphere from a gambler's perspective.
What we found
| | |
| --- | --- |
| Address | Cranbourn St, London WC2H 7JH, United Kingdom |
| Open hours | 24/7 |
| Membership | Not required |
| Minimum age | 21 |
| ID checks | Yes, for non-members |
| Game types | Slots, electronic casino games, live tables |
| Casino tables | Roulette, blackjack, baccarat, craps, poker |
| Poker tournaments | Yes |
| Slot machines | 20 |
| Gaming terminals | 100 |
| Payment | Cash, debit card |
| Average betting range | £1/£5 – £5,000 |
| Restaurant | Yes |
| Hotel | No |
| Parking | Yes |
How we review Hippodrome Casino London
The information you read in our Hippodrome Casino London review is extension of our aim of providing essential, verifiable, and objective data on the state and worth of land-based casinos.
All tests performed by our expert analysts follow a review system developed according to the full extent of a casino venue's functioning and provision of services. Our provided content can thus fully assess a land-based casino, as reflected in our ratings, and instruct readers in their decision-making process.
Slot Machines – 5/5
Based on our analysis, the Hippodrome's slots offering is within the UK standard in terms of variety, and machines' quality allows for a premium gaming experience.
Our checks of the available games, providers and jackpots prompted us to rate it with maximum points for slots.
How many slot machines does Hippodrome Casino have?
There are 20 slot machines, but 100 electronic games in total. Of these, 60 are lower denomination games which you can play with stakes lower than £1. Penny slots are an advantage, as they allow UK players on a limited budget to join and play. Still, they're a lot fewer than the thousands of slots new UK slot sites offer.
On the downside, the slots area can get a bit crowded. Some players complain about waiting a lot for a session on busy days.
Do the slot machines accept coins?
You may have to use the cash desks to exchange your coins for game tokens at Hippodrome Casino London. Alternatively, the casino provides a wide variety of banking options. You can make a bank transfer or pay with any debit card. Prepaids are also accepted and, surprisingly, foreign currency.
You have the option to deposit your casino winnings in a Hippodrome account and store it for future gaming sessions.
Slots at London Hippodrome Casino
| Slot machine | Payout rate | Minimum bet | Maximum bet |
| --- | --- | --- | --- |
| Wild Fury | 92% | 50p | £5 |
| Crazy Wizard | 92.5% | £1 | £5 |
| Samurai 888 Katsumi | 90% | 88p | £5 |
With the industry average RTP for land-casino slots standing at 85%, we can conclude the slot machines at the Hippodrome are better. They still cannot compete with the payout rates exceeding 96% found at the UK's best payout online casinos. Yet, they're a good alternative.
Slot machine providers
Local progressive jackpots
The top progressive jackpot prize at the Hippodrome goes up to £20,000, although it can vary depending on the machine you choose to play:
Eye of the Queen: £10,000

Egyptian Treasures: £5,000

Mega Bonus Joker: £10,000
Experienced UK players will likely recognize IGT casinos' trademark Blazin' Flames and Novomatic's Cash Connection slots.
Casino Games – 4/5
Suppose you want to play card games, craps or roulette. In that case, the Hippodrome Casino London can meet your demand with many electronic gaming machines and 45 live tables across all the casino's floors.
We lowered the rating for table games because the table minimums are sometimes raised during the evenings.
For instance, during our visit for this review, the minimum bet at any roulette table was £10.  Some players may consider it too much, especially if they've seen their website says you can find tables with a £1 bet limit.
Game types
Roulette

Blackjack

Baccarat

Poker

Craps
Betting limits
| Game | Minimum bet | Maximum bet |
| --- | --- | --- |
| Roulette | £1 | £5,000 |
| Blackjack | £1 | £3,000 |
| Baccarat | £5 | £5,000 |
| Craps | £5 | £5,000 |
| Three Card Poker | £5 | £500 |
Can anyone bet the highest limits, or do you need a membership?
The Hippodrome Casino London requires you to sign-up for a membership if you want to place the highest bets. That involves completing a form with your personal and contact information, just like registering on an online casino.
Live poker room
One of the best perks for punters at the Hippodrome is the live poker room, which is open 24/7. You can play no-limit Texas Hold 'em or Pot Limit Omaha.
Poker tournaments are held periodically, with different themes and top prizes like cash or trips to Las Vegas.
The tournaments and live poker room is provided in partnership with PokerStars Casino.
Staff & Service – 4.5/5
We found the personnel at Hippodrome Casino welcoming, helpful, and polite. The serving was high class, and we felt safe during the entire visit thanks to the CCTV cameras.
However, there are no rooms to spend the night, which may be inconvenient. International visitors who may plan a several-day trip must settle with the hotels near the casino, which, luckily, come in plentiful supply.
The Dealers
Our roulette and blackjack sessions went smoothly, thanks to the dealers at the Hippodrome Casino London. The croupier's focus and speed of movement should be noted, like their professionalism, but don't mistake it for sobriety. They can crack a joke if you know how to speak.
Food & Drinks
The Heliot Steak House within the Hippodrome is open between 12 pm and 2:30 pm at lunch and 5 pm – 10 pm at dinner.
If you get hungry outside these hours, you can grab a snack on the terrace, which is open 24/7.
The Heliot is an ideal place if you're looking to have a stake and one or two glasses of red wine. The food here is excellent and worth the £45 average price per serving.
There's a lot of dish variety in the menu, from grilled octopus to pan-fried salmon and USDA-grade steaks, as well as many traditional dishes from around the world. On top of that, you have 32 wines to choose from, with prices starting at £7.
How much do you tip the waiters?
Heliot Steak House applies a service charge of 12.5%, but you can opt out of it and tip the waiters directly.
The casino does not serve free drinks to players.
Parking
The casino partners with Q-Park, so if you travel by car, you can park just near the casino at 20 Newport Place, at £8 per hour.
Loyalty & Rewards – 5/5
Our reviewers gave the Hippodrome maximum points for its Rewards program. Enrolling is as easy as completing the membership form, and you earn points for every pound you spend at the restaurant, bar or casino.
How does the Hippodrome Casino rewards program work?
For every £1 spent on drinks, food or live shows, you earn 2 points.

Slots gaming rewards 1 point for each £5 wagered.

Electronic roulette terminals reward 1 point per £20 wagered.

In the poker room, you get 60 points per hour.

For blackjack, roulette and baccarat live tables, point contributions vary.

You can spend your points on any service the casino offers.

You have 6 months to meet the necessary threshold and qualify from one loyalty tier to the next.
What you get based on the membership card
| Membership card | Reward |
| --- | --- |
| Gold | 10% discounts off food and drinks, 20% off parking |
| Diamond | 15% discounts, 3 hours parking |
| Platinum | 20% discounts, 3 hours parking. 3 hotel nights in Vegas, £200 gaming chips, birthday gift |
| Black | 25% discounts, 5 hours parking, 20% off ticket at Mob Museum Las Vegas, 3 hotel nights in Vegas, £300 gaming credit, birthday gift, annual spa treatment, VIP events, priority reservations |
For every membership tier, discounts are available for you and up to 3 guests.
Casino atmosphere – 5/5
With the proper budget at hand, the venue propels you into a spectacular atmosphere. It looks and feels amazing and the shows down at the event hall are unmissable. You can even meet the occasional celebrity here!
Design experience
With an interior design combining high-quality materials and classic architectural elements, nights out at the Hippodrome Casino London are bound to be glamour-filled.
Are there smoking areas?
You cannot smoke in the building. However, smoking is permitted on the terrace.
Location and surroundings
The elegant building you'll be playing in was designed by architect Frank Matcham at the turn of the 20th century. It retains some of the feels of the early 1900s, which is excellent news for history lovers.
Its 75,000 square feet are spread over 7 floors:
8 bars

3 gaming halls

1 poker room live 24/7

1 restaurant

1 tea room

1 theatre

1 conference room

2 private rooms for dining

1 rooftop terrace across 3 floors.
Events
The casino also has a designated theatre for live shows and themed events. Check the schedule from time to time and you'll be able to buy tickets for exclusive music concerts, magic shows and live shows.
Moreover, patrons can rent the event hall for corporate parties, product launches and other private events.
House rules (T&Cs)- 5/5
We studied the Hippodrome's house rules and did not find anything out of the ordinary. Entry and membership are free of charge for those over 18, and the games are played according to the standard parameters.
Hippodrome Casino opening hours
The casino is open 24/7. However, if you want to play at live tables, they're available from 01 pm to 9 am.
Do you always need a reservation to play at the Hippodrome casino?
No, the gameplay is permitted on a first-come, first-served basis. However, you might need a reservation to eat at the Heliot Steak House.
How to become a member
Go to the Welcome Desk with your ID and ask for membership.

Alternatively, you may complete the pre-registration form on the website.

Provide your accurate personal info, occupation, address and contact number.

That's all! You're now going to receive a Gold membership card.
Dress code
There is no dress code, but a smart casual style is advised. We spoke to staff members on-site and studied the T&Cs online and the only requirement we could find was that of decency. Therefore, your only care is to fit with the elegant atmosphere of a historic building. To that end, you probably shouldn't be wearing sports trousers.
Standout rules at the Hippodrome
The only rule worth-mentioning has to do with money: players placing or getting paid bets worth more than £2000 must have their identity verified.
Players feedback – 4.1/5
We studied player-submitted reviews for Hippodrome Casino London on Google and Trustpilot. Users generally give positive feedback, praising the restaurant's quality and the top-tier atmosphere for gambling.
Hippodrome Casino player reviews unpacked
Google – 4.2/5
More than 4000 reviews make up the casino's 'Very Good' rating on Google. The great majority of players have seen their expectations surpassed, especially tourists.
Tripadvisor – 4/5
Users on Tripadvisor have also been pleased with the service. Most of them have given 5-star reviews, cheering for the fun dealers and excellent shows.
Most common issues
Drinks are too expensive for some players.

Security guards outside may be impolite.

It may be difficult to book a restaurant table.

The place can get overcrowded.
Operator – 3.5/5
We must check the operating company to complete our Hippodrome Casino London review. Per our verifications, the venue is legit, carrying all the required government certifications.
Still, the company is no large-scale operator. It is not listed on any stock exchange and only administers one gambling hall.
Who owns the Hippodrome Casino London?
Simon Thomas owns the casino. It is operated by Hippodrome Casino Limited, registered in the UK with company number 05497987.
Hippodrome Casino Limited is licensed by the UKGC with account number 29471.
Contact info
| | |
| --- | --- |
| Website | |
| Email address | |
| Telephone number | 0207 769 8888 |
| Heliot Steak House telephone number | 0207 769 8844 |
| Heliot Steak House email address | |
| Magic Mike tickets enquiries | |
Who are the top competitors of the Hippodrome Casino?
Grosvenor Casino (the Barracuda)
The Barracuda Casino at number one Baker Street provides similar services, but at a much lower scale. Compared to the Hippodrome's 45 tables, Grosvenor has only 16. Slot machines are also in lesser supply at Grosvenor, with only 6 units.
[bubble:note]
Palm Beach Casino London is also a land-based casino that we recommend. Even though it cannot be compared to Grosvenor, we still gave it high ratings in our reviews.
[enbubble]
Grosvenor is better for 24/7 real dealer play
Despite its more limited gaming offer, Grosvenor Casino is open 24/7, and that includes live tables, as opposed to the Hippodrome, where on-spot settlements are closed between 9 am – 1 pm.
Suppose you want to play roulette or blackjack in a more intimate setting. In that case, Grosvenor Barracuda might be your place to go.
Empire Casino
London's second-largest casino, the Empire Casino, is at walking distance from the number-one-largest, the Hippodrome. Both venues look impressive and provide similar dining services. However, the available gaming options differ.
Empire Casino is the best alternative for slots players
The Empire Casino London provides 50+ live gaming tables, which is in the same range as the Hippodrome. What makes it better is the double number of slot machines. The 40 machines on two separate floors have 20+ games each, which increases variety. They also make the place less crowded, as you can find a free machine more easily.
What sets Hippodrome Casino apart from its competitors?
Taking into account its gaming offer and additional services, the Hippodrome is a strong contender to the best local casino. Even if the live games are not open 24/7, you get to play at the only craps table left in London.
Hippodrome Casino Pros and Cons
Pros
Well-known IGT and Novomatic slots to play

Three casino halls with 45 live tables

A chance to play at the only craps table left in London

High-class restaurant and serving

Huge outdoor terrace on 3 floors

A 24/7 poker room with affordable buy-ins

Competitive loyalty scheme
Cons
The place can get overcrowded

You won't get the same variety you get on UK's top slots sites 

The food and drinks can be too pricey for some players
Who should play at the Hippodrome Casino London?
We believe the Hippodrome Casino is the best gambling venue in London overall, which makes it fit for any player and all budget sizes. However, if you're a Roulette player, your experience at the Hippodrome is likely to be unmatched by any other London casino, as it's one of the few with European Roulette tables. If you can afford the relatively high £10 minimum bet in the evenings, the Hippodrome Casino will surely become your best place to play.