Palm Beach Casino London - Expert Review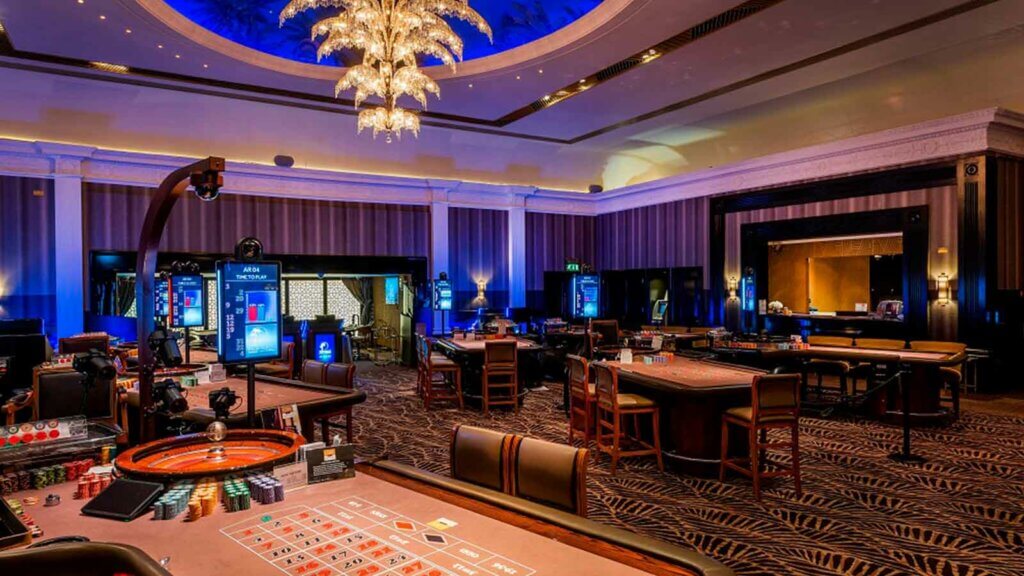 Our experts have visited the famed Palm Beach Casino London venue and rated all its facilities and activities. Find out if the place is for you.
Palm Beach Casino Ratings
| | |
| --- | --- |
| Overall Rating | 3.9/5 |
| Slot Machines | 3/5 |
| Casino Games | 4/5 |
| Staff & Service | 2.5/5 |
| Loyalty & Rewards | 4/4 |
| Casino Atmosphere | 5/5 |
| House Rules | 3.5/5 |
| Player's Feedback | 3.8/5 |
| Operator | 5/5 |
Table of content
Rating Process for Palm Beach Casino London
Our testers attempted to accurately and objectively cover the services that were offered by the Palm Beach Casino while at the same time remaining true to the experience that the typical gambler would have.
How and when we inspected Palm Beach Casino London
Date of visit: 07/29/2023
Time of visit: 14h – 16h
Initial bankroll: £100
What we played: Blackjack, Roulette, Slots
Final bankroll: £0
Next visit: 12/19/2023
What we looked at
The main focus of our Palm Beach London Casino review was the available gambling activities, their specifics, and the overall quality.
However, as we understand that other services may enter into the overall experience, we have covered various catering, entertainment, and utility facilities. As you read about the Palm Beach venue and games, you will observe that all areas have been objectively rated using an objective system based on years of experience with physical and online UK casinos.
However, we ensure that the final verdicts are still thoroughly informed by live, firsthand experience.
What we found
| | |
| --- | --- |
| Address | 30 Berkeley St, London W1J 8EH |
| Open hours | 12 PM – 5 AM |
| Membership | Not required |
| Minimum age | 21 |
| ID checks | Yes for non-members |
| Game types | Slots, Blackjack, Roulette (table & electronic), Baccarat, Three card Poker |
| Tables | 20 |
| Slot machines | 11 |
| Gaming terminals | – |
| Payment | Cash, Card, Chips |
| Average betting range | £5 – £25,000 |
| Restaurant | Yes |
| Hotel | No |
| Poker tournaments | None |
How we review Palm Beach Casino London
The information you read in our Palm Beach Casino London review is extension of our aim of providing essential, verifiable, and objective data on the state and worth of land-based casinos.
All tests performed by our expert analysts follow a local casino review system developed according to the full extent of a casino venue's functioning and provision of services. Our provided content can thus fully assess a land-based casino, as reflected in our ratings, and instruct readers in their decision-making process.
Slot Machines – 3/5
Our 3/5 rating is explained by the variety of slot games, providers and local progressive jackpots offered by Palm Beach Casino London. The venue has fewer than expected slot machines, and there is not much of a variety in their titles.
How many slot machines does Palm Beach Casino have?
There are only 11 slot machine terminals within Palm Beach Casino's London bounds. This is only slightly over half of the ideal number, that being the 20-slot maximum allowed by current British gambling laws.
Do the slot machines accept coins?
Most slot machines function with currency, as they have been refurbished to adhere to current technological standards.
You cannot find a lot of information on the game catalogue present at Palm Beach Casino's  London location via its official website. We consider this to be a failure in transparency towards its customers.
Bets on slot machines start at 40 pence per round.
Local progressive jackpots
There are progressive jackpot slots within Palm Beach Casino's London bounds. Note that prizes have been recorded to reach £20,000, which we deem to be in the average brackets.
Palm Beach Casino London pays out its players promptly in the cashier booth. The quick payout of winnings is the only reason to choose Palm Beach Casino versus any other top online slots site we selected.
Casino Games – 4/5
The table games present at Palm Beach Casino's gambling floor are varied and almost sufficient for all current customer demands, yet still far from what live dealer online casinos in the UK have.
The only two notable faults are the complete absence of craps tables and the lacune left by the lack of European variants for roulette.
Nonetheless, betting bounds are varied while still creating a slight handicap for low rollers that get no £1 to £4 minimum bets on most tables.
Game types
Roulette: 10 tables + Spread bet roulette

Blackjack: 6 tables

Poker: 3 tables

Craps: not available

Baccarat/Sic bo: Baccarat

Sports betting: not available
Betting limits
| | | |
| --- | --- | --- |
| Game | Minimum bet | Maximum bet |
| Roulette | £5 | £1,000 |
| Spread Bet Roulette | £10 | £20,000 / Spread bet on even odds bets |
| Video Roulette | 25p | £500 |
| Blackjack | £10 | £3,000 |
| Poker | £10 | £1,000 pair plus £2,000 ante |
| Baccarat | £100 | £25,000 |
Is there any form of higher-stakes gambling?
The Palm Beach Casino's games floor allows certain players to participate in even higher-stakes private gambling sessions.
However, accessing these high roller tables is a difficulty in itself and is done at the discretion of the casino staff. You should contact the management for more information on this subject.
Our verdict for table games
Even though it provides multiple table games and varied limits, these betting bounds are rigid and privilege high rollers.
Baccarat, for instance, is virtually inaccessible for players that cannot place £100 at a time, those being most gamblers.
This decision dramatically limits the customer reach of Palm Beach Casino London table games.
Staff & Service – 2.5/5
Although being accommodated in the historical May Fair Hotel, the Palm Beach Casino's London location itself does not host guest rooms. Still, it offers everything else.
Food & Drinks
The menu at the Pam Beach Casino London restaurant and bar certainly is not a gamble. You are sure to be satisfied by most dishes curated by the award-winning chef Zalman.
However, you should be ready to pay for the excellent treatment, as most main courses and starters start at £12 and can go up to £65 per serving (as is the case of the whole Dover sole.)
Prices for drinks are just as capable of giving the stingier of guests a mild heart attack, with wines, spirits, and cocktails starting at around £7. You do not want to hear the upper price cap (it is £930 for the Chivas Regal 25 Years Old treatment.)
Parking
Unfortunately, free or private parking is simply not in the cards when going to Palm Beach Casino's London venue.
This may pose real concerns, since, due to its prime location, you may face the usual London congestion before your memorable visit to the casino.
Accommodation
While the casino itself does not provide any type of accommodation, it is on the same block as the Mayfair Townhouse. This is clearly the intended option for most visitors.
However, you can go to many other accommodation facilities around the area.
Here are some hotels close by
| Hotels | Distance from Palm Beach Casino | Main advantage |
| --- | --- | --- |
| The Mayfair Townhouse | 0.1 miles | Best value |
| The Athenaeum Hotel & Residences | 0.3 miles | 2nd best value |
| Flemings Mayfair | 0.2 miles | Great service |
| COMO Metropolitan London | 0.4 miles | A discreet, hidden gem |
| InterContinental London Park Lane | 0.4 miles | Great dining experience |
| Brown's Hotel | 0.1 miles | Hospitality lives up to its fame |
| The Piccadilly London West End | 0.6 miles | Great location and even greater rooms |
| The Langham | 0.6 miles | Wonderful atmosphere and design |
| Dukes London | 0.3 miles | Close to most key attractions |
| St. James Hotel and Club Mayfair | 0.2 miles | Cosy and with excellent catering |
Security
The Palm Beach Casino's venue is secured according to the latest technology security systems.
Additionally, the security staff is regarded as stern but gentle with customers. Thus, there are a few reasons to be concerned for your safety and well-being.
Loyalty & Rewards – 4/5
The Palm Beach Casino's reward system is based on the loyalty programme of all other Genting Casinos.
My Genting Rewards is a chain-wide loyalty system that has participants accumulate points and exchange them for rewards.
What you get
Complimentary tea, coffee, or draught soft drinks while gambling

Exclusive offers

£1 per 100 collected points
How to register and use the programme
You can easily register via the dedicated app or by consulting the lobby staff

You can also find a sign in page on the official Genting Casinos UK page

We advise that you also create a My Genting card

You collect points by playing various gambling games

As your points collect, you can exchange them for consumables of casino funds

Each point is valued at 1 penny
There are multiple schemes
Genting casinos have five different reward schemes that gamblers can participate in.
While the first is available for all members, upon sign in, all others are invitation only.
Rewards schemes
Red scheme – accessible to all

Bronze scheme

Silver scheme

Gold scheme

Diamond scheme
You cannot win points by playing on tablets when you're in the red scheme, nor can you do so on table games when in red or bronze systems.
Casino atmosphere – 5/5
The Palm Beach Casino London floor , restaurant, and bar venue is a sleek location placed in the middle of one of the most attractive areas of London.
View from the inside
While the casino floor keeps the scene-specific neon-saturated style with a modern, perhaps slightly passe sleek linear esthetics, all other areas are more ballroom than a game room.
Interior design
Both areas certainly are luxurious, a design direction that the Palm Beach Casino's building oozes from all corners. One could contend that the change from one place to another is jarring.
Granted, it may not be the easiest of transitions, but it is justified or saved, depending on preference, by the sheer beauty of the adopted interior design.
It is one of the best destinations if you want to have an exquisite meal in a cosy locale while still keeping the option of escaping to the casino floor open.
Perhaps what the Palm Casino does best is modernising a historical location while still keeping an elegant, discreet old-timey flair to it.
Are you allowed to take photos in the Palm Beach?
You would ideally keep your phone or camera concealed as taking pictures is not only greatly frowned upon but prohibited within the premises, mainly because it can infringe on other customers' privacy.
This is especially aggravating within a gambling context, as it is an activity that comes with a considerable stigma.
Location and surroundings
The Palm Beach Casino Mayfair location makes it an instant hit for those looking for the more elegant parts of town.
The casino is placed between Buckingham Palace and Berkley Square, relatively close to Green Square.
Other close remarkable areas are Mayfair and Soho.
Piccadilly Circus is also a 9 minute walk away.
Events
Palm Beach Casino's venue has a constant rotation of events, with some standard offers being available at all times. You can participate in Learn How to Play events that are ideal for beginners.
On the other hand, seasoned high rollers can inquire about any ongoing high-stake gambling events.
House rules – 3.5/5
The terms, however strict, adhere to the current legal standard for land-based casinos.
Unfortunately, you face many limitations when gambling, such as abstaining from taking pictures or using your phone.
Working hours
Unfortunately, unlike many other similar locales, The Palm Beach is only open between 12 PM and 5 AM.
Palm Beach Casino London player membership details
You can sign up for a membership for free by inquiring about the option in the lobby. Receiving your membership card will also qualify you for the Genting Casinos Rewards programme.
Dress code
There are no strict specifications or guidelines for the dress code. However, as is the custom for such locations, you should go for smart casual attire at least.
Nonetheless, you can be asked to leave if staff considers your attire to be inappropriate.
Standout rules at Palm Beach Casino London
You cannot take any pictures. Doing so may result in your expulsion from the venue and the loss of your membership.

You can be refused entry for your attire.

You cannot use your phone while gambling at a table.

If you see a celebrity, do not ask for their autograph, as this is strictly forbidden within the casino.
Players feedback – 3.8/5
Most of the Palm Beach Casino London customer reviews are generally positive, with lower rankings being motivated by reported rude behaviour from the staff.
Palm Beach Casino London player reviews
Google – 4.1/5
The venue earned a reasonably high 4.1 out of 5 stars rating based on 511 reviews. Most positive reviews concern exquisite dining and great gambling experiences.
However, several visiting customers reported having encountered rude behaviour on the part of the casino staff, management, and security personnel.
More concerningly, there is at least one report of an ATM being tampered with to clone customer cards. Note that we cannot confirm the veracity of these statements.
Tripadvisor – 3.5/5
With an 89 reviews based rating of 3.5, TripAdvisor places the Palm Beach Casino's venue to be the 1,084th of 2,558 attractions in the city.
Note that gambling enthusiasts may easily place the location higher on the list.
Rating breakdown
Excellent – 27 reviews

Very good – 30

Average – 9

Poor – 7

Terrible – 16
Most common issues
The general line in most negative and even some of the positive reviews is that the bouncers are unmannered and hard-handed towards customers.

While it is unconfirmed, reports of card cloning within the premises would be unacceptable.

At least one user has drawn attention to possible racist attitudes exhibited by the security staff at the entrance.
Operator – 5/5
The Palm Beach Casino London club is a business owned and operated by Genting Casinos UK LTD, a gambling industry giant.
Who owns the Palm Beach Casino London?
The Genting Casinos UK LTD company is a subsidiary of the parent Genting Group or the Genting Berhad corporation, which started activities in 1965 in Malaysia.
The group arrived in the UK in 2006 and since then has come to operate 35 casino floors throughout the nation, with five being in London.
Other casinos in London owned by Genting Casinos UK LTD
Crockford's

Forty five Kensignton

Genting Casino Chinatown

The Colony Club
The company also runs several online casino domains and brands that reflect the same high-quality experience.
Contact info
Who are the top competitors of Palm Beach Casino London?
When considering the other market options in London, we have reduced the competitor list to just three different options.
We based these selections on the breadth of entertainment and offered events, available gambling activities, quality, and location.
Empire Casino vs Palm Beach Casino London
The Empire Casino London Leicester Square venue is a considerable contender for the Palm Beach London Casino.
This casino's approach is similar to the latter in that it adopts a luxurious and high-class style but offers most catering services for a lot cheaper.
Its gambling activities are also more varied, better for low rollers, and more attractive to seasoned gamblers, especially poker players.
Empire Casino is best for gambling on a budget.
If you still want that luxurious experience at a discount, you may be better off at the Empire Casino London Leicester Square floor.
Read more about it in our Empire Casino London review.
The Hippodrome vs The Palm Beach
The Palm Beach concentrates all its efforts towards one style, one experience, and one business vision.
The Hippodrome Casino London is the exact opposite. Its main pull is the sheer variation of bar offers and events you may encounter.
The Hippodrome is best known for its entertainment
The Hippodrome is not as elegant as the Palm Beach Casino's venue, nor does it have such a great location in the heart of London. What it has is tons of fun for its visitors.
Grosvenor Casino vs Palm Beach Casino London
Grosvenor Casino resembles Palm Beach Casino's venue in that it is a part of a broader chain of casinos run by a renowned operator.
However, Grosvenor's casino floor is much more gambling-oriented and provides better activities.
Grosvenor Casino London is better for gambling
The games offered, rule variations, and betting limits make it a much better choice for passionate gamblers.
What sets Palm Beach Casino London apart from its competitors?
The catering experience is something that no other casino can equal. The location of the venue and its design are two significant advantages, too.
Advantages and disadvantages of visiting Palm Beach Casino London
Pros
The food and drinks are a wonder of London catering

The venue is smack in the middle of London's most exciting area

You will be impressed by the interior design

The building it is fitted in is a historical landmark of the area

You have some excellent slot machine options
Cons
The prices are somewhat inaccessible for many potential visitors

There are few terminals on the floor

Table games have a high minimum bet limit

The security personnel has purportedly acted bluntly before
Is the Palm Beach your best London casino?
Palm Beach Casino London is more of a food and drinks experience rather than a gambling-centred one. While you can engage in both, you have better options for casino play. However, if you want a luxurious dinner with a drink on the side in a locale that is close to the most exciting areas in London, Palm Beach is for you.
FAQs
Who owns the Palm Beach casino?
The venue is owned and operated by the famed Genting Casinos UK LTD company.
How many casinos are there in London?
There is a total of 53 casino venues scattered across the capital, with five being owned by Palm Beach's operator.
Are there smoking areas in the Palm Beach Casino's London premise?
We have to give it to the place. Providing a heated smoking area is better than what most such locations will offer to their customer. The only downside is that you have to leave the wonderfully designed rooms behind when going out for a drag.
How much do you tip at the Palm Beach?
Considering the menu and the premise, expect to receive premium treatment. In turn, expect premium treatment to come with a steep requirement for tips.
Naturally, the general rule of thumb is 10% of your order. And considering the prices, you will already be paying enough.
Does Palm Beach Casino London charge entry?
It used to be the case that you required a membership to enter the casino's premises. This is no longer the case. You can freely enter the venue.
Do you always need a reservation to play at Palm Beach Casino?
While not being a requirement, it may be the best option, given the traction of this location and the broader customer market.