Empire Casino London Expert Review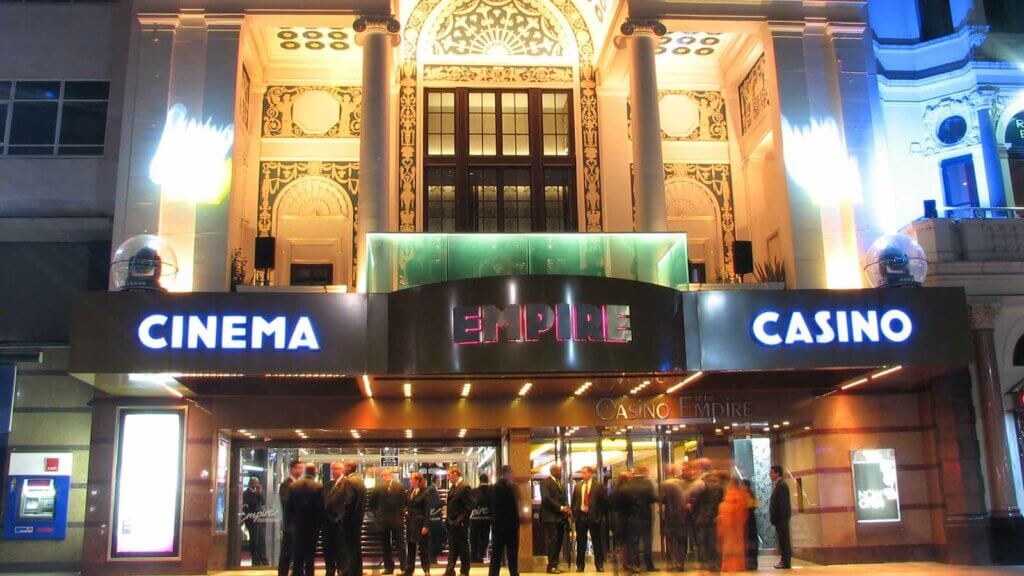 Find out if Empire Casino London is the go-to venue for you. KingCasinoBonus covers all gambling activities and related facilities to help you make the best decision.
Empire Casino Ratings
| | |
| --- | --- |
| Overall Rating | 4/5 |
| Slot Machines | 4.5/5 |
| Casino Games | 3.6/5 |
| Staff & Service | 4/5 |
| Loyalty & Rewards | 4/5 |
| Casino Atmosphere | 4.5/5 |
| House Rules | 4.4/5 |
| Player's Feedback | 3.5/5 |
| Operator | 4/5 |
Table of content
Our rating process for Empire Casino London
Our testers follow a review process for physical gambling venues that is informed by extensive experience with the industry in all its forms, from top-rated online casinos to physical venues.
The Empire Casino London review covers all facts and facets of the provided experience, curated and inspected from the perspective of our contributors' expertise in the subject.
The industry-wide comparison also is a cornerstone for our process and can better portray the standing of each business in today's milieu.
How we inspected Empire Casino
Date of visit: 11/29/2022
Time of visit: 14h – 16h
Initial bankroll: £100
What we played: Poker, Blackjack, Roulette, Slots
Final bankroll: £0
Next visit: 05/29/2023
What we looked at
When on the ground, our testers will prioritise objective reviews of provided activities. Thus, they will note and account for the variety of tables, betting limits, rule variations, and the resulting payout rate.
Beyond assessments, we also use real money tests to review the overall adherence and qualitiy of said activities. However, this approach also allows us to correctly check the overall atmosphere and service quality.
It is crucial that we maintain anonymity and that we aim to correctly emulate the experience that our readers, as potential customers, would have.
What we found
| | |
| --- | --- |
| Address | 5-6 Leicester Square, London WC2H 7NA |
| Open hours | 24/7 |
| Membership | Not required |
| Minimum age | 18 |
| ID checks | Yes for non-members |
| Game types | Roulette (American & Electronic), blackjack, Baccarat (Punto Banco) Poker (Three card), Pai Gow & Slots |
| Tables | 30+ |
| Slot machines | 20 |
| Gaming terminals | 90 |
| Payment | Cash, Card, Chips |
| Betting limits (overall) | £0.10 – £5000 |
| Restaurant | Yes |
| Hotel | No |
| Poker tournaments | Yes |
How we review Empire Casino London
The information you read in our Empire Casino London review is extension of our aim of providing essential, verifiable, and objective data on the state and worth of land-based casinos.
All tests performed by our expert analysts follow a review system developed according to the full extent of a casino venue's functioning and provision of services. Our provided content can thus fully assess a land-based casino, as reflected in our ratings, and instruct readers in their decision-making process.
Slot Machines – 4.5/5
The Empire Casino London venue is great for slot enthusiasts. Given its variety and volume of machines, it earned a near-perfect score, being a contender for the best casino in London for slots.
Slots we played at Empire Casino
| Slot machine | Payout rate | Paylines | Provider |
| --- | --- | --- | --- |
| Book of Ra Deluxe | 96% | 9 | Novomatic |
| Dolphin's Pearl Deluxe | 95.07% | 10 | Novomatic |
| Pharaoh's Fortune | 92.53% – 96.53% | 15 | IGT |
How many slot machines does Empire Casino have?
You can find 20 slot machine terminals within the Empire Casino London's venue, this being the maximum as per UK regulations. In other words, this is the best situation possible.
Do the slot machines accept coins?
The Empire Casino enterprise's slot machines do not take coins, as most terminals are modern digital systems.
Notable slot machine providers
Local progressive jackpots
Jackpots at the Empire Casino tend to vary. They often go up to £10,000, with some higher prizes such as £20,000, being recorded.
You can find progressive jackpot titles among the newer 44" HD-screen terminals.
Casino Games – 3.6/5
While you can find multiple worthwhile titles in the Empire Casino London venue, it lacks in craps, among other implementations.
Additionally, you cannot find European roulette tables on the casino floor.
However, the betting limits are permissive and accommodate most types of gamblers, from low to high rollers.
Game types
Roulette: 14 tables + 90 electronic roulette tables

Blackjack: 13 tables

Poker: 1 Poker Room (Texas Hold'em, Omaha & Poker Tournaments)

Craps: not available

Baccarat Punto Banco: 8 tables

Sports betting: not available

Pai Gow tiles
Betting limits
| Game | Minimum bet | Maximum bet |
| --- | --- | --- |
| Roulette | £1 / £2 | £500-£5000 |
| Blackjack | £5 | £500-£5000 |
| Baccarat Punto Banco | £5 | £500-£5000 |
| Pai Gow | £5 | £500-£5000 |
Can non-VIP customers access the highest betting limits?
While most of the perks include events and exclusive gifts, VIP status can come with higher limits depending on the desired game.
Empire Casino London poker tournaments
The casino staff puclishes an updated schedule of ongoing tournaments. There's an event occurring daily, from Sunday to Thursday, with a one-day break, on Friday.
The published schedule includes the starting times, which are usually 2 PM, the buy-in price, starting chips and time limits.
Although most Sundays will come with an Empire Casino London poker tournament, no such event will occur on the first Sunday of every month.
Staff & Service – 4/5
Customer service at the Empire Casino London, albeit not being ideal, provides for most needs and customer desires.
While there are many areas worth of prize, we cannot ignore some notable faults such as the absence of in-venue accommodation for customers.
Food & Drinks
The players menu includes meals that vary based on the time of day, course, and place of origin.
Food
The Empire Casino has a breakfast menu available from 7 AM to 11 AM, as well as an all day breakfast option, that is limited to wither an English breakfast or American pancakes. Needless to say the breakfast time menu is much more generous. Prices are acceptable, as they do not exceed £11 per course.
Brunch options include various great-value snacks and small bites, as well as salad and burger options that will cost you £14.5 at most.
However, if you pay £15 you can get a promotional package of a beer, a burger and a £5 worth chip or ticket.
Main courses include regional English trademark courses like the humble fish and chips, as well as more exquisite Singapore style noodles among other options. However, Asian food enthusiasts should look into the Dim Sum and gyoza offers. Naturally, the Empire Casino restaurant also serves desserts.
There is a Dessert of the Day option. You should inquire with the server regarding this dish.
The best part about the food at Empire Casino is that it comes at a great price for the value it adds to the experience.
Drinks
The cocktails menu is nothing to write home about, especially considering the party-heavy capital that is London.
You will find some fruity martinis, as well as other various mostly Whiskey based mixes with a dash of the fancier gin tonic, or tequila based beverage, plus the obligatory mocktails.
All cocktails come at a fixed £9.50 pricemark, while mocktails come at a steal of a price of £5.
The most interesting addition at the Empire Casino is that you can participate in a cocktail "masterclass" where, under the guise and guidance of experienced mixologists, you can learn to shake, muddle, and create your presonalised cocktail, in an intense hour-long sesh.
It is rare to see a bar combine learning and entertainment, but the Empire Casino's bar does just that.
How much do you tip at Empire Casino London?
Good etiquette dictates that you should tip at least 10% of the price of your order. However, the overall expenses for a full meal course and a drink are so affordable that you may add to that.
We deemed it appropriate to tip between £1 and £2 per course at the restaurant, depending on its original price, and marginally more for drinks, especially if the bartender managed to teach us a few tricks in mixology.
What about the Empire Casino Leicester Square rooftop bar?
Entitled "A rooftop VIP venue open to all" the Icon Balcony Bar of the Empire Casino's premises is an exquisite destination for seekers of luxury at a discount.
Its placement may be the main attraction, and justifiably so, but the location also comes with live DJ sets on Firdays and Saturdays from 10 PM on. You can also catch site of some A-list celebrities, as the Empire Casino has hosted famous artists, from Julia Roberts to the iconic Madonna.
The Icon Balcony Bar is open from 5 PM until late every day.
There's also a dedicated sports bar where you can cheer on your team of choice with a cold pint in hand. Both of these locations are open for reservations.
Parking
With the Empire Casino being sandwiched between London's nightlife district and the China Town, parking may seem to be a difficulty.
Unfortunately, the venue does not host its own private parking area. However, there are two Q-Park locations within walking distance of its location: Q-Park Leicester Square and Q-Park China Town. Both are open 24 hours a day. It should not take you more than five minutes to reach Empire Casino's premises, since they are both at about 0.1 mile away.
Both parking locations have a £9 per hour rate.
And while neither is owned by the venue, Met Card holders get a reduced rate at the Leicester Square located Q-Park. If you have a met card, be sure to pick this option.
Accommodation
The Empire Casino London premises do not have any in-house accommodation. If you need a room to visit, You can book a room at The Piccadilly, on the West End.
You also have less frequented options, such as Page 8, Haymarket Hotel, which is the highest rated 5-star hotel within four minute walk of the Empire Casino's location.
For higher-rated options and luxury suites, you can go for the Hotel Cafe Royal or The Resident Soho.
Distance from hotels to Empire Casino London
The Piccadilly London West End – 0.1 miles

Page 8 – 0.2 miles

The Piccadilly Hotel – 0.1 miles

Haymarket Hotel – 0.2 miles

St Martins Lane London – 0.2 miles

Hotel Cafe Royal – 0.2 miles

The Resident Soho – 0.3 miles

The Resident Covent Garden – 0.3 miles

The Clermont Charing Cross – 0.3 miles

Sofitel London St James – 0.3 miles
Are there smoking areas in the venue?
There are no indoors smoking areas as per current British regulations, but you can pay the Icon Balcony Bar a visit and you will find a smokers' designated area.
Security
There have been some reports in the past of security personnel ovestepping their limits with some customers especially when it comes to intolerance of inebriated customers.
As far as our reviewers' experiences go, no such events occurred. However, we cannot ignore these remarks. Management has also been famed for poor performance.
Loyalty & Rewards – 4/5
The loyalty programme functions via the multi-casino Met Card, associated with the Metropolitan Gaming group.
How does the Met Card work?
The Met Card is a free sign in service that will reward you for any type of purchase and wagering within Empire Casino's premises, and other such venues across the city.
The Met Points you will accumulate can lead to various rewards.
Met Card Rewards
Exclusive invitations for in-casino events

Exclusive entry into Met Card promotions

Free play in exchange for Met Points

Discounts on food and drinks
The totality of Met Points you gather within a calendar year transfer to your Tier Points balance. This in turn contributes to your Tier Status.
Casino atmosphere – 4.5/5
The Empire Casino London floor has a lavish, albeit crammed design that hits you with thousand volts-worth of lights right from the entrance.
The venue adopts a neo-classical mixed with maximalist baroque style that translates pretty well the main activity to be had inside.
View on the inside
The interior showcases considerably more modern accents, with minimalist design and vertiginous vertices darting the ceiling like abstract architectonic plates.
The centrepiecce – a series of chandeliers descend two Swarovski woven mantles like two great jellyfish. It is a sight to see and sigh.
However the most exquisite part of the entire experience is the Icon Balcony Bar, which crosses all t's in intemperance, sumptuousness and customer satisfaction.
Design experience
The Empire Casino's design direction goes for luxury, especially with the Icon Balcony Bar, but also maintains a tie to the proles via its sports bar and low prices.
Are you allowed to take photos in Empire Casino London?
The rules of the casino do not prohibit taking pictures within the premises. However, you should be mindful of the possible harassment caused by the action, especially when using flash.
Location and surroundings
West End is a lavish high-class area of London, comprising the famed Oxford Street, Marble Arch, Covent Garden, Mayfair, Piccadilly, and Leichester Square.
The area is known historically for its remarkable architecture and cultural and entertainment attractions. It also borders one of the nicer banks of River Thames, and London's principal attraction, Buckingham Palace.
Events
The three main draws of the Empire Casino London nightlife experience are the live DJ sets on the Icon Balcony Bar, the Learn How to Play events, and the Cocktail Masterclass events.
Other activities can include, watching sporting events in the sports bar, participating in tournaments or opting into exclusive Experience packages.
Rules of the Casino – 4.4/5
Empire Casino London functions within legal bounds, as it adheres both to the British legal standard and the internal policies of Metropolitan Gaming Group venues.
Its last update of the rules of the casino has occurred on December 1st, 2022. The only questionable practices regard the unconditional exclusion of any customer with no reimbursement of funds. Naturally, this event cannot take place under any circumstances and is bound by the internal policies an posible repercussions of a resulting complaint.
Opening hours
The casino has a 24-hour functioning schedule every day of the week.
Does Empire Casino London charge for entry?
Entry is free within the venue. However, you should bring along a valid ID if entering past 9 PM.
Do you always need a reservation to play at Empire Casino London?
This is not a necessity. Nonetheless, if you wish to access various areas, or participate in private events, a reservation is advised. Same goes for Empire Casino London poker tournament events.
How to join Empire Casino London
Membership is not required as the entry and services are free. However, you can sign in for a Met Card and receive additional perks for your participation.
Dress code
There is no specified dress code per se. However, you are best to approach teh venue dressed in smart casual attire. No jacket or suit are required, but are gladly welcomed.
Players feedback – 3.5/5
The past player and customer reviews are a mixed bag with most complaints concerning the management and handling by security personnel.
Empire Casino London player reviews
Google – 3.9/5
The location is great, the croupiers – professional, the banter – knee slapping. Customer service, however can prove unwelcoming, while most other staff proving to be average.
Tripadvisor – 3/5
The Empire Casino is a cheaper option that is ideal for enthusiasts and members if the Metropolitan Gaming Group. However, some services are lacklustre and there is no real, certified luxury.
Most common issues
We have encountered multiple complaints regarding the activity of security personnel and possible hard handling of allegedly inebriated customers.

Management performance has been generally rated to be low.

Some complained about the lack of craps options, however frequent this may be in London casinos.
Operator – 4/5
Who owns Empire Casino London?
The venue is owned and run by the London Clubs LSQ Ltd, a company concerned with operating sports amusement and recreational facilities and services.
The company currently has a pending application for a remote license which can hint to a future Empire Casino London online implementation.
Contact info
| | |
| --- | --- |
| Website | https://www.thecasinolsq.com/ |
| Email address | Via enquiry form |
| Telephone number | 020 3014 1000 |
Who are the top competitors of Empire Casino London?
There are two main competitors in the London local casino market, Hippodrome Casino and Grosvenor Casino London.
Empire Casino London vs Grosvenor Casino London
The Grosvenor Casino London brand has a chain of casinos, with one, affectionately called The Vic, being located close to Soho. The group holds a total of 52 venues to boot.
While most activities are comparable between the two locations, Grosvenor Casino London provides extra facilities, such as parking, smoking areas, and extensive live sports activities.
Grosvenor Casino London is best known for multiple high-class venues
The Empire Casino London's building has a great placement for its venue, but it cannot contend with the extended accessibility of multiple locations scattered throughout London and England.
Empire Casino London vs Hippodrome Casino London
The Hippodrome Casino London venue goes a lot more in the direction of light entertainment and bar culture.
The Empire Casino London's game offer is possibly better for seasoned gamblers, especially poker players, thanks to its extensive accessibility to poker tournaments. The Hippodrome is more attractive for a larger, although less homogenous customer base.
Hippodrome Casino London is best known for bars, bars, bars!
Hippodrome Casino London certainly does one thing better, if not best, and that is organising greate and carried bar experiences.
What sets Empire Casino London apart from its competitors?
The Empire Casino London certainly wins in the location category. Albeit being a cheaper option with limited events and activities, the sheer pull of its West End pedigree amke it wirht the go.
Pros and Cons of Going to Empire Casino London
Pros
Great location in the middle of London

A multi-venue Met Card loyalty programme

Worthwhile catering services at an advantageous price

Good for clubbing too
Cons
No craps available

Poor managerial practices
Is Empire Casino London the best destination for you?
The Empire Casino London is worth your time especially if you play poker. However, regardless of budget, you'll have a proper casino experience in one of the most attractive buildings in London. You should be precautious with behaviour and etiquette if you're only visiting as a tourist.
FAQs
What is the largest casino in London?
The title goes out to the Empire Casino London venue, with its whopping 55,000 square feet of fun-filled space.
What is the most famous casino in London?
Unfortunately, size is not enough. The Leichester Square Hippodrome Casino London venue is much more popular among seasoned players and tourists alike.
Who owns Empire Casino in London?
The venue is one of the 11 properties owned by London Clubs LSQ Ltd, a company that deals with organising amusement and sporting events.