Empire Casino London Expert Review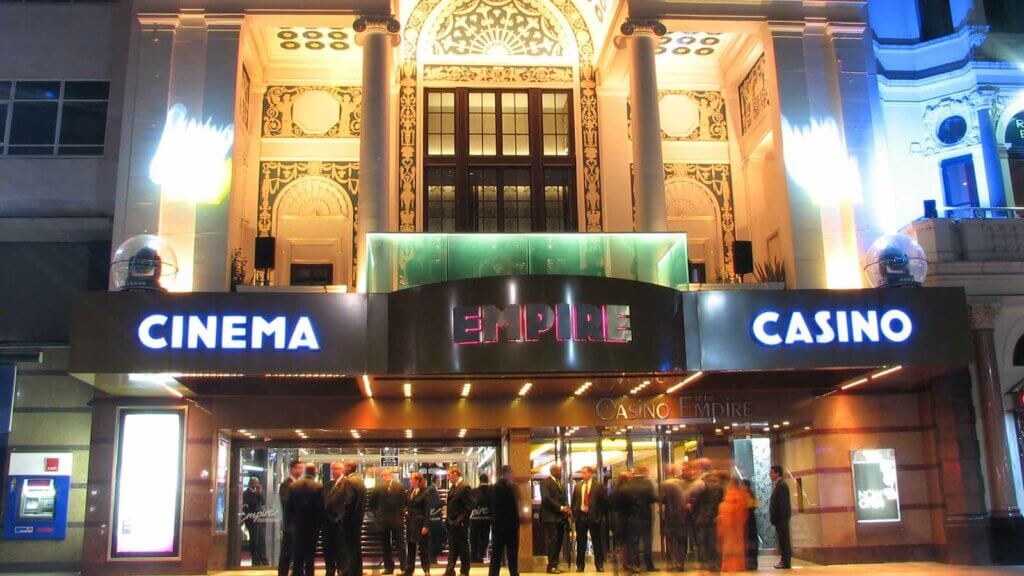 Overlooking busy Leicester Square in London, the 55,000-square-foot Empire Casino is arguably one of the largest casinos within the region. Read on to learn more about its games selection, amenities, rewards programme and rules.
We'll even see how it compares to both industry standards and its competitors so you can make an informed decision next time you decide to visit a casino in central London.
| | |
| --- | --- |
| Overall Rating | 4.1/5 |
| Slot Machines | 5/5 |
| Games | 4.6/5 |
| Staff & Service | 3.5/5 |
| Loyalty & Rewards | 3.5/5 |
| Atmosphere | 4/5 |
| House Rules | 4/5 |
| Player's Feedback | 3.8/5 |
| Operator | 5/5 |
Rating and review process for Empire Casino
At King Casino Bonus, we make a conscious effort to assess every casino using standardised metrics to give an objective point of view. With this in mind, we make recommendations based on our findings (with some provision for more subjective criteria).
You can access more reviews of London-based casinos, such as Aspers Casino and Maxims Club Casino, so you can make a direct comparison.
How we inspected Empire Casino
Date of visit: 07/01/2023
Time of visit: 12h – 14h
Initial bankroll: £100
What we played: Slots
Final bankroll: £150
Next visit: 09/19/2023
What we looked at
During the reviewing process, we consider important criteria like the gaming options, relevant features, pricing and house rules. We also look at the level of customer service, accommodation, the quality of food and drink, as well as the general atmosphere.
We make a point to use key metrics where possible that can be compared against industry standards and the operator's closest competitors.
However, certain criteria, such as atmosphere, may be more subjective, so we emphasise accuracy in our descriptions so that you can make a decision based on facts.
What we found
| | |
| --- | --- |
| Address | 5-6 Leicester Square, London WC2H 7NA, United Kingdom |
| Open hours | 24/7 |
| Membership | Not required |
| Minimum age | 21 |
| ID checks | Yes for non-members |
| Game types | Slots, American roulette, Blackjack, Punto Banco, Three card poker, Electronic roulette, Lucky lady's roulette and baccarat. |
| Tables | 50 gaming tables |
| Slot machines | 100 slot machines |
| Gaming terminals | Over 90 |
| Payment | Cash, Card, Chips |
| Average betting range | £5 – £1000 |
| Free drinks | No |
| Restaurant | Yes |
| Hotel | No |
| Poker tournaments (UK) | Omaha Tournaments |
Slot Machines – 5/5
The slots section at Empire Casino exceeds industry standards as it features over 100 slot machines (20 slots being the standard) from more than 3 world-renowned providers, including Play' n Go, Novomatic, Aztec and Wizard Games. It also includes a range of different jackpots to choose from, like Starburst and Mega Fortune.
Slots we played at Empire Casino
| Slot machine | Minimum bet | Maximum bet |
| --- | --- | --- |
| Legion Gold | £0.05 | £100.00 |
| Savannah Strike | £0.02 | £50.00 |
| Book of Itza | £0.10 | £50.00 |
How many slot machines does Empire Casino have?
Empire Casino provides over 100 slot machines across a wide range of types, including classic, video, progressive and jackpot slots.
Do the slot machines accept coins?
The slots at the Empire Casino are ultra-modern, so they are funded at the cash point via cash or credit/debit card. You'll receive tokens or credits to play with.
Slot machine providers
Play 'n Go

Novomatic

Aztec

Wizard Games
Local progressive jackpots
An array of the slots available boast impressive progressive prizes. Book of Itza offers a potential payout of 5,000x your stake. Jackpots of up to £20,000 can be won on games such as Mega Moolah, Divine Fortune and Age of the Gods.
Casino Games – 4.6/5
With 50 live tables and 5 poker table options (with regular tournaments), Empire Casino has an impressive table game selection. It also has minimum and maximum betting options to suit players of all budgets – without needing VIP access.
Game types
Live tables (roulette, blackjack and baccarat): 50

Poker: 5 tables (open 24/7)
Betting limits
| Game | Minimum bet | Maximum bet |
| --- | --- | --- |
| Roulette | £0.10 | £1000.00 |
| Blackjack | £1.00 | £5000.00 |
| Baccarat | £0.10 | £1000.00 |
| Poker | £1.00 | £5000.00 |
Can anyone bet the highest limits or do you need special VIP access?
You don't need VIP access to bet the highest limit on table games. This means that new players can bet as much as £5000 on blackjack or poker as they walk through the door.
Empire Casino poker tournaments
The venue has a weekly schedule where poker tournaments are hosted each day. More information about the poker tournament schedule is posted on the site. One of the biggest poker tournaments to look forward to is the Omaha Tournament, with buy-ins ranging from £25 to £200.
Staff & Service – 3.5/5
The location provides a variety of dining options at reasonable prices. While it doesn't have a dedicated hotel, many highly rated (yet expensive) options can be found within and near busy Leicester Square.
Food & Drinks
From the Sports Bar&Grill to the sophisticated Heliot Steakhouse, Empire Casino offers an extensive range of food options that cater to a variety of tastes. Whether you prefer traditional British pub grub, Italian-inspired dishes or something with more of an international flair, you'll find something to satisfy your palate.
At the Iconic Bar, guests can enjoy an array of drink options ranging from signature cocktails to a selection of wines.
Opening hours
The opening hours of the kitchen are 12 pm – 4 am. On the other hand, the bar opens from 2 pm –  to late from Monday – to Friday, and opens from 12 pm – to late on Saturday and Sunday. As a guest, you can enjoy a comprehensive selection of food and drinks between the range of £4 – £25, which is quite reasonable. 
How much do you tip at Empire Casino?
There is no mandatory tipping at Empire Casino. But, it should be noted that the standard tipping etiquette in the UK is 10-15%, depending on the level of service experienced.
Does Empire Casino offer free drinks?
Empire Casino does not offer free drinks to its guests. However, it is renowned for its regular drinks 'happy hour'. From 5 pm to 8 pm each evening, you can enjoy a range of discounted beverages at its bar.
Is there a buffet at Empire Casino?
Unfortunately, there is currently no buffet. However, there are plenty of generous dining options available, including an Italian restaurant, a sports bar and a street food hall serving up a wide variety of international cuisine.
Parking
The operator partners with Q-park Leicester Square to provide parking for guests. You are expected to pay £18 to park for a maximum of 12 hours (which is quite expensive). Registered members who have the Met Card will pay less.
Accommodation
The venue does not make provision for exclusive accommodation within its premises. However, there are a number of hotels within a very close distance of the venue. These include Page 8, The Piccadilly London West End, The Resident Soho, St. Martins Lane London and many more. These are top-rated luxury hotels whose prices fall between £240 – £330 per night.
Do you tip room service at Empire Casino?
While it is not mandatory to tip room service at the neighbouring hotels, it is customary to tip at least 10% in the UK for good service.
Are there smoking areas?
The location enforces a strict "no smoking" policy. This includes all forms of tobacco and e-cigarettes. However, some of the hotels listed above make provision for smoking areas (generally outdoors).
Security
The location makes use of bouncers and metal scanners near the entrance, as well as CCTV, to maintain safety within the premises. They also have trained staff patrolling the casino floor to monitor suspicious behaviour.
Loyalty & Rewards – 3.5/5
From how it works to what you get, this section will discuss all you should know about the loyalty program at Empire Casino.
How does the Empire Casino reward program work?
The rewards program consists of four tiers:
Jack

Queen

King

Ace
The more you play, the more (and higher value) points you accumulate, progressing to the next level. 100 Met Card points is equal to £1. You can opt to use the points to play more games at the casino, to get food and drinks or other merchandise. It is important to note that the points have a one-year validity period. It also takes quite a while to accumulate them.
What you get
Exclusive invitations to in-house events

Exclusive entry into Met Card promotions

Free play in exchange for Met Card points

Discounts on food and drinks

Access to the Met Card App

Discounted parking
How to register in the program
To register for the rewards program, simply visit the reception and state your intention. You'll immediately be assigned Jack status and can start accumulating points via your card and/or app. To redeem your points, talk to a member of staff and exchange your points for your desired reward.
Casino atmosphere – 4/5
Situated in Leicester Square, the atmosphere is a blend of modern and old world. It is housed in a historic building that is lit up in vibrant colours at night. It has a sophisticated and spacious art deco feel within its interior that matches its surroundings.
View from the inside
Design experience
Empire Casino is an iconic destination for all players and visitors, with its luxurious and sophisticated décor. The grand entrance features a marble staircase leading into the main area, where guests are surrounded by intricately designed mahogany walls and polished brass fixtures.
The interior boasts moody lighting, intricate mouldings and a spacious floor plan. While the location has an air of Art Deco luxury, certain elements of the gaming section seem slightly outdated and muted.
Are you allowed to take photos in Empire Casino?
You are allowed to take photos within and around the casino premises but not at the gaming tables. Whether you want to take a selfie against the backdrop of its iconic entrance or one of the operator's special events, you're free to document most of your experience.
Location and surroundings
The venue is located in the heart of London, overlooking Leicester Square. While this is an iconic spot, it is exceptionally busy, especially at peak hours. Its location is a drawcard in that it's surrounded by many other attractions and amenities, such as museums, high-end shopping and luxurious hotels, but it can be crowded (with expensive parking).
Do you need a passport to go to the Empire Casino?
You are required to present valid ID documents and/or a passport. However, if you are a registered member with a Met Card, you don't need an ID to get in.
Events
Empire Casino has a variety of fun activities that you can enjoy without necessarily having to play games. It has a cinema and live concert hall with a number of shows throughout the week, including comedy and live jazz nights.
The venue holds cocktail masterclasses, where you can learn how to make your favourite cocktails from some of the best instructors in the industry. There are also some other fun activities like a live DJ in the bar on Fridays and Saturdays and 'Burger, Beer & Bet' for just £15.
If you want to improve your gameplay, the casino offers the opportunity to learn how to play blackjack like a pro from seasoned instructors. If you want to host an event (or book some betting tables), it offers private hire services. All you have to do is make a reservation on the website.
House rules (T&Cs) – 4/5
Empire Casino is fairly laid back when it comes to its dress code. It also offers free membership, free entry, reservations that are not necessarily required, as well as 24/7 gambling.
Schedule
The location is open 24/7, allowing for round-the-clock gambling. However, the bar and kitchen are only open from 12 pm daily, with the bar opening even later during weekdays.
Does Empire Casino charge entry?
You can gain access without paying an entry fee. But being a member will get you into exclusive in-house events, not to be missed.
Do you always need a reservation to play at Empire Casino?
You are not required to make a reservation to play. However, it can be busy at times, so make sure to book a betting table if you plan to go with a large group.
Is membership required at Empire Casino?
Membership is not mandatory to have access to the casino's services. However, being a registered member opens you up to some perks, such as Met Card points and discounted parking. To register as a member, simply visit the reception – registration is free.
Dress code
While wearing caps and sportswear is not encouraged, the operator does not have strict rules in place. It maintains a casual dress code to ensure a comfortable and inclusive atmosphere for all guests.
Standout rules at Empire Casino
All guests must be at least 21 and provide valid ID documents upon entry.

The use of any device to aid cheating is strictly prohibited – on-floor patrolling and CCTV cameras are strategically placed to enforce this.

Any electronic device, including smartphones, is prohibited near betting tables.

No outside food or drink is allowed.

Guests are not allowed to leave the location without settling debts incurred after rounds of gambling.

Smoking is strictly prohibited within the location premises.

Guests are not allowed to use the casino name for advertising purposes.
Players feedback – 3.8/5
This section will cover an overview of ratings from Google and Tripadvisor.
Empire Casino player reviews
Google – 3.9/5
Of the 1,429 reviews on Google, higher reviews seem to be more common, with lower rankings appearing before more average rankings. According to players, the casino seems to be "hit and miss".
While the game's selection is largely praised, the lack of service (particularly with regards to bars and waiters) appears to be somewhat lacking. Empire Casino may need to work on its consistency.
Tripadvisor – 3/5
Of the 413 reviews on Tripadvisor, the feedback seems to be mixed. While "very good" and "average" rankings score the highest, recent reviews appear to be more negative. Players highlight Empire Casino's bustling location but seem to downgrade it with its loyalty programme.
For instance, points are hard to accumulate, and there are poor sports betting options. Some players have even accused the casino of 'fixing' its slot machines.
Most common issues
Met Card points take a while to accumulate

Poor sports betting options

Bars are only open from 2 pm on weekdays

Waiters can take too long to deliver orders

The surrounding area can get very busy
Operator – 5/5
Who owns Empire Casino?
Empire Casino is owned by Metropolitan Gaming, which was formerly London Clubs International. This company is responsible for 11 locations in the UK. It is a renowned operator that has built a solid reputation in the industry.
Other casinos by the same operator
The Metropolitan Casino (Mayfair)

The Sportsman

Park Lane Club London

The Rendezvous (Brighton)

Manchester235

Aleas Casinos (Glasgow and Nottingham)
Contact info
Who are the top competitors of Empire Casino?
In this section, we will be comparing Empire Casino against two venues we consider its closest competitors: Hippodrome Casino and Genting York Place.
Empire Casino vs. Hippodrome Casino
When we consider the gaming selection, both venues come close in terms of what they offer. Empire Casino makes provision for over 100 slot machines and 50 live betting tables. Hippodrome Casino almost matches up by providing over 100 electronic machines and 45 live tables.
Both operators offer a wide range of dining options. However, Empire Casino boasts cheaper food than Hippodrome Casino, even though the latter provides a more comprehensive menu. Empire Casino tends to have more fun activities in its lineup of events, which includes cocktail masterclass, blackjack training and live DJs.
When we look at the atmosphere of both, it is easy to see why Hippodrome Casino can be seen as superior. While Empire Casino makes a good attempt at reflecting luxury, Hippodrome Casino boasts a more grand interior, as well as a sophisticated rooftop terrace.
Hippodrome Casino is best for the Atmosphere
With its rich architecture, exquisite décor and rooftop terrace, Hippodrome Casino provides a more luxurious experience for guests. The grandeur of the building is reflected within, with much better lighting and plusher interiors than Empire Casino.
Empire Casino vs. Grosvenor Casino
When we compare both gaming options, Grosvenor Casino has more slot machines (150) but falls short with only 22 live tables, compared to Empire Casino, which boasts over 50 live betting tables.
Both locations offer their guests comprehensive food and drink options at affordable rates. Empire Casino provides many sit-down restaurants, such as the sophisticated Heliot Steak House and Asian cuisine at the FuLuShou.
On the other hand, Grosvenor Casino has more a la carte options, where guests are free to choose smaller items from an extensive menu. With regards to live events, Grosvenor Casino doesn't even come close to what Empire Casino has to offer.
Grosvenor Casino is the best alternative for Sports Betting
What Grosvenor Casino lacks in live table games, it makes up for by providing thrilling sports betting services, which are not listed in Empire Casino's offerings. Added to its extensive sportsbook, Grosvenor Casino also appeals to sports enthusiasts with a variety of sportsbook promotions, including free bets, price boosts and money-back specials.
What sets Empire Casino apart from its competitors?
What sets Empire Casino apart from its competitors is its extensive range of live tables and live events it hosts. It truly is a mecca for after-hours entertainment.
Pros and cons
Pros
Open 24/7

Over 50 live tables available

A range of poker tournaments

Over 100 slot machines are available

Betting range to suit all budgets

Affordable food and drinks

An impressive lineup of live events

Premium dining experience

Free entry to the casino

A fairly lenient dress code

Free registration for membership
Cons
Limited availability of sports betting

Scarce promotional offers are available

The bar and kitchen only open from 12 pm

Parking can be expensive

It can be crowded at peak hours

No dedicated hotel (surrounding hotels are expensive)
Is Empire Casino your best place to play?
Empire Casino is a hotspot for live gaming action. With over 100 slot machines, an impressive 50+ betting tables and a thrilling selection of live events, you're sure to be entertained all night long.
While it boasts a classy art deco theme, it's also fairly laid back. This is reflected in its dress code, affordable food and drink prices and betting for all budgets. But, if it's sports betting you're after, Empire Casino may not be for you.
Located in vibrant Leicester Square, it can be busy at times. It has no dedicated hotel, so if you want to stay the night, you may have limited budget-friendly options (this applies to parking, too). While its rewards programme offers free membership, it can take a while to accumulate points, making it less valuable for repeat players.
This being said, Empire Casino is a great option for pure gameplay. As mentioned by one of its customers, we "recommend it to any gamblers on vacation who want a break from the sight-seeing".
Check out our London Casino reviews for more casino destinations you can explore within the UK.