Grosvenor London Casino the Rialto Review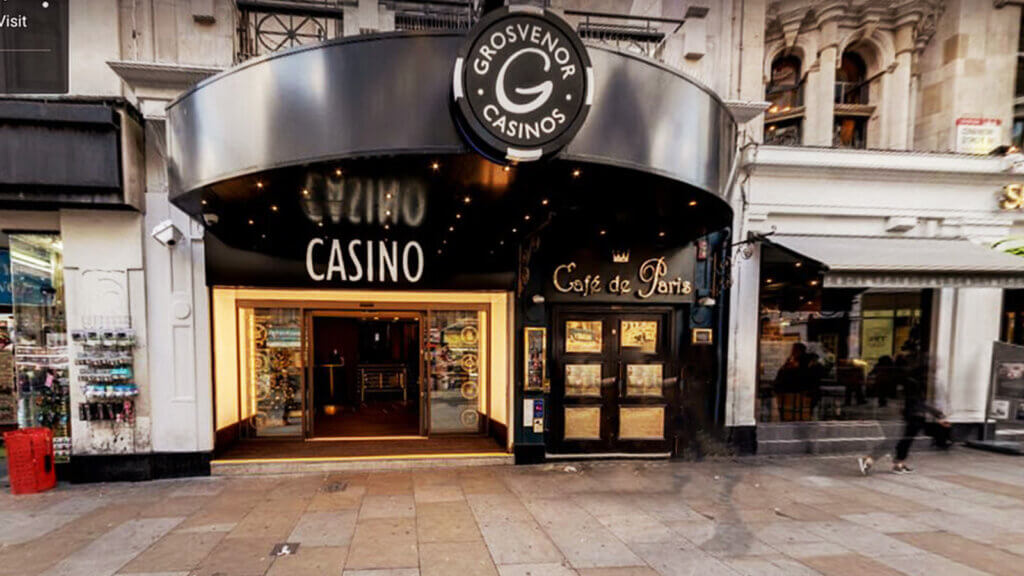 See if Grosvenor Casino the Rialto London has the games and features you prefer from our unbiased review.
Grosvenor Casino the Rialto London Ratings
| | |
| --- | --- |
| Overall rating | 4.4/5 |
| Slot machines | 4/5 |
| Casino games | 4/5 |
| Staff & Service | 3.5/5 |
| Loyalty & Rewards | 5/5 |
| Casino atmosphere | 5/5 |
| House rules | 5/5 |
| Players feedback | 4/5 |
| Operator | 5/5 |
Table of contents
Expert audit of the Rialto London Casino
Grosvenor online casino has been featured on our top UK casino sites list for several months, but how do its land-based counterparts perform?
We put our redesigned rating system to work in this Grosvenor Casino the Rialto London review.
In-club visit facts
Date of visit: 12/01/2023
Time of visit: 17h – 19h
Initial bankroll: £300
What we played: Roulette, slots, baccarat
Final bankroll: £0
Next visit: 07/13/2023
What we checked
We have visited club to provide a solid foundation for our review. Every piece of information was obtained following our hands-on research.
Keeping true to our methodology at KingCasinoBonus UK, our tests involve:
Checking the game catalogue and analysing the T&Cs.

Trying the available lunch and dining options

Evaluating player feedback and the general atmosphere

Comparing the London casino we review with two competitors
What we found
| | |
| --- | --- |
| Address | 3-4 Coventry St, London |
| Open hours | 24/7 |
| Membership | Not required |
| Minimum age | 18 |
| ID checks | Yes, challenge 21 |
| Game types | American roulette, slots, blackjack, punto banco, three-card poker, Texas Hold'em |
| Tables | 10+ |
| Slot machines | 10+ |
| Touchpad roulette terminals | Yes |
| Payment | Cash, cheque, debit card |
| Average betting range | £1 – £1,000 |
| Restaurant | Yes |
| Hotel | No |
| Poker tournaments | No |
How we review Rialto London Casino
The information you read in our Hippodrome Casino London review is extension of our aim of providing essential, verifiable, and objective data on the state and worth of land-based casinos.
All tests performed by our expert analysts follow a review system developed according to the full extent of a casino venue's functioning and provision of services. Our provided content can thus fully assess a land-based casino, as reflected in our ratings, and instruct readers in their decision-making process.
Slot Machines – 4/5
We played at various IGT-powered single-game and multi-game machines on the main floor during our evaluation of the slots. The ambience is more suited for classic gaming, though.
Slots we played at Grosvenor Casino the Rialto London
| | | | |
| --- | --- | --- | --- |
| Slot machine | Payout rate | Minimum bet | Maximum bet |
| Pharaohs Fortune | 92.53% | £0.15 | £450 |
| Wolf Run | 94.98% | £0.4 | £40 |
| Cleopatra | 95.13% | £0.2 | £100 |
Pharaohs Fortune is a common feature at IGT online casinos. You might want to play the slot online since the online version's payout rate is 96%.
Slot machine providers
Novomatic online casinos have all the slot games you can find on Super Gaminator machines.
Local progressive jackpots
If you want to play for the most significant potential prize, find the Fort Knox slot on IGT machines, with a progressive jackpot of up to £20,000.
Casino Games – 4/5
Grosvenor Casino the Rialto London occupies a spacey building. Still, it's a relatively small casino with a limited number of tables.
The separate punto banco lounge appeals to baccarat players. However, betting is limited at stakes too low for high rollers. Still, a rating lower than 4/5 wouldn't do justice to it hosting Texas Hold'em cash games.
Game types
American roulette

Blackjack

Three-card Poker

Punto Banco

Texas Hold'em
Classic table games are available on the ground floor, which serves as the main gaming area. Upstairs you can find the touchpad roulette machines and different slots.
Betting limits
| Game | Minimum bet | Maximum bet |
| --- | --- | --- |
| American roulette | £1-5 | £400 |
| Blackjack | £5 | £1,000 |
| Three card poker | £5 | £200 |
| Punto banco | £10 | £1,000 |
Can you bet the highest limits without becoming a member?
As a guest, your betting activity inside any Grosvenor Casino will be limited until you apply for membership and produce proof of ID.
Are poker tournaments held at this Grosvenor Casino?
The casino does not host any poker tournaments, but you can play Texas Hold'em for cash. Tables are open every day at 7:30 pm. Buy-ins may vary, but on average, they're around £40.
Check our review of Grosvenor the Victoria to find more information about poker tournaments.
Staff & Service – 3.5/5
We have nothing to complain about the personnel. Still, the services offered at Grosvenor Casino the Rialto London could be improved. No lodging is provided whatsoever, and members visiting from outside the capital must manage to find parking alone.
Food & Drinks
After reviewing the main gaming floor, we headed over to the Backstage Bar on the second floor for a quick snack. We knew the casino didn't have a full-scale restaurant but a fast-food service. Still, the food exceeded our expectations.
The Bar is open 24/7, but may change schedules.
What to try
| | |
| --- | --- |
| Food  | Drinks |
| Vegetable spring rolls – £6 | White wine – £7-8 per 175ml glass |
| House burger – £14 | Red wine – £8-10 per 175ml glass |
| Pizza – £13-15 | Baileys – £5.25 per shot |
| Gardener's plate – £14 | Vesper Martini – £11 |
| Philly steak sandwich – £12 | Pina Colada – £11 |
Parking
Q-Park Chinatown is the closest car park to the casino building, 2-3 minutes away. Check their website before your visit to know the exact rates per hour.
Accommodation
You could spend the night at this 24/7 Grosvenor venue. However, you have nowhere to sleep as there is no hotel or equivalent lodging available on the premises.
Best hotels nearby
St. Martin's Lane Hotel London – 5-stars

Hotel Indigo – 4-stars

Thistle Piccadilly Hotel – 4-stars

Hotel Indigo London 4-stars
Is there a smoking area?
The venue has outdoor smoking areas.
Loyalty & Rewards – 5/5
Outside the rewards, the ease with which you control your loyalty benefits through the Grosvenor One account is the program's most appealing feature.
Grosvenor One rewards
The loyalty program kicks in automatically when you obtain your Grosvenor One membership. Gambling at Grosvenor Casino The Rialto London, and similar online and local brands will earn you Play Points. You may convert these to exclusive benefits based on your tier.
What you get
Most commonly, loyalty rewards include free play, vouchers or discounts at the Bar.
Registering for a Grosvenor membership may award free play instantly in the local venue where you registered. In that case, free play is equivalent to online no deposit bonuses on registration.
We couldn't find anything about how to upgrade your loyalty tier.
How to claim your rewards
Supposing your Grosvenor One account is all set, all you have to do is log in.

Then, clicking on your name will reveal your account panel.

You should now be able to see your Play Points balance.

A link to your eligible rewards will appear on-screen. Click on it.

You should be redirected to a store-like page where you can choose how to convert your Play Points.
As a general rule of Grosvenor loyalty programs, 100 Play Points are worth £1.
Casino atmosphere – 5/5
Our high mark is explained by the casino's excellent location and surroundings, exquisite interior design, and wide range of events held at the Backstage Bar.
View from the inside
The interior design, inherited from a former West End cinema building, is one of the best things about this casino.
Gladly, the restoration keeps the old cinema's stylish Renaissance ornaments and superb dome-like ceiling while also updating the premises with state-of-the-art technology and games.
Design experience
What we count as luxury is entirely subjective, but the design features at this London casino qualify it. The architecture of the main gaming hall almost propels you back in time to when the West End Cinema was operative.
Are you allowed to take photos inside?
Players may have an impulse to take photos when stepping inside, but you should first ask for permission. You should also ensure you don't photograph other people without announcing.
Location and surroundings
Grosvenor Casino The Rialto London is right at the junction of London's most prestigious boroughs, Soho and Mayfair, and adjacent to Leicester Square. Theatres, cafes, restaurants and nightclubs abound in this most lively area of the capital.
Events at Grosvenor the Rialto
Live music shows

Stand-up comedy

Sports lounge for watching top sports competitions on large flat-screen TVs

Console gaming tournaments
House rules (T&Cs) – 5/5
For our review to be complete, we should see if the Rialto in London has house rules that stray from the basic Grosvenor Terms.
When is Grosvenor Casino The Rialto London open?
The venue is open to the public 24/7.
Do you have to pay an entry fee?
Entering the premises is free of charge, but non-members may be confronted with random ID checks even if they look at the legal age to gamble.
An advantage of UK online casinos becomes evident: you only get the KYC done once, then gamble without interruptions. Local casinos employ different KYC methods because they must deal with the players face to face.
Do you always need a reservation to play?
Anyone can play at any time, within the physical limits of the casino building, so no reservation is necessary.
Essential membership details at Grosvenor Casino the Rialto London
If you're already a member of the Grosvenor online casino, you don't need to register.

You can use your Grosvenor membership number and card at any Grosvenor venue.

Members get to deposit and withdraw using the same Grosvenor One Single-Wallet account.
Write down your Grosvenor PIN and store it in a safe place, as this string of numbers is the only way to recover your account in case of fraud.
Dress code
Smart casual is the dress code at the Rialto Piccadilly London, which excludes sportswear of any kind. On our visit, the players took the smart casual attire requirement seriously.
Our advice is to wear comfortable yet decent clothing with no strident colours or prints if you want to be confident about entering the casino.
Standout rules at Grosvenor
We didn't find anything strange in studying Grosvenor's house rules.
Players feedback – 4/5
User-submitted reviews are best taken with a grain of salt, as many are fake. Still, we couldn't leave out the player's feedback on Grosvenor Casino The Rialto London, so we studied the negatives first.
Player reviews
Google – 4/5
More than 600 users have commented on the page in Google reviews. Some of the stories confirm insights from our study: a limited number of tables, friendly staff and outstanding location.
Tripadvisor – 4/5
The 39 available Tripadvisor reviews are primarily favourable. Still, we share one negative opinion with one of the users: new slots are missing.
Most common issues
Limited game/slots variety (confirmed)

Impolite staff (unconfirmed)

It gets too busy around the tables (confirmed)
Operator – 5/5
We're talking about a UKGC-licensed company listed on the stock exchange and renowned worldwide for its fair casino business. Therefore, our rating is 5/5.
Who owns Grosvenor Casino the Rialto London?
Grosvenor Casinos Limited owns Grosvenor Casino the Rialto Piccadilly. The company is well-known in the UK for its network of 52 betting shops and online gaming sites.
Other casinos by the same operator
Grosvenor the Victoria Casino

Grosvenor St Giles Casino

Grosvenor the Barracuda Casino
Contact info
| | |
| --- | --- |
| Website | https://www.grosvenorcasinos.com/local-casinos/piccadilly |
| Email address | [email protected] |
| Telephone number | 0207 287 7887 |
| Instagram | @backstagebar_therialto |
| Facebook | https://www.facebook.com/therialtolondon/ |
| Twitter | https://twitter.com/gcpiccadilly |
Who are the top competitors of Grosvenor Casino The Rialto London?
We can reveal what sets the Rialto apart from the mass of London casinos by comparing it with its closest competitors.
The Hippodrome
Both venues are luxurious, but the Hippodrome is bigger and fancier.

The Rialto provides quick snacks, while the Hippodrome has a full-scale restaurant.

Regarding table game variety, the Hippodrome wins again with its double number.

You can play Texas Hold'em at both venues, but tournaments are available only at the Hippodrome.

However, the Rialto may prove a more intimate setting during weekdays.
The Hippodrome is better for scale
The Hippodrome Casino is the biggest in London, so it's only natural that it overcomes the Rialto in terms of gaming options and scale. It also gets overcrowded more easily: as the Hippodrome promotes itself, it's not only the largest but the busiest of all London casinos.
The Sportsman Casino
Grosvenor has a similar reputation to Metropolitan Gaming.

The similarities extend to the unique account used for all sister sites. A Grosvenor One account is equivalent to the Met Card.

Both casinos provide a room to watch sports in High Definition.

Yet, the events at the Rialto's Backstage Bar are unmatched.

Still, we shouldn't overlook the bar facility at the Sportsman.
The Sportsman Casino is better for its restaurant
Our verdict is that the Sportsman Casino is the better place to eat of the two. The Zaman restaurant serves more sophisticated dishes than the burgers and spring rolls at Grosvenor's Coventry Street venue.
What sets The Rialto London apart from its competitors?
The Backstage Bar is the unique feature of this Grosvenor venue, along with the events held there. Few casinos can compete with the Rialto in this regard. The live music, comedy shows, DJ nights and memorable private parties make it a top attraction.
What is great about Grosvenor the Rialto?
Best events hall of all London casinos

Grosvenor One account integration

Relaxed dress code

Excellent atmosphere in a Renaissance-style building
Where should the casino improve?
Limited selection of game providers

No European roulette tables available

Max bet limits too low for high-roller stakes
Is the Rialto London your best place to play?
If you're the type of player who gambles for the social dimension of it, the Rialto may be for you. Ready to limit your gaming options to participate in some of London's finest evenings?