Grosvenor Casino The Victoria London - The Vic Review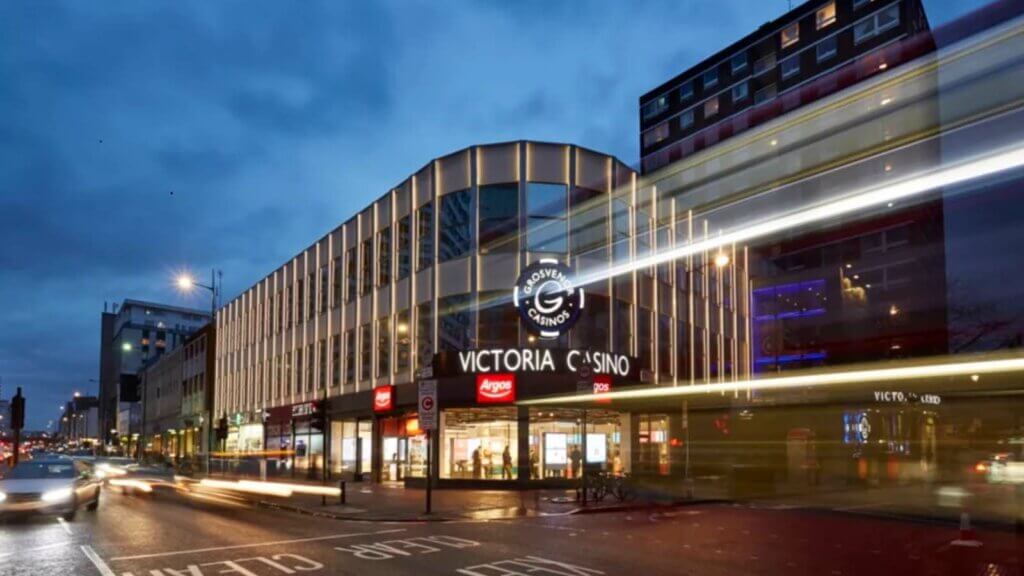 Grosvenor the Victoria is one of the UK's hottest spots for poker. But our gambling experts don't take anything for granted, so let's see what the complete review of Grosvenor Victoria Casino London reveals!
The Vic's Overall Ratings
| | |
| --- | --- |
| Overall Rating | 4.6/5 |
| Slot machines | 5/5 |
| Casino games | 4.5/5 |
| Staff & Service | 5/5 |
| Loyalty & Rewards | 5/5 |
| Casino atmosphere | 4/5 |
| House rules | 5/5 |
| Players feedback | 3.8/5 |
| Operator | 5/5 |
Table of content
Visiting and revisiting Grosvenor Casino the Victoria
We make in-person visits to London's top casinos once every 6 months to keep our analysis evergreen. Similar to how we review the best online casinos in the UK, our methodology for local casinos include 8 variables that we test by playing with real money.
Essentials of our review process
Date of visit: 12/07/2022

Time of visit: 19h – 21h

Initial bankroll: £200

Money spent at the restaurant: £50

What we played: Slots, blackjack, poker

Final bankroll: £0

Next visit: 06/07/2022
How we analysed the Victoria Casino
After creating a new Grosvenor membership and depositing £200 in cash at the Reception desk, we used the funds to try various games on the main floor. Afterwards, we moved on to the poker room. Later on, we spent another £50 to try the restaurant.
In the meantime, we noted our observations for each review category, including hard facts, such as the number and types of games, licensing, and food prices.
Reading our review of the Grosvenor Victoria Casino London gives you an authentic perspective of the casino, as seen from a gambler's point of view!
Summary of our findings
| | |
| --- | --- |
| Address | 150-162 Edgware Road, London |
| Open hours | 24/7 |
| Membership | Not required |
| Minimum age | 18 |
| ID checks | Yes, for people appearing under 21 |
| Game types | Slots, roulette, blackjack, dice, stud poker, three-card poker, punto banco |
| Tables | 30+ |
| Slot machines | 40 |
| Gaming terminals | 32 |
| Payment | Cash, card |
| Average betting range | £0.1 – £1000 |
| Restaurant | Yes |
| Hotel | No |
| Poker tournaments | UKGPT, Goliath Poker Tournament, National Poker league, + others |
How we review Grosvenor Casino the Victoria
The information you read in our Grosvenor Casino the Victoria review is extension of our aim of providing essential, verifiable, and objective data on the state and worth of land-based casinos.
All tests performed by our expert analysts follow a review system developed according to the full extent of a casino venue's functioning and provision of services. Our provided content can thus fully assess a land-based casino, as reflected in our ratings, and instruct readers in their decision-making process.
Slot Machines – 5/5
During our visit to the Grosvenor Victoria, we spent £50 on slot machines, trying the different brands available. We rate the variety of Grosvenor Victoria's in-shop slots with maximum points, for it meets all our criteria.
Slots we played at the Vic
| Slot machine | Payout rate | Minimum Bet | Maximum Bet | Provider |
| --- | --- | --- | --- | --- |
| Cleopatra | 95.13% | £0.2 | £100 | IGT |
| Book of Ra Deluxe | 94.26% | £0.1 | £40 | Novomatic |
| Rainbow Riches Pick'n Mix | 96% | £0.2 | £500 | Barcrest |
The slots at Grosvenor the Victoria are above the usual RTP range for local slot machines, which is 90%. Finding Barcrest slot machines was a pleasant surprise, as the Manchester-based supplier's Rainbow Riches series is well-liked by UK players.
The Mega Joker slot you can play at Grosvenor the Victoria is provided by Novomatic and has a 95.5% RTP. You should not mistake it for Mega Joker hosted by NetEnt online casinos, the game with up to 99% RTP.
How many slot machines does the Grosvenor Victoria have?
Grosvenor Casino Victoria London has two floors dedicated to slots gameplay, with 20 machines on each, so 40 in total.
Even though the UK's largest local casino, the Hippodrome, has only one floor with 20 slots, Grosvenor Casino the Victoria is better.
Slot machine providers
IGT

Novomatic

Barcrest

Scientific Games
Local progressive jackpots
The Vic's slots come with the standard jackpots of £10,000, common to Novomatic slots.
IGT machines like Cleopatra are connected to a local jackpot network with a progressive prize starting at £20,000.
Casino Games – 4.5/5
The Vic's table games fit every budget, considering betting starts at £1. However, roulette tables are not that numerous, and only American double-zero wheels exist.
Game types offered by Grosvenor the Victoria
American roulette – 16 tables

Touchbet roulette – 12 terminals

Blackjack – 10 tables

Super Stud Poker

Three Card Poker

Craps – 1 mini dice table

Punto Banco – 2 tables

Poker – 35 tables
The craps table may not be available at all times. During our visit, we were told it was open from 2.00 pm to 04.00 am.
Betting limits
| Game | Minimum bet | Maximum bet |
| --- | --- | --- |
| Roulette | £1 – £10 | £1,000 |
| Blackjack | £1 – £10 | £1,000 |
| Slots | £0.1 | £100 |
| Poker | £1 – £25 | £500 |
| Video poker | £1 | £100 |
Do members get higher bet limits?
Grosvenor Black Card holders may increase their limits.
Grosvenor One account holders may be allowed bets higher than £1000 after proving their source of funds.
What is the minimum bet at the Grosvenor Victoria?
The lowest accepted bets in slots start at £0.1, while for other table games the minimum is £1.
Poker tournaments at Grosvenor the Victoria
The Vic's most esteemed asset is its multi-table poker room, which hosts cash games daily from 9:00 am to 11:00 pm for up to 350 players. Prestigious poker tournaments are held here periodically, for instance, the European Poker Tour or the National Poker League.
How to find the Grosvenor Victoria Casino poker tournament schedule
Tournaments dates are subject to change, so there's no point in listing the actual program.
Suppose you want to learn more about the Grosvenor Victoria poker tournaments. In that case, you can install the relevant Grosvenor Live Poker app for your smartphone model. It's free, it keeps you up to date with all the news, and you can also reserve your seat through it.
Staff & Service – 4/5
Our experience with the Vic's staff was top-class. It's a well-organised casino with clean restrooms and dependencies conveniently placed. The restaurant serves excellent food, and the dealers are happy to show you the basics of each game.
However, our objective rating also considers the number of hotel rooms available, and Grosvenor Victoria Casino London has none.
Food & Drinks
If you want to enjoy a snack between gaming sessions, head to The Dining Room. They serve burgers, grills, and a variety of more sophisticated dishes. The waiting staff is professional and friendly, and the prices won't scare you off.
The Dining Room opens from 6:00 pm.
What's on the menu?
Here are some picks from the restaurant's menu, so you get an idea of how the prices look like:
Soup of the day – £6.00

Beef burger – £7.00

Caesar salad – £7.00

Arabic Shish Taouk – £14

Mixed grill – £14.5

28-day-aged rib-eye Dukesmoor steak – £24.00
You can also grab a cocktail, a beer or coffee at the bar just by. The prices are acceptable and within the expected range for this part of London.
Grosvenor Casino Victoria London provides buffet catering for private events.
How much do you tip at Grosvenor the Victoria?
Tip size remains at your discretion, but it should be at least 10%.
Parking
One great advantage of Grosvenor the Victoria is the underground parking right beneath the casino.
It's free for customers, but you might struggle to find a place on busy days.
Accommodation
If you plan a longer trip to London, remember that Grosvenor the Victoria has no rooms to spend the night. Still, there are many hotels nearby:
Travelodge London Marylebone

Hilton London Metropole

London Marriott Hotel Marble Arch
Are there smoking areas at the VIC?
Smoking is allowed on the first-floor terrace known as The Loft.
Security measures
Online account security

Protection of players' ID data

Protection of members' privacy

CCTV cameras

A bouncer at the door and security-appointed staff
House rules (T&Cs) – 5/5
Our inspection of the Vic's house rules found details you surely want to know before you visit the casino, but no prohibitive rules. The Terms explain how the Grosvenor casino membership works. They do it transparently enough for us to give a maximum rating.
When is Grosvenor the Victoria open?
The Grosvenor Victoria is open 24/7, seven days a week.
Are you charged entry at Grosvenor Victoria London?
Entry is free at the Vic, as long as you appear at least 25, have ID and wear a proper attire.
How to become a member of Grosvenor Casino the Victoria
Visit the Grosvenor website.

Click on Join.

Provide your email address.

Create a strong username and password.

Set up your Grosvenor PIN for quicker access.

Complete the form with your address and contact information.

Check a method to receive promotional communications and finish the process.
In our Grosvenor casino review, you'll find a comprehensive analysis of how the operator handles its online business.
What ID do I need?
Driver's licence

Passport
By becoming a member, you agree to keep your Grosvenor PIN safe. Should another player use your PIN, your account may be revoked.
Is membership required at Grosvenor Casino London Victoria?
You don't need to become a member to play, but ID may be required. You can simply walk in any Grosvenor local casino and start playing if you look of the legal age.
The membership unlocks access to 52 online and offline venues. Suppose you have a Grosvenor membership card number issued at any of its local venues. In that case, you can upgrade to full membership on the same registration page.
What is the Grosvenor One account?
The "Grosvenor One Single Wallet account" is the trademark name for the membership, which lets you play with the same cash balance at all Grosvenor casinos.
Grosvenor Casino dress code
Similar to its competitors, Grosvenor the Victoria has a smart casual dress code.

Sandals, ripped jeans or tracksuits are not permitted.

The dress code policy starts at 7 pm, according to staff.

However, entry to the casino premises remains at the bouncer's discretion.

They might not let you in if you're dressed too eccentric.
Can I wear jeans to the Grosvenor Casino Victoria London?
You technically could wear jeans during the daytime, but we advise against it if you really want to get inside.
Verdict on the rules at Grosvenor Victoria Casino London
The house rules at Grosvenor the Victoria are standard and detail the expected fair conduct of players.
As a strange curiosity, we could point out that you may not form a personal relationship with an employee.
Loyalty & Rewards – 5/5
The Vic follows other Grosvenor Casinos in terms of the loyalty scheme. There are two separate programs, one for regular customers and a separate Black Card VIP membership, accessible by invitation only.
While the loyalty benefits are similar to what you find elsewhere, the all-in-one account functionality is unique to Grosvenor, so we give it 5/5.
How does the Grosvenor Casino Victoria London rewards program work?
Members playing at Grosvenor Victoria Casino London are rewarded Play Points.

You get loyalty points for both your online and offline play. They are stored in the same balance.

Rates at which Grosvenor Casino loyalty points are awarded differ according to the game you play.

Similar to other UK local casinos, 100 points convert to £1.
What you get with the Grosvenor One rewards program
Free play on the premises

Restaurant discounts

Online gifts
The loyalty programs of all Grosvenor casinos are linked together by the Grosvenor One account.
Grosvenor Black Card benefits
Unique promotions

Invitations to exclusive events

Personal account manager

Increased table limits

Cashback and bonuses for referred friends
Casino atmosphere – 4/5
The main gaming floor wasn't so lively when we went to the Grosvenor Victoria, but it was a Wednesday evening, so that may explain why. A casino's open door policy may affect the atmosphere negatively, so it's worth checking out this aspect in more detail.
View from the inside
The Vic went through multiple revisions since its establishment in the 60s as a horse betting centre. It's now refurbished with everything a modern casino player needs.
Although the Victoria Casino is beautifully decorated, we cannot consider it a luxury gambling facility.
Are you allowed to take photos inside Grosvenor Casino London Victoria?
If you politely ask a manager to take a photograph, chances are that they'll let you. However, filming around without permission (even with your smartphone) is forbidden.
The Vic forbids any action that intrudes on another player's privacy, including seeking autographs from celebrities.
Location and surroundings
The Grosvenor Victoria Casino is settled in one of the best neighbourhoods in London, known for its museums and diverse entertainment options.
The three storey building is quite impressive, but not on the same level as the Hippodrome or other local UK casinos situated in historic buildings.
Events
Attractions and events come in large supply at Grosvenor Victoria Casino London:
Gaming tournaments are held practically every day.

The Vic's private rooms can accommodate birthdays, meetings, team buildings and more.

Special discount packages for large groups are offered.
Make your reservation at least 2 weeks before the event to secure your room.
Players feedback – 3.8/5
We analyse how the Grosvenor Victoria is portrayed in real players' reviews to provide an extra layer of authenticity to our review.
Grosvenor Casino the Victoria player reviews
Google – 4.1/5
With a "Very Good" rating from 1124 Google reviews, Grosvenor Casino the Victoria is preferred for its fantastic service, great food and poker rooms.
Tripadvisor – 3.5/5
Similarly, most of the 94 visitors who reviewed the casino were impressed with the poker rooms and the excellent management of the tournaments.
Frequent issues in player reviews
Strict verification procedures

Understaffing
Operator – 5/5
The Grosvenor Group is one of the UK's oldest and most prestigious gambling companies. However, we still have to clarify our reasons for maxing out our rating for the parent company of Grosvenor Victoria Casino London.
Who owns Grosvenor Casino, The Victoria?
Grosvenor Casinos Limited owns the Vic. The company is registered in England with the number 00877080.
It is part of the larger Grosvenor Group, a company ultimately owned by Hugh Grosvenor, Duke of Westminster and closely linked with the Rank Group.
One of Grosvenor UK's subsidiaries, Grosvenor Capital Management LC, is listed on the NASDAQ stock exchange (Nasdaq: GCMC). The Rank Group is also London-listed (Lon: RNK).
UKGC licence
The Vic operates legally and is regulated by the UKGC with licence number 614.
Other local London casinos in the Grosvenor Group
The Barracuda

The Golden Horseshoe

The Rialto Piccadilly

Grosvenor Casino Gloucester Road

Grosvenor Casino Russell Square
Grosvenor Casino Victoria UK Contact info
| | |
| --- | --- |
| Website | https://thevic.com/ |
| Email address | |
| Live chat | Yes |
| Landline telephone number (support) | 0203 608 6669 |
| Toll-free telephone number (support) | 0800 086 8457 |
| Telephone number (poker room) | 020 7298 2411 |
Opening hours for the Vic's customer support team:
Live chat: 7:00 am – 10:30 pm, every day

Telephone: 8:00 am – 8:00 pm, every day

Email: 24/7
Who are the top competitors of Grosvenor Casino London Victoria?
The Vic is a great casino in its own right, but how does it compare to other top casinos in London?
The Vic vs Hippodrome Casino
Grosvenor is the better-trusted operator for its global reach. The Hippodrome is more relevant for the local London gambling scene.

However, both are UKGC-licensed, so they are equally secure.

Grosvenor the Victoria doesn't offer European roulette, while the Hippodrome does.

The Vic has more slots, while the Hippodrome has more gaming tables.
Who should play at the Hippodrome Casino?
As experts in the industry, we're well aware that keen roulette players prefer the European wheel. That's why roulette players are advised to choose the Hippodrome Casino London instead.
The Vic vs the Sportsman Casino London
Grosvenor the Victoria does a better job at accommodating smokers on its fully-equipped gaming terrace.

The Vic has a 24/7 schedule. The Sportsman Casino works on a limited schedule.

Despite offering many games, Grosvenor's venue is centred on poker cash games, a feat completely absent from the Sportsman.

Both casinos may host periodic Learn to Play events, yet the players say the Sportsman dealers are friendlier.
Who should play at the Sportsman instead of the Vic?
Non-smoker players who want to grasp casino game rules can benefit from the Sportsman's learning events. As a new player, you should first visit the Sportsman Casino London unless you want to participate in a poker tournament.
What sets Grosvenor the Victoria apart from its competitors?
Grosvenor Casino Victoria London provides the best poker room in the UK, where you can partake in the country's top tournaments. Slots are the Vic's second-best feature: you can choose from 40 slots on two floors – more than any prestigious local casino.
What is great about Grosvenor Victoria Casino London?
Best poker room in the UK with 35 tables

Highly trusted operator, both in the country and internationally

All-in-one account and loyalty program for all 52 Grosvenor casinos

Transparent and fair house rules
Where does the Vic fall short?
No accommodation is provided, although there are many hotels nearby

Some players despise the strict verification procedures

European roulette tables are missing
Is Grosvenor Casino the Victoria your best place to play?
Poker is played to the highest standard at the Grosvenor Victoria Casino London. If you are somewhat experienced in Texas Hold'em or Omaha, you'll surely love to play in the Vic's large poker room. You'll find open tables with affordable minimums and players to join on almost any day.