The Sportsman Casino London Review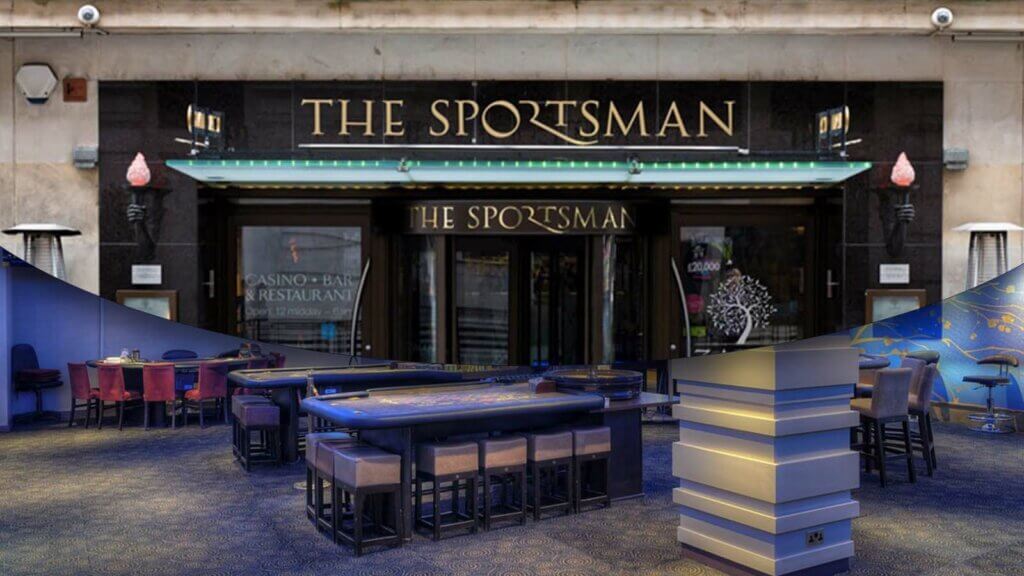 We've got to the essence of the Sportsman Casino London with an improved review method. Check out our findings!
Ratings for the Sportsman Casino London
| | |
| --- | --- |
| Overall ratings | 4/4 |
| Slot machines | 4.5/5 |
| Casino games | 4/5 |
| Staff & Service | 3.5/5 |
| Loyalty & Rewards | 5/5 |
| Casino atmosphere | 5/5 |
| House rules | 4/5 |
| Players feedback | 4.3/5 |
| Operator | 5/5 |
Table of contents
How we rated the Sportsman Casino London
We've already devised a rating and review system for adding new UK online casinos to our database, so we adapted it for our local casino research.
Similar to how we sign up and play on each site we review, we paid the Sportsman an anonymous visit and evaluated its facility.
Review Parameters
Date of visit: 12/12/2022
Time of visit: 17h – 20h
Initial bankroll: £250
What we played: Roulette, slots
Final bankroll: £0
Next visit: 06/06/2023
What we rated
We aim to provide UK players with an all-inclusive assessment of how the casino works to help you decide if it's the right venue for you to play.
That's why we rate 8 different features in each of our reviews, including the games, operator, building, facilities and more.
Such a complex rating system helps us produce an accurate final mark, which can ultimately help you better compare your options.
Quick facts
| | |
| --- | --- |
| Address | 16 Old Quebec St, Marylebone, London |
| Open hours | 24/7 |
| Membership | Not required |
| Minimum age | 21 |
| ID checks | Yes for non-members |
| Game types | Slots, American roulette, blackjack, baccarat, Pai Gow, three-card poker |
| Tables | 17 |
| Slot machines | 20 |
| Gaming terminals | 25 |
| Payment | Cash, debit cards, cheques, foreign currency |
| Average betting range | £1 – £10,000 |
| Restaurant | Yes |
| Hotel | No |
| Poker tournaments | No |
How we review Sportsman Casino London
The information you read in our Sportsman Casino London review is extension of our aim of providing essential, verifiable, and objective data on the state and worth of land-based casinos.
All tests performed by our expert analysts follow a review system developed according to the full extent of a casino venue's functioning and provision of services. Our provided content can thus fully assess a land-based casino, as reflected in our ratings, and instruct readers in their decision-making process.
Slot Machines – 4.5/5
The Sportsman is a great place to play if you're into Novomatic and IGT slots. Spinning the reels feels excellent on the adjustable seats. Still, we must reflect on the lack of diversity in our final mark.
Slots we played at The Sportsman Casino London
| Slot machine | Payout rate | Minimum bet | Maximum bet |
| --- | --- | --- | --- |
| Lucky Lady's Charm | 95.13% | £0.1 | £40 |
| Book of Ra Deluxe | 95.5% | £0.5 | £90 |
| Dolphin's Pearl | 95.13% | £0.1 | £100 |
How many slot machines does The Sportsman Casino London have?
We counted 20 slot machines at the Sportsman, which is the maximum legal limit.
Slot machine providers
By comparison, the newest UK slot sites also have Novomatic and IGT, plus 20 more other providers including industry leaders such as NetEnt or Microgaming.
Local progressive jackpots
The slots' top jackpot prizes range between £4,000 to £10,000, with a local progressive of up to £20,000.
Eligible bets for jackpot prizes start at £0.2.
Casino Games – 4/5
You'll find 17 tables covering the standard range of casino games at the Sportsman Casino, all located on the gaming floor by the main entrance. Unique to the Sportsman is the availability of Pai Gow. Still, this exotic game cannot make for the absence of European roulette tables.
A selection of 25 electronic roulette machines completes the gaming offer.
We found European roulette on one of the available touchpad gaming terminals during our visit.
Game types available
American Roulette

Blackjack

Three Card Poker

Baccarat/Punto Banco

Pai Gow
Betting limits
| Game | Minimum bet | Maximum bet |
| --- | --- | --- |
| Roulette | £10 | £30,000 |
| Electronic roulette | £0.25 | £5 |
| Blackjack | £5 | £3,000 |
| Baccarat | £10 | £10,000 |
| Three Card Poker | £10 | £2,000 |
Can anyone bet the highest limits?
You have to become a member to access the highest limits. Unidentified customers and non-members can only wager and receive payouts of up to £1500.
The stated limit of £30,000 for roulette holds for even chance bets only. Dozens and columns have a maximum limit of £15,000, while bets on singles have lower caps.
French minimum bets for roulette
Voisins – £45

Tier – £30

Orphelin – £25
Maximum stakes for French bets are the same as the table limits.
If you want to benefit from the lowest 1.35% house edge granted by La Partage and En Prison rules, the Sportsman falls short. However, the real money online roulette casinos on our list don't.
Does the Sportsman Casino London host poker tournaments?
Sadly, you can only play three-card poker on the premises, but no Texas Hold'em or any other cash games.
Head to the Hippodrome Casino or any of Grosvenor's the Vic or Rialto for poker cash games and tournaments.
Staff & Service – 3.5/5
We have experienced high-quality customer service on our visit. The Zaman Restaurant regularly updates its menu, and the two bars offer a wide range of beers, wines, spirits and cocktails.
Keeping true to our UK local casino review system, we must mention that the Sportsman lacks free parking and lodging.
Food & Drinks
Chef Mahmud Zaman is responsible for the fantastic Indian, Middle Eastern and Mediterranean plates found at the Sportsman's restaurant.
Food is prepared to the highest standards, and you can choose between vegetarian, vegan and carnivore options and brasserie-style recipes.
What's on the menu?
Chicken tikka wrap – £5

Mozzarella and tomato panini – £5

Penne arrabbiata – £12

Grilled baby chicken – £15

King prawns – £13

Chilli sea bass – £18
If you're up for a glass after a long gaming session, you'll find favourite beverage in the Sportsman's two bars. Options include beer, wines, champagne and a range of spirits.
Prices for a drink start at £2.75, and a wine bottle costs £25 on average. For a fine Laurent-Perrier champagne bottle, you'll have to pay £90-£250.
The Zaman Restaurant is open between 12:00 pm – 6:00 am.
How much should you tip the waiters?
A service fee of 12.5% is added to your final bill. Still, you can legally opt out of it or tip the staff directly.
Parking
The Sportsman does not provide free parking. Still, there are several paid options at walking distance from the casino:
The APCOA Oxford Street car park

NCP Car Park London Marble Arch

Q-Park Marble Arch
Leaving your car for 2 hours in any of the listed parks will cost around £25.
Accommodation
Unfortunately, the Sportsman provides no lodging, but there are options nearby.
What hotels are near The Sportsman Casino?
The Leonard Hotel

The Montcalm London Marble Arch

Hard Rock Hotel London

Thistle London Marble Arch
Security
Not much information is provided about security. However, we know the venue is UKGC-licensed, which means several things:
Game payouts are tested for fairness

Roulette wheels are not biassed

Players' data is handled securely according to the GDPR

Security staff ensure no minors or problem gamblers enter the casino premises
Loyalty & Rewards – 5/5
The Sportsman's loyalty program is among the UK's best. When you become a member, you receive your own "Met Card Jack". That automatically enlists you in the loyalty program shared across all UK casinos from Metropolitan Gaming.
How does the Met Card work?
Playing any electronic and live game and ordering at the restaurant accrue you Met Points, which determine your Tier.
Benefits and discounts get progressively better with each Tier status to upgrade.
The rates at which you receive Met Points vary. As for spending, 100 Points are equivalent to £1.
You can find the currently available ways to spend your points at Reception or by downloading the Met Card app.
Met Card types
The Met Card Jack

The Met Card Queen

The Met Card King

The Met Card Ace
Your Met Points expire after 6 months of not visiting the Sportsman Casino in London.
What you get
Invitations to special on-site events

Entry to Met Card-specific promotions

Discounts on food and drinks
How to register in the program and check your status
Registering for the loyalty program is as easy as signing up for a membership.
You can check your current Tier and Points balance by logging into the Metropolitan Gaming website.
The Met Card App on Google Play and the App Store is a better alternative. It allows for better control over your membership. It provides up-to-date information about the promotions running at the Sportsman Casino.
Casino atmosphere – 5/5
Players looking to emulate a Las Vegas-style casino experience in London will appreciate the ambience at the Sportsman Casino. The trendy 15,000-square-foot gaming venue was quiet during our visit, but we found it can get overcrowded during the summer.
The casino keeps you engaged with monthly events ranging from slots tournaments, learning sessions and special parties. Plus, you can host your private event on the premises.
View from the inside
Tastefully decorated in a contemporary style, the Sportsman London Casino caters best to younger players with an eye for the latest fashion.
To a degree, how the Sportsman looks on the inside explains its more relaxed dress code compared to other local casinos in London. You don't feel like wearing a suit and tie here!
Our take on the Sportsman's design
The marble pillars in the main gaming room create a stunning effect. While marble gives off a luxurious vibe, coloured lighting can be distracting. All gaming rooms at the facility share the same contemporary style, including the private high-stakes room.
The venue is excellent for sports fans, too. All the major competitions are on display on flat screens on the main gaming floor.
Location and surroundings
The venue on Old Quebec Street is surrounded by London attractions such as the Marble Arch monument no.9 and Hyde Park. The Kensington and Buckingham Palaces are at walking distance, as well.
Events
Slot tournaments

Private parties

Seasonal parties open for the public

Gambling tuition events
Learn to Play events are hosted monthly and cost around £20 per person. We salute the initiative to educate new gamblers.
House rules (T&Cs) – 4/5
We found the Sportsman's rules more relaxed compared to other local operators. An open-door policy makes room for players of all budgets; you don't have to wear a jacket and tie if you don't want to. Still, the venue is not available 24/7.
When is the Sportsman London Casino open?
You can play at the casino daily from 12:00 pm to 6:00 am.
Do you pay to enter the Sportsman?
Entrance is free for anyone of legal age.
How to become a member
You can become a member online or by filling out a form on the premises if you have an ID.

Click on your account picture or name.

You'll be redirected to the Metropolitan Gaming site.

Find the option to create an account.

Enter your information and complete the process.
Dress code
Smart casual is preferred at the Sportsman. There may be events where more formal attire is required. Still, generally, you can enter the casino freely as long as you wear clean and tidy clothes. Jeans are acceptable as long as they're not ripped.
Standout rules
We've only found the usual, common-sense rules in the Sportsman's T&Cs. The only detail worth studying is the Met Card and how it links your experience at all Metropolitan Gaming casinos in the UK.
Players feedback – 4.3/5
It's important to keep count of what the players say. For this Sportsman Casino London review, we studied player-submitted opinions. We mapped out the most common issues you may face.
Our rating is based on data extracted from Google reviews and Tripadvisor.
Player reviews
Google – 4.1/5
Sportsman's staff gets the most numerous mentions in the available 190 Google reviews, and they're mostly positive.
One reviewer was angry to be invited out for kissing his girlfriend. So, shows of affection may be frowned upon.
Tripadvisor – 4.5/5
Tripadvisor reviewers have positive feedback for the Sportsman's bar, restaurant and professional dealers.
Most common issues
Impolite staff

Table minimums too high

The staff may prioritise longtime players over newcomers
Operator – 5/5
Our background checks prove the company that operates the casino is trustworthy.
Who owns the Sportsman Casino London?
The Sportsman Casino is owned by Metropolitan Gaming, a company that famously bought all the European and African properties from global gambling powerhouse Caesars Entertainment.
All casinos operated by Metropolitan Gaming are UKGC-licensed and abide by local legislation.
Other Metropolitan Gaming casinos in the UK
Park Lane Club

Rendezvous Brighton

Manchester 235

Alea Nottingham

Empire Casino

Alea Glasgow

Metropolitan Mayfair
Contact info
| | |
| --- | --- |
| Website | https://www.thesportsmancasino.com/ |
| Email address | [email protected] |
| Telephone number | 020 7414 0061 |
Who are the top competitors of The Sportsman Casino London?
The Sportsman's main flaws are the lack of European roulette tables and poker cash games, so the top competitor venues are those offering such games. Let's set them side by side!
The Vic
London's Grosvenor Victoria Casino has more slots (40 vs 20) and gaming tables (30 vs 17). However, the betting range is more restrictive, with £1,000 maximum bets. On the other hand, the Sportsman allows bets of up to £30,000, which makes it better for high-stakes play.
Despite the Vic having more game types, none of the two casinos facilitates European roulette play, so the comparison ends in a draw from this point of view.
The Vic is best for poker players
The Vic is your place to go for a poker cash game. You can always sit at one of the poker tables open daily. Find more information about poker tournaments from our dedicated review of Grosvenor the Victoria.
The Hippodrome
Both have a similar selection of slots, but the Hippodrome has more gaming tables (45 vs 17). The dress code at the Hippodrome Casino is arguably stricter. You won't see jeans there or trousers there, while Sportsman Casino them.
The Hippodrome's starting bets for live tables vary but tend to be higher than the Sportsman's £1 minimum.
The surrounding atmosphere is just as important for roulette players, and we consider the Hippodrome's classy, Renaissance-style interior more suited for high-rollers.
The Hippodrome is best for European roulette players
We played at several European roulette tables for our Hippodrome Casino review. Read our full analysis to see if the Hippodrome may have other advantages that suit you better.
What sets the Sportsman Casino London apart from its competitors?
The Sportsman is the most relaxed and welcoming of London's high-end casinos, making it better suited for a younger audience. The monthly Learn to Play events confirm that the London casino is the best for new players.
Hits and misses of the Sportsman Casino London
Hits
Relaxed dress code

Welcoming to beginners

Slots tournaments

Opportunity to play Pai Gow

Excellent food by chef Zaman
Misses
No European roulette tables

Limited variety of slots providers

No lodging and no free parking for members

Limited schedule, with competitors offering round-the-clock service
Is the Sportsman Casino London your best place to play?
If you're a new gambler, a visit to the venue can prove rewarding, even if you're not attending the Learn to Play events. Compared to other local casinos, our review found the personnel friendlier and more readily available to answer game-related questions.