Park Lane Casino London Review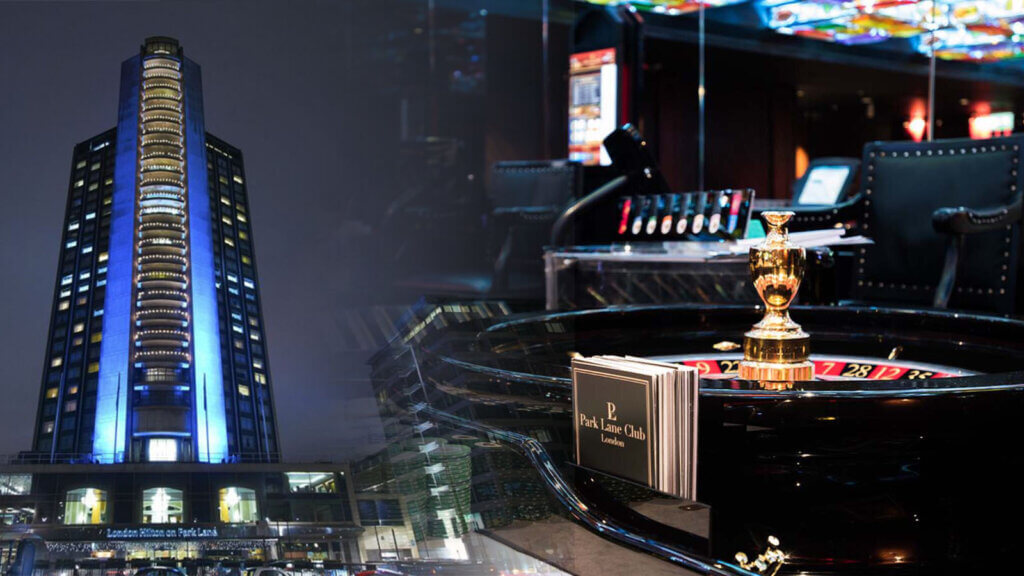 Park Lane Casino Mayfair is one of the grandest casinos in the UK, located in the heart of Mayfair, a location famous for its glamorous scene. In this review, you will find all the important information our experts gathered when analysing this casino.
Park Lane Casino Ratings
| | |
| --- | --- |
| Overall Rating | 4.2/5 |
| Slot Machines | 5/5 |
| Games | 4/5 |
| Staff & Service | 5/5 |
| Loyalty & Rewards | 4/5 |
| Atmosphere | 3/5 |
| House Rules | 4/5 |
| Player's Feedback | 3.8/5 |
| Operator | 5/5 |
Park Lane Rating and review
When assessing and rating Park Lane Casino, we consider what players say online, i.e. player reviews, games and features, offerings and rewards. We also compare to other London Casinos, focusing on the products and services offered.
How we inspected Park Lane Casino
Date of visit: 11/29/2022
Time of visit: 14h – 16h
Initial bankroll: £100
What we played: Roulette
Final bankroll: £0
Next visit: 05/29/2023
What we looked at 
Based on a 5-star rating system, we thoroughly examined specific game features and the available games based on most user demands. Players typically select games from a sizable library and experiment with new games and their characteristics. Therefore we take such things into account while studying games.
What we found
| | |
| --- | --- |
| Address | 22 Park Ln, London W1K 7TY, UK |
| Open hours | 24/7 |
| Membership | Not required |
| Minimum age | 21 |
| ID checks | Yes for non-members |
| Game types | American Roulette, Blackjack, Baccarat and Three Card poker and slots |
| Tables | 10 |
| Slot machines | 20 |
| Gaming terminals | 20 |
| Payment | Cash, Card, Chips |
| Average betting range | $20 |
| Free drinks (Canada) | Yes |
| Restaurant | Yes |
| Hotel | No |
Slot Machines – 5/5
Park Lane also offers players Electronic Roulette and has 20 Slots machines; what's nice is that all slot machines are linked to Major and Grand Progressive Jackpots. You get to gamble in an exclusive Gaming Terrace, which also has a private gaming salon for players who wish to enjoy a more exclusive and personal immersive gaming experience.
Slots we played at Park Lane Casino
| Slot machine | Payout rate | Minimum bet | Maximum bet |
| --- | --- | --- | --- |
| Jacks or Better | 99.54% | £0.20 | £1000 |
| Deuces Wild | 98.91% | £0.20 | £1000 |
| Aliens Slot | 96.4% | £0.20 | £1000 |
How many slot machines does Park Lane Casino have?
Park Lane has over 20 slot machines; players can choose from to play in a comfy and luxurious environment.
Do the slot machines accept coins?
No, the slot machines do not accept coins. You can use cards, cash or card to pay and enjoy the games available.
Slot machine providers 
Local progressive jackpots
Park Lane Casino has 20 slot machines, all linked to Major and Grand Progressive Jackpots. Play max be; if you're playing a device with a progressive jackpot, make sure you're playing the maximum bet to be eligible to win the jackpot.
Casino Games – 4/5
We rated five game types, such as roulette, blackjack, poker and baccarat, based on factors: minimum and maximum bet. Park Lane has three private gaming rooms available for hire for players who enjoy personal gaming. Each room has its dining service. If you want to smoke while playing table games, the casino also has a gaming terrace.
Game types 
Roulette

Blackjack

Poker

Craps

Baccarat

Sic bo
Betting limits 
| Game | Minimum bet | Maximum bet |
| --- | --- | --- |
| Roulette | £5 | £2,000 |
| Blackjack | £5 | £20,000 |
| Baccarat | £5 | £100,000 |
Can anyone place high-limited bets, or do you need special VIP access? 
At Park Lane, anyone can place high-limit bets if they meet the requirements and have the money to place high-limit bets. You don't need VIP access to place minimal bets.
Park Lane Casino poker tournaments
Based on our review, Park Lane rarely hosts poker tournaments. It focuses on giving its players a personalised gaming experience.
Compared to the limited and rare options for poker tournaments available at Park Lane, there are casinos like Manchester235 Casino, Crown London Aspinalls Casino or Genting Casino Fountain Park, where players have access to regular poker tournaments. If you become a member, you will regularly be notified of upcoming tournaments, especially massive seasonal ones.
Staff & Service – 5/5
Based on our visit and online reviews, the casino has excellent staffing. Park Lane offers great hospitality service, which includes room service, as the casino also has a hotel, restaurant and entertainment centres where players can gamble, drink and smoke.
Food & Drinks
The venue offers its customers an exclusive menu for guests at the Park Lane Club Lounge. Executive Chef Roberto Bullio and his culinary experts prepare tempting casino and lounge menus in the lounge.
Patrons and guests can enjoy a wide selection of their favourite drinks: signature cocktails created by expert mixologists, the finest whiskies, cognacs and champagnes from around the world.
What's more, is that players enjoy their food in elegant surroundings featuring the spectacular backdrop atmosphere of Park Lane.
The venue has an experienced bar and lounge team who takes pride in delivering impeccable and personal service for all customers.
How much should you tip at Park Lane Casino?
Tipping should be based on what you feel like tipping. But in all fairness, if you're gambling, let's say you buy chips in high amounts; even more, if you make a win, you can tip the staff at least 1-10 per cent of the amount you bought the chips.
When at the lounge having a drink or a bite, you can tip the waiter/waitress and serve 1-10 per cent of what you spent on drinking on eating – this doesn't mean you have to list that amount; it all boils down to what you feel like tipping.
Does Park Lane Casino offer free drinks? 
Although admission to the bar is free, the casino does not provide free beverages to its patrons. However, members are welcome to a complimentary drink.
Is there a buffet at Park Lane casino 
The casino solely provides a buffet service for a small portion of its patrons. The casino would advise making a reservation for a buffet service, nevertheless. Additionally, a buffet service is available as needed while renting a space.
Parking 
There is no charge for parking your car at the structure housing the casino. Therefore, visitors are not charged anything to park their vehicles.
Accommodation 
Park Lane Casino doesn't offer hotel services, but many hotels are nearby if you need to hire or rent a room. Also, the Hilton Hotel is in the same building as the casino.
Do you tip room service at Parklane Casino?
Tipping for services offered should be based on personal preference and what you have to offer. It's not mandatory. To that end, Parklane Casino doesn't provide hotel services as stated before, so you aren't tipped for room service at Parklane.
Are there smoking areas?
Yes, there are smoking locations at Park Lane; if you need to smoke, you may notify one of the staff members, who will lead you to a smoking spot. You should also know that it provides guests with individual gaming rooms where they may smoke while playing.
Security 
To monitor activity and automatically identify threats, the venue utilises surveillance systems that include cameras and CCTV with machine learning and artificial intelligence placed throughout the casino.
A qualified security staff, including security officers and guards, is present throughout the casino venue at Park Lane Casino to guarantee that everyone is secure.
Park Lane Casino supports responsible gaming by enticing patrons to participate in self-exclusion schemes. By doing this, they equip players with the tools they need to manage problem gambling.
Loyalty & Rewards – 4/5
The Met Card is Park Lane's loyalty programme from Metropolitan Gaming that rewards you every time you game, eat, drink or at any of our UK casinos. The card consists of four types: Jack, Queen, King, and Ace; each card denotes each level of the loyalty scheme.
You can use your Metcard in all UK casinos owned by the parent company of Park Lane, Metropolitan Gaming. You earn Met Points to spend when you gamble, eat, and drink.
How does the Park Lane casino rewards program work?
Joining the reward program is free; Met Points you earn in a calendar year (1 January – 31 December) make up your personal Tier Points balance, determining your Tier Status. 100 Met Points = £1
To redeem your points, talk to the casino reception staff about it. You can discuss with them how to use your Met Points in the casino for gaming and ordering merchandise. To use your card to get free food and drinks, present your Metcard in the restaurant or to a staff of the bar team.
What you get 
You can use your Met Points for free to play any game.

You can use it to drink complimentary cocktails in the bars.

Eat a delicious meal in the restaurant.

Own a free designer gift from the casino's branded merchandise catalogue.

Exclusive invitations to in-casino events.
How to register in the program
To become a member, talk to the staff about being a member, and they will assist you in applying for a Park Lane membership. Or better still, speak to the reception. But you should know that being a reward program member is entirely free. The more money you spend at the Park Lane, the more points you earn, increasing your level in the program.
Casino atmosphere – 3/5
The environment is tranquil and inviting, and it is housed in one of London's most opulent structures. The casino's interior design is contemporary, which means it is current. Overall, it's a magnificent casino.
Design experience
The design is luxurious, bright and colourful; it's as if you feel the thrill of being in Las Vegas.
Are you allowed to take pictures in Park Lane Casino?
Your smartphones and electronic devices with cameras are permitted in the venue. You can take personal pictures of yourself and the building in the casino. However, you should know that you cannot take images when gaming.
Location and surroundings
The location and surroundings are conducive; it's a luxury casino with lots of excellent facilities, enabling a lovely gaming experience. Also, you enjoy many entertaining activities, including a bar and restaurant with a renowned chef.
Do you need a passport to attend Park Lane Casino?
You might need a passport to gain entry into the venue; if you look under 21 years of age, you need proof of identity, which can include access or any other form of identification to verify your age. However, to gain entry into the casino, you don't need to provide any form of identification if you're over 21; admission is free.
Events
For details on when the next live event or performance will be performed, sign up for the email newsletter and notification service. The casino typically conducts live events and concerts for its members.
House rules (T&Cs)- 4/5
We analysed the house rules regarding bonus wagering requirements, limits on bets, withdrawals and deposits, and if there are strict limits on using your smartphones and dressing style allowed. We accessed all these factors and decided its rules are fair; thus, it is highly rated.
When is Park Lane casino open?
All gamers are welcome in the casino every day of the week from 2 PM to 6 AM.
Does Park Lane Casino charge entry?
No, there is no admission fee to the casino. Nonetheless, it may demand you to present a legitimate ID.
Do you need a reservation to play games at Park Lane Casino?
You may only need a reservation on certain occasions. However, you could book a reservation if you wish to book one. The casino offers private gaming services, so you should book a reservation.
Is membership required at Park Lane Casino?
When you visit the casino, you may visit the front desk and inquire about joining to the employees there. Additionally, you may speak with them about joining. All in all, joining Park Lane Casino is free.
Dress code
Smart casual is the dress code; the casino doesn't allow gamers to wear jackets, caps and large handbags because it provides optimum security. So they can see the faces of everyone and avoid cheating.
Standout rules at Park Lane Casino
One standout rule of the casino is that players can gamble privately on the terrace; only a few casinos offer this service to all gamers except VIP members. If you wish, you could bet secretly and feel entertained with drinks, food, and even smoke.
Players can partake in the self-exclusion scheme if they feel you need help with their gambling addiction. The system might require players to exclude themselves from games for six months.
As part of the due diligence requirement, the casino reserves the right to conduct checks and raise queries with patrons to comply with applicable legislation, laws and regulations.
Players feedback – 3.8/5
The ratings of players' feedback are based on reviews from people who have visited and made reviews on Tripadvisor and Google Reviews.
Park Lane Casino player reviews
Google – 3.7/5
The casino has a very high review on Google reviews, which means it's a grand casino. Many studies show that the casino has excellent staffing.
Tripadvisor – 4.5/5
Also, the casino has a good rating on Tripadvisor, and players have applauded it for its conducive environment and great staffing.
Most common issues 
It's important to teach new casino patrons how to bet responsibly; else, it might be a significant problem for new patrons. Players should be given instructions on how to play live games at the casino by the casino.
Operator – 5/5
The parent company of Park Lane Casino is regulated and licensed by the Gambling Commission UK, which means games are fair and transparent. As it should be, all casinos that operate in the UK need to be licensed and regulated by the UKGC.
Who owns Park Lane Casino?
Games are fair and transparent since the parent business of Park Lane Casino is governed by and licenced by the UK Gambling Commission. The UKGC must licence all casinos that run in the UK.
Other casinos by the same operator
Empire Casino London

The Sportsman Casino London

Alea Casino Glasgow
Contact info 
| | |
| --- | --- |
| Website | https://www.parklaneclublondon.com/ |
| Email address | [email protected] |
| Telephone number | +44 (0)20 3759 5050 |
| Other | – |
Top competitors of Park Lane Casino?
Genting Casino Fountain Park

Grosvenor Casino Soames
Park Lane Casino vs Genting Casino Fountain Park 
Both are great casinos offering the best gambling services in the industry.
DraftKings Casino is the best. 
If you're in the UK, visit Genting Casino Fountain Park; the latter has a vast library of slots and few limits on deposits/withdrawals.
Park Lane Casino vs Grosvenor Casino Soames 
Both casinos offer quality gambling services, but Park Park Lane is at a location famed for. It's luxury and entertainment; thus, the latter provides better hospitality service: a nice restaurant and bar.
Affinity is the best alternative.
If you want a casino open 24/7, the best option is Grosvenor Casino Soames, as you wouldn't have to worry about the time you get there or the time you have to leave.
What sets Park Lane Casino apart from its competitors?
They offer exclusive gaming services in a luxurious environment, which many casinos don't provide, which include:
Good selection of game providers

Friendly live dealer games are available

Games with nice progressive jackpots

Better customer service.
Pros and cons
| Pros | Cons |
| --- | --- |
| Park Lane offers customers exclusive and private gaming services even when they aren't VIP members. | No good how-to-play guide is given to new players. Players who haven't gambled for the first time should be taught how to game effectively or given a guide to betting effectively. |
| They have an excellent and enticing reward and loyalty scheme, which players can use. You get designer clothing and items, free drinks, food and games when you join. What's more, nice is: joining the program is free. | |
Is Park Lane Casino your best place to play?
Assume you want a pleasurable and private gaming experience at one of London's most opulent settings. Park Lane is the place to be in such a scenario. Furthermore, joining is time well spent if you wish to benefit from unique benefits. Finally, the casino has a helpful staff that is always available to ensure you have the best possible time there.