Metropolitan Casino Mayfair London Review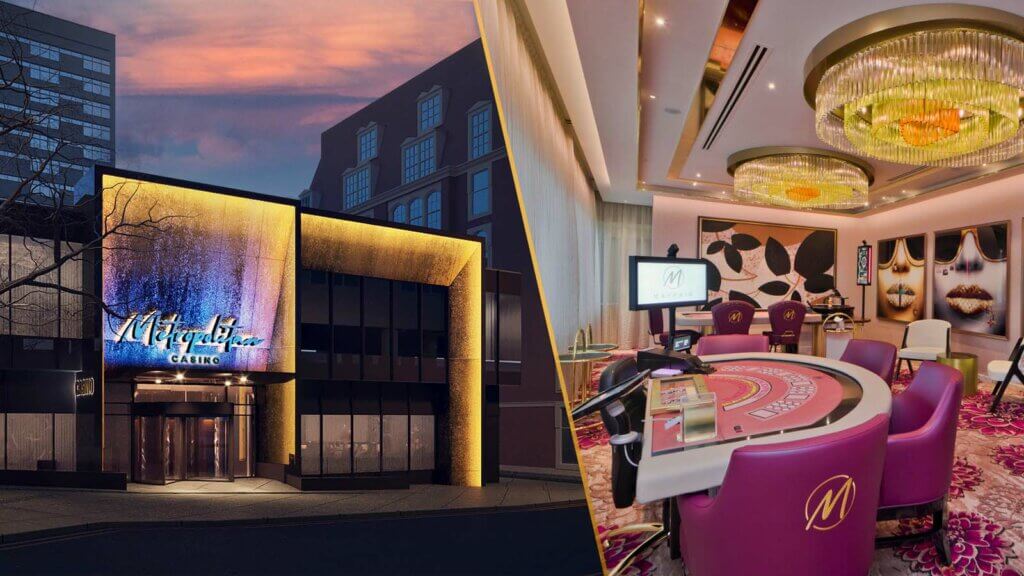 Welcome to Metropolitan Casino Mayfair London, a top-tier gaming destination our experts have analysed. Read on to see what we've learnt!
Metropolitan Casino Mayfair ratings
| | |
| --- | --- |
| Overall Rating | 4.22/5 |
| Slot Machines | 4/5 |
| Casino Games | 4/5 |
| Staff & Service | 5/5 |
| Loyalty & Rewards | 4/5 |
| Casino Atmosphere | 3/5 |
| House Rules | 4/5 |
| Players Feedback | 3.8/5 |
| Operator | 5/5 |
Rating and review process for Metropolitan Casino
The CasinoAlpha rating process is meticulous and thorough, using a set of criteria to evaluate each casino. Factors such as game variety, amenities, venue design, service, entertainment and overall user experience are all taken into account.
Our team of experts carefully scrutinise each casino, ensuring that only the best of the best are awarded our top ratings.
We understand that our readers want to visit and play at only trusted, reputable casinos, so we are committed to providing accurate and unbiased reviews.
How we inspected Metropolitan Casino
Date of visit: 11/29/2022
Time of visit: 14h – 16h
Initial bankroll: £100
What we played: Roulette
Final bankroll: £0
Next visit: 05/29/2023
What we looked at
We have physically visited and spent real money at Metropolitan Casino in order to provide a hands-on review of locally-based UK casinos.
Before visiting the establishment, we did a thorough background check on the operating company owner and past user experiences before setting up our budget.
Once visited, we applied our objective criteria, checking for casino features and which games are presented. We also used subjective methods in order to gauge the standard of the house rules as well as rate the overall atmosphere.
What we found
| | |
| --- | --- |
| Address | Metropolitan Mayfair, 14 Old Park Lane, W1K 1ND |
| Open hours | 2 pm to 6 am daily |
| Membership | Free |
| Minimum age | 21 |
| ID checks | Yes for non-members |
| Game types | Blackjack, Roulette, Poker, Punto Banco(baccarat), Slots |
| Tables | 18 |
| Slot machines | 20 |
| Gaming terminals | 4 |
| Payment | Cash, Card, Chips |
| Average betting range | £0.10 to £1000 |
| Free drinks | Yes |
| Restaurant | Yes |
| Hotel | No |
| Poker tournaments (UK) | 7 Tournaments, including the Triton Million for Charity |
How we review Metropolitan Casino Mayfair London
The information you read in our Metropolitan Casino Mayfair review is an extension of our aim of providing essential, verifiable, and objective data on the state and worth of land-based casinos. All tests performed by our expert analysts follow a review system developed according to the full extent of a casino venue's functioning and provision of services. Our provided content can thus fully assess a land-based casino, as reflected in our ratings, and instruct readers in their decision-making process.
Slot Machines – 5/5
Metropolitan Casino guests can indulge in the ultimate gaming experience by visiting the exclusive four-season gaming terrace, located just steps away from the main gaming floor.
With the design emitting a touch of sophistication and elegance, this exquisite terrace offers a luxurious ambience for players to enjoy their favourite games in style.
The heated outdoor terrace features 20 slot machines, all linked to Major and Grand Progressive Jackpots.
For those seeking the ultimate thrill, two Unlimited Progressive Jackpots are up for grabs.
Slots we played at Metropolitan Casino
| Slot machine | Payout rate | Min/max bet | Reels | Paylines |
| --- | --- | --- | --- | --- |
| Asian Fortunes | 95.00% | £0.15 to £150 | 5 reels | 243 paylines |
| Treasure Box | 96.02% | £0.10 to £250 | 5 reels | 243 paylines |
| Samurai 888 | 96.84% | £0.10 to £50 | 5 reels | 888 paylines |
How many slot machines does the Metropolitan Casino have?
Metropolitan Casino houses 20 slot machines.
Do the slot machines accept coins? (UK)
Yes, including the option to use membership cards (Met cards).
Slot machine providers
Local progressive jackpots
The Metropolitan Mayfair Casino boasts an impressive array of progressive jackpots that are sure to excite and thrill players.
With jackpots ranging from a few hundred pounds for the minor variations to not less than £5000 for the major, there is definitely a good reason to give them a go.
The casino offers a variety of slot games that feature progressive jackpots as a standard.
Casino Games – 4/5
At Metropolitan Casino, members are treated to a premium gaming experience with an impressive selection of classic table games, including American Roulette, Blackjack, Baccarat, and Three Card Poker.
The luxurious gaming floor also boasts Electronic Roulette in the midst of Oriental surroundings.
With an atmosphere of sophistication and exclusivity, Metropolitan Casino offers a world-class gaming destination for discerning players.
Game types
Roulette: 5 tables

Blackjack: 2 tables + 4 video terminals

Poker: 2 halls + 5 video poker terminals

Baccarat: Punto Banco al fresco
Betting limits
| Game | Minimum bet | Maximum bet |
| --- | --- | --- |
| Roulette | £0.50 | £15,000 |
| Blackjack | £3 | £1000 (£5000 for VIP) |
| Baccarat Punto Banco | £1 | £1000 |
| Poker | £2 | £500 |
Can anyone bet the highest limits?
At Metropolitan Casino, betting limits are tailored to your membership level, ensuring that the highest limits and exclusive events and promotions are available only to VIP members.
Advancing to new tiers results from consistent use of their facilities and gameplay.
By accumulating points, you'll gradually progress to new tiers and unlock even more benefits.
Metropolitan Casino poker tournaments
Metropolitan Mayfair's Park Lane Club offers players a chance to compete in seven exciting tournaments, including the prestigious Triton Million for Charity event.
With buy-ins starting at £25,000, these tournaments attract a high-stakes crowd and offer massive payouts.
The tournament is one of the most anticipated events on the poker calendar.
The Park Lane Club also offers a range of other tournaments, including No Limit Hold'em and Pot Limit Omaha, catering to players of all skill levels.
Staff & dervice – 5/5
The Metropolitan Casino team is renowned for its professionalism and expertise in delivering exceptional services to its guests.
The well-trained staff is dedicated to providing the highest quality experience with their unique gaming space designed with a perfect blend of style and comfort, ensuring every guest feels welcome and at ease.
Food & drinks
Visitors can enjoy a fine dining experience at the Restaurant in Mayfair, curated by Chef Laite. Guests can escape the frenetic energy of the game and indulge in a peaceful breakfast, lunch or dinner at this exquisite eatery.
The afternoon tea experience presents a sumptuous four-course menu of tantalising treats that will leave you craving more.
The evening presents appetisers and entrees with an internationally inspired Michelin star menu. From lamb kibbeh for £12.50 and precious prawn dumplings for £14.50 to ribeye steak for £45 and salmon with Thai green curry for £25, there is definitely something to satisfy the taste buds.
The level of culinary expertise and attention to detail is unmatched, making it the perfect destination for those seeking a professional and refined dining experience.
How much do you tip at the Metropolitan Casino?
The tipping policy is set at 10% of the total meal price as a standard. But if you feel satisfied that their staff went above and beyond the call of duty, they always welcome a generous tip.
Metropolitan Casino believes in providing its patrons with exceptional service.
Does the Metropolitan Casino offer free drinks?
Metropolitan Casino offers guests complimentary drinks on the floor. Guests can enjoy a selection of free beverages, which range from tea and coffee to various soft drinks.
Their courteous servers are always on the floor to ensure that your drink is always within reach.
Is there a buffet at the Metropolitan Casino?
There are no buffets served on the menu. However, buffets are typically served during special events, and if you are interested in attending the next one, there are several ways to keep yourself informed.
Guests can either approach the staff at the help desk, who will be happy to help with the information they need, or they can sign up for promotional emails or follow the casino's social media channels to receive regular updates.
Parking
The Metropolitan Casino's parking lot is located on-site and is easily accessible for guests. The parking rate is £9 per hour. With the casino's prime location in the heart of Mayfair, it is conveniently accessible from various locations in London.
Accommodation
The Metropolitan Mayfair Casino offers luxurious accommodation for those looking to stay in the heart of London.
The Hilton on Park Lane is conveniently located near top attractions like Buckingham Palace and Hyde Park. Guests staying there can enjoy amenities such as a fitness centre, spa and rooftop bar with stunning city views.
Being a 5-star rated hotel, the rooms start at £367 per night, but the experience is worth every penny.
Do you tip room service at Metropolitan Casino?
Tipping is not a requirement at Hilton on Park Lane unless your waiter or porter is responsible for setting up the table or providing any additional services.
Are there smoking areas?
Smoking is allowed on the roof terrace.
Security
Metropolitan Mayfair has employed security protocols to ensure the safety for patrons and employees.
These systems include surveillance cameras, access control systems and alarm systems.
Loyalty & rewards – 4/5
Our experts have analysed the rewards program for this Mayfair casino.
How does the Metropolitan Casino reward program work?
The Metropolitan Casino Mayfair London offers a fantastic loyalty rewards program to its regular patrons. The more points players earn, the higher their membership level and the greater the rewards become.
Rewards are linked to your membership card or Met card.
What you get
Met Cards are the ultimate membership feature that unlocks a world of exclusive bonuses and rewards. With multiple levels, the benefits of being a Met Cardholder only get better.
The Met tiers are:
Here, members of their program can earn points for every pound they spend in the casino, which can then be redeemed for a range of benefits, including free play, complimentary drinks, and exclusive event invitations.
Members can also access a range of exclusive promotions and discounts well throughout the year.
How to claim rewards/ How to register in the program
To use your points for gaming, all you need to do is present your Met Card at the reception.
If you would like to exchange your points for food and drinks, hand your card over to the restaurant or bar staff.
For any other purchases, such as merchandise, head over to the information desk with your Met Card.
Casino atmosphere – 4/5
The Metropolitan Casino Mayfair in London is a true embodiment of luxury, elegance, and beauty. Its recent refurbishment has transformed it into a glamorous haven where guests can unwind amidst crystal chandeliers, opulent gold furnishings, and contemporary decor.
The casino also features a stunning bar and lounge area with an extensive drinks menu where guests can relax and socialise.
The pièce de résistance, however, is the crystal wall that leads to the restaurant, adding a touch of sophistication to an already exquisite experience.
View from the inside
Design experience
The Metropolitan Casino Mayfair design is a perfect blend of classic and modern elements. The interior of the casino is sleek and sophisticated with its dark colour scheme and elegant furnishings.
The lighting is strategically placed to highlight the gaming tables and machines, creating an inviting atmosphere.
One outstanding feature that caught our attention was the stunning chandelier in the centre of the casino floor which provides a classy feel.
The walls are adorned with beautiful art pieces, which adds to the overall luxurious feel of the casino.
Are you allowed to take photos in Metropolitan Casino?
Taking photos is allowed within the casino's premises. However, all photography must be limited to personal use only.
Any commercial or professional use of photography within the casino is strictly prohibited without prior written consent from management.
Also, to respect the privacy of others, they ask that guests should refrain from taking photos of other individuals without their explicit consent.
Location and surroundings
Mayfair, situated adjacent to some of London's most stunning parks, boasts of its world-renowned galleries, luxurious hotels, and famed thoroughfares. This ultra-upscale area is one of London's most exclusive haunts, preferred by the elite class.
Mayfair's haute shopping, exquisite dining, and vibrant nightlife are the epitome of elegance and sophistication. Simply taking a stroll through the area's chic streets will reveal that Michelin-starred eateries and chauffeured cars are considered the norm here.
Do you need a passport to go to Metropolitan Casino (Canada)?
At the Metropolitan Casino Mayfair, passports form part of the identification required to gamble at the casino. This is due to the strict regulations put in place by the UK Gambling Commission, which requires all casinos to verify the identity of their customers.
The casino staff will ask for a valid passport, driver's licence or government-issued ID upon entry, and failure to provide one may result in denial of access.
It is important for visitors to come prepared with proper identification in order to fully enjoy their experience at Metropolitan Casino Mayfair.
Events
Metropolitan Casino Mayfair hosts a variety of exciting events for all visitors to enjoy. Experience the ultimate nightlife atmosphere with the resident DJ every Friday and Saturday night, spinning the latest tracks to keep the party going all night long.
Don't miss out on the Spring Bonus event happening from 3-30 April, where guests can win big prizes and enjoy special promotions.
House rules (T&Cs)- 4/5
As a transparent casino, Metropolitan pride itself on its fair and honest games. House rules are as important for their guests as it is for their staff.
The casino also has an OK photos policy, allowing patrons to capture their memories without disrupting the gaming experience for others.
Membership is free, making it accessible to all who wish to try their luck. Metropolitan Casino Mayfair ensures a safe and secure environment for all players to enjoy their favourite casino games.
When is the Metropolitan casino open?
The Metropolitan Casino is open daily from 2 pm to 6 am GMT.
Does the Metropolitan Casino charge entry?
No entry fee is required at Metropolitan Casino.
Do you always need a reservation to play at the Metropolitan Casino?
No reservation is required for the casino floor. However, it could become congested with visitors during peak hours.
Metropolitan casino membership details
To become a member of The Metropolitan Casino Mayfair London's land-based casino, you must first apply for membership by completing an online or in-person application form.
The application process is straightforward, and you will be required to provide some personal information such as your name, address, and date of birth. As a member, you will have access to exclusive promotions, events, and gaming opportunities.
Dress code
The dress code is smart casual so that you can leave your jackets at home. Feel free to dress comfortably in jeans and trainers; just make sure they are not scruffy. The brand name is indicative of the attire expected, which is a sophisticated yet relaxed style.
Women are encouraged to wear elegant tops, blouses or dresses paired with tailored trousers or skirts.
Sportswear and beachwear are not considered appropriate within the premises.
Footwear should be tasteful and comfortable, such as dress shoes, loafers or sandals.
Standout rules at Metropolitan Mayfair casino
Personal games of chance (e.g. drinking games) are not allowed

No suspicious objects or harmful devices may enter the casino

Casino property cannot be removed by patrons or staff

Personal use of the casino address is not allowed
Players feedback – 4.4/5
The Metropolitan Mayfair Casino has received positive reviews from players on various platforms, such as Google and Tripadvisor.
The overall verdict from players is that this casino offers excellent gaming experiences and customer service. The professional and courteous staff, along with the wide variety of games available, make the Metropolitan Mayfair Casino a top choice for many players.
Metropolitan Mayfair Casino player reviews
Google – 4.1/5
Ash Hashr wrote:
"It is a really amazing place, and the service and tables to play are top-notch."
Tripadvisor – 4.5/5
David B wrote:
Excellent environment
"Great staff and good atmosphere. As soon as we went in, the staff asked if we wanted a coffee and looked after us whilst we were there. The decoration and the surrounding is excellent, and the view over towards the park is great."
Most common issues
High minimum bets

Long waiting time to access popular games during peak hours

Not open 24/7
Operator – 5/5
Who owns Metropolitan Mayfair Casino?
Metropolitan Mayfair casino is owned by a private investment company named Metropolitan Gaming and is regulated by the UKGC.
The company, Silver Point Capital, acquired the casino in 2017 with the aim of expanding its portfolio of luxury gaming destinations.
Metropolitan Gaming has a reputation for investing in high-end properties and providing exceptional service to its clientele.
Other casinos by the same operator
Alea Nottingham

Empire Casino

Manchester235

The Ramses Casino Cairo

Emerald Resort & Casino
Contact info
| | |
| --- | --- |
| Website | www.metropolitanmayfair.com |
| Email address | [email protected] |
| Telephone number | +44 (0)207 514 9000 |
| Other | Contact form |
Who are the top competitors of Metropolitan Mayfair Casino?
Metropolitan Mayfair Casino vs Palm Beach Casino
Metropolitan Mayfair Casino and Palm Beach Casino are both popular destinations for gambling enthusiasts in London. While both casinos offer a luxurious and exclusive atmosphere, they do have different vibes.
What is Palm Beach casino best recognised for?
Palm Beach has a more modern and sleek design, with a larger focus on slot machines and electronic gaming. Both casinos offer fine dining options and high-end cocktails, making them ideal for a night out on the town.
Metropolitan Mayfair casino vs Genting Crockfords London
Genting Crockfords is another London casino found within the Mayfair area and a top contender for the Metropolitan Mayfair casino. It offers a luxurious gambling experience and is one of the most prestigious casinos in London.
What is Genting Crockfords London best recognised for?
Genting Crockfords London is known for its exclusive and private gaming rooms, with a focus on high-stakes gambling for the elite. The casino is very grand but also very exclusive.
What sets Metropolitan Mayfair Casino apart from its competitors?
Metropolitan Casino Mayfair is a top-tier casino that stands out from its competitors in many ways. It has a luxurious and elegant atmosphere, revamped and designed to cater to the high-end clientele.
The casino features an extensive range of classic games and includes blackjack, roulette, baccarat, and poker, which are all played on modern tables with professional dealers.
Metropolitan Casino also offers a VIP area for exclusive members, where they can enjoy personalised service and access to premium amenities.
Pros and cons
Pros
Membership benefits

Fantastic promotions and regular events

Complimentary tea, coffee, soft drinks
Cons
No craps tables available
Is Metropolitan Casino Mayfair Casino your best place to play?
The Metropolitan Mayfair Casino boasts a wide range of classic casino favourites, along with an impressive collection of slot machines.
The casino has also garnered attention from celebrities such as Jodie Kidd and Kirsty Gallacher, who attended their opening night.
Metropolitan Mayfair Casino features a chic heated terrace and a sophisticated Art Deco-inspired restaurant, making it the ideal destination for those who appreciate the finer things in life.
While the influx of guests may cause concern amongst the world's whales, a comprehensive VIP program is designed to ensure their satisfaction.
The ultimate goal of the Metropolitan Club is to increase revenue, and catering to a larger gaming audience is a surefire way to achieve this.