Crockfords Casino London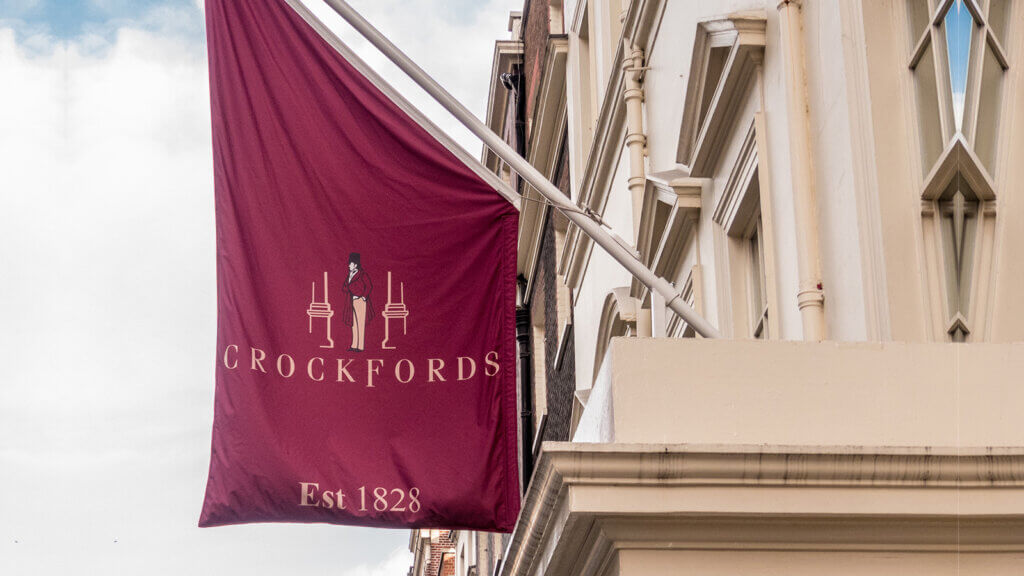 We will help you choose from the offer of casinos in London with our complete Crockford Casino London review. We have analysed all gambling facilities.
Crockfords Casino London Ratings
| | |
| --- | --- |
| Overall rating | 3.7/5 |
| Slot machines | 0/5 |
| Casino games | 4/5 |
| Staff & Service | 3.5/5 |
| Loyalty & Rewards | 4/5 |
| Casino atmosphere | 3/5 |
| House rules | 3.5/5 |
| Players feedback | 4.1/5 |
| Operator | 5/5 |
Table of Contents
Rating and review process for Crockfords Casino London
Our seasoned casino reviewers make use of a reliable grading method that is both objective and transparent, in addition to their personal experience evaluation.
The principal objective of this review of the Crockfords Casino London is to educate readers on the myriad of nuances involved in going to the institution, getting inside of it, and gambling there. We will make every attempt to genuinely depict the whole event as our reviewers experienced it, and we will evaluate the objective components using comprehensive criteria in order to make our judgments.
Following that, we will do market research using our considerable experience working with traditional as well as online casinos. The knowledge that we get from these platforms has the ability to change our view of the high quality of the gaming goods that are offered at the location.
How we inspected Crockfords Casino London
Date of visit: 11/29/2022
Time of visit: 14h – 16h
Initial bankroll: £200
What we played: Roulette
Final bankroll: £0
Next visit: 05/29/2023
What we looked at
To properly curate the complete experience of travelling to the Park Lane gambling Club, we examined both casino-specific features and more general aspects of analysis. This was done in order to make sure that we covered everything.
All categories of games have been investigated and analysed according to the procedures that are unique to each product. Other site-related services, such as food, design, or housing, have also been catalogued and compared with those offered by the industry as a whole.
You will also discover a comparison that provides a more comprehensive overview of how this opulent casino facility compares to others in its industry.
What we found
| | |
| --- | --- |
| Address | 30 Curzon Street, W1J 7TN, London |
| Open hours | 6 PM – 6 AM |
| Membership | Required |
| Minimum age | 18 |
| ID checks | If under 21 |
| Game types | Blackjack, Casino Poker, American Roulette, Baccarat (Punto Banco) |
| Tables | 13 |
| Slot machines | 0 |
| Gaming terminals | 0 |
| Payment | Cash, Card, Chips |
| Estimated betting range | £1 – £75,000 |
| Restaurant | Yes |
| Hotel | No |
| Poker tournaments (UK) | Mention which |
How we review Crockfords Casino London
The information you read in our Crockfords Casino London review is extension of our aim of providing essential, verifiable, and objective data on the state and worth of land-based casinos.
All tests performed by our expert analysts follow a review system developed according to the full extent of a casino venue's functioning and provision of services. Our provided content can thus fully assess a land-based casino, as reflected in our ratings, and instruct readers in their decision-making process.
Slot Machines – 0/5
As a result of the fact that there are no slot machine terminals available for play at Crockfords Casino London, this establishment has been given our lowest possible rating.
This is frustrating since slot machines are commonplace in London's gambling industry. Lost machines are often gambling items that are easily accessible to the general public and cost the least amount of money.
This London club caters to a more wealthy, high-rolling clientele who have the means to buy membership and are likely to seek it out. As a result, the club does not have to worry about recruiting customers with modest spending limits.
Despite this, there are absolutely no slot machine terminals anywhere inside the confines of the club, which is not a justification in any way.
If you are passionate about slot machines, it is in your best interest to play at online slot sites rather than joining a club that requires a membership fee of one thousand pounds.
Casino Games – 4/5
Crockfords Casino London fares a lot better when it comes to table games. You can play almost all types of activities, with the exception of craps.
Some other games, such as Roulette, have only one rule variation, with the more advantageous European version being absent. However, we have grown accustomed to such a situation, with most casinos in London only having the American version.
Game types
Roulette: 4 tables (American)

Blackjack: 2 tables

Poker: 2 tables (Caribbean Stud, Multiplayer & Three card)

Craps: none

Baccarat/Sic bo: 4 baccarat tables (Punto Banco)

Sports betting: not available
Betting limits
| Game | Minimum bet | Maximum bet |
| --- | --- | --- |
| Roulette | £50 | £5,000 |
| Blackjack | £50 | £5,000 |
| Poker | £100 | £1,500 |
| Baccarat Punto Banco | £1 | £10,000 / £75,000 |
Can you get higher betting limits for table games in VIP rooms?
The Crockfords Casino London club's venue has a series of private rooms where you can access more exclusive tables with various limits.
However, there is no clear data on these different betting bounds, and you should always enquire with the management.
Similarly, if, after becoming a member, you attain VIP status, you can agree to play with higher limits.
Linked live dealer gambling online
Another plus on the side of this casino floor and exclusive club is that it facilitates online live dealer casino gambling, with instant in-casino deposits and fast withdrawals via a dedicated cash desk for each member.
The club can provide these services via the operator's online domain, Genting Casino, which we also covered and rated highly.
The casino club management further promises the same exceptional service online. Thus, you can take the club experience with you while on the go.
The service is also available in mobile gambling app form.
A history of high stake wins and losses
Crockfords Casino London is noted for being the venue where some of the most significant losses on the side of patrons were recorded. Australian media tycoon Kerry Francis Bullmore Packer lost £11 million in September 1999.
The previous record loss he overtook? It was Greek millionaire Frank Saracakis's £8 million loss which occurred in the same London casino venue.
However, Crockfords Casino London also took the biggest loss when Phil Ivey banked a whopping £7.7 million on Baccarat Punto Banco. However, when discovered to be edge sorting, the player was refused payment.
Although Ivey sued the club's management, he lost the case twice, including his appeal to the UK Supreme Court, which ruled in the club's favour.
No matter your opinion on the subject, if the casino's management discovers that you are using an illegitimate strategy, you will be refused payment. This is a general rule for all gambling floors.
Staff & Service – 3.5/5
Most catering lives up to the fame of this exclusive private gambling pub for 'the discerning player.' Most luxury requirements are served here.
Food & Drinks
You can find a menu composed of a slew of dishes from worldwide cuisine, served at the highest degree of quality.
World cuisine dishes
Middle Eastern cuisine

Indian cuisine

Chinese Dim Sum

Modern European cuisine
Prices will vary depending on the course you pick and the general nature of your order. For instance, most of the main course options, including fish or seafood dishes, fall between the £9 and £30 price marks, with only a few, such as the famed Dover sole grilled or meunière, or grilled USDA rib eye steak options, which jump to £37 and £38 respectively.
Most prices are low for such a venue. Take Chinese or Indian Hors D'oeuvres, which include options priced as low as £6.
You essentially get a fabulous gourmet meal at a great price, which is proof of the exclusive treatment specific to this venue.
Drinks
The available drinks are similarly varied and verified for quality. You can serve various beverages, from standard refreshments to more intricate cocktails, all at an affordable price. The price of your drinks will more or less match that of your main course.
How much could you expect to tip at Crockfords Casino London?
Drinks and the main course, plus some starters and desserts, will probably fall under £100 in total. Going by the 10 to 20% rule for tipping, you can probably expect to pay between £10 and £20 in tips.
However, considering the service and gourmet courses you are being served, tipping will come easily.
Parking
Valet parking is available for all visiting members who decide to arrive by personal car. Payment is not required. Nonetheless, you will need to tip the helping valet.
Arriving by tube is also an option, with Hyde Park Corner and Green Park being the two closest stations.
Accommodation
The gambling and dining club does not concern itself with overnight accommodation. However, given its central location, you can find multiple hotels catering to your needs.
Nearby luxury hotels and distance to the gambling club
| Luxury hotel | Stars | Distance from club | Estimated walk time |
| --- | --- | --- | --- |
| The Chesterfield Mayfair | 4 stars | 0.1 mile | 3 minutes |
| The Mayfair Townhouse | 5 stars | 0.2 miles | 3 minutes |
| The Athenaeum Hotel & Residences | 5 stars | 0.2 miles | 5 minutes |
| Karma Sanctum Soho London | 4 stars | 0.7 miles | 15 minutes |
| The Dilly | 5 stars | 0.7 miles | 13 miles |
| The Cavendish London | 4 stars | 0.6 miles | 12 minutes |
| The Washington Mayfair Hotel | 4 stars | 0.1 mile | 3 minutes |
| The Z Hotel Piccadilly | 4 stars | 0.9 mile | 19 minutes |
| London Hilton on Park Lane | 5 stars | 0.1   mile | 3 minutes |
| The Mayfair, A Radisson Collection Hotel, Mayfair London | 5 stars | 0.4 miles | 7 minutes |
With this selection of 4- and 5-star hotels, you should arrive at the Crockfords Casino London club by foot within 20 minutes, without walking more than one mile.
Are there smoking areas?
The Crockfords Casino club's venue allows for access to an outdoor smoking balcony. Additionally, the London Room and the Penthouse Suite, both of which are private premises, have their own balconies and rooftop areas where smoking is permitted.
Security
The building and premises of the Crockfords Casino London club are fitted with cutting-edge security and surveillance systems.
The security staff is also famed for being both professional and effective, managing to keep the necessary distance to offer members their comfort and intimacy while still keeping them and their belongings safe.
Loyalty & Rewards – 4/5
Crockfords Casino London makes all attempts to underline the fact that, by becoming a club member, you are not only part of London's elite, a VIP high-roller, but also eligible to be rewarded for your loyalty.
How does the Crockfords Casino London rewards program work?
This exclusive members-only casino club, beyond offering its membership benefits, is also part of the My Genting Rewards multi-venue loyalty program. This same scheme will also function in any other Genting Casinos-owned venues, such as the Palm Beach Casino London, a venue which we similarly visited and covered.
What you get via the My Genting Card
Points from completing challenges in the My Genting App

Complimentary tea, coffee, or other draught soft beverages

Exclusive and recurring promotions and offers
How the point system works and what you get
As you visit the casino floor or the venue in general, and you wager and purchase products or services, you will start accumulating points.
Every single point is valued at 1 penny, with every 100 points making up £1. You can spend said converted points on food and drinks, as well as bets for table games, to be purchased at the kiosk.
How to earn points
Download that My Genting App

Complete app challenges

Go about your visit to the Corkfords as you would
The rate of accumulating points will heavily depend on the loyalty scheme you currently are in.
There are five levels that any member can be on, each with limitations on point accumulation. Every joining customer is automatically set to the Red Scheme.
All loyalty Schemes
Red Scheme – you will not accrue points from table games, e-tables, or slots

Bronze Scheme – you will not accrue points from table games

Silver Scheme

Gold Scheme

Diamond Scheme
Casino atmosphere – 3/5
Crockfords Casino London lives up to its name and pedigree as the oldest casino in London. The atmosphere and design keep true to its history.
Now a casino floor, the venue is located close to the London gentlemen's club called Crockford's, which also serves as inspiration for its style and design direction.
The now-defunct club was established in 1823, closed down only 22 years later, and then reappeared in 1928, only to be permanently closed in 1970.
Its initial centring on gambling, as well as its early and maintained raffish and raucous reputation, only further motivated the current casino's inspiration, if not heavily borrowing from the historical gentlemen's society.
View from the inside
The design within the bounds of the casino clearly aims at a revival of the Crockford's of yesteryear while still managing to build up on the aesthetic and create, if not recreate, a novel image for itself.
It is challenging to exude the air of luxury while not also falling into self-parody, gauche pretentiousness, and decadent excess. Still, Crockfords Casino London manages to tote the golden mean between restraint and extravagance that stands at the root of all that signals class.
The interior is only so much more jarring and impressive when contrasted with the unassuming exterior facade of pure white stone, built in a classic London style.
Are you allowed to take photos in Crockfords Casino London?
The general rule also stated in the venue's and operator's terms and conditions are that you should not use any photographing device within casino bounds.
The dining area may differ in policy, but this also depends on whether you may intrude upon some other casino goer's or staff member's privacy. Considering that taking photos can be grounds for being expelled, we advise you to abstain from doing so.
But then again, once you are inside, would you really want to taint your experience by taking photos?
Location and surroundings
You will find the Crockfords Casino London club around Mayfair, a location renowned for its multiple attractions, as well as numerous lavish casino locations.
The building is 20 minutes away from the Buckingham Palance, a drive away from Soho, and one tube station away from Westminster and the banks of the River Thames.
Events
The casino floor also doubles as a venue for multiple attractive and lavish events that rise above the usual DJ set and clubbing night, activities genuinely suited for the cream of the crop.
As it is a members-only club, you can expect that management has no interest in advertising these events to the broader public. Instead, through their mystery, these add to the mystique of the entire edifice that is Crockfords Casino London.
House rules – 3.5/5
When is Crockfords Casino London open?
Signed members can access the premises on a daily basis, from 6 PM to 6 AM. This is a considerably shorter timeframe than most other luxury exclusive venues, let alone casinos in London.
Does Crockfords Casino London charge entry?
Members and their guests are admitted free of charge. However, other customers are not permitted admission unless they are provisional members or eating customers.
Do you always need a reservation to play at Crockfords Casino London?
All locations are openly accessible to members, although it is encouraged that they call ahead to confirm the availability of specific amenities.
This is especially the casino for premium private rooms, such as the London Room, or the Penthouse Suite.
How to join Crockfords Casino London
You should either inquire at the lobby of the location or contact the casino club management via the published details.
The standard annual fee for membership is £1,000.
Then, you will complete a request to become a member, where you must add personal information as well as possible details related to the payment method you will use.
Contact details for Crockfords Casino London
| | |
| --- | --- |
| Website | www.crockfords.com |
| Email address | [email protected] |
| Phone number | 020 7493 7771 |
Dress code
The casino, restaurant, and bar all have a dress code that dictates customers must wear business casual attire. This is to be expected given the exclusive setting of the establishment.
Shorts that have been tailored to fit well and have a stylish appearance are acceptable apparel. Sandals, styles that might be seen as offensive, and clothing that is hugely revealing are not permitted.
The management reserves the right to exercise discretion in upholding these dress standards, and they may refuse entry to a person or ask them to leave if they do not meet the required standard and are deemed to be inappropriately attired. In addition, the management retains the right to exercise discretion in determining whether or not a person is appropriately dressed.
In addition, the management retains the authority to determine, in its sole and absolute discretion, what constitutes an acceptable level of dress in any given situation.
Standout rules at Crockfords Casino London
You are not allowed to use your phone at gambling tables.

It is against the rules to approach or speak to any celebrity or public person who may be present at the club for any reason, even to request an autograph.

No photography is allowed. If you do, you risk losing your membership and being kicked out of the building are possible responses.

In addition, the management retains the authority to determine, in its sole and absolute discretion, what constitutes an acceptable level of dress in any given situation.
Players feedback – 4.1/5
We have rarely seen such a polarised range of opinions on a gambling club.
Nonetheless, following a read of available player reviews, we can ensure our readers that most customers have left satisfied.
Crockfords Casino London player reviews
Google – 3.6/5
The somewhat poor rating of 3.6 stars out of 5 is based on 84 Google reviews and may hint that the venue cannot stand up to its name entirely.
However, we can only take negative reviews with a grain of salt since many come from evidently embittered ex-members that perhaps maintain to have won and gone unpaid or to have outright lost, which, as we know, is a premise, if not a prerequisite of gambling in general.
The more credible and substantial reviews generally portray the casino and dining club as a high-class, easily recommendable destination for London's elite.
Tripadvisor – 4.5/5
In an unexpected turn of events, the location scored considerably better on TripAdvisor, with 4.5 stars out of 5.
Most reviewers declare themselves mesmerised by the floor, with minor complaints regarding the efficiency of some staff members and the urgency of waiters when the venue is more populated.
On a more touching note, we could read the review of a customer who, after being a regulate in the 70s, revisited and relived "those thrilling bygone days." We can perhaps take this comment to be proof of the club's long-lasting and still-standing aura and charm.
Most common issues
Slower serving when more populated.

Not enough information on membership requirements.
Operator – 5/5
The casino floor and dining club are owned and run by a trusted and well-accredited gaming and entertainment events company.
Who owns Crockfords Casino London?
Genting Casinos LTD is a renowned company in the UK that started its activities in 2006. It is part of the broader group of properties of the Malaysian Genting Berhad corporation, which has been active since 1965.
The UK-based subsidiary has come to operate 35 casino floors throughout the nation, with five being only in London.
Other casinos by the same operator
Forty five Kensignton

Genting Casino Chinatown

The Colony Club

The Palm Beach Casino London
Contact information for the operator
Who are the top competitors of Crockfords Casino London?
We have skimmed down the competition for this selective and exclusive luxury gambling club to only two other casinos in London.
Crockfords Casino London vs Crown London Aspinalls
These two casino, restaurant and bar members-only venues are more similar than different, both having a selective and posh approach to business.
Crown London Aspinalls is best for a great dining experience
In many ways, just like Crockfords club, the Crown London Aspinalls is a members-only club with more to give in the catering rather than gambling area.
Although a lot more expensive, the Crown may also provide a quote-on-quote, more exclusive dining experience.
We recommend that you read the full Crown London Aspinalls review and decide if this is the venue for you.
Crockfords Casino London vs Palm Beach Casino London
Genting Casinos LTD's own Palm Beach Casino London may be one of the leading contenders for the Crockfords club.
The two venues do have different target audiences, but, in many ways, they deliver qualitatively similar services. Similar in most ways, but one.
Palm Beach Casino London is better with gambling activities (especially slots)
Indeed, they are similar in many ways, and they share the same operator, but Palm Beach Casino London provides more varied gambling activities, both as far as betting ranges and rule variations go. Plus, the venue has slot machines.
What sets Crockfords Casino London apart from its competitors?
The sheer history, with which this exquisite destination is filled to the brim, makes it a shining city on a hill that any seasoned gambling aficionado from London and beyond will want to visit at least once in their lifetime.
Pros and cons for Crockfords Casino London
Pros
The tremendous historical pedigree that sets it apart from other venues

Fantastic restaurant and bar selection at affordable prices

Gambling options suited for high rollers

Multiple private rooms available for members

Impeccable design direction

Run by the respectable Genting Casinos UK LTD
Cons
It is a members-only club

You will find no slots in the venue

Access conditions are stricter

Potential customers are poorly informed regarding upcoming events and current facilities
Is Crockfords Casino London your best place to play?
Crockfords, just like in times of old, is not for everyone. It is, however, for the best; for the gamblers of London that take themselves to be the elite of this scene. This attitude is evident in most, if not all, elements of this club. If this facet proves attractive to you, Crockfords awaits.