Crown London Aspinalls Casino Review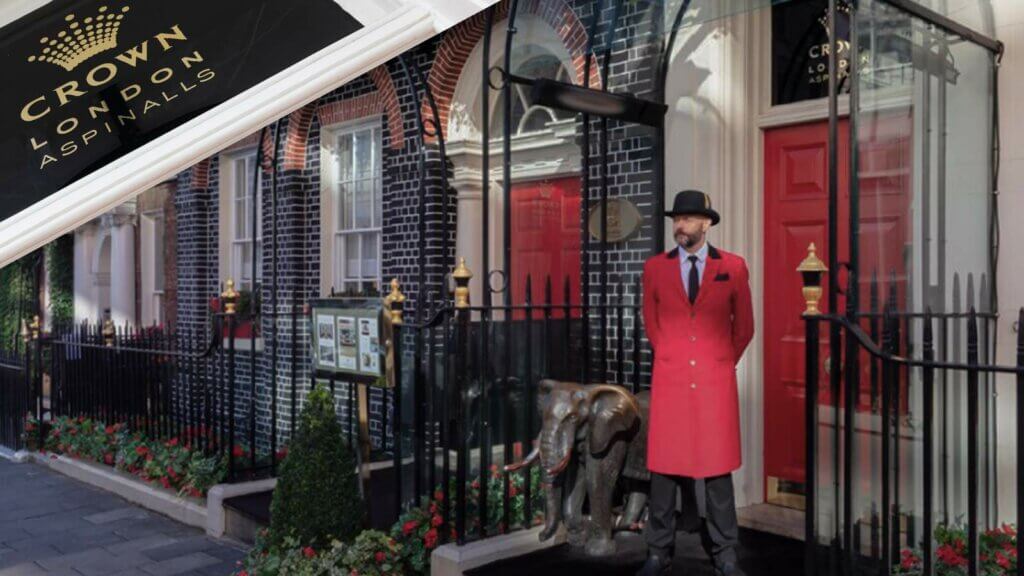 Crown London Aspinalls is one of the many casino venues you can pick from. Read our review to find out if it is the best option for you.
Crown London Aspinalls Casino Ratings
| | |
| --- | --- |
| Overall Ratings | 3.8/5 |
| Slot machines | 0/5 |
| Casino games | 4.5/5 |
| Staff & Service | 4/5 |
| Loyalty & Rewards | 4/5 |
| Casino atmosphere | 5/5 |
| House rules | 4/5 |
| Players feedback | 4.3/5 |
| Operator | 5/5 |
Table of content
Rating and Review Process for Crown London Aspinalls
This Park Lane Club London review will begin by presenting the viewers with information regarding how to get there, get inside, and gamble inside the establishment. We will make every attempt to offer an accurate representation of the whole event as experienced by our reviewers, and we will assess the objective parts using a range of criteria.
Our knowledgeable casino reviewers employ a dependable and objective rating approach, which is supported by an examination of players' first-hand experiences.
Following that, we will make a market comparison based on our extensive experience with both conventional gambling and UK online casinos. The knowledge we have gleaned from these platforms has the ability to change our opinion on the quality of gaming products available at the venue.
How we inspected Crown London Aspinalls
Date of visit: 05/29/2023
Time of visit: 16h – 18h
Initial bankroll: £200
What we played: Blackjack, Roulette
Final bankroll: £0
Next visit: 11/19/2023
What we looked at
In our evaluation of Crown London Aspinalls, the primary emphasis was placed on the casino's many gaming options, as well as the level of detail and general quality associated with each.
However, given that we acknowledge the possibility of the inclusion of supplementary services as part of the overall adventure, we have included a wide selection of dining, entertainment, and service provider options. When you read about the games and the venue in this location, you will note that each area has been objectively rated using a method that is objective and based on years of experience. Nevertheless, we take precautions to ensure that the ultimate choices are correctly informed by our own first-hand knowledge.
What we found
| | |
| --- | --- |
| Address | 27-28 Curzon Street, W1J 7TJ |
| Open hours | 12 PM – 6 AM |
| Membership | Yes |
| Minimum age | 18 |
| ID checks | Yes, for non-members (in the restaurant) |
| Game types | Baccarat, Roulette, Three card poker, and Blackjack |
| Gambling tables | 16 |
| Slot machines | 0 |
| Gaming terminals | 0 |
| Payment | Cash, Card, Chips |
| Table games betting range | £5 – £75,000 |
| Restaurant | Yes |
| Hotel | No |
| Poker tournaments | Available |
How We Review Crown London Aspinalls
The information you read in our Crown London Aspinalls review is extension of our aim of providing essential, verifiable, and objective data on the state and worth of land-based casinos.
All tests performed by our expert analysts follow a review system developed according to the full extent of a casino venue's functioning and provision of services. Our provided content can thus fully assess a land-based casino, as reflected in our ratings, and instruct readers in their decision-making process.
Slot Machines – 0/5
There simply are no slot machine terminals to be played at Crown London Aspinalls, thus earning the lowest possible rating from us.
This is aggravating since slot machines are popular in London's gambling scene, and often they are the most accessible and the cheapest gambling products available for the general public.
Naturally, attracting low-spending patrons is no concern for this London club since it is suited for the more affluent high rolling crowd that can afford and will seek the paid membership.
Nevertheless, this is no justification for the total lack of slot machine terminals within the bounds of the club.
We conclude you would be better off accessing online slot sites rather than paying £1,000 for a membership, if you are a slot machine enthusiast.
Casino Games – 4.5/5
When discussing the table games present in the exclusive members club, the situation is the exact opposite.
With the singular exception of the lack of craps tables, Crown London Aspinalls has all the required gambling tables, along with rule variations, and an appropriate amount of betting limit variations.
Game types
You will find the usual American roulette, standard Blackjack (ensure that you pick tables with 3 to 2 payout rules), baccarat, and three card poker options. There is a total of 16 tables which may seem like a lot.
However, seven are located in three private events rooms. Thus, it would be best if you considered that you would not be able to access all 16 at any time.
You can also participate in poker tournaments that proceed separately from the usual three card poker you can play regularly.
Betting limits
| Game | Minimum bet | Maximum bet |
| --- | --- | --- |
| Roulette | £5 | £1,000 |
| Blackjack | £50 | £5,000 |
| Three card poker | £50 | £2,000 |
| Baccarat | £100 | £75,000 |
Can all members access higher bet limits, or do you need a special invitation?
Private events always come with different conditions based on a mutual understanding between the renter and the casino directors.
Thus, you can expect considerably higher sums for private events but only insofar as you or the organiser has actually established these deals with the casino.
Crown London Aspinalls poker tournaments
There are poker tournaments organised regularly within the bounds of this members-only club.
Usually, clubgoers and members are notified in time regarding all ongoing or future tournaments.
Staff & Service – 4/5
All that pertains to catering, customer service, and satisfaction is at the highest standard. Everything related to the service is appropriate for an exclusive club that requires a membership, yet there's no accomodation for patrons visiting from outside of London.
Food & Drinks
For wining and dining, the casino club gives the option of accessing the services of 27 Restaurat & Bar.
The venue is open to the broader public, as it accepts members and non-members alike, given that they are over the age of 18.
More so, food enthusiasts can register for a dining membership either online or at the locale's reception.
Private Dining
The Curzon Private Dining Room is open for private functions and events, from personal gatherings to business lunches and anything in between.
Note that you should ideally restrict your group of guests to twelve at most.
You can make a reservation via email or landline.
Contact details for the 27 Restaurant & Bar
How much do you tip at Crown London Aspinalls?
It would be best if you ideally tipped in concordance with the unspoken rule of 10% to 20% of your total price of consumption.
Parking
The Crown Club Aspinalls provides both valet and self-parking options for members that visit the locale by car.
Needless to say that parking is included in the membership benefits.
Accommodation
The club itself does not provide any accommodation for its members. However, the locale is surrounded by multiple luxury five star hotels.
You can stay at The Crown London Hotel. Since the venue appertains to the same group of businesses as the Crown London Aspinalls, you may receive accommodation benefits and lower prices.
Get to the club in under 20 minutes from these hotels
London Hilton on Park Lane (5 stars) – 2 minutes away

The Dilly (5 stars) – 14 minutes away

The Mayfair, A Raddison Collection Hotel (5 stars) – 8 minutes away

Hotel Cafe Royal (5 stars) – 16 minutes away

The Mayfair Townhouse (5 stars) – 4 minutes away

W London (5 stars) – 19 minutes away

The Connaught Hotel (5 stars) – 8 minutes away

The Washington Mayfair Hotel (4 stars) – 3 minutes away

The Z Hotel Piccadilly (4 stars) – 19 minutes away

44 Curzon Street by Mansley (4 stars) – 2 minutes away
Are there smoking areas?
The Club London Aspinalls provides smoking areas and a heated terrace where you can retreat to have a drag.
Security
Given its high-profile members-only nature, the gambling club has implemented extensive security checks and systems.
Additionally, the staff ensures that, as a patron, you and your belongings are safe and secured.
Loyalty & Rewards – 4/5
Members of the casino club are eligible for a variety of advantages, including specially negotiated rates at some of the most exclusive hotels in Mayfair.
In addition to this, there are also unique agreements and discounts available with a number of well-known London retailers and locations.
How does the Crown London Aspinalls's rewards program work?
You do not require any rewards card or additional program to sign in as a member. Your membership doubles as a loyalty rewards program.
What you get
Access to all facilities with one membership

Option to reserve access to private salons

VIP status depends on your activity as a member
How to register for the program
Registering is equivalent to signing up for a membership. Note that for the full benefits, you will require the club membership, not the restaurant one.
You must complete an application form (which you can find online on the casino club's website), provide personal information, a valid photo of your ID and details for a personal business card.
Your application is subject to the approval of a Membership Committee.
Casino Atmosphere – 5/5
The Crown London Aspinalls casino club balances perfectly a small and cosy style with an overall luxurious and posh atmosphere.
John Aspinall, a famous breeder of wild animals, started Aspinalls Club in the '60s. His zoos were funded in large part by his wins from the house. In its early stages, it mainly catered to wealthy Londoners. It had a reputation for providing an exceptional gaming experience and was often used as a venue for exclusive gatherings. In 1992, the location was relocated to Mayfair after extensive remodelling. After the renovation, it gained even more tremendous popularity among London's upper class.
View from the inside
The Crown maintains its posh fin-de-siecle style with slow dashes of the modern (see the chain-like chandelier) that only accentuates this exquisite venue.
What is excellent about this premium locale is that it does not resemble your usual casino club. It instead aims for a more neutral and selective look, with casino elements showing a more restrained design.
Design experience
The Crown London Aspinalls club may be the best casino and dining locale there is. The overall neoclassical design, harmonised with art deco, minimalist modernism, and the occasional contemporary elements, turn this venue into a certified must-see location.
Members can feel privileged to be able to enter and spend time in this locale, and the design expresses it exceptionally well and not at all excessively.
Are you allowed to take photos in Crown London Aspinalls?
During our visit, taking pictures was allowed in certain conditions, but please be mindful of your surroundings when doing so. Make sure you don't disturb others.
Since the venue is members-only, the policy can vary. Gambling venues generally bar players from taking pictures, yet this exclusive club may is a more intimate venue.
The gambling rooms at Crown Londo Aspinalls
The Club Room – the primary gaming area

The Sapphire Room – private gambling salon

The Jade Room – private gambling salon

The Gallery – private gambling salon

The Silk Room – private gambling salon

The Terrace – exterior lounge, restaurant, and gambling salon
Location and surroundings
The Crown London Aspinalls, like many other such venues, is located in the hotspot for the exclusive casino and gambling clubs of London, around Mayfair.
The venue is within walking distance of Buckingham Palace and a short drive away from Soho and the Piccadilly Circus.
Visiting the Crown London club guarantees that you will see some impressive areas and attractions of London.
Events
The casino club excels in the matter of live entertainment events organised for participating members.
The casino club's management makes an active effort to organise events that you will not find in any other similar location.
A selection of current events
Jazz and Seafood Night

Lunar New Year

Bollywood Night
House Rules (T&Cs) – 4/5
Our experts consider the club rules at the Crown London Aspinalls within the standard for their  type of venue it represents.
The only outliers in its terms and conditions concern the regulations around gambling access to various types of members, the validity of the dining membership, and access to members' guests.
When is Crown London Aspinalls open?
You can access the venue between 12 PM and 6 AM on a daily basis. This schedule sits at an average of standards for London venues.
There are some less exclusive venues that are open 24 hours a day, but we have encountered casinos in London that is only open between 2 PM and 6 AM.
Essentially, this casino club has a decent opening schedule. Unless you want to spend a full 24-hours in the casino, the schedule will not bother you, although it could do better.
Does Crown London Aspinalls charge entry?
Members and their guests are not charged for entry, while other customers cannot enter at all, except for provisional members or dining customers.
Do you always need a reservation to play at Crown London Aspinalls?
Members can freely access all venues, but inquiring about the availability of various facilities is recommended.
If you are not a member and wish to access the restaurant, you must book a reservation for a table. This is especially important if you want to access the private dining room.
Crown London Aspinalls membership details
Start by filling out a form that you can find in the hallway or online.

You will give sensitive information that will be used to identify and confirm you.

The club will also want to see a picture of a legal ID.

You must also provide card information. You should own the payment method and plan to use it to pay for things in the place.

A Membership Committee will decide whether or not you can join.
You can still enter the casino club as a provisional member as you wait for confirmation. However, limitations apply.
Any membership, from the gambling one to the dining membership, is valid for 12 calendar months.
The casino club membership is subject to a £1,000 annual payment.
Dress code
Both the Crown London Aspinalls and the 27 Restaurant & Bar require guests to dress in a business casual manner.
It might come as a surprise, but shorts that have been well fitted and look smart are appropriate clothing.
Sandals, fashions that might be considered insulting, and apparel that is excessively exposing are not allowed.
The management retains the right to exercise discretion in upholding these dress standards, and they may refuse entry to a person or ask them to leave if they do not meet the required standard and are deemed to be inappropriately attired.
In addition, the management reserves the right to exercise discretion in determining what constitutes an appropriate standard of dress.
Standout rules at Crown London Aspinalls
All memberships are valid for 12 calendar months.

Your application to become a member depends on the decision of a membership committee.

The casino club's management can refuse entry to the guests of a member, limit the number of guests, and ask any guest to leave the premises.

The dining membership is only valid for the London venue.
Players Feedback – 4.2/5
Judging by visitors' reviews, the casino club is some of the most beautiful and attractive spots in London, especially for high class gambling enthusiasts.
Crown London Aspinalls Google reviews 4.2/5
The current Google rating is based on 73 user reviews, with most rating the location as either very good or excellent.
Negative reviews generally come from ex-members whose membership was cancelled due to various reasons or non-members that only interacted with the outside staff.
While these are still a cause for concern, we cannot reasonably consider them to well reflect on the overall quality.
Most common issues
Allegedly unmotivated membership cancellations

Some reports of poor behaviour on the side of some staff members
Operator – 5/5
The casino club in London is owned by Crown Resorts Limited, a juggernaut of the global gaming business and venue administration.
Who owns Crown London Aspinalls
Crown Resorts Limited is the largest gambling and entertainment company in Australia, running multiple casino locales.
Currently, the company was listed on the Australian Securities Exchange until being purchased by Blackstone Inc., an American alternative investment management company, in June of 2022. Nowadays, it is traded as ASX: CWN.
Other casinos & catering businesses run by Crown Resorts Limited
Crown Melbourne

Crown Perth

Crown Sydney

Nobu
Operator contact info
| | |
| --- | --- |
| Website | crownresorts.com.au |
| Email address | Via Contact form |
| Telephone number | – |
Club contact info
| | |
| --- | --- |
| Website | crownlondonaspinalls.com |
| Email address | [email protected] |
| Telephone number | +44 (0) 20 7499 4599 |
| Fax | +44 (0) 20 7499 4942 |
Who are the Top Competitors of Crown London Aspinalls?
There are two main competitors for this exclusive gambling and dining club in the middle of London.
Crown London Aspinalls vs Park Lane Club London
Park Lane Club London is another membership-based casino venue located at the base of the London Hilton at Park Lane tower. This venue has the advantage of its association with the Hilton hotel, as well as its more gambling-oriented approach. For instance, you can actually fund slots there.
Nevertheless, you still have to pay a £1,000 annual fee.
Park Lane Club London is best for visitors staying at the Hilton at Park Lane hotel
If you are going to stay at Hilton, both the restaurant and casino venues are worth your time.
Read our Park Lane Club London review for more information.
Crown London Aspinalls vs Palm Beach Casino Lonon
Palm Beach Casino London is another gambling location with a historical pedigree. The locale is organised in the Mayfair Hotel's location. Just like the Crown club, the Palm Beach Casino London is also famed for its catering and events while still offering more gambling options.
Palm Beach Casino London is notable for its restaurant experience
Most visitors agree: wining and dining at the Palm Beach Casino London is a one-of-a-kind experience that you can hardly find anywhere else in London.
Read our full Palm Beach Casino London review for more details.
What sets Crown London Aspinalls apart from its competitors?
The Crown Club is a historically exclusive locale with events and an overall dining and gambling experience imbued with luxury and class.
It sets itself apart from the more party oriented destinations by providing a classy and old-timey experience.
Pros and Cons of the Crown London Aspinalls
Pros
It is a historic landmark with an excellent design direction

The 27 Restaurant & Bar is an exquisite dining location

You can reserve private dining and gambling rooms with different betting limits

Members can invite multiple guests

Table games have varied betting limits and rules
Cons
You must pay £1,000 annually for a membership

A Committee must accept your application to be a member

Dining membership owners cannot use gambling facilities, nor can they access other Crown establishments

There are no slots in the venue
Is Crown London Aspinalls Your Best Place to Play?
The Crown club is for a specific high-class customer base with more refined tastes. Nevertheless, the sheer aura of the location and its design make it worth the visit. We recommend that your first visit is as a guest if you know a current member. You can then decide if you wish to pay the hefty fee for a membership for a whole year.