Les Ambassadeurs Casino London Review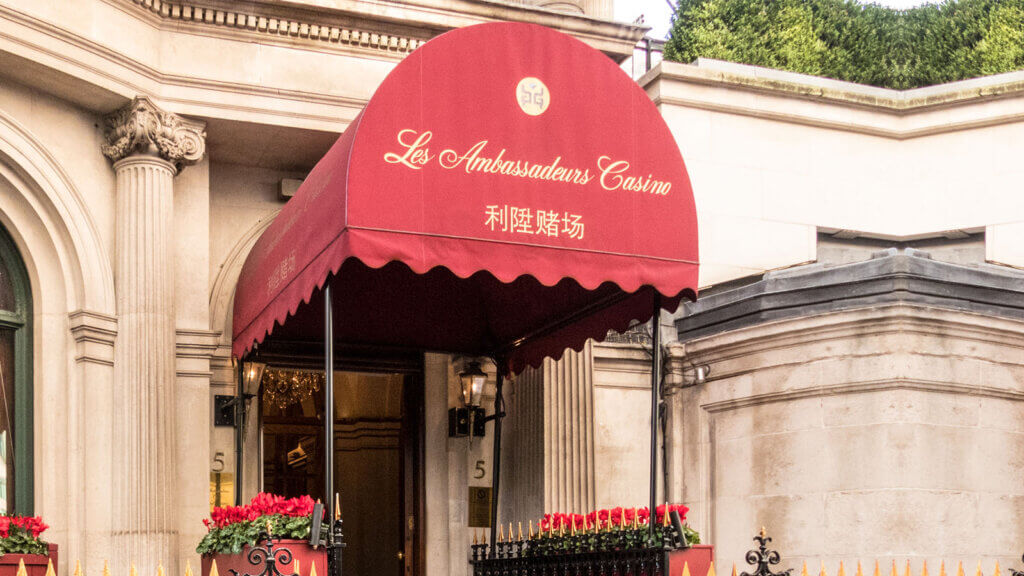 Our review of Les Ambassadeurs Casino London shows you precisely what gambling at this premium club feels like, so read on and find the top attractions at Les A and where it falls short.
Les Ambassadeurs Casino London Ratings
| | |
| --- | --- |
| Overall rating | 3.7/5 |
| Slot machines | 1/5 |
| Casino games | 3/5 |
| Staff & Service | 4/5 |
| Loyalty & Rewards | 4/5 |
| Casino atmosphere | 4.5/5 |
| House rules | 3.5/5 |
| Players feedback | 4.5/5 |
| Operator | 5/5 |
Table of Contents
Evaluating Les Ambassadeurs Casino London
Our review process had to take a slightly different approach for Les Ambassadeurs Casino London. However, we found a way to apply the rigorous review criteria our subscribers know from our online casino reviews.
How we got inside the club
Date of visit: 11/29/2022
Time of visit: 14h – 16h
Initial bankroll: £1000
What we played: Blackjack, three-card poker, baccarat
Final bankroll: £0
Next visit: 05/29/2023
What we checked
It's widely known that players cannot tour the club premises freely. Still, we managed to obtain an invitation from a member who wishes to remain anonymous. Therefore, our evaluation of Les Ambassadeurs Casino London retained objectivity.
All information presented was double-checked with players at the club and the casino's staff to ensure maximum accuracy, including the game counts, house rules and loyalty incentives.
The facts we gathered about Les A's exclusive gaming club describe its features transparently and help you see the club in the larger context of London's top local casinos.
What we found
| | |
| --- | --- |
| Address | 5 Hamilton Pl, London W1J 7ED |
| Open hours | 24/7 |
| Membership | Required |
| Les Ambassadeurs membership fee | £25,000 per year |
| Minimum age | 18 |
| ID checks | Yes, for guests. |
| Game types | American roulette, blackjack, baccarat, three-card poker |
| Tables | 16 |
| Slot machines | 0 |
| Gaming terminals | Electronic roulette |
| Payment | Cash, debit card |
| Average betting range | £5-£10,000 |
| Restaurant | Yes |
| Hotel | No |
| Poker tournaments | No |
How we review Les Ambassadeurs Casino London
The information you read in our Empire Casino London review is extension of our aim of providing essential, verifiable, and objective data on the state and worth of land-based casinos.
All tests performed by our expert analysts follow a review system developed according to the full extent of a casino venue's functioning and provision of services. Our provided content can thus fully assess a land-based casino, as reflected in our ratings, and instruct readers in their decision-making process.
Slot Machines – 1/5
As an exclusive gambling venue for the elite, Les Ambassadeurs Casino London does not host any slot machines, which explains our rating. Fruit machines could not have fitted in such a classy environment, but slots are a primary factor in our local casino review system.
The club also provides an online site where slots are provided. However, the catalogue is limited and will hardly satisfy an experienced punter who has previously played hundreds of games at the UK's top online casinos.
Casino Games – 3/5
Members of the club have 16 tables on the main gaming floor and 5 other private rooms, all adorned with classic murals and exquisite art, but not so many gaming options.
Interestingly, a Dual Play feature makes it possible for a player in the physical casino to play roulette live at the same wheel with another online player.
Game types
American roulette

Electronic roulette terminals

Blackjack

Three card Poker

Baccarat
The experience of playing at Les A is unmatched, but you only get American roulette tables, which favour the house with its 5.25% house edge.
Betting limits
| Game | Minimum bet | Maximum bet |
| --- | --- | --- |
| American roulette | £5 | £1,000 |
| Blackjack | £10 | £10,000 |
| Baccarat | £10 | £10,000 |
| Three card poker | £5 | £5,000 |
Do VIP members face the same limits?
Maximum bet limits may be increased for those in the Premium Player Programme.
Do they host poker tournaments at Les Ambassadeurs Casino London?
Other casino review sites mention Les A as a hotspot for poker tournaments, but it's not. The only tournaments here are privately held.
Staff & Service – 4/5
The club's service is top-notch, as you'd expect for such an exclusive casino. Members get VIP treatment at all times. However, the casino does not provide any accommodation on the premises.
Food & Drinks
An impressive variety of international dishes from European, Middle Eastern and Chinese cuisines is on the menu daily at the club's world-class restaurant. Expert chefs are at the kitchen's helm, and the ingredients are sourced from verified sources.
Restaurant opening hours
Weekdays: 12:30 pm to 2:30 am
Weekends: 7:30 pm to 2:30 am
The restaurant at no. 6 Hamilton Place is open to the public at lunch hours, but dining is limited to members only.
What to eat and drink at the club's restaurant
Crispy vegetable spring rolls – £11

Lamb Shashlik – £13

Stir-fried Hofan noodles with beef – £29

Saint Launard red wine – £7

Chablis white wine – £12
Prices displayed are per serving. They may be subject to change.
How much should you tip the waiters?
You're expected to tip more than 10%-15% of your order.
Parking
If you're a member, valet parking is included in your membership. Regular visitors must find a workaround in one of the nearby underground car parks.
Parking prices range between £10 – £25 for two hours, depending on the distance to the casino.
Accommodation
Les Ambassadeurs Casino London has no rooms to spend the night, but members can benefit from exclusive deals and spend the night at some of the best hotels in Mayfair:
The Metropolitan

Four Seasons

InterContinental

Chesterfield

45 Park Lane

Shangri-La
You get lower rates, which is a plus. However, our rating only considers the quality of accommodation inside the casino premises.
The Smoking Garden
One of the club's best attractions is the garden extension, where smokers can play blackjack and roulette while enjoying a cigar. The largest outdoor gaming facility in the UK is equipped with 6 gaming tables, TV screens, and a bar.
Here, members receive free samples of high-quality Cuban cigars, wines and brandies.
Security
Dedicated data protection officer

24/7 surveillance

Security staff

Face recognition
Loyalty & Rewards – 4/5
The Premium Player Programme is only available by invitation and can provide exclusive bonuses and event passes. Les A's membership program is one of the most rewarding, but it can hardly count as a loyalty program in the usual sense.

At first glance, the Premium Player rewards at Les Ambassadeurs may seem ideal. However, there's no information on what is a Premium Player and what the VIP program brings extra compared to the standard membership. Our review has taxed this lack of transparency.
How does the loyalty program of Les Ambassadeurs Casino London work?
There are no tier levels and no loyalty points in Les A's Premium Player Program.
It works primarily based on membership exclusivity. The casino tracks your wagers and if you are considered eligible, you may be invited.
What you get
VIP seats for Premier League, Wimbledon and other high-profile sports events

Tickets to concerts and live shows

Transportation and accommodation for every exclusive event, including stays at partnering 5-star hotels in the UK

That's all we could find out during our visit. Exclusive membership benefits may not stop here, but you'll have to join to find them all.
Casino atmosphere – 4.5/5
Les Ambassadeurs Casino London operates in a Victorian house from the 19th century with a rich history. For its looks alone, the club would undoubtedly get maximum points.
However, the casino is not open for the general public outside promotional periods, and events are limited to private member gatherings.
View from the inside
Over the years, the building has gone through multiple renovations and relocations, and famous architects have made their mark on Les A with a superb Venetian Renaissance-style facade and fin-de-siecle interiors.
Les A was the go-to social hub of Mayfair back in the day, and it still remains a place for the elite. Membership exclusivity contributes to the classy atmosphere within the casino.
Did you know Les Ambassadeurs features in the first 1962 James Bond film, Dr No? The film was not shot in the casino building per se, but the building served as the primary inspiration for the set.
Design experience
All of Les A's gaming rooms combine contemporary influences with carefully selected decorative elements that showcase the intricate aesthetic of the club.
Are you allowed to take photos in Les Ambassadeurs Casino London?
You can only take photos with the express permission of the staff.
Location and surroundings
The club is located in one of London's prime boroughs, at the west end of the prestigious Mayfair, right between Hyde Park and Buckingham Palace.
The gambling venue at no. 5 Hamilton Place may not be a tourist attraction since it's so restricted, but there's plenty to do nearby.
Events
Les A does not host events for the general public, only private events for members, which explains our 4.5 rating for an otherwise spectacular atmosphere.
House rules (T&Cs) – 3/5
After studying the club's house rules, we decided to lower the rating by one point because membership is difficult to attain.
We dropped our rating of Les A's house rules to 3/5 because we found several other restrictive policies, which we detail below.
If you're lucky enough, you may be offered a chance to try the casino for a week. This weekly trial membership starts at £1,000 and is only available at Les A's discretion.
How much is the Les Ambassadeurs membership fee?
Not every player can join, given that a yearly membership costs £25,000.
As a members-only casino, you can't just walk into the club as you would in any of the Grosvenor casinos or the Hippodrome.
Les A opening hours
The casino is open 24/7 for members.
When registration is open, you may have a chance to tour the building with a promoter, but such periods are not always disclosed.
Does the club charge entry?
There is no entry fee at the door, but members must have paid for their membership.
How to join Les Ambassadeurs Casino London
Only persons of at least 18 years and good social standing are permitted to join.

You need to contact an Administrator if you want to join.

You have to provide proof of identity and address.

You must be able to prove your social standing when you apply for membership.

You can choose to revoke your membership at any time.
Even if you had the money to pay for a membership on the spot, your application must first be approved by a committee.
Dress code
Les Ambassadeurs Casino London is rather strict with its dress code. Wearing jeans into a Grosvenor Casino may be possible, but not here. Gentlemen are expected to wear a jacket and tie, and ladies an elegant dress or similar attire.
Standout rules at Les A
Animals are not permitted in the premises.

You can't lend money to another player at the casino.

The casino is allowed to charge an 18% yearly interest for unpaid bills.

If you do not visit for two years, the casino will consider the deposit inactive and may use the funds at their sole discretion.

Management can cancel your membership without any explanation given.
The club is probably too restrictive for most players, who might not want to pay for the £25,000 membership even if they had the means.
Players feedback – 4.5/5
We spoke to members of Les Ambassadeurs and researched the club's Google reviews to rate the players' feedback on this local UK casino.
What the players say
Google – 4.6/5
All 76 Google reviews are overwhelmingly positive. Players applaud the impeccable customer service in the gaming halls and at the restaurant.
On-site feedback – 4/5
Some players we interviewed during our visit said they wouldn't trade their club membership for any other London casino. However, most of them continue to despise the lack of European Roulette.
Most common issues
No European roulette tables

High minimum bets

Limited game variety
Operator – 3/5
Despite the club being a premium facility with a valid UKGC license, we must give it a 3/5 rating to follow our methodology. Les Ambassadeurs London owner is not stock-listed and doesn't have any other local UK casinos under its management.
Who owns Les Ambassadeurs Casino London?
Les Ambassadeurs club in London is privately owned by Paul Ho Chung Suen, the businessman who owns the Championship football team Birmingham City.
Other casinos by the same operator
Les Ambassadeurs casino online
Contact info
Who are the top competitors of Les Ambassadeurs Casino London?
For our comparison section to be as relevant as possible, we've chosen the Hippodrome and the Empire Casino, as these are the closest competitors to Les A's luxurious casino.
Les A vs the Hippodrome Casino
In terms of gaming options, Les A falls short, as the Hippodrome provides almost triple the live tables of the former (45 vs 16). Game types are also more numerous at the Hippodrome, with European roulette, the main attraction missing at Les Ambassadeurs London.
If you're not planning to gamble, Les A's restaurant is top-notch and worth a visit.
What does Hippodrome Casino bring to the table?
Gamblers can eat and drink just as well at the Hippodrome while enjoying their favourite games in a luxurious setting open to the public. The Hippodrome is suited to the average player, while Les Ambassadeurs club is not.
Les Ambassadeurs vs the Rialto
American roulette is available at both venues, while the Grosvenor Rialto also provides slot machines.

Rialto has a free membership.

Grosvenor is known and trusted by players worldwide, while Les Ambassadeurs owner is relatively low-profile.

Undoubtedly, Les A provides better loyalty perks and a more sophisticated restaurant.

Both venues are settled within the best of London boroughs, in historic buildings with superb designs.
Top casino games with no entry fee at the Grosvenor Rialto Casino
Based on the above points, our head-to-head confrontation leans toward Grosvenor the Rialto as a better choice for the average UK player.
What sets Les Ambassadeurs apart from its competitors?
Membership exclusivity is Les A's defining feature. They're picky about who they allow joining, which may come either as a positive or negative quality. Positively, it creates a loyal and intimate player base. Negatively, a closed-door gaming club may turn into something of a sect!
Best and worst features of Les Ambassadeurs Casino London
Best
Intimate setting

History-infused location

Premium loyalty benefits

World-class restaurant
Worst
Hefty £25,000 membership price tag

No slot machines

A limited selection of table games, and no European roulette

Restrictive rules
Is Les Ambassadeurs Casino London your best place to play?
Les A club is intended as an entertainment venue for the cream of the crop, and only a few regular players will ever gamble here. Still, the costly membership fee may be worth it when considering the loyalty rewards.