Manchester235 London Casino Review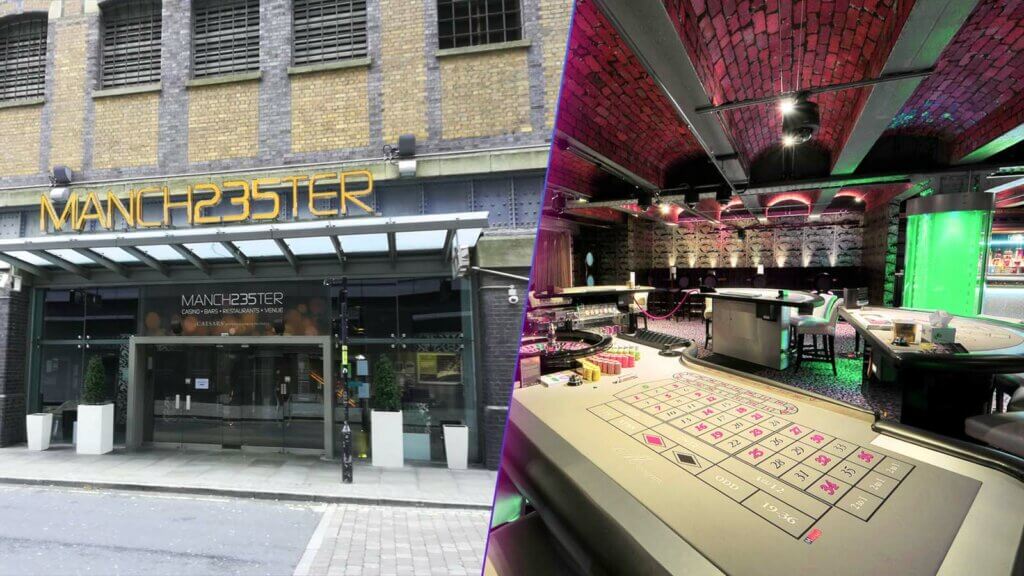 Manchester235 is often considered to be Manchester's number-one casino. Read on to discover what our experts have discovered when visiting this venue!
Manchester235 Casino Ratings
| | |
| --- | --- |
| Overall Rating | 4.27/5 |
| Slot Machines | 5/5 |
| Casino Games | 4/5 |
| Staff & Service | 4/5 |
| Loyalty & Rewards | 4/5 |
| Casino Atmosphere | 4/5 |
| House Rules | 4/5 |
| Players Feedback | 4.2/5 |
| Operator | 5/5 |
Our review process for the Manchester235 casino
We rate both online casinos and land-based casinos, considering several aspects, including things that make them unique and different. Even if its offerings are out of the ordinary, there are still factors that all casinos should have.
Some of these critical examples are:
How many machines and variations are available?

Are there membership levels?

Does the casino create a good atmosphere?
These are just some elements we look at when rating a casino. If the experience wasn't memorable for us, it wouldn't be for the players either.
How we inspected Manchester235 casino
Date of visit: 11/10/2022

Time of visit: 14h – 16h

Initial bankroll: £100

What we played: Roulette, Slots

Final bankroll: £0

Next visit: 05/18/2023
What we looked at
Ratings are a vital part of every successful business. It invites new patrons, boosts revenue and ultimately extends the lifespan of the casino venue. Manchester235 has visitors and players from all over the world, so first impressions are essential.
This is why we look at all perspectives when reviewing the casino floor activity, available amenities, games present, and the house rules attached to them.
What we found
| | |
| --- | --- |
| Address | 2 Watson Street, Manchester, M3 4LP |
| Open hours | 12pm – 6am |
| Membership | Not required |
| Minimum age | 18 |
| ID checks | Yes, randomly checked (if you look young) |
| Game types | Slots, Roulette, Blackjack, Punto Banco, Poker |
| Tables | 29 |
| Slot machines | 20 |
| Gaming terminals | 28 |
| Payment | Cash, Card, Chips |
| Average betting range | £0.20 – £5 |
| Free drinks | Tea, coffee and soft drinks |
| Restaurant | Yes |
| Hotel | No |
| Poker tournaments (UK) | Big Wednesdays, Sunday Roast |
Slot machines – 5/5
Many would consider slot machines to be the heart of a casino; it would be weird if there weren't any. Manchester235 has your back with fantastic slot machines in its casino floor section. Most of them are Novo Line interactive machines with multiple slot titles built into each one.
We've rated a 5/5 because of how well the casino has integrated slot machines into the venue. Offering progressive titles from famous software providers such as Novomatic and IGT, Manchester235 aims to please and does it well.
Slots we played at Manchester235 Casino
| Slot machine | Payout rate | Min/max bet | Game type |
| --- | --- | --- | --- |
| Golden Goddess | 94.75% | £0.40 – £200 | 5-reels, 40 paylines |
| Knights Quest | 95.29% | £0.40 – £100 | 5-reels, 20 paylines |
| Giant's Gold | 96.21% | £0.10 – £100 | 100 paylines |
How many slot machines does Manchester235 casino have?
The casino currently has 20 machines in the building. These slots are mostly Novo line machines, packed with plenty of built-in games.
Do the slot machines accept coins? (UK)
The machines accept notes and pre-loaded cards. For convenience, you will find many top-up terminals throughout the gambling section of the casino.
Slot machine providers
Local progressive jackpots
Progressive slots feature an accumulated amount that builds up as users play. These pots create a fantastic thrill of anticipation where anyone can get lucky enough. Manchester235 has jackpot slots that award prizes up to £20,000 and can be found on:
Dolphin's Pearl is a slot made by Novomatic with a fixed progressive jackpot of £5000

The Majestic Gorilla slot by IGT provides a chance to grab a max win of £20,000

Candy Bars is another IGT game that offers a jackpot of £20,000
These are just some of the games that can be played. With high-paying symbols, wilds and free spins, you may walk away with a decent win.
Casino games – 4/5
We have given a rating of 4/5 based on the amount of casino table games available, different types offered and betting ranges.
Professional and friendly dealers handle all tables; you can learn how to play the games if you need to be made aware of the rules. Blackjack bets range from £3 – £1000 (£5000 for VIP players), roulette goes from £0.50 – £15,000 and Poker from £2 – £500.
Game types
Roulette: 6 tables (American Roulette) + 28 video terminals

Blackjack: 7 tables

Punto Banco: 3 tables

Poker: 13 tables (3 Card Poker)
Betting limits
| Game | Minimum bet | Maximum bet |
| --- | --- | --- |
| Roulette | £0.50 | £15,000 |
| Blackjack | £3 | £1000 (£5000 for VIP) |
| Punto Banco | £1 | £1000 |
| Poker | £2 | £500 |
Are there special requirements to bet higher limits?
Betting limits change depending on the membership level you own. The highest limits, as well as unique events and promotions, are only available for VIP members.
To reach new tiers, you must regularly use the facilities and play at Manchester235. The more points you rack up, the closer you reach a new level.
Manchester235 casino poker tournaments
Manchester235 has a poker lounge, and with it comes regular and seasonal events to partake in.
At the time of writing, the casino currently hosts the Poker Lounge Festival, which runs from the 20th to the 30th of April. There are also regular tournaments such as the Big Wednesdays, with a prize of £3000, and the Sunday Roast, with a guaranteed £5000 for the lucky winner.
Staff & service – 4/5
The casino boasts plenty of impressive amenities, services and tight security, from friendly and helpful staff praised in reviews for their excellent service to delicious food options found in the James Martin restaurant.
Manchester235 also has the opportunity to book out many parts of the casino for special events or business meetings.
Parking is free if you're using the Great Northern area. Make sure to get your parking ticket stamped at reception before leaving. The only thing missing is accommodation rooms which can be located within the area.
Food & drinks
If you're feeling slightly peckish from a gaming session, fill up at some of the excellent eateries found at Manchester235. The James Martin restaurant operates Wednesday to Friday from 5pm – 10 pm, Saturday from 1 pm – 3 pm & 5pm – 10 pm and Sundays between 1 pm – 3 pm.
Choose from delicious starters like Thai Spiced Cornish Crab Risotto for £13.50, mains such as the Yorkshire Lamb Rump for £29 and an assortment of sides. There is also a selection of vegetarian meals as well as some dessert options.
The Vega Lounge operates every day from 12 pm to 4 am and provides all kinds of unique alcoholic (and non-alcoholic) drinks from £4.95 – £9.95 and tasty meals to curb your appetite. You can also score a 10% off any of these establishments if you're a Met Cardholder.
How much do you tip at Manchester235 casino?
Tipping usually works out to 10% of the total meal price; however, if you feel the service is exceptional, please list more. All staff have been trained to take orders efficiently, answer food-related questions and deliver your meal promptly.
Does Manchester235 Casino offer free drinks?
Free drinks are served on the casino floor, including tea, coffee and soft drinks. You will find servers on the floor at all times, so you won't have trouble grabbing a drink.
Is there a buffet at Manchester235 casino?
Buffets are usually served during special events. If you would like to know when the next one is happening, speak to the staff at the help desk, sign up for promotional emails or check the casino's social media for regular updates.
Parking
Manchester235 may not have a parking bay; however, they are affiliated with one within the surrounding area. The staff will direct you to the Great Northern Warehouse parking facility. Open 24 hours a day, seven days a week, this parking area has more than 500+ spaces available.
Get your ticket stamped at the casino reception for free parking. If you do end up paying, prices start from £3.45 (1 hour) to £29.95 (8 – 24 hours). These prices are slightly lower if you have the Parkpass app.
Accommodation
While facilities can be booked for special events at Manchester 235, the casino does not have hotel accommodations. One well-known destination 10 minutes away on foot is the Hotel Brooklyn.
This 4-star hotel boasts excellent amenities such as free high-speed WiFi, a bar with a lounge area, table tennis, a breakfast buffet and much more. They offer a selection of 189 rooms starting at £80 per night.
Do you tip room service at Manchester235 casino?
Tipping is not applicable since there are no hotel accommodation services at Manchester235 besides the restaurants. This can be done at one of the locations found close by.
Are there smoking areas?
There are no smoking areas within Manchester 235. You will have to exit the casino to take a smoke break.
Security
Having a safe gaming area is essential for Manchester235 and is practised vigilantly by security and floor staff. While money terminals are within the casino area, CCTV cameras are also close by and cover all blindspots thieves might want to use.
Questionable individuals (such as underaged visitors) are ID checked; this also applies to transactions of £1,500 or more.
Loyalty & rewards – 4/5
We check the casino based on how well it rewards visitors and members. This could be in the form of discounts offered, freebies and how easy it is to sign up for membership.
We have given a 4/5 because of Manchester235's efforts to make every part of their visitor's/member's journey more fulfilling. This includes free drinks (excluding alcohol), free buffets during special events and discounts of 10%. Best of all, anyone 18 or older with an ID can join for free.
How does the Manchester235 casino rewards program work?
The site uses a membership card feature known as Met Cards. You get access to more points and exclusive bonuses depending on the level owned. The Met Card tiers are:
You get rewarded with points by using all the facilities, such as playing at the casino, getting a drink or eating at the restaurant. 100 Met Points equals £1 and can be exchanged for more games, drinks and meals depending on how much is accumulated.
Do note that points will expire if not used in 6 months.
What you get
Access to invitation-only events

Special Met Card promotions

Play with Met Points

Increased bet limits (depends on tier level)

Discounts on all food and drink purchases

Met Card App to manage points
How to claim rewards/ How to register in the program
To use your gaming points, you only need to present your Met Card at the reception

If you want to exchange your points for food and drinks, hand your card to the restaurant or bar staff

For other purchases, such as merchandise, head to the information desk with your Met Card
To get all these benefits, all you need to do is become a member. Join by heading to the main reception desk, fill in all your details and be sure to have your ID with you for verification.
Casino atmosphere – 4/5
The design and layout of Manchester235 are pretty sleek and feature comfortable seating arrangements, modern decor and lighting that is not overbearing.
The casino is split up into different sections so that each area creates a different atmosphere. This is clear when sitting at a sports bar, playing in the casino gaming area or eating at a restaurant. There are also special events that happen from time to time.
View from the inside
Design experience
The venue most certainly exudes a sense of casino royale and luxury. This can be seen in the high-end decor, dress code, top-quality gaming facilities, and eateries.
Are you allowed to take photos in Manchester235 Casino?
Photos can be taken in some parts of the casino (such as the restaurant) but not all. This is done as a security measure.
Location and surroundings
Manchester235 is located at number 2 Watson Street, in Manchester, England. It's housed in a refurbished building that used to be the Great Northern Railway.
It sits alongside other venues such as the All-Star Lanes, AMC Theatres and Lifestyle Fitness. There are also hotels within the area if you are looking for accommodation. One such place is the Brooklyn Hotel, which takes only 10 minutes to get there on foot.
Do you need a passport to go to Manchester 235 casino?
You do not need any verification to play at Manchester235, but having one on your person would be a good idea. This could be for any random security check or if you want to join as a member.
Events
Live events such as DJ performances come with the experience when booking out a particular section of the casino. There are also seasonal events that celebrate a special time of the year. One such occasion was the Chinese Moon Festival which offered a tasty buffet and free mooncakes.
House rules (T&Cs)- 4/5
Manchester235 are clear on what is and isn't allowed in their casino. All staff and visitors must follow the terms and conditions to uphold the safety and integrity of the casino.
This can be seen in the practices which do not allow minors to gamble or use facilities such as the bar area. The venue also operates at a set time and not 24 hours. This ensures all parts of the casino are set up correctly and fit with security measures.
When is Manchester235 casino open?
The casino operates every day from 12pm to 6 am.
Does Manchester235 casino charge entry?
There is no charge to enter the casino. All that is required is that visitors need to be at least 18 years or older to gamble.
Do you always need a reservation to play at Manchester235 casino?
Reservations are optional to play at the casino. There is the option to book for a private or social event if you require these services.
How to join Manchester235 casino
Membership is optional to use the facilities at Manchester235; however, having one does come with plenty of perks. One of the most notable parts is the Met Points that can be collected every time you eat, drink or play at the casino.
Dress code
If you're wondering what you should wear, the dress code is smart casual, perfect for an elegant yet easygoing environment such as Manchester234. Just leave the sports gear, onesies and beachwear at home.
Standout rules at Manchester235 casino
Ages 16 – 17 are required to use the separate entrance to the restaurant

Devices that exploit or take advantage of any part of the casino are prohibited

No patron shall use the casino as their address for any reason

Hazardous games (e.g. penalty games) are not permitted
Players feedback – 4.2/5
Manchester235 has a solid rating of 4.2/5 based on the overall experience most patrons received when visiting the casino.
Much of this comes from the exceptional service, great gaming sessions and exquisite meals that have left a lasting impression. Even in the busiest times, managers and staff quickly pinpoint visitors needing general guidance or a table at one of their eating establishments.
Manchester235 Casino player reviews
Google – 4.3/5
Christopher Snowdon wrote:
"Great venue, spacious, lots of tables, great bar, dedicated poker room. Friendly dealers and staff".
Tripadvisor – 4/5
Neilwasho wrote:
"Fantastic evening at the casino. The event was well organised. Thoroughly enjoyable. We were taken care of extremely well. Special thanks to Justyna & Kelly for delivering a first-class experience. Also, Taye, who taught me how to play Blackjack".
Most common issues
No craps tables

Bar needs more staff

Restaurant meal alterations could be an issue
Operator – 5/5
Regulated under the gambling commission of Great Britain, Manchester235 aims to provide a gambling experience that is both fair and secure.
Metropolitan Gaming Ltd overseas activities involved with Manchester235, including all future casino prospects. They are currently listed on the stock exchange and manage many other casinos.
Who owns the Manchester235 casino?
Manchester235 falls under one of the casinos linked to Metropolitan Gaming. Since 2021, Silver Point Capital has been appointed as the owner of Metropolitan Gaming.
The company is known to provide excellence in casino gaming services and hospitality. They aim to create a unique experience for all patrons that use their facilities.
Other casinos by the same operator
Empire Casino, London

The Sportsman Casino, London

Park Lane Club, Mayfair

Alea Casino, Nottingham

Rendezvous Casino, Brighton
Contact info
| | |
| --- | --- |
| Website | https://www.manchester235.com/ |
| Email address | [email protected] |
| Telephone number | 0161 828 0300 |
| Other | Facebook, Twitter |
Who are the top competitors of Manchester235 Casino?
Manchester235 Casino vs Grosvenor Casino Soames
Grosvenor Casino Soames is one of the top contenders for Manchester 235. They provide plenty of entertainment facilities such as live sports, a bar, jackpot slots and a restaurant.
What is Grosvenor Casino Soames best recognised for?
While also being in Manchester, the casino is best recognised because it is open 24 hours. This means you won't have to pack up your things and call it a day.
Manchester235 Casino vs Napoleons Casino
Napoleons Casino is another venue found in Manchester and hosts some fantastic gaming options and eateries. The restaurant features exquisite meals that will leave you wanting more.
What is Napoleon's Casino best recognised for?
The casino has the right kind of atmosphere for a great night out. You can choose table games like roulette or fine dining if you have a good appetite.
What sets Manchester235 Casino apart from its competitors?
Manchester235 offers superb service, plenty of gaming options, high-quality meals, and more. Besides being able to book the venue for special events, you also get the Met Card membership perks and free parking.
Pros and Cons
| Pros | Cons |
| --- | --- |
| Met Card membership benefits | No craps tables |
| Free tea, coffee and soft drinks | Buffets during special events |
| Regular promotions and events | No dedicated parking area |
Is Manchester235 Casino your best place to play?
Manchester is the perfect destination for a great day or night out. You get free parking, live music at the bar area with specials on drinks, fine dining at the restaurant, and so much more. The Mets Card membership lets you get even more out of the casino.
Collect points, reach new tiers and get invited to special events. The customer service is also top-notch, making Manchester235 the place to be.