Forty Five Kensington Casino London Review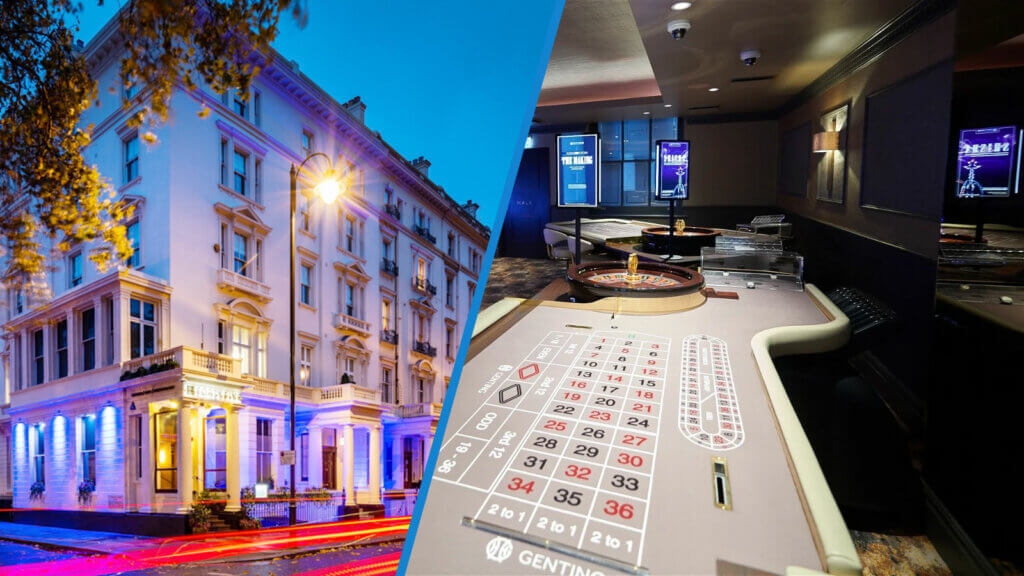 Wondering what the best Genting casino is? Our experts visited the Forty Five Kensington Casino in London and consider it a likely contender. See why below.
Forty Five Kensington Casino London Ratings
| | |
| --- | --- |
| Overall Rating | 4.1/5 |
| Slot Machines | 4/5 |
| Casino Games | 4/5 |
| Staff & Service | 4/5 |
| Loyalty & Rewards | 3.5/5 |
| Casino Atmosphere | 4/5 |
| House Rules | 4.5/5 |
| Players Feedback | 4.1/5 |
| Operator | 5/5 |
Table of Contents
Evaluating the Forty Five Kensington Casino London
Details of our review
Date of visit: 02/02/2023
Time of visit: 18h – 21h
Initial bankroll: £200
What we played: Roulette, blackjack, slots
Final bankroll: £0
Next visit: 08/09/2023
What we considered
The overall strategy for this review follows our land-based casino review methodology. By applying a multi-faceted evaluation approach, we strive to obtain the most accurate picture of the Forty Five Kensington Casino.
Similar to how we review online casinos, playing games on the premises is the key aspect of visiting London casinos. Yet, land-based operators may provide many other services that we have to analyse, for instance the dining and lodging options.


Our experts provide original insights and verdicts for each review area.

What we found
| | |
| --- | --- |
| Address | 14 Old Park Lane, London W1K 1ND, UK |
| Open hours | 2pm – 6am |
| Membership | Not required |
| Minimum age | 18 |
| ID checks | Challenge 21 policy |
| Game types | Slots, roulette, blackjack, baccarat, three card poker |
| Tables | 16 tables |
| Slot machines | 20 machines |
| Electronic gaming terminals | Yes |
| Payment | Cash, debit card |
| Average betting range | £2 – £5000 |
| Restaurant | Yes |
| Hotel | No |
| Poker tournaments | No |
How we review Forty Five Kensington Casino London
The information you read in our Crockfords Casino London review is extension of our aim of providing essential, verifiable, and objective data on the state and worth of land-based casinos.
All tests performed by our expert analysts follow a review system developed according to the full extent of a casino venue's functioning and provision of services. Our provided content can thus fully assess a land-based casino, as reflected in our ratings, and instruct readers in their decision-making process.
Slot Machines – 4/5
Forty Five Kensington Casino London provides the maximum legal number of 20 slot machines on its premises. You also get progressive jackpot options, but the game variety is standard.
Slots we played at the Forty Five Kensington Casino
| Slot machine | Payout rate | Paylines | Special feature |
| --- | --- | --- | --- |
| Book of Ra | 92.13% | 10 | Free spins, expanding wilds |
| Temple of Fire Cash Eruption | 96% | 20 | Respins, wilds |
| Wheel of Fortune | 96.8% | 720 | Win-both-ways, bonus wheel |
Slot machine providers
Local progressive jackpots
The slot machines at Forty Five Kensington Casino London are linked together in a local progressive jackpot network with a top prize of £20,000.
Slots participating in the network clearly display the jackpot counter at the top of the screen.
Casino Games – 4/5
This Genting casino is adequate in terms of the table games provided. Yet, no craps or cash poker tables are available, and our rating must also reflect the convenience of the betting limits.
Game types
American roulette: 6 tables

Blackjack: 5 tables

Three-card-poker stud: 2 tables

Baccarat/Punto Banco: 1 table
Are there poker tournaments at Genting Forty Five Kensington Casino?
Unfortunately, the only poker variant you get to play at Forty Five Kensington is three-card poker. The casino does not provide a room for cash games, nor does it host tournaments, despite the Cromwell Mint used to have a highly popular one.
Betting limits
| Game  | Minimum bet  | Maximum bet |
| --- | --- | --- |
| American roulette | £2 | £200 |
| Blackjack | £2 | £3000 |
| Three-card poker stud | £5 | £200 |
| Baccarat | £5 | £5000 |
Overall, the betting limits at Forty Five Kensington suit a wide range of budgets. High-rollers can potentially increase their bets by playing in the Queensberry Room for VIP players. On the other hand, low rollers can play electronic table games for lower stakes in the E-Lounge.
However, other casinos in London are better for blackjack low-rollers. For instance, at Grosvenor the Vic, the minimum is £5.
To give you some perspective, if you want to practice with broader betting limits, either lower or higher, you should try playing blackjack for real money online. Read our reviews to find the minimum and maximum bets.
Staff & Service – 4/5
Our inspection of the Forty Five Casino could not overlook the quality of customer service. Unfortunately, no lodging is available, but 45 Kensington Casino makes up for this lack with an exceptional restaurant.
Food & Drinks
We went for a snack toward the end of our visit, but the food proved so good that we ended up staying for a full meal. The friendly atmosphere will make you feel at home, but the price will be commensurate with the quality.
You can expect to spend around £100 for a full-course dinner for two. In our view, the cost/quality ratio is worth it, yet some visitors may still want to pay less.
Opening hours
Restaurant: 7pm to 1am, Tuesday to Saturday (closed on Sunday and Monday)
Bar: 3pm to 5am, 7 days a week
We advise you to inquire about table availability before visiting the Forty Five Kensington Casino London restaurant.
What we had from the menu
Wild mushroom & rosemary gnocchi – £10

Kerala-style braised vegetable curry – £15

Forty five salad – £6

Red wine (Rioja Rosado) – £8.5 glass or £35/bottle
Parking
The casino does not provide any form of parking, but you'll find many private parking spaces around South Kensington for £10-£15 per 2 hours.
Lodging
While the Forty Five Kensington Cassino London does not provide hotel accommodation, you can spend the night at one of the many high-quality hotels nearby:
The Exhibitionist Hotel – 5 stars

The Kensington Hotel – 5 stars

Crowne Plaza – 4 stars

The Rembrandt Hotel – 4 stars
Are there smoking areas inside the casino?
Patrons have one smoking area in the building, but it is a relatively narrow space, which can easily get overcrowded.
Security measures at the Forty Five Kensington Casino
CCTV

Bouncers and security staff inside

Anti-money laundering measures

Challenge 25 policy
Loyalty & Rewards – 3/5
All Genting casinos share one and the same loyalty program but some details may differ from one to the next. Here's our review of the 45 Kensington Casino London loyalty perks.
How does the Rewards program work at Forty Five Kensington Casino London?
There are 5 loyalty tiers:
Red

Bronze

Silver

Gold

Diamond
You earn Genting Points by spending at the tables and completing in-app challenges. Your loyalty tier determines how you earn the Points. As a rule, 1 Point = 1p, so 100 Points = £1.
Download the My Genting App to manage your account, track your points and earn more.
What you get
Free soft drinks for all tiers

Up to 10% discounts

Complimentary beverages and food
It's worth noting that the discounts do not exceed 10% for any tier in the program. Moreover, the Gold and Diamond reward schemes remove the discount altogether and replace it with complimentary beverages.
Overall, this loyalty program lacks diversity and the benefits are quite common.
At the Forty Five Casino, loyalty discounts do not apply for food and beverage.
Casino Atmosphere – 4/5
Genting's former Cromwell Mint has undergone a deep reconditioning process to become the Forty Five Kensington Casino. Here's our take on the new atmosphere inside.
View from the inside
The Forty Five Casino is spacious and comfortable, although it is not that big with only one floor and a basement. The building is well-signposted, and there is plenty of natural light during the day. Access to the main gaming floor is straightforward.
Design experience
What we loved about the Forty Five Casino is its tasteful colour choice. The vibrant golden nuances bring a touch of luxury without being brash. It's a warm and inviting environment that's perfect for gambling.
Upon arrival, you're welcomed by a large colonnaded entrance that sets the stage for the elegant black and gold design throughout the casino.
Are you allowed to take photos in Forty Five Kensington Casino?
Similar to other Genting casinos, taking photos is strictly prohibited without permission. You must not use any recording device, audio or video.
Location and surroundings
Situated at a 3-minute walk from the Natural Museum of History, the Forty Five Casino operates in one of the most exclusive corners of London. Tourist attractions, including the Hyde Park and Cromwell Palace abound nearby.
Unfortunately, the Forty Five Kensington Casino London does not provide a dedicated events space, nor does it hold any parties for the general public. However, you might be able to book the place for a private event.
House rules (T&Cs) – 4.5/5
Our experts are in the best position to give you a reliable verdict about the casino's Terms and Conditions, as we've analyzed hundreds of them already.
Forty Five Kensington Casino membership details
You can register at the reception desk if you're new to the Genting network.

Alternatively, you can sign-up online and access all the Genting clubs in London and the UK.

We strongly recommend reading our Genting Casino review before registering.

Membership is free, but you must prove your identity with a photographic ID.

You must pick up your physical membership card if you pre-register online.
Dress code
While the Terms of Genting state nothing on what you should wear, they do mention that you may be refused entry if you're not dressed properly. Any piece of clothing deemed offensive might leave you out of the casino, so it's best to prioritize decency.
When is the Forty Five Casino London open?
The casino is open 7 days a week, between 2pm – 5am. This is the main reason why our rating dropped 0.5 points, because the best casinos in London usually operate 24/7.
Does Forty Five Kensington Casino charge entry?
Genting casinos operate an open-door policy, so entry is free for everyone.
Do you always need a reservation to play at Forty Five Kensington Casino?
You don't need a reservation to visit and play. However, it's best to make a reservation, especially if you're planning to play in the private salon or eat at the restaurant.
Standout rules from Genting T&Cs
Personal relationships between patrons and staff are forbidden.

You must not lend money from other customers.

You must not use recording devices such as cameras or voice recorders.

You must not use electronic devices of any kind.

Using your phone while playing is strictly prohibited.
How to contact the Forty Five Kensington Casino London
| | |
| --- | --- |
| Website | https://www.fortyfivekensington.co.uk/ |
| Email address | [email protected] |
| Telephone number | 020 7589 4041 |
| Restaurant booking | 020 7589 4041 |
Players Feedback – 4.1/5
Analysing player feedback can shed some light on details that might otherwise evade us. Here is a quick overview of the Forty Five Casino London, as seen from the player's point of view.
Forty Five Kensington Casino player reviews
Google – 3.8/5
The high-quality restaurant and intimate gambling environment earned the casino 3.8 stars from UK players who submitted a review on Google.
Tripadvisor – 4.5/5
The Forty Five Kensington Casino London does not yet have a proper listing on Tripadvisor, only one 5-star review. We had to see the reviews of Cromwell Mint to adjust the rating.
Most common issues
Restrictive door policy (confirmed)

Rude staff (unconfirmed)

No free drinks for visitors (unconfirmed)

Crowded on some days (confirmed)
Operator – 5/5
You should not skip the background check when choosing to gamble in a London casino. However, in this case, Genting clubs are so popular in the UK and the operator .
Who owns Forty Five Kensington Casino?
Genting Casinos UK Limited is the owner of the Forty Five Kensington Casino. It holds a UKGC licence, therefore, legitimacy concerns are out of discussion.
The company is a subsidiary of Genting Global, a renowned operator of the Genting online casino, as well as land-based casinos in several countries like Malaysia, Australia, Singapore, USA and more.
Other UK casinos by the same operator
Genting Casino Chinatown

Genting Casino Reading

Crockfords Casino
The list is not exhaustive. Genting operates more than 30 UK casinos.
Who are the top competitors of Forty Five Kensington Casino?
Forty Five Kensington Casino vs Crockfords Casino
Crockfords Casino is not a direct competitor, as it, too, is owned by the Genting Group. However, it's instructive to compare the two venues:
Crockfords is an exclusive casino for VIP players with a paid membership system.

Forty Five Casino provides a free membership, but no multiplayer poker tables.

Crockfords has many private salons for high-rollers, Forty Five Casino just one.

Forty Five Casino has 20 slot machines, while Crockfords has none.
Crockfords Casino is better for VIP players
If you want to be served at the highest standard, Crockfords Casino is your place to go. High rollers usually prefer table games, so the lack of slots options and paid membership will not affect them.
Forty Five Kensington Casino vs Grosvenor the Rialto
Let's see how the Forty Five Kensington Casino London compares with the Rialto:
Grosvenor is open 24/7, while Kensington is not.

In terms of slot machines, the two venues are similar.

The Rialto holds Texas Hold'em poker tournaments, while the Kensington doesn't organise events on its premises.

Both allow the linking of your online account with your land-based gameplay in partnering casinos.
Grosvenor the Rialto is the best option for poker players
Overall, The Rialto is similar to the Forty Five Kensington Casino in terms of size and gaming options. However, the Rialto's poker tournaments make it unique. Players wanting to play poker in a more lively atmosphere would choose Grosvenor on any day.
What sets Forty Five Kensington Casino apart from its competitors?
The classy design of the Forty Five Casino is inimitable. There are no dazzling red lights to blind your senses, as you see in most local casinos, which is a great plus.
The golden and black nuances make you feel like a VIP player even if you're there to play £10 on a random Thursday evening.
Pros and Cons for the Forty Five Kensington Casino
Pros
Fully refurbished on the former Cromwell Mint

Comprehensive table games selection

Mobile app to link your online and land-based gameplay

Operated by a respectable company
Cons
No multiplayer poker tables or tournaments

You cannot use the Genting Rewards points or discounts for food and beverages

No lodging is provided whatsoever
Is the Forty Five Casino London your best place to play?
Genting clubs may have become commonplace in the UK, but the Forty Five Casino is truly unique and worth a visit. Experienced gamblers who want a luxurious experience without paying for membership will be satisfied here.