Learn how to win at Roulette with 10 strategies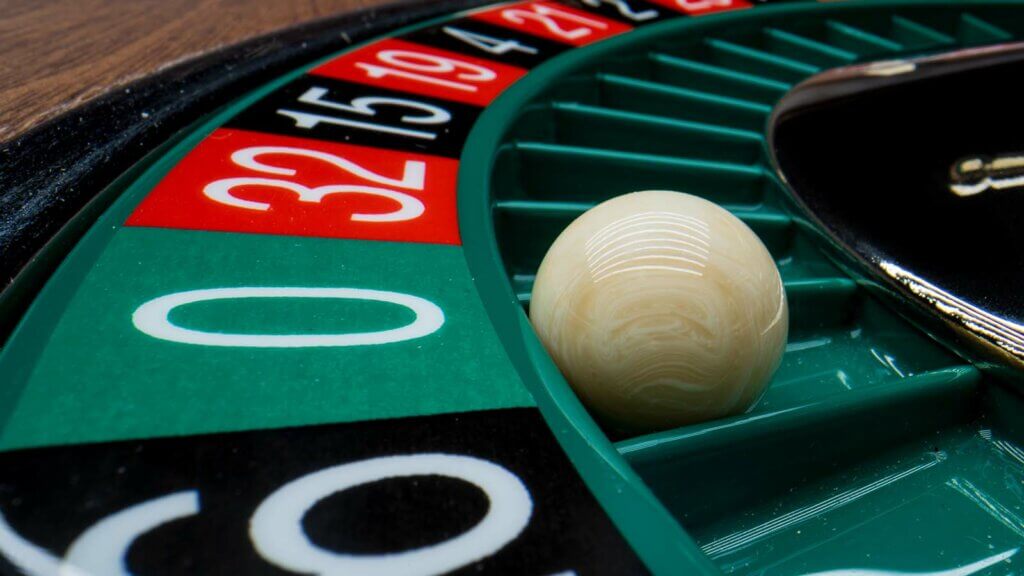 Do you want to find out how to win at Roulette? Several betting strategies might come in handy when playing this game. Check this post to discover the most effective betting techniques!
Roulette may be a popular casino game, but many punters are reluctant to use a Roulette winning strategy. Some might argue that the game is entirely based on chance. However, this is not true. The best way to play Roulette is by using a strategy.
How to win at Roulette – The starting point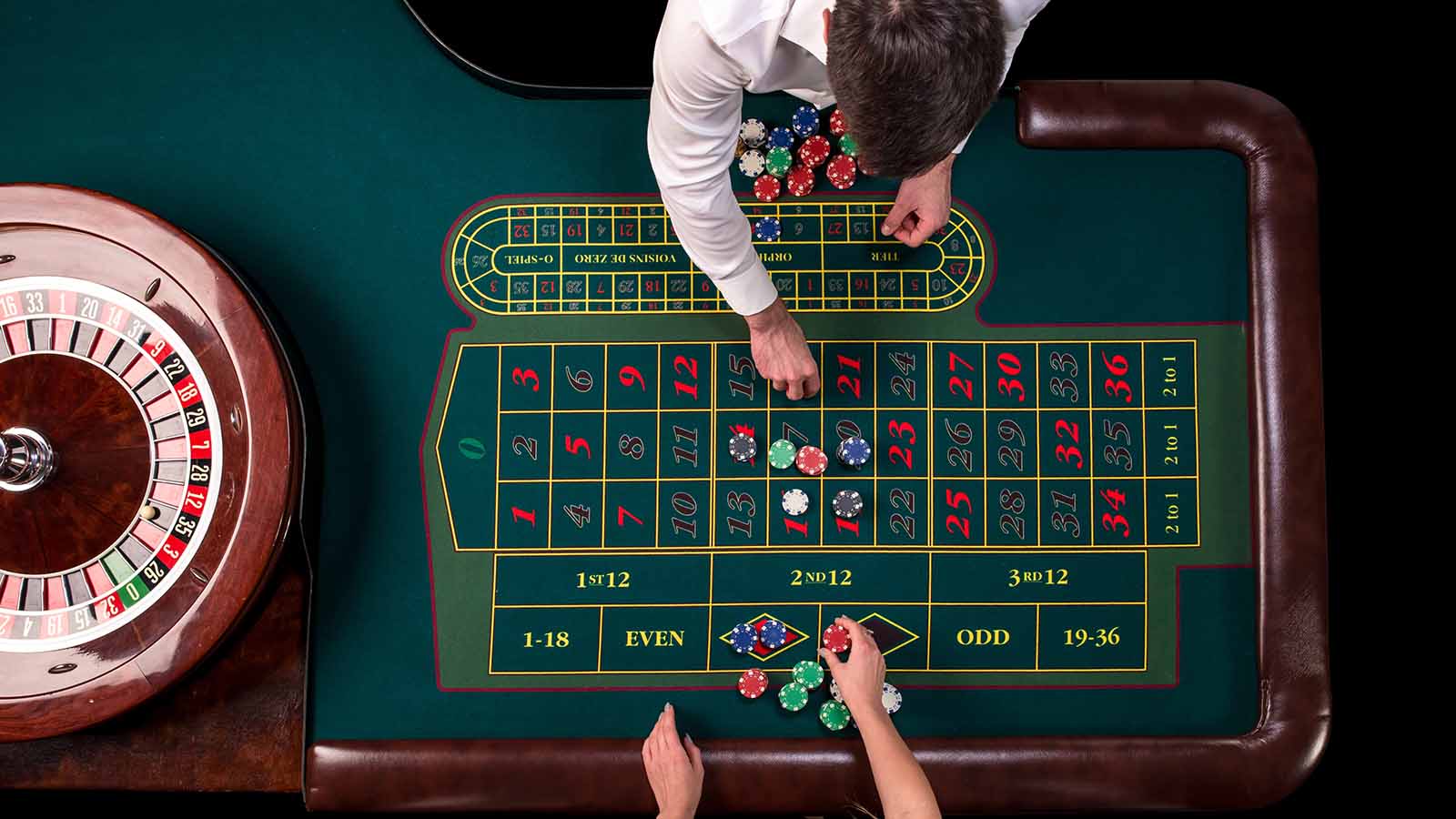 Roulette can be one of the most accessible table games to play. But before using a Roulette strategy, you need to get the hang of the game. There are many versions and playing styles to explore.
Yet the principle behind all of them is the same. Before learning how to play Roulette and win, let's discover where to start!
Try out free online games
This means playing online Roulette games in demo mode. Hence, you won't spend any real funds to place bets. This also implies that no winnings can be generated. But this type of free play can help you learn all of the game's rules and features.
You will gain valuable first-hand experience without using your real balance. Some of the best online gambling sites allow their members to try out games in demo mode after registering and completing the verification procedure. There are multiple such platforms to navigate!
Learn the differences between American and European Roulette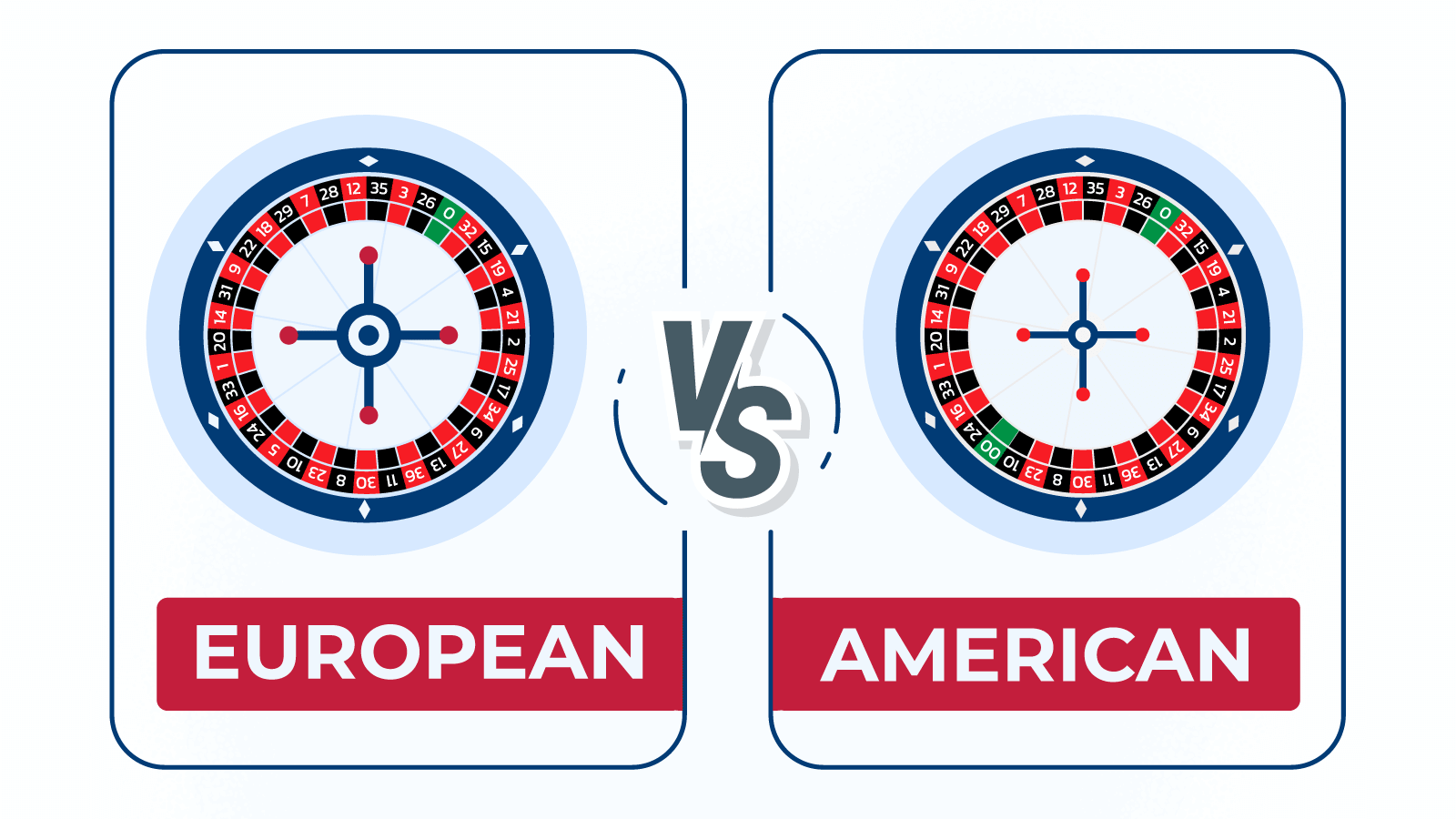 The main difference is the number of green pockets marked with 0 that is displayed on the wheel.
The American wheel has two green pockets (0 and 00), while the European wheel features only one. The double 0 featured in the American version is designed to give the house a higher edge against the player.
Usually, the European version has an approximate house edge of 2.7%, while the American one has around 5.26%. So, we suggest starting with European Roulette if you are an inexperienced player.
Choose the right game
We recommend opting for platforms tailored to this game to encounter as many as possible. These offer plenty of alternatives, both in terms of regular tables and live casino sessions.
Also, these sites come with tailor-made promotions for Roulette, allowing you to get familiarised with how the game works.
Roulette games
| Game | Provider | Betting range |
| --- | --- | --- |
| 20p Roulette | Inspired Gaming | £0.2 – 750 |
| Mega Fire Blaze Roulette | Playtech | £0.1 – 1000 |
| Roulette Azure | Pragmatic Play | £0.1 – 2000 |
| Lightning Roulette | Evolution | £0.2 – 10000 |
Besides these, you may spot the following types of games:
Double ball

Multi-wheel

Rapid Roulette

Mini Roulette (contains only 13 numbers)
When choosing a game, you should look for its RTP, rules, betting limits, features, or other details that might interest you. It is best to explore several versions before opting for a particular product.
Pick a betting style
Every Roulette strategy involves several types of bets. The main ones are categorised into inside and outside bets. Let's see what they refer to!
Inside bets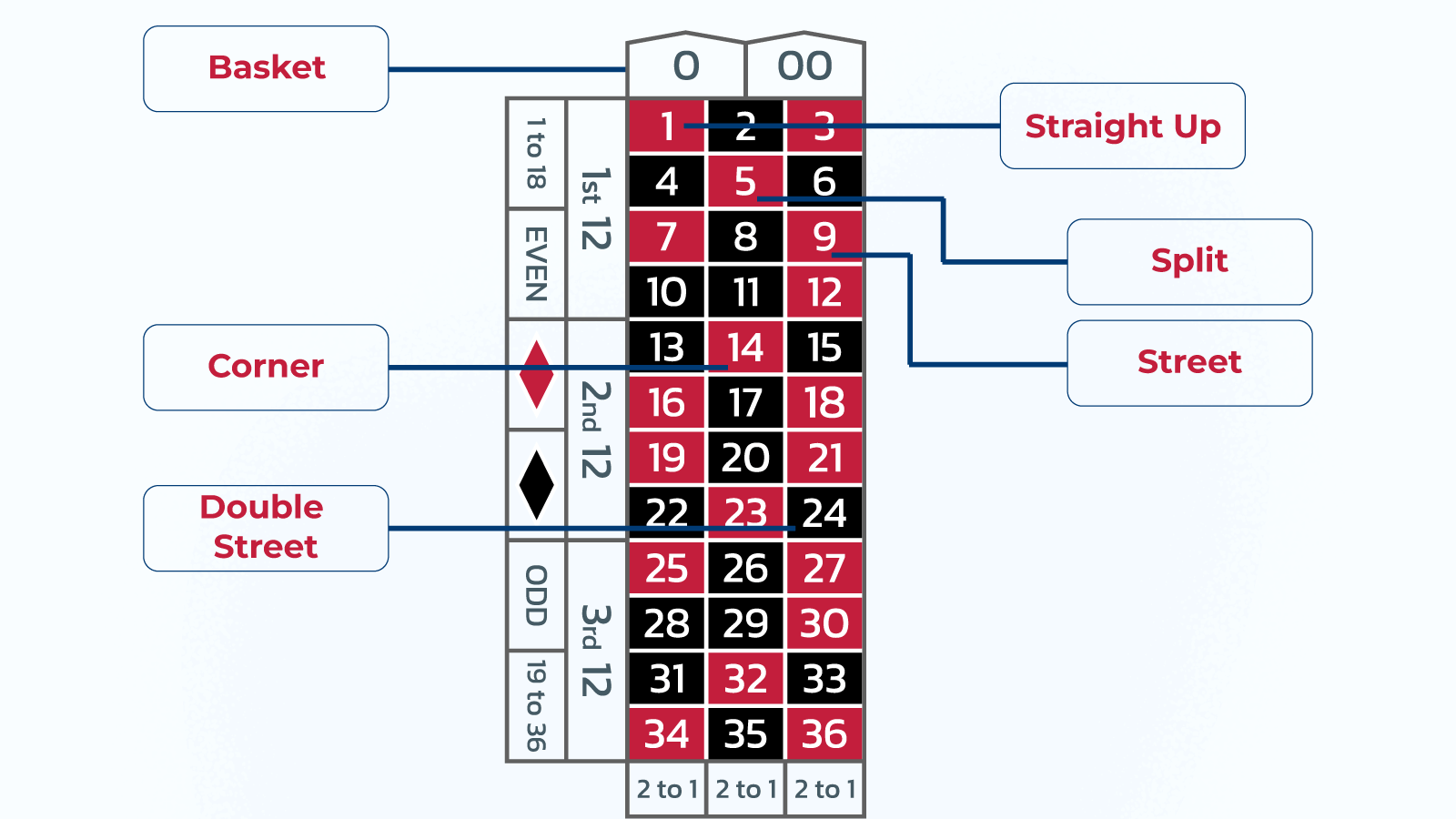 These refer to wagers placed directly on one or more numbers. These bets usually have lower winning odds but give out significant payouts. If you are not an experienced player, we suggest avoiding these wagers. You can try them out after getting used to the game.
But if you feel like testing this betting style earlier, you're able to do so safely by using new players' bonuses. In this way, you won't have to use your real balance until you master the game.
Outside bets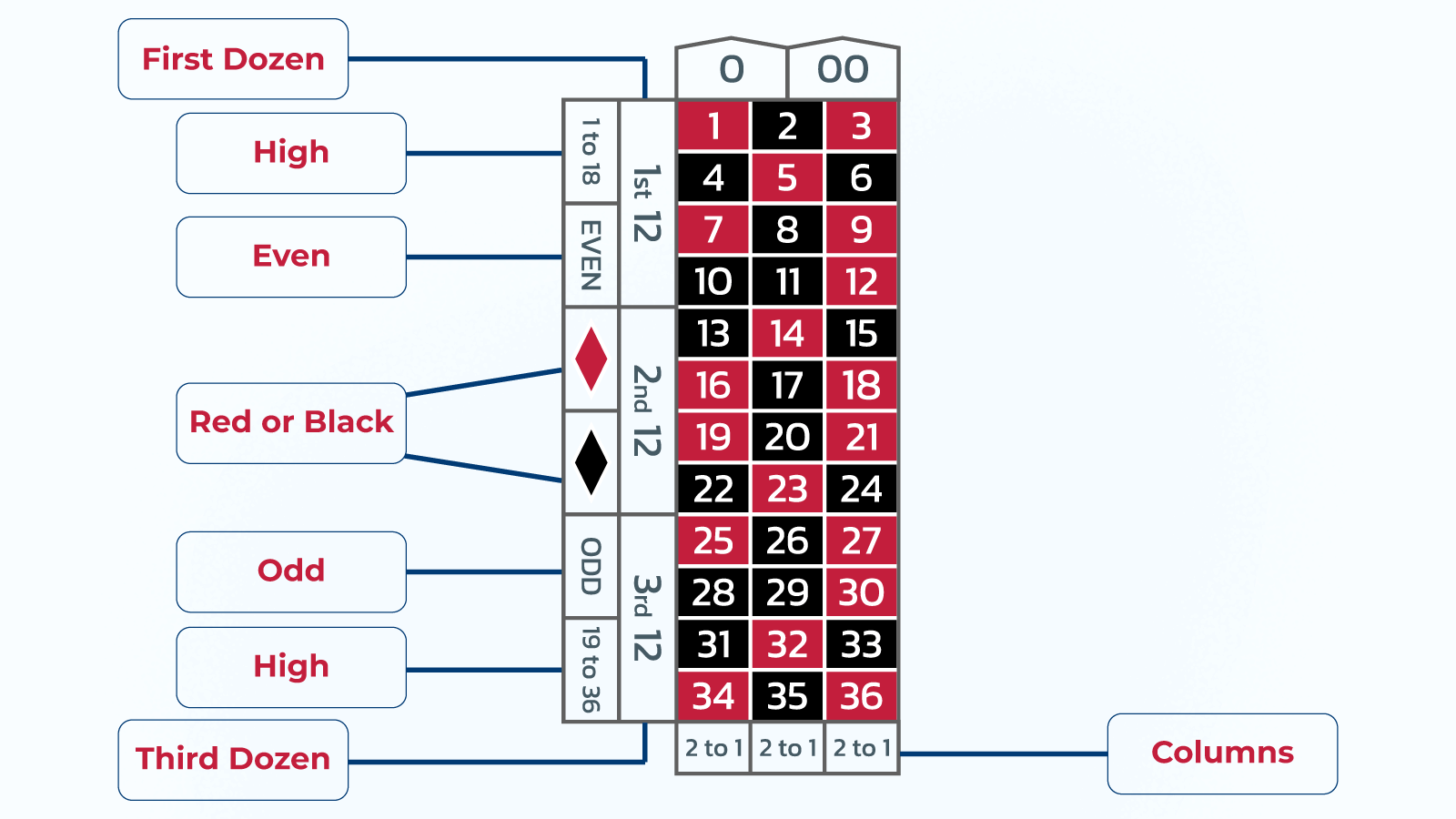 These can be placed on specific propositions. For example, you're able to bet on these numbers:
High-low

Odd-even

Red-black

First, second or third dozen
This is the best way to play Roulette for new players. The winning odds are higher, and the payouts are more frequent. Thus, you can learn how to play while generating winnings at the same time.
Determine how much to wager
Deciding how much to bet on one round is entirely your choice. As the sum you wager is linked to your possible winnings, this step is crucial when learning how to play Roulette.
You can start by adopting a flat-betting approach. This implies betting 1% to 5% of your bankroll each round. Suppose you have a total balance of £100. In this case, you shouldn't wager more than £5 at once. As you gain experience, you can steadily increase your bet value.
The best way to play Roulette – Top 10 strategies
Although there isn't a guaranteed way to win at Roulette, use multiple strategies to boost your odds significantly. And in case you want to determine the odds better, this Roulette guide explains everything about and goes more in-depth when it comes to outside and inside bets.
Let's discover how to play Roulette and win with these 10 betting strategies!
The Martingale strategy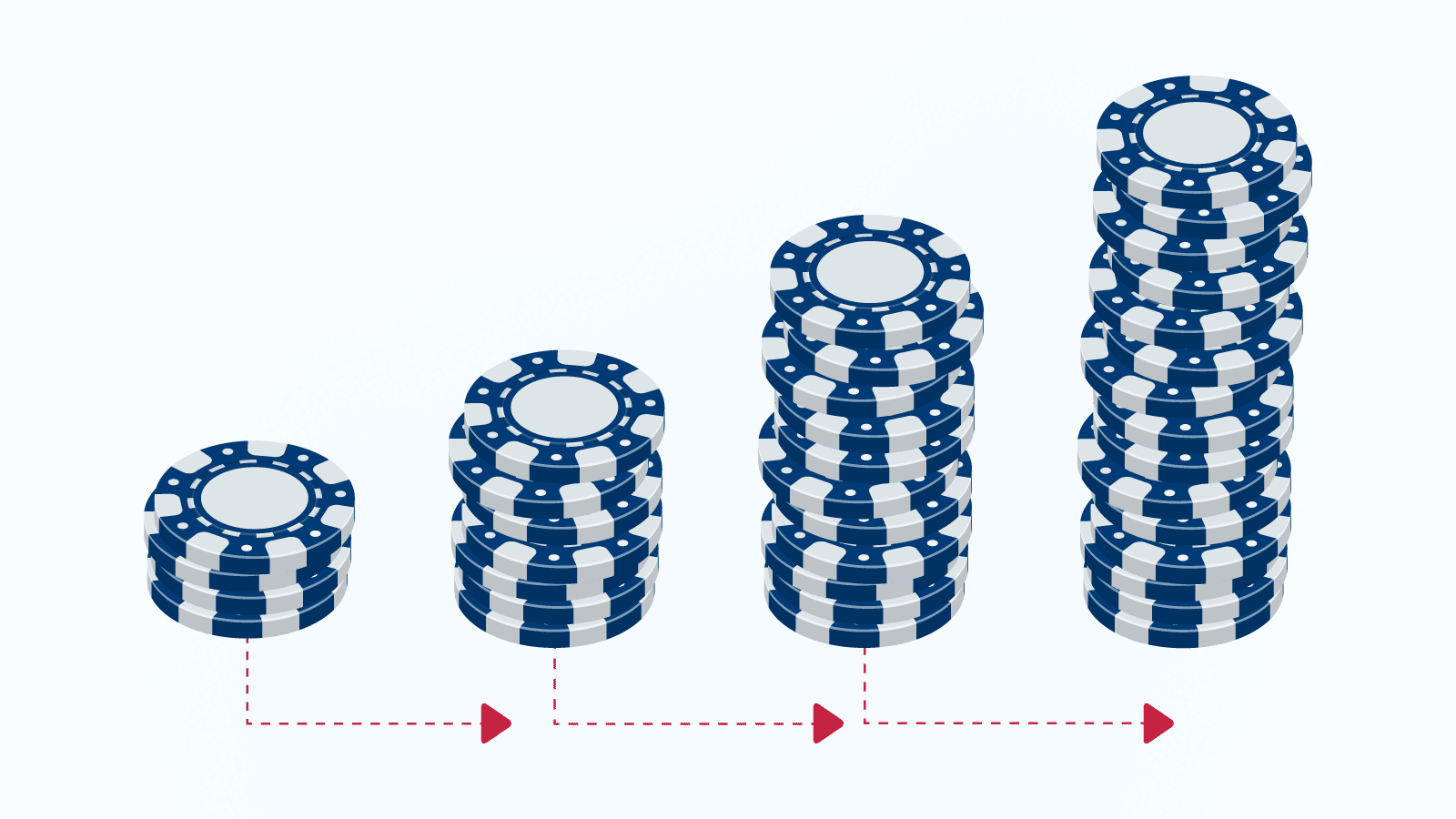 The Martingale strategy originated in the early 18th century in France, making it is one of the oldest Roulette betting techniques. This strategy is quite simple and plays off the assumption that you must win at some point.
All you have to do is double your wager each time you lose a bet. Even when you encounter a losing run, the concept is that you will win at a given moment. Therefore, doubling your wager each time you lose ensures the payout will be substantial enough to recover your losses.
Of course, the strategy requires you to have an appropriate balance to sustain your double bets. So, it might be a good idea to start with a Roulette game with a minimum bet as low as possible.
The Grand Martingale strategy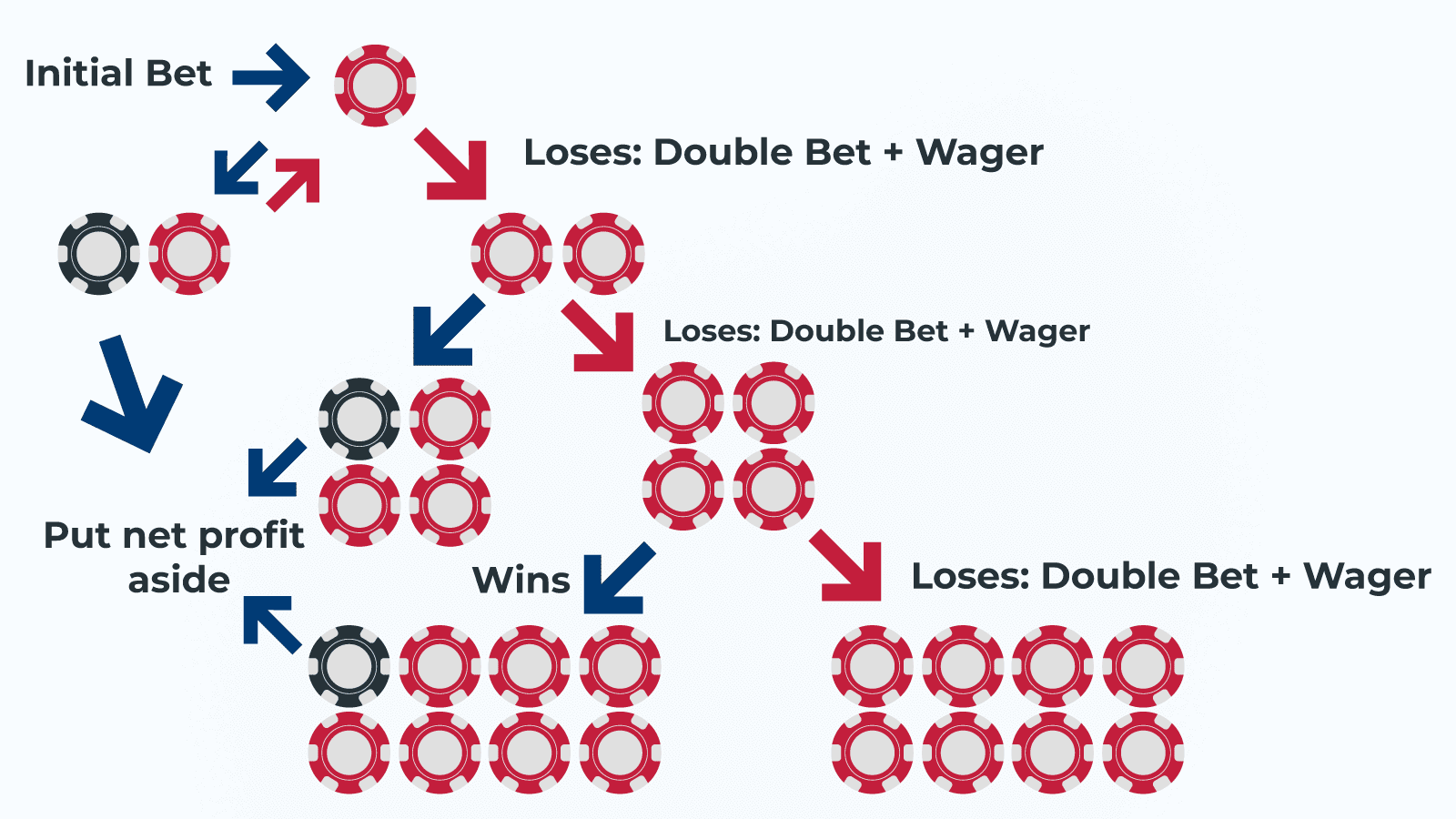 This strategy works similarly to the regular Martingale strategy, but the stakes are higher. For instance, every time you lose a round, you must double the bet and add an amount equal to the original wager. That might not always make sense for most players, especially since the strategy constantly doubles on your losses.
This could be perfect to use if you choose to play at casinos that offer NetEnt because their betting limits are higher than the average, and you can use the chat feature if you have problems.
This technique may be the best way to play Roulette if you already have a higher amount in your bankroll. Still, it would be best if you learned to be patient, even when you have a long losing streak. Once you get the hang of it, you may use this Roulette strategy to win big.
The Reverse Martingale strategy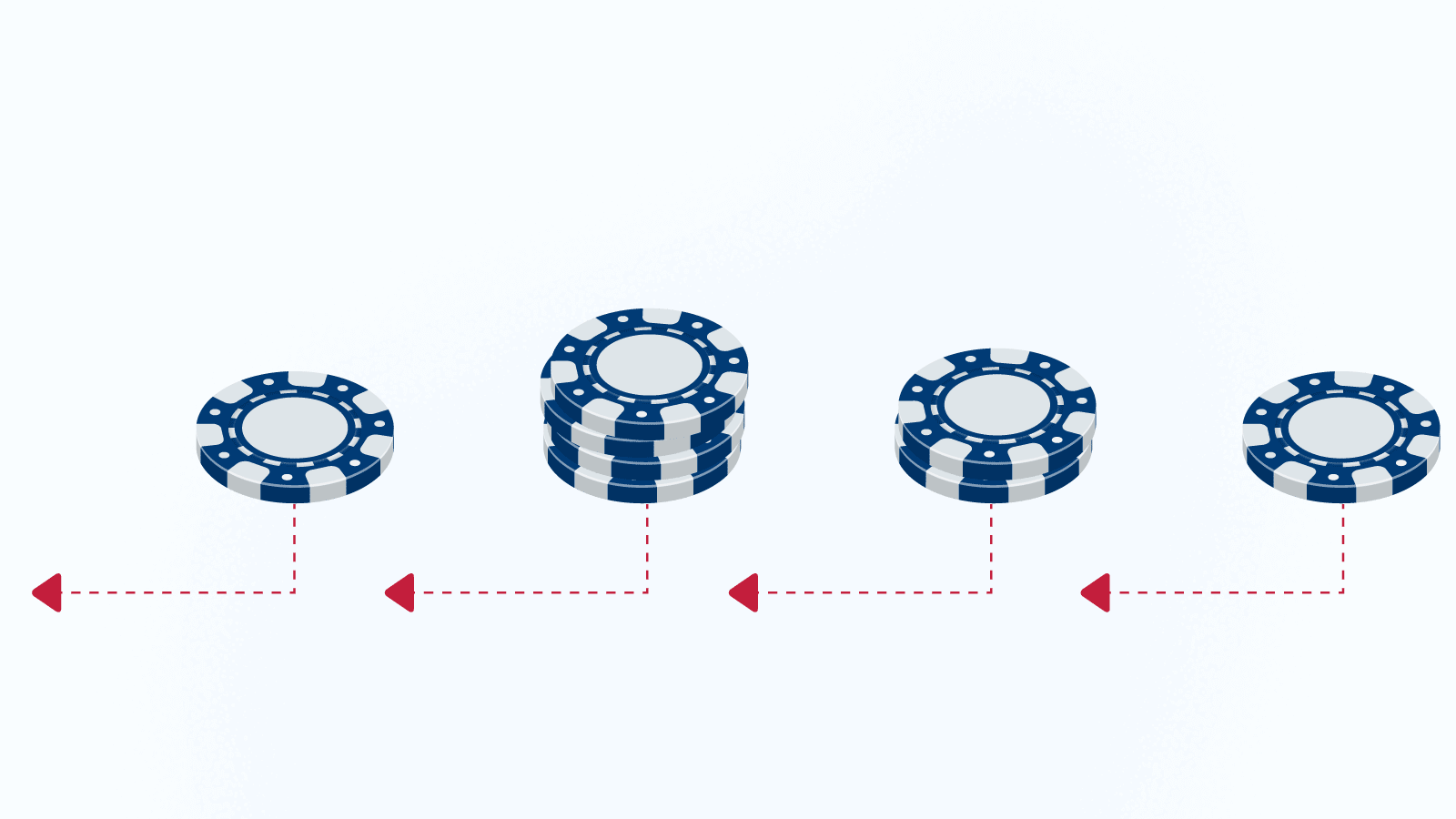 In case you've been wondering how to win at Roulette, then you might need to try the Reverse Martingale strategy. The Reverse Martingale or Anti-Martingale employs similar rules to the regular Martingale strategy. Yet, each time you lose a stake, you have to decrease your bet amount by half.
This technique is common among many players today as it is the best way to minimise losses when you are running an unfavourable streak. It also gives you the freedom to coordinate your bet based on your returns and the time when you win. This strategy works great with cashback bonuses.
However, it is not the best way to play Roulette if you want to generate winnings within a short timeframe. That's because it takes a longer winning streak before you can see considerable returns.
The Fibonacci strategy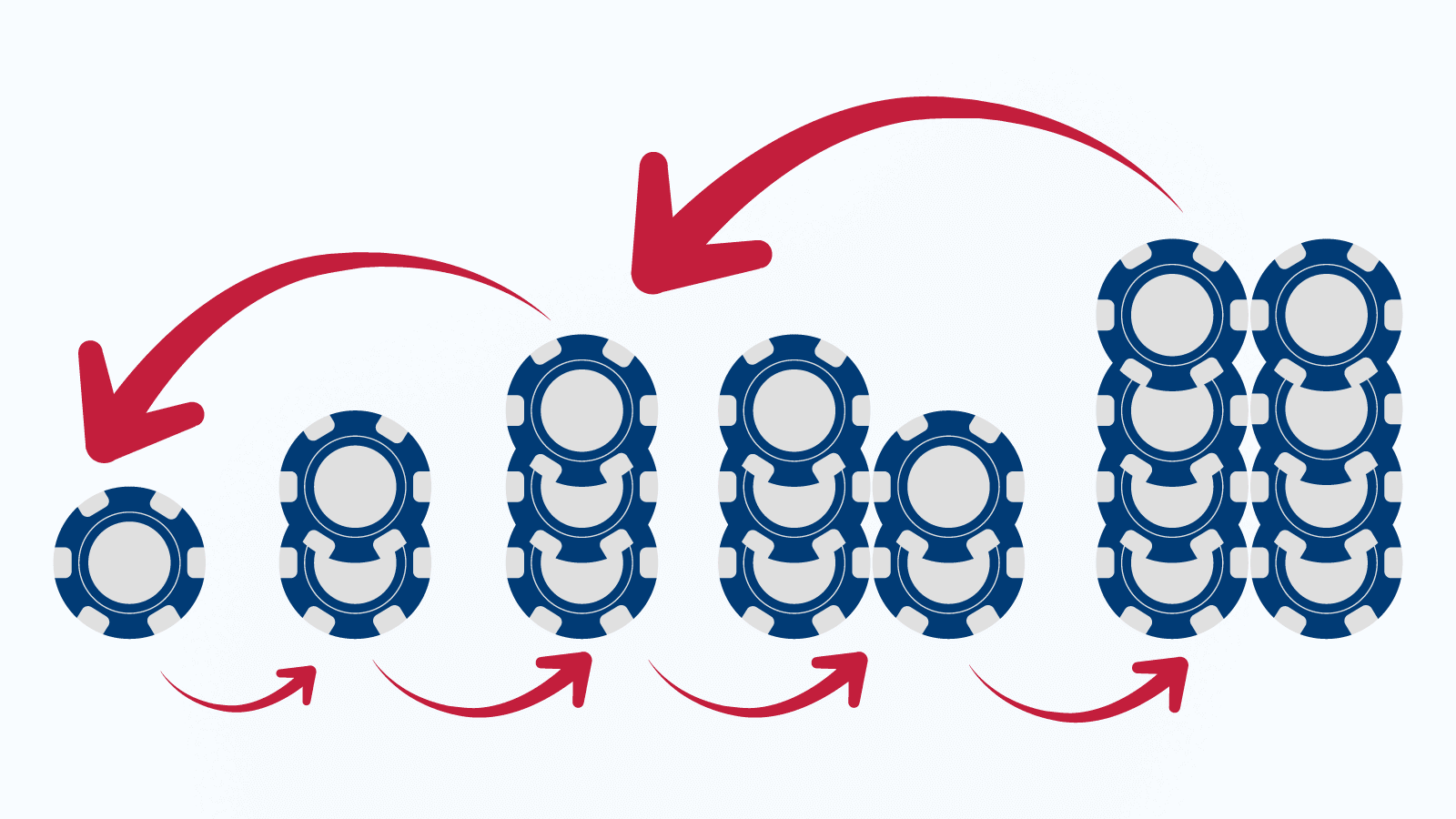 If you're wondering how to play Roulette and win conservatively, you might want to try the Fibonacci strategy. It is arguably the best way to play Roulette safely, especially when comparing it with the Martingale strategies. Despite being a conservative strategy, you can still get considerable returns using the Fibonacci system.
As the name suggests, this approach originates from the Fibonacci sequence. It is exclusively for even-number bets, which translates to a 50% winning possibility. When using it, begin with your minimum stake and increase it by one after you win.
If you win in the second round, gradually increase your bet by two. We recommend using this Roulette strategy and moving back two numbers in the sequence when winning. Still, if you lose a round, you have to start again from the lowest bet and work your way up.
The James Bond strategy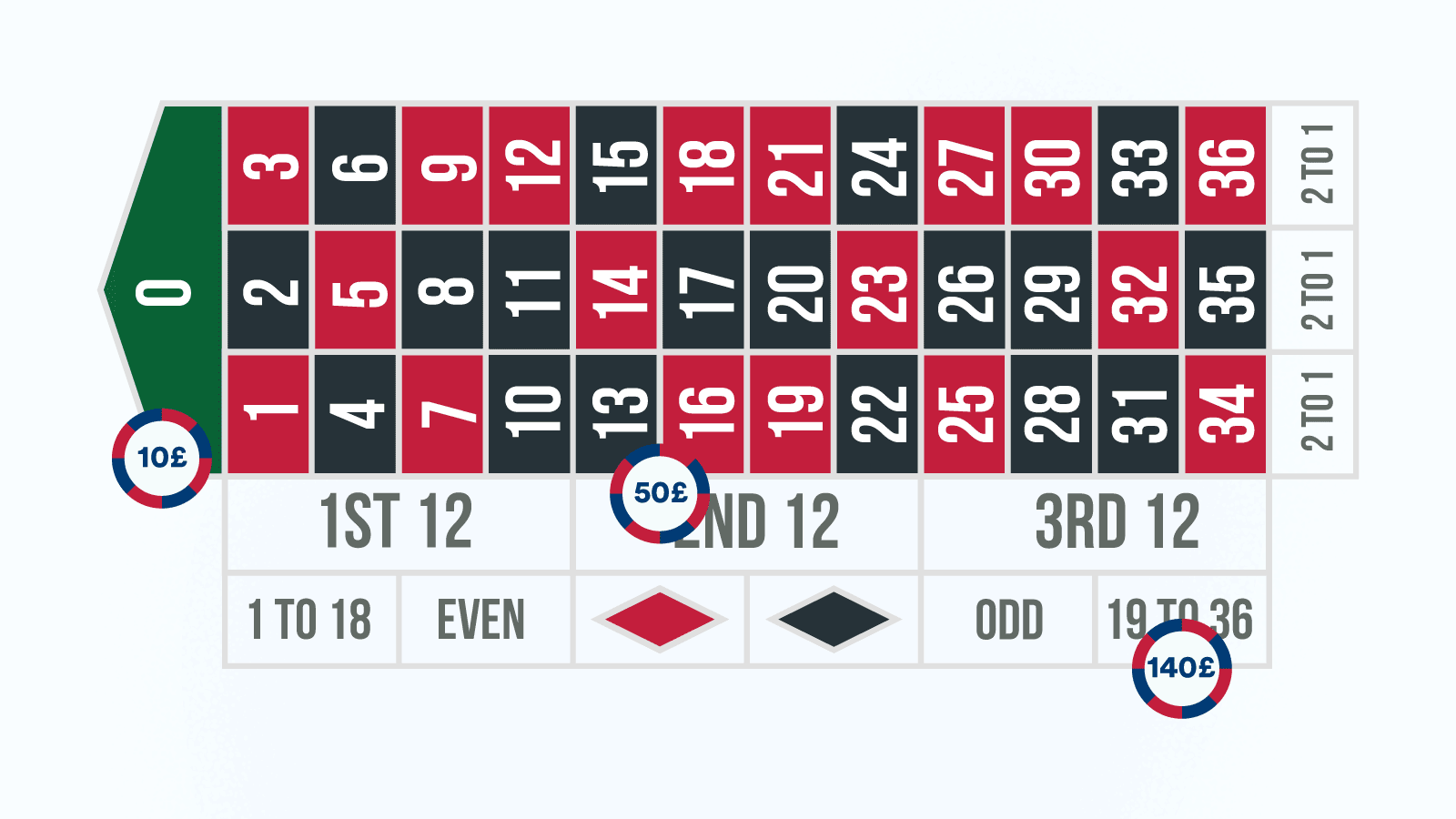 The James Bond strategy is the best way to play Roulette if you're not planning to sit at the table for extended periods. It is a flat betting system, meaning that you will stake the same bet amount each round. However, you can try wagering progressively if you're feeling confident in your playing style.
How it's done
Let's take an example of how to win at Roulette by using the James Bond strategy! Suppose your starting bet is £200. This means that you'll place a £200 wager on each round. As you play, you only need to place three different bets using this amount in the following proportions:
Place a bet of £140 on any number between 19 and 36;

Place another bet of £50 on any number between 13 and 18;

Lastly, place a £10 wager on the single 0.
The James Bond strategy might be the best way to play Roulette with large wagers, as it guarantees a 2/3 chance of winning each time. However, you still have a 1/3 losing chance, which can quickly clear your bankroll. So, we recommend being cautious when using this technique.
The Romanosky strategy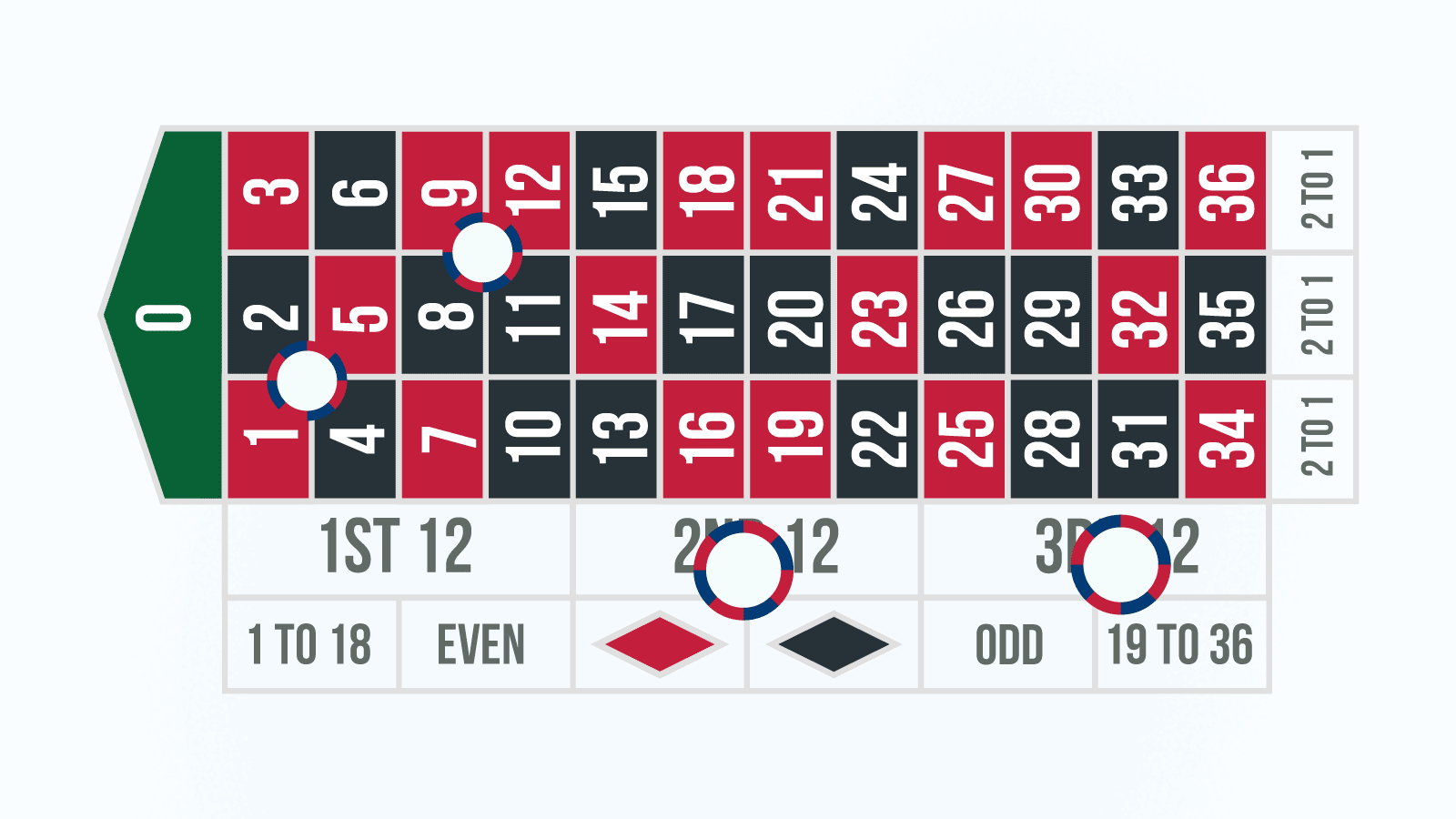 You can only use this strategy if you play on a single 0 Roulette wheel (European Roulette). Here is how to win at Roulette using different types of Romanosky bets:
This type of bet gives you an 86% winning probability. It involves distributing 8 units on different positions: 3 units on dozens 2 and 3 and 1 unit on corners, 2-6 and 7-11. This leaves 0, 1, 4, 9 and 12 uncovered and costs you only 8 units.

In this bet, you should cover dozens 2 and 3 with 3 units and 1 unit on corners 1-5 and 8-12.

Place 3 units in dozens 1 and 3. Also, cover corners 14-18 and 19-23 with 1 unit each. That leaves 0, 13, 16, 21 and 24 uncovered.

Wager 3 units on dozens 1 and 3. For corners, place 1 unit each on 13-17 and 20-24. That leaves 0, 15, 18, 19 and 22 uncovered.

Place 3 units on dozens 1 and 2. As for corners, wager 1 unit each on 26-30 and 31-35. The 0, 25, 28, 33 and 36 pockets will remain uncovered.

Wager 3 units on dozens 1 and 2. Then, cover corners 25-29 and 32-36 with one unit each. This type of bet leaves 0, 27, 30, 31 and 34 uncovered.
The Labouchere strategy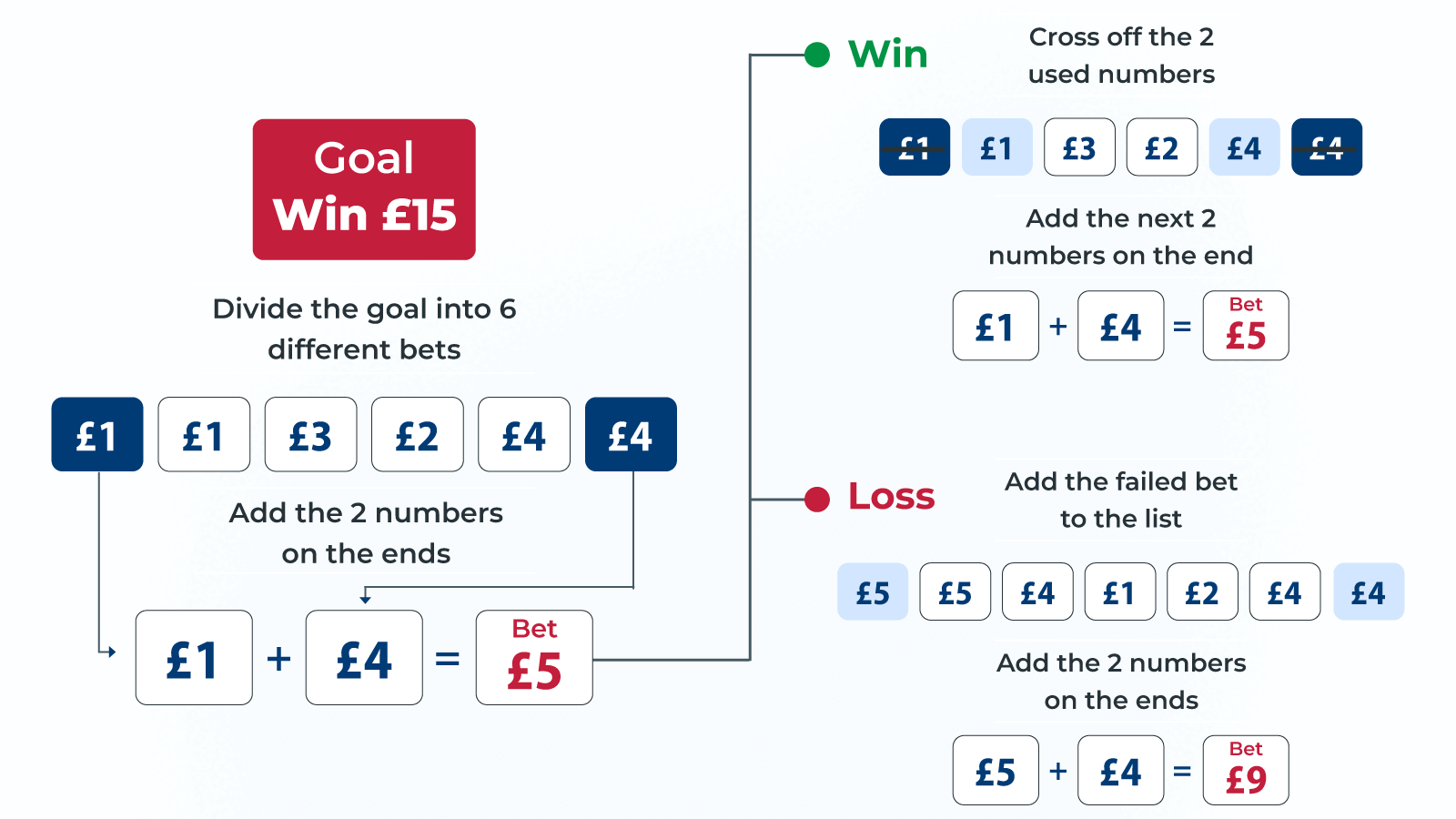 This is arguably the most complex strategy in the Roulette field. The best way to exercise this strategy is by joining top online casinos in the UK, where you will find plenty of Roulette options, with bets that start at £0.2.
This strategy is also known as the Cancellation System or Split Martingale. It is a progressive betting pattern, just like the Martingale system.
Use the following steps
Here is how to win at Roulette using the Labouchere technique:
Set a goal of how much you want to win. Express this in numbers that represent units or chips. For instance, if you intend to win £10 in 5 different rounds, you can use a sequence such as 2-2-3-2-1;

Next, take the numbers on either ends of the sequence and find a sum to determine the amount you are required to bet (2 + 1 = 3);

If you win the round, cross the number of the sequence. In this case, the sequence would look like this 2-3-2 if the first round is a winning one;

Next, add the numbers at both ends of the sequence (2 + 2 = 4) and place your bet;

If you lose the bet, you must add the number to the right end of the sequence. In our situation, the sequence would be 2-3-4-6;

Repeat this process as many times as necessary until you cross all the numbers from the sequence.
The D'Alambert strategy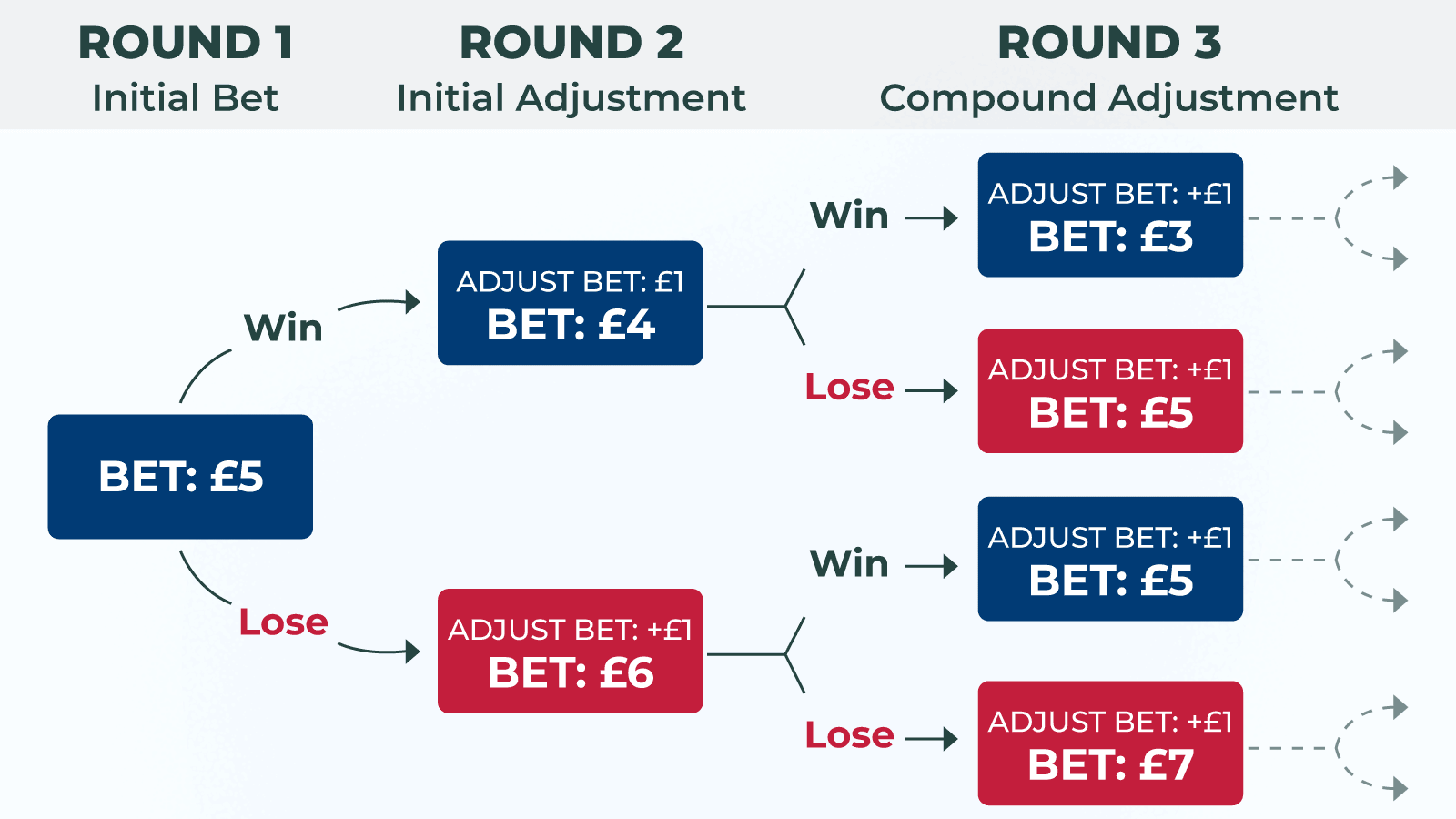 The D'Alambert betting system minimises the chances of significant losses in a single round. Therefore, it might be the best option for players who aren't so keen on doubling their bets.
The strategy works on the principle that you would know when to walk away from the table. As you play, you increase your chances of winning by one every time you lose. Still, you will also multiply it by one every time you win.
The All-in betting strategy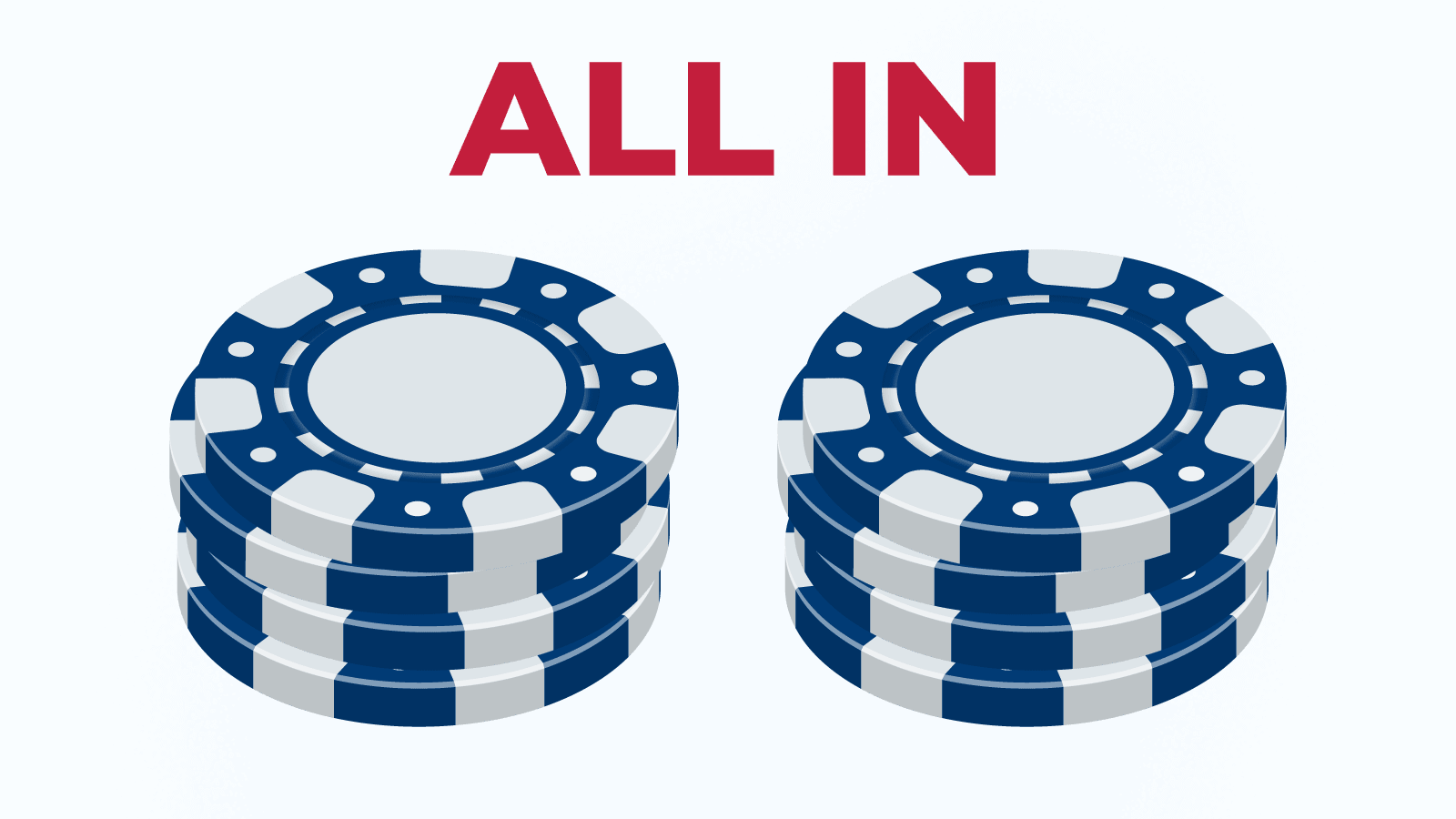 As the name suggests, the All-in betting strategy involves picking a number and placing your entire bankroll on it. By using this strategy, you can quickly generate substantial winnings, or you can lose it all in one go. Therefore, it is considered the riskiest way to play Roulette.
Depending on how frequently you get returns, you can play it once or several times. So, if you enjoy a little adrenaline rush, this is a betting style that might suit you.
The Constant Bet strategy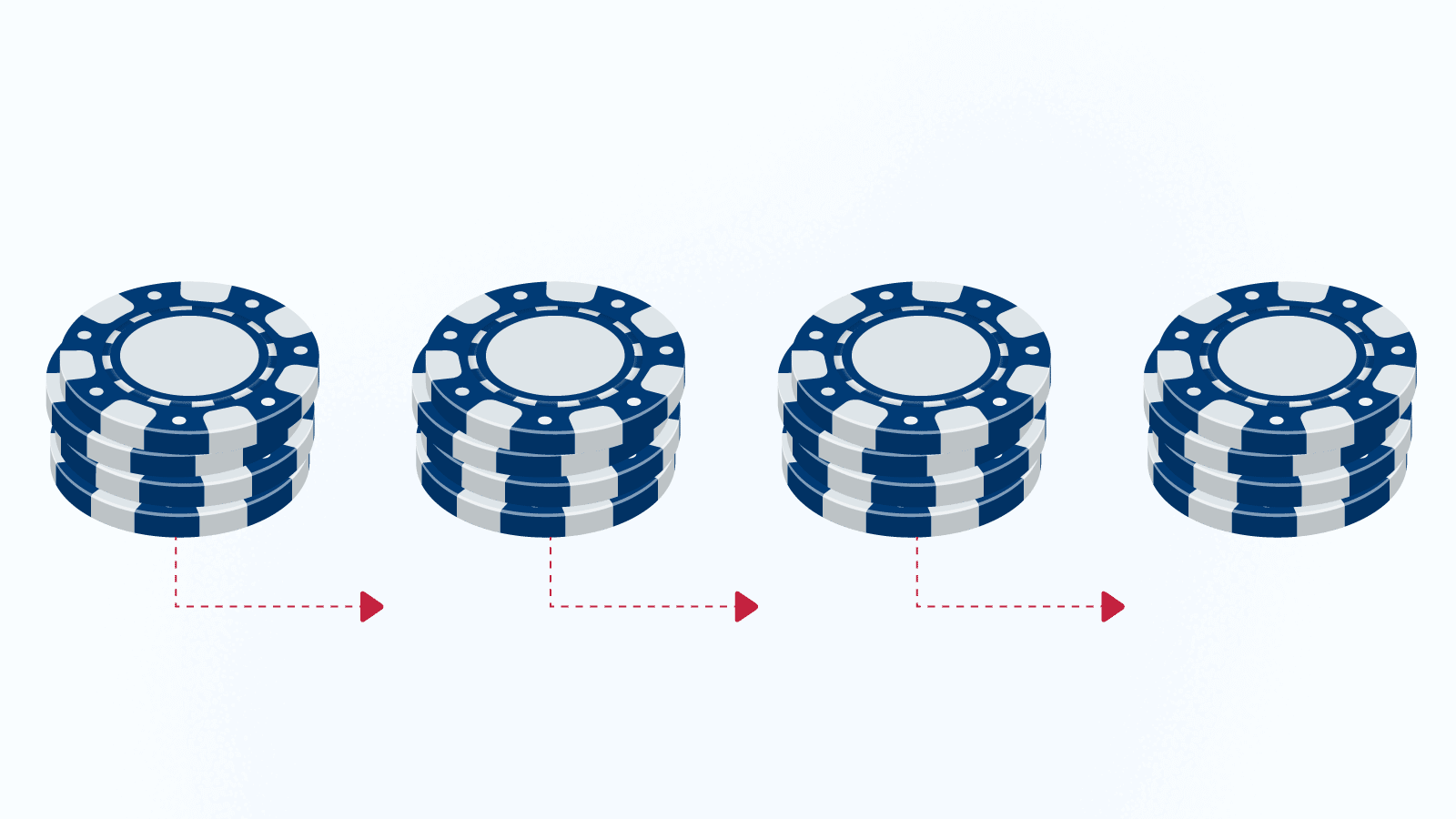 The Constant Bet strategy is a suitable option for gamblers interested in playing for a more extended period. As the name suggests, your bet amount remains constant regardless of the results.
This might not be the best technique for individuals who solely use a Roulette strategy to win big. However, you can always increase your stake to optimise possible returns.
Roulette winning strategy – Closing remarks
If you've been wondering how to win at Roulette, these strategies can help you improve your gambling skills. Not all of them might work for your playing style, yet they are worth trying.
Regardless of the strategy you pick, the end goal is to find the one that suits you the best. So, take your time to analyse each one in-depth and test them in demo mode before playing with real funds.
Last but not least, don't forget to keep track of your bankroll, evaluate your mistakes and gamble responsibly!