Where to Gamble, Dine, And Sleep in Soho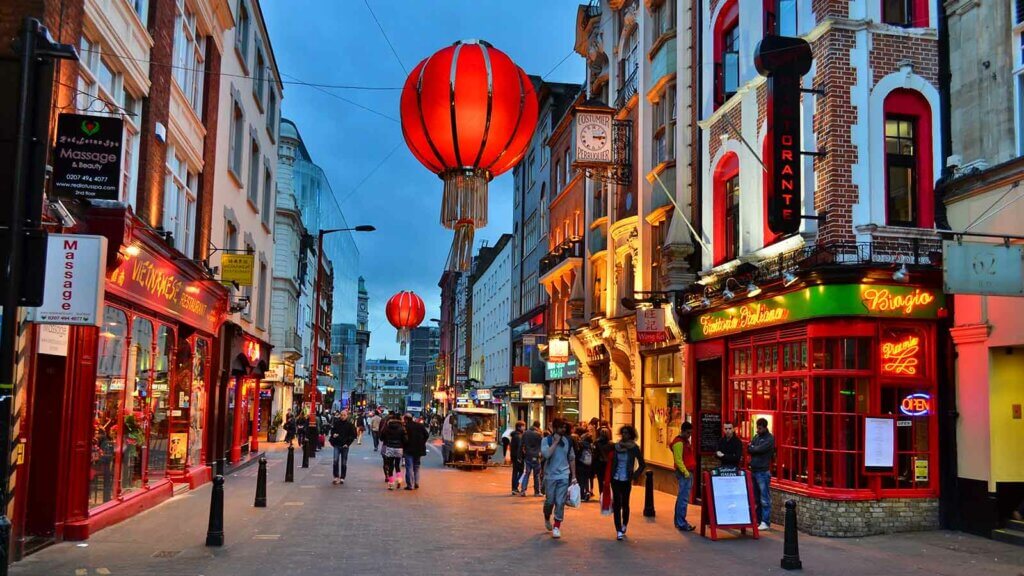 Get to know the best Soho casinos, restaurants, and hotels in a few minutes – We take you on a trip to top locations and offer you tips on which is better!
Start Packing for a Soho Trip with Us!
From the glitz and glamour to the elegant and sophisticated and even the bright and bold – here is your guide to the best Soho casinos, restaurants and hotels!
This Is What You'll Learn From Our Guide!
This KingCasinoBonus guide is explicitly designed to offer you the essential information to plan a trip to a land-based Soho casino.
Your casino experts have packed up their bags and gone on a trip to discover the top locations to visit in Soho and their special features and amenities.
We chose to include precise details about the gambling sites and Soho restaurants and hotels to help you decide which one suits you better, depending on your desires. Therefore, at the end of this guide, you'll be informed on:
Contact information, facilities, location, Slot and table games of different Soho casinos

Schedule, best meal/menu, Google rating of restaurants nearby the Soho casinos

Accommodation costs, types of rooms and check-in time for each of the presented hotels
As a Bonus Chapter, we also included a venue that contains gambling activities.
So, let's find out where to gamble, dine and sleep in Soho!
Hippodrome Casino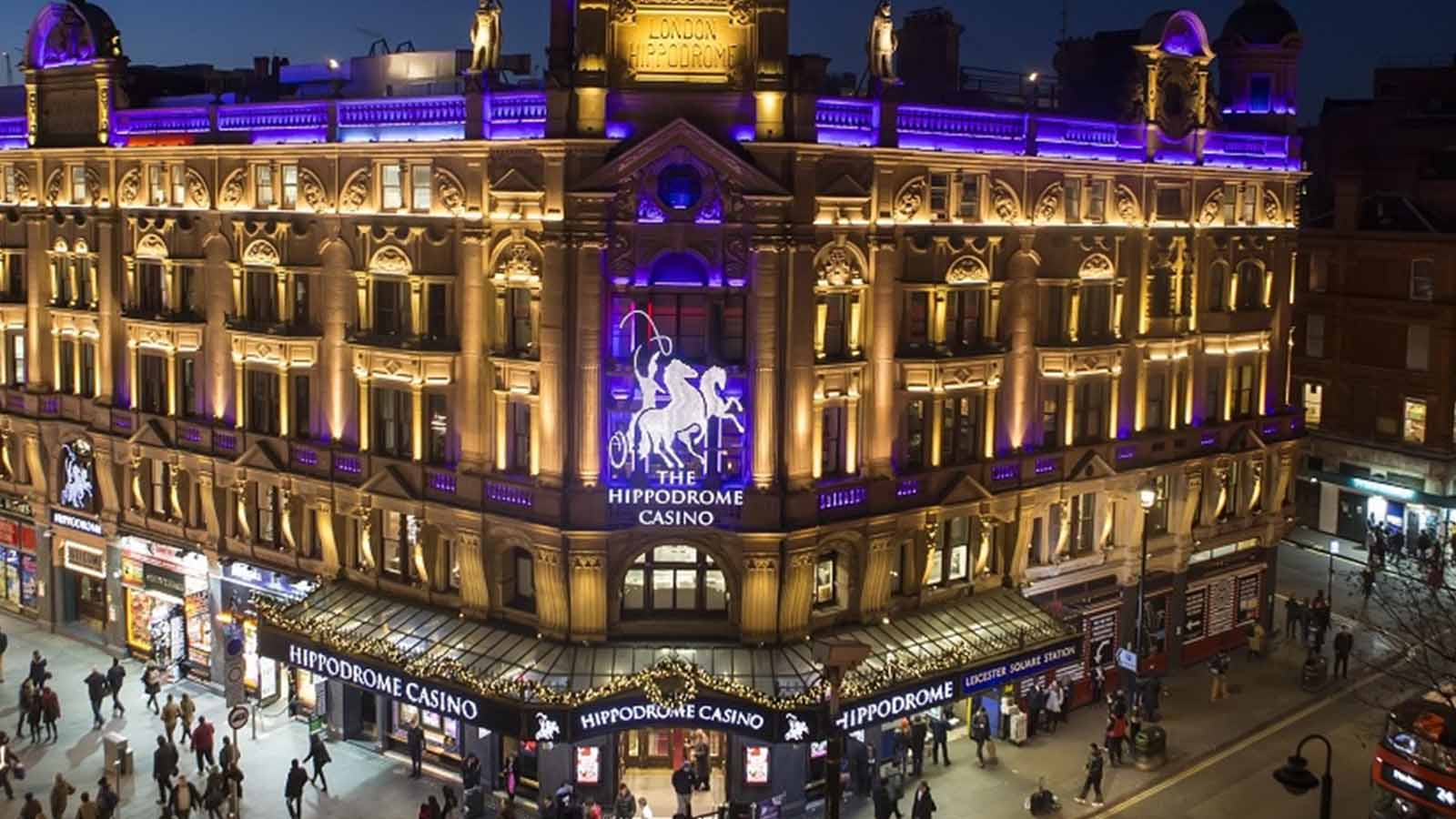 Source: hippodromecasino.com
| Casino information | Intrinsic details |
| --- | --- |
| Contact | 0207 769 8888/[email protected] |
| Location | Cranbourn Street, Leicester Square, WC2H 7JH London, UK |
| Restaurant | Heliot Steak House |
| Hotel | No |
| VIP program | Yes |
Hippodrome casino can easily be crowned as one of the most reckoned gambling venues in the United Kingdom.
Its grandiose building has been standing as a marker of this city for more than 100 years, as it initially started as a luxurious circus theatre. 
Now, it hosts five gaming floors, one dedicated specifically to Poker play. They pride themselves on the largest range of Slots and table games in the United Kingdom.
They also feature electronic Roulette, Blackjack, Baccarat and Progressives. For the latter, the minimum bets range from £2.50 to £5, while the maximum values revolve around £100 to £500.
Slots and Table Games
At this brick-and-mortar Soho casino, you may access a vast array of Slot games. 
They try to update their range with new games when they are released; besides the regular Slot games, they also offer over 60 low-stakes machines.
Some of the Available Options Right Now Are
Hephaestus Cash Eruption

Temple Of Fire

Chicago

Tales of Darkness – Break of Dawn
As for table games, Baccarat, Roulette, Blackjack, Craps and even Three Card Poker are among the most played casino games.
The Hippodrome has been visited by numerous stars, from singers to actors and even magicians.
Some of the most renowned names that have crossed its doors are Julie Andrews, Michael Jackson, Stevie Wonder, Renee Zellweger, Charlie Chaplin and even the famous escapologist Harry Houdini.
Also, Hippodrome Casino hosts the UK's first Roulette progressive. If you're new and want to find out the Roulette strategies, you can rely on our expert guide to help you out! 
Our mathematics specialists computed your possible odds and gathered them all together!
Public Commute
Bus: 176, 24, 29, 6, 94

Tube: Bakerloo, Northern, Piccadilly
Top Restaurant: Heliot Steak House
If you want to enjoy a perfectly cooked steak, Heliot Steak House is just the place to be!
With a versatile lunch and dinner menu which changes every couple of months, you could never get bored.
Get Your Taste Buds Going!
Chef Ioannis Grammenos likes to experiment with different tastes and flavours and delights his customers with new specials once a week. If you fancy something other than steak, you may choose lamb, pasta, chicken, and vegetarian food.
Don't forget to book a table in due time! The place is pretty busy, and you might not grab a seat if you don't make a prior reservation. 
Restaurant Tips:
Best Meal: Madame Clare Heliot Steaks (28-day aged)

Schedule: 5PM – 10PM (Sunday – Thursday)/ 4PM – 11PM (Friday & Saturday)

Google rating: 4.5/5
Honourable mentions: Cork and Bottle Wine Bar.
Accommodation: Victory House Hotel London
If you are searching for a place to stay, don't worry, you don't have to look too far away! Victory House Hotel is right next to the Hippodrome Casino.
Room Types
The 86 rooms have a modern look with a touch of vintage, exhibiting colourful furniture intertwined with old décor and photos which depict Hollywood's Golden Age actresses and actors. A special feature that caught our eye was the amount of light that filled the rooms.
Be aware that breakfast is served only within the Petit Bistro restaurant.
Important Info:
Check-in time: from 3 PM

Types of rooms: Double, Queen, Single, Executive Suite

Double room average: around £200/night
Source: onin.london.com
| Casino information | Intrinsic details |
| --- | --- |
| Contact | 0207 287 7887/ [email protected] |
| Location | 3 – 4 Coventry Street, London, England, W1D 6BL |
| Restaurant | Backstage Bar |
| Hotel | No |
| VIP program | Yes |
Upon entering this Soho casino, you'll certainly be struck by its imposing setting!
You'll get right into the casino atmosphere right when you come in. At the centre, you'll have various card tables and, then, on the right and left-hand sides, and you get a multitude of Slot games. 
At the back of the ground floor, you have their special bar section – from beers to ciders and soft drinks.
What Does Grosvernor Rialto London Look Like Upstairs?
The stairs reveal a huge space filled with Slot machines. Here, you can play from the latest additions to the gambling market to even £10,000 jackpots.
One special detail that complements this Soho casino and isn't usually common in other gambling locations is the enormous screen on the first floor where casino employees display different movies. 
You have the Backstage Bar between floors – a special snacks and drinks bar. The menu is quite varied and includes dumplings, spring rolls, crispy chicken, wings and many others.
Public Commute
Bus: 159, 176, 29, 6, 24, 453, 94

Tube: Bakerloo, Northern, Piccadilly
Top Restaurant: The Perception at W London
If you're looking for diversity, the Perception at W London will surely get that 'typical predictable restaurant' out of your head! From disco blue and red sets to relaxing green-coloured areas and even classy and elegant spaces, this restaurant stands out!
As for the food itself, you have plenty of options such as breakfast, festive, events menus and so on. 
One menu that caught our eye is the Frosé Royale Brunch, which combines the Frosé with a main dish and a chocolate fountain.
You may choose from BBQ pulled pork burgers, beef ribs, falafel, squash, rice and huevos rancheros. As for drinks, you get more than 15 alcoholic cocktails options, including wine, champagne and whiskey.
You must be 18 to visit the bar and restaurant after 9 PM. Similar to the KYC check that you have found in online casinos, at land-based ones, you may need to confirm your identity through various documents.
Also, follow their dress code. It's best to make a reservation ahead; they provide you with their full contact details on their official website.
Restaurant Tips
Best Meal: Frosé Royale Brunch;

Schedule: 6:30 AM – 12 AM (Monday-Wednesday)/6:30 AM – 1 AM (Thursday)/6:30 AM – 2:30 AM (Friday)/7 AM – 2:30 AM (Saturday)/7 AM – 12 AM (Sunday)

Google rating: 4.3/5
Honourable mentions include Ventra Vegan and Layalina Piccadilly.
Accommodation: Thistle Piccadilly Hotel,
The antique and voluminous Victorian building, is located right at the threshold of Soho, Leicester Square and Chinatown. The elegant mise-en-scene is also to be found in the interior of this Soho hotel, with royal blue and gold present in each room.
We've noticed that the actual rooms are pretty big and bright and provide the necessary facilities to any tourist, including a Nespresso machine to make your own coffee there.
Location is Key
If you're keen on visiting some of the most important tourist attractions in London, you have the National Gallery a couple of blocks away, as well as Theatre Royal Haymarket and the Piccadilly Theatre.
Should you prefer a day inside the hotel, you may get your energy pumping at the fitness centre. Unfortunately, this location does not provide parking for its visitors.
Important Info:
Check-in time: 3 PM

Types of rooms: Standard Double, Standard Twin, Deluxe King, Junior Suite

Double room average: £250/night
Empire Casino
Source: wikipedia.com
| Casino information | Intrinsic details |
| --- | --- |
| Contact | 02030141000/ [email protected] |
| Location | 5-6 Leicester Square, WC2H 7NA, London, UK |
| Restaurant | Kings Sports Bar, Icon Balcony Bar, Bar Food |
| Hotel | No |
| VIP program | Yes |
Empire Casino is known to be the home of the famous and infamous!
And by the looks of it, you surely cannot miss it! Many celebrities visit this land-based Soho casino and enjoy its vast palette of games.
You'll quickly recognise it by the glamorous setting, with grandiose columns and elegant archways. This gambling site is also home to one of the most visited cinemas in London.
This Is the Soho Home of Poker!
Poker play is a regular at Empire Casino, and the buy-ins vary from £48 to £50. Apart from Poker, this Soho casino also provides other table games, like Blackjack, Punto Banco, and American Roulette, all conducted by high-end specialised live casino dealers.
The same high standards also apply to online live casinos since many renowned providers train their dealers to answer the player's needs.
Slot Options
There are also plenty of Slot machines. At this Soho casino, you may play the most renowned games, such as Book of Ra or Cleopatra, on both regular screens and their special curved 44" HD screen options.
Public Commute
Bus: 159, 176, 29, 6, 24, 453, 94

Tube: Bakerloo, Northern, Piccadilly
Top Restaurant: Kings Sports Bar
With 17 screens to watch your games, the Kings Sports Bar is one of the most sought for Soho sports venues. Moreover, it also features the NFL games in London – a major attraction for tourists and locals.  
The food menu is quite varied, offering you a great range of pizzas, burgers and fries. Check the entire menu on their official website!
Keep in mind that the place is pretty busy with big events, so you'd better reserve a seat! If you are keen on watching a particular game, don't hesitate and ask the bartender to switch to your preferred channel.
Diversity is highly encouraged, so be it football, tennis or even e-sports, you can watch whatever you desire with your peers.
Restaurant Tips
Best Meal: Southern Fried Chicken Burger

Schedule: 5 PM – 5:30 AM (Monday – Friday)/12 PM – 5:30 AM (Saturday & Sunday)

Google rating: 4.1/5
Honourable mentions: The Imperial, Ruby Blue, Joy King Lau.
Accommodation: Premier Inn Leicester Square
The building may seem antique, but the inside hosts a clean, minimalist look.
The location's predominant colour is purple which also gives a royal touch to the ambience. You can choose from double, twin or family rooms, but you also have the standard accessible alternative. There is a bar area where you may grab a drink.
Premier Inn Benefits
The most significant advantage of this 3-star hotel is that you can check in at any time of the day/night. The location is also a plus! It is situated right in the heart of Leicester Square and could be the starting point for many of your trips around the Soho neighbourhood.
Important Info:
Check-in time: 24 hours open;

Types of rooms: Double, Twin, Family, Standard accessible;

Double room average: around £200/night.
Genting Casino Chinatown
Source: casinobeats.com
| Casino information | Intrinsic details |
| --- | --- |
| Contact | 02074943020 |
| Location | 93 – 107 Shaftesbury Avenue, W1D 5DY |
| Restaurant | Yes |
| Hotel | No |
| VIP program | Yes |
Located at a 15-minute walk from Leicester Square, this Soho casino provides a plethora of various games. Genting has numerous gambling locations, all spread throughout the United Kingdom.
Besides the gambling features, should you want to grab a snack in between games, the restaurant provides a multitude of dishes for every taste. So, you can try out signature sandwiches, Indian cuisine, pizza and, the best of them all, burgers.
What Gaming Options Do You Have?
We have noticed that this Soho casino provides plenty of Slot machines, with a minimum RTP of 94%.
The RTP value can oscillate a lot depending on the casino policy; to get you around the RTP basics, we constructed a guide to help you understand how it affects your gaming sessions, understand the ranges better and recognise the casino games with the highest potential.
You may find £10,000 jackpots and special Novomatic Slot machines that offer HD gaming features. As for table games at this Soho casino, UK players can access live Blackjack, Baccarat and Roulette and even 3-5 multi-win Poker.
Tip from the KingCasinoBonus Team
Make sure to follow their dress code!
Specific contrasts between land-based and online casino etiquette may come as a surprise, especially if you've never played at a brick-and-mortar gambling site before. Don't worry, our experts have gathered everything you need to know to get around these rules.
Public Commute
Bus: 176, 19, 6, 88, 94, 98

Tube: Bakerloo, Central, Northern, Piccadilly
Top Restaurant: Golden Lion
Black and blue on the outside, golden on the inside – this restaurant surely makes an impression through its various contrasting features. 
Deemed as a sports bar, Golden Lion is usually packed and attracts tourists and locals. It really gives you that cosy feel with a touch of vintage.
In terms of food, you will find the traditional fish and chips, but also delight yourself with some special vegan burgers or nachos.
Restaurant Tips
Best Meal: Beyond Meat Burger Sliders – Vegan

Schedule: 12PM – 10PM (Monday – Sunday)

Google rating: 4/5
Honourable mentions: Soho House 40 Greek Street, Kettner's Studio and Barshu.
Accommodation: Z Hotel Soho
Z Hotels are spread among multiple locations in London, from Piccadilly to Trafalgar and Soho. There are also some additional hotels in Bath, Glasgow and Liverpool.
For breakfast, you may choose from many pastries, salads, rolls and so on and relax in the Z Café. Location-wise, the biggest advantage is that you are close to Leicester Square and some of the most iconic UK places, such as the Prince Edward Theatre.
A thing that struck us was that the rooms were pretty small compared to other locations we'd been to. But they also have some rooms that are designed specifically for disabled people, with wheelchair access, such as the 'Z Accessible'.
Important Info:
Check-in time: 3PM

Types of rooms: Single, Double, Queen

Double room average: around £100/night
Horizons Casino
Source: choicecasino.com
| Casino information | Intrinsic details |
| --- | --- |
| Contact | +44 (0) 207 494 3126 |
| Location | Horizons Casino, Queens House, 1 Leicester Square, London, WC2H 7RN |
| Restaurant | Bar |
| Hotel | No |
| VIP program | Yes |
From afar, the narrow entrance of Horizons Casino may give you a mysterious vibe. You may wonder: what lies behind the glass door?
The answer is surprising since the inside provides quite the opposite experience! Bright and colourful Slots, as well as large card tables, fill the entire place.
Types Of Games At This Soho Casino
This Soho casino has the primary palette of casino games, such as:
Roulette

Baccarat

Poker

Slots
For Slot play, you have three main Slot machine types: Riviera, Dominator or Crystal Dual. Some of your gaming options include Book of Ra or Pharaoh's Fortune. In point-of-table games, UK players get different variations, such as American Roulette or Three Card Poker.
We also checked their casino site and found each game's lower and upper betting thresholds. Depending on their specific type, these numbers can go from £1 to £10000. For a more detailed view, you can check their official website!
Public Commute
Bus: 14, 176, 24, 6, 94

Tube: Bakerloo, Northern, Piccadilly
Top Restaurant: Horizons Casino Snacks and Drinks Section
Besides the gambling section, there is also a 'snacks and drinks location, where you may pick up something to eat between games.
The menu is posted on the Soho casino site, consisting of traditional food, like fish and chips, and Asian Cuisine or Italian specialities, such as pasta or noodles. You can read further on the site should you have any type of allergies.
As for drinks, they offer both alcoholic and non-alcoholic cocktails as well as fine wines or ciders.
Restaurant Tips
Best Meal: Horizon Cheeseburger & Fries

Schedule: 12 PM – 6 AM

Google rating: 4.6/5
Honourable mentions: Mr White's Stake.
Accommodation: Hotel Indigo London
Once you enter Hotel Indigo in London, you'll surely be struck by the 1920s theatrical atmosphere.
The two predominant colours you'll find throughout the Soho hotel are blue and gold, which also give a royal feeling.
Breakfast with a View
If you're looking for a spectacular view, the Rooftop Bar is the best option for you! You may serve your Continental or Buffet breakfast there or grab a drink later on in the day. 
In point of rooms, you've got a good selection, from Queen to Standard, Double and even a so-called 'Theatrical Room'.
Don't forget! The Hotel will require you to provide an identification document at check-in. You also have many payment options at hand, among which Mastercard, Visa and Maestro.
If you have an issue, you can resort to the concierge service; they are keen on giving a solution to the problem as quickly as possible.
Important Info:
Check-in time: 3 PM

Types of rooms: Queen, Superior Queen, Theatre Room, Double, Standard

Double room average: around £250/night
Other Soho Gambling Locations – The Nordic Bar
Besides your usual Soho casinos, you may also play games or watch sports in various pubs. We acknowledge that there aren't many Soho locations that also include gambling activities, yet some have caught our attention.
Located in the upper part of Soho, Nordic Bar allows you to watch top sports games.
From Premier League to the IIHF World Championship, visitors can spend a night out viewing some of the most renowned matches throughout the globe.
The Arcade Section
If you want to take a step back in time, you can access the Retro Arcade section from Monday to Sunday. Make sure to make a prior reservation!
Where to find the Nordic Bar: 25 Newman Street, London, W1T 1PN; 020 7631 3174.
Our Top Tips For Gambling At Land-Based Soho Casinos
To get the best experience when visiting brick-and-mortar Soho casinos, KingCasinoBonus' team has joined forces and compiled a list with the most valuable tips visitors must keep in mind before venturing to this famous place.
Make a Budget
You should set your limits on how much you are willing to spend in one go. Check the cost for restaurants and hotels and then decide on your budget before starting your journey. 
When making your budget, you must consider all the essential aspects of a successful trip, including transportation, entrance fees, and souvenir prices.
Make Reservations in Due Time
We've noticed that locations in Soho are pretty packed all the time, so it's a good idea to reserve a table or a room ahead. Otherwise, you might not catch a seat.
Plan Your Tour
If you intend to visit multiple brick-and-mortar casinos, we advise you to plan your trip ahead so as not to lose time deciding which way to go!
Check the Rush Hours for the Available Transportation Services
Transportation services like Uber might have rush hours when visitors will have to pay more for the same rides they would otherwise take when going places during other times of the day. Hence, make sure to consider this aspect when planning your trip.
Don't Shy Away From Asking Any Questions When Visiting Casinos
If you have any questions about casino games or visiting land-based gambling establishments, make sure to let the staff of the casino guide you. 
Practice playing games to get accustomed to some rules and features
If you are new to the gambling world, and want to have a successful time playing casino games in Soho, don't fret! 
Numerous top online casinos offer incentives for multiple games so players can get used to their rules and settings without investing significant sums of money.
If Slots are the games you are interested in, you may access free spins bonuses when visiting online casinos and play a few rounds without any cost. Additionally, online casinos offer incentives for other types of games as well, including live casino bonuses and Blackjack bonuses.
Don't Spend the Money You Don't Have
Don't go spending significant amounts of money in your trial of having successful playing rounds. Stick to your budget, and remember that casino games are meant to be a leisure activity, not a way of landing impressive earnings. Hence, playing responsibly is the key.
References