How to Dress at the Casino Looking Elegant and Confident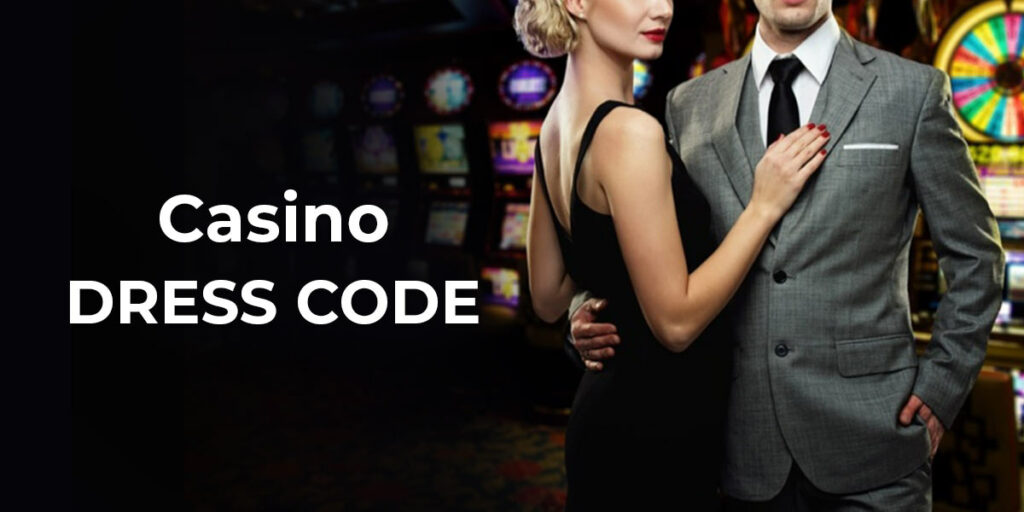 Surely, you didn't know that most casinos have a preferred dress code that guests have to adhere to. Well, let us enlighten you!
When playing in an online casino, you do not worry about the dress code as you play in the comfort of your home. So, if you're not the land-based type of player, we've got you covered. A browser-based casino library with the iGaming industry's latest trends is what you need. But, you should know that before the emergence of online casinos, the only place you could gamble was in a land-based casino.
However, one could not just show up at the casino dressed anyhow; you had to adhere to a casino dressing policy to be allowed inside. The atmosphere and ambiance in the casinos needed a particular type of elegance and class to match what was inside them. The atmosphere of brick-and-mortar casinos is structured to make revellers enjoy the moment and have fun.
Short History Lesson of Casino Dress Code
The dress code that is followed in casinos today dates back to about a hundred years ago. Every casino is strict on the dress code, where one can be denied access for failing to adhere to the dress code.
In the 1960s, celebrities such as Frank Sinatra and Sammy Davies Junior made going to the casino trendy in a serene setting. However, nowadays people have the freedom to wear what they want. But, casinos still have basic minimum requirements that casino guests must meet to access the main floor. Failure to stick to the code can result with restriction on the slot machine section.
In the past, casinos were seen to be a preserve of the rich. Therefore, casino guests displayed their wealth by the way they dressed. Patrons dressed in smart casual clothes or suits. Men wore top hats, blazers, ties and shirts, while women wore broad-brimmed hats, long skirts, and frilly blouses.
When attending to clients dressed formally, saloons made sure that their staff was also dressed to impress. In any case, the clientele they served was from prominent backgrounds that spent large amounts of money at their casino.
This was the origin of the casino dressing policy known today, with staff members having the first dress code. They set the standard of respectability and elegance to be followed by guests at a casino establishment.
Do Casinos have a Strict Dress Code Nowadays?
Over the years, despite casinos becoming open to guests with less wealth, they still maintain rules regarding the dress code. Therefore, to maintain a neutral casino environment for guests, everyone must adhere to a standard dress code despite their social status.
Casino staff must wear shirts and ties with makeup and neat haircuts. Most casinos have maintained this as a suitable casino outfit for their clientele.
Casino Dress Code for Women
When you have picked the casino you want to visit, do a little research on their dress code. Often, casinos provide a few style suggestions, but most of them focus on the male clientele.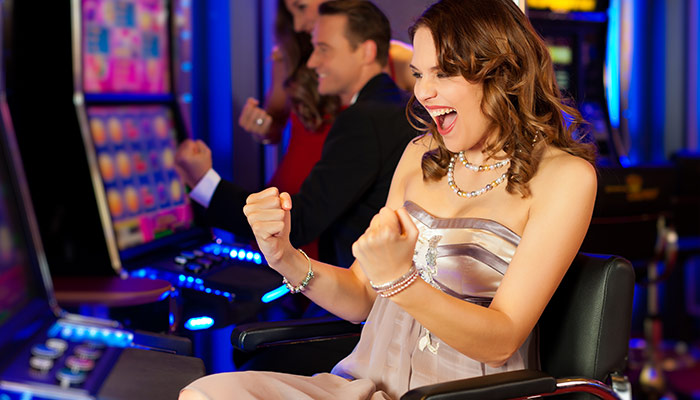 Let's take a look at a few guidelines on how women should dress in a casino.
If your chosen casino recommends a black-tie outfit, look for a black-tie gown to blend in with the environment. To attain an elegant look, your dress should go all the way down to the floor, and it should be not be made from cotton material; go for satin and silk instead. The black colour is right for the gown, but a neutral shade is a good alternative if you are not a black fan.
Some casinos state their dressing as being casual. Nonetheless, this does not mean that you can show up with jeans or a tank top. When going to a casino, wear an outfit just as you would when going to a classy restaurant. If you have ever attended a daytime wedding, the kind of gown you wore would be ideal for a casual casino. Sheath dresses and skirts will not draw attention to you, either from door staff or other casino guests.
Running a strictly formal casino restricts the number of people who can visit the casino. Most casinos are now running as semi-formal without being strict on wearing black tie clothing.
This does not mean that you can go in jeans; a cocktail dress is a perfect choice when visiting a semi-formal casino. Also, your little black dress is another excellent choice for a casino outfit. If you do not prefer dresses, you can wear a formal pantsuit and add flair with accessories.
Although casinos are based indoors, there is a lot of movement inside the bar and between tables. You, therefore, need to have suitable shoes to facilitate this movement.
High heels are not recommended, although they might go well with your gown. Instead, go for heeled sandals as they are more comfortable than high heels. Dressy flats are another excellent option, but make sure they are formal wear. Sandals, flip-flops, and sneakers are not allowed even in a casual style casino.
Casino Dress Code for Men
A large number of people have never been to a casino, and they expect it to be the way it is portrayed in the movies. But, the code is not as complicated as it seems. Most casinos have relaxed their dress code requirements, which are not strictly enforced.
Nonetheless, guests are expected to not wear inappropriate casino attire. How casual or elegant you dress is basically up to you. Still, you should contemplate on a few things when choosing a style for the casino.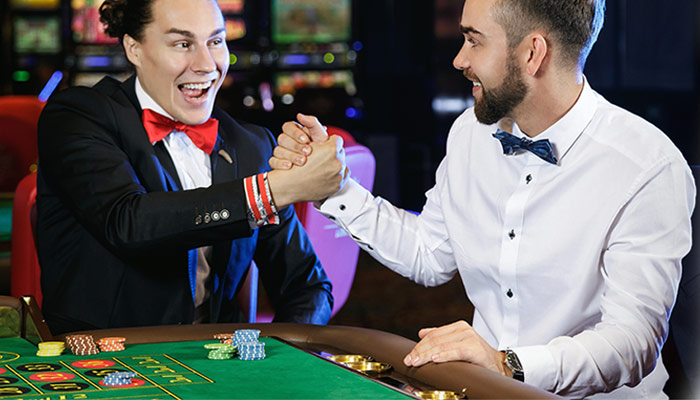 Let us look at the outfits most suitable for men in the casino.
A white tie outfit is a formal type of attire. It is mostly worn to private casino events where men are expected to have classy black leather shoes, white gloves, a white bow tie, a white vest, a white shirt with cufflinks and wing collars, and a black dress coat with trousers to match. This attire is typical in several countries, including European nations and the United States.
The semi-formal or black-tie looks are an average code for most land-based casinos. Men are expected to be in black leather shoes, a formal tie, and a dark suit. When wearing a black-tie outfit, a silk-lapelled jacket completes the look as a centrepiece.
Lapels come in three types: the notch lapel, the peak lapel, and the most traditional shawl lapel. But, you can still get away with a well-tailored, classy business suit in most casinos. The semi-formal and black-tie styles are common practice globally. You will have no problems being admitted to a casino in Norway, Monaco, Switzerland, the United States, and many other countries.
When placed in a casino context, many people do not understand the meaning of casual dressing. A casual casino look is not the same as street casual as some people translate it to be a shirt and a pair of shorts. Many countries worldwide allow casual to be loafers, plain t-shirt or button-down shirts, or formal jeans or pants.
Can Your Outfit Boost Your Confidence While Gambling?
Have no doubt about it. Dressing well and classy can significantly boost your confidence levels. When gambling at the casino, your level of confidence plays a part in how you perform.
A confident brain translates to a healthy brain in any case. Confidence raises the level of serotonin in your body, which makes you feel good in return. When you enter a casino, you want to feel lucky, and confidence helps one feel lucky.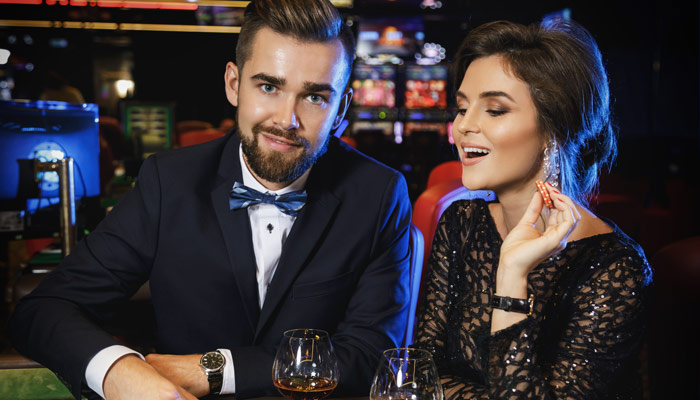 Your confidence levels will help you go for the big stakes and games. Remember that if you plan on spending several hours at the casino, suit jackets or stilettos will be an impediment. If what you plan to wear will probably not ooze class and confidence, simply don't wear it. Also, if you plan on having several cocktails, go for comfortable trousers, a shirt, and comfy shoes.
Final Word
Now that you know what to wear to a casino, it should be easy to pick the best outfit for your lucky gambling outing. Just have in mind that while dressing up is essential, you should not underestimate your comfort. It is a treat to visit a casino for most people, which is not a regular occurrence. Therefore, it is polite and respectful to take time to dress up and treat the visit as an occasion.
We hope we have provided you with valuable information about proper dressing when going to a casino. However, the essential aspect is for you to feel good about the way you look. When you are confident and like the way you look, you will have a good time at the casino. Being uncomfortable with your dressing makes you think that other people are noticing your discomfort, which gives you a horrible experience at the casino.
References: