High-Rollers' Payment Dilemma: Bank Transfer or PayPal?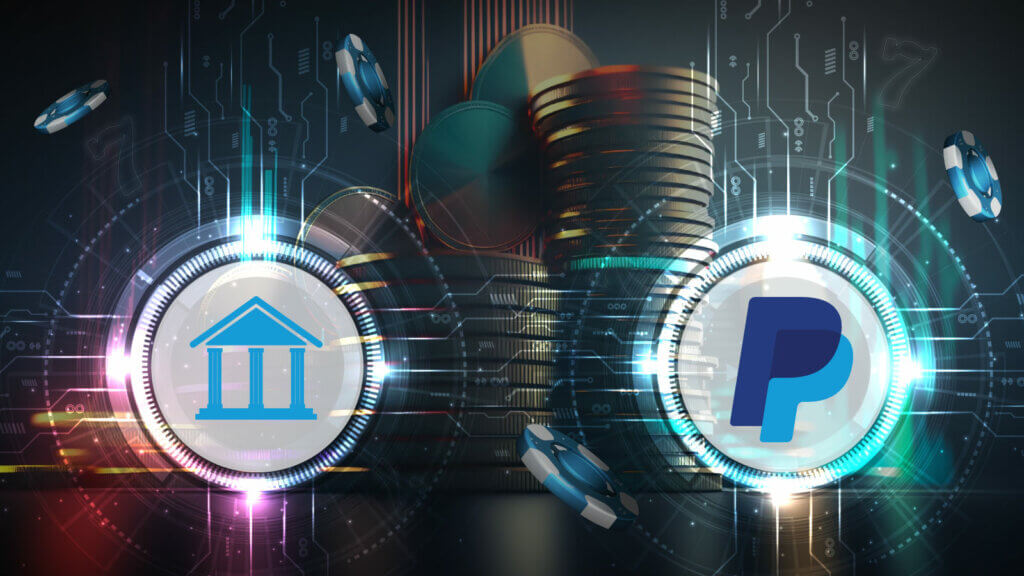 Are you a high-roller struggling to find a payment method to match your preferences? Our KingCasinoBonus.uk experts will help you find your perfect payment match and compare the best options on the market: PayPal and Bank Transfer. Let's find out which one fits your bankroll and how to make casino transactions with them!
Brief Overview: PayPal and Bank Transfer
In UK casinos, two payment options stand out, but which payment method is the best option: PayPal sites or bank transfers?
Today's online casinos feature a wide range of banking options to meet the changing needs of UK bettors. PayPal and bank money transfer are two leading banking solutions for high rollers. But before opening an account, it's best to check its overview, service, and security features.
 We know PayPal as a popular UK payment system that lets you make different transactions. You can link your debit card or bank account to facilitate money transfer using your preferred currency. Also, you can maintain a PayPal balance account, which you can use later for instant transfer or top-up your casino account. If you want to use PayPal, you can set up a free personal account or business account and enjoy a seamless way to move your money.
Bank money transfer is a payment option that involves moving funds from your bank account to the casino's account by sharing your banking and currency details. Participating banks have their specific policies when you send money or make a payment, but all ensure the safety and security of your funds and data.
Also, choosing a banking option becomes more critical for high rollers or those who deposit or wager massive amounts. Remember, not all banking options work best for the high rollers due to differences in payout limits, processing times, and applicable fees.
Bank Transfer vs PayPal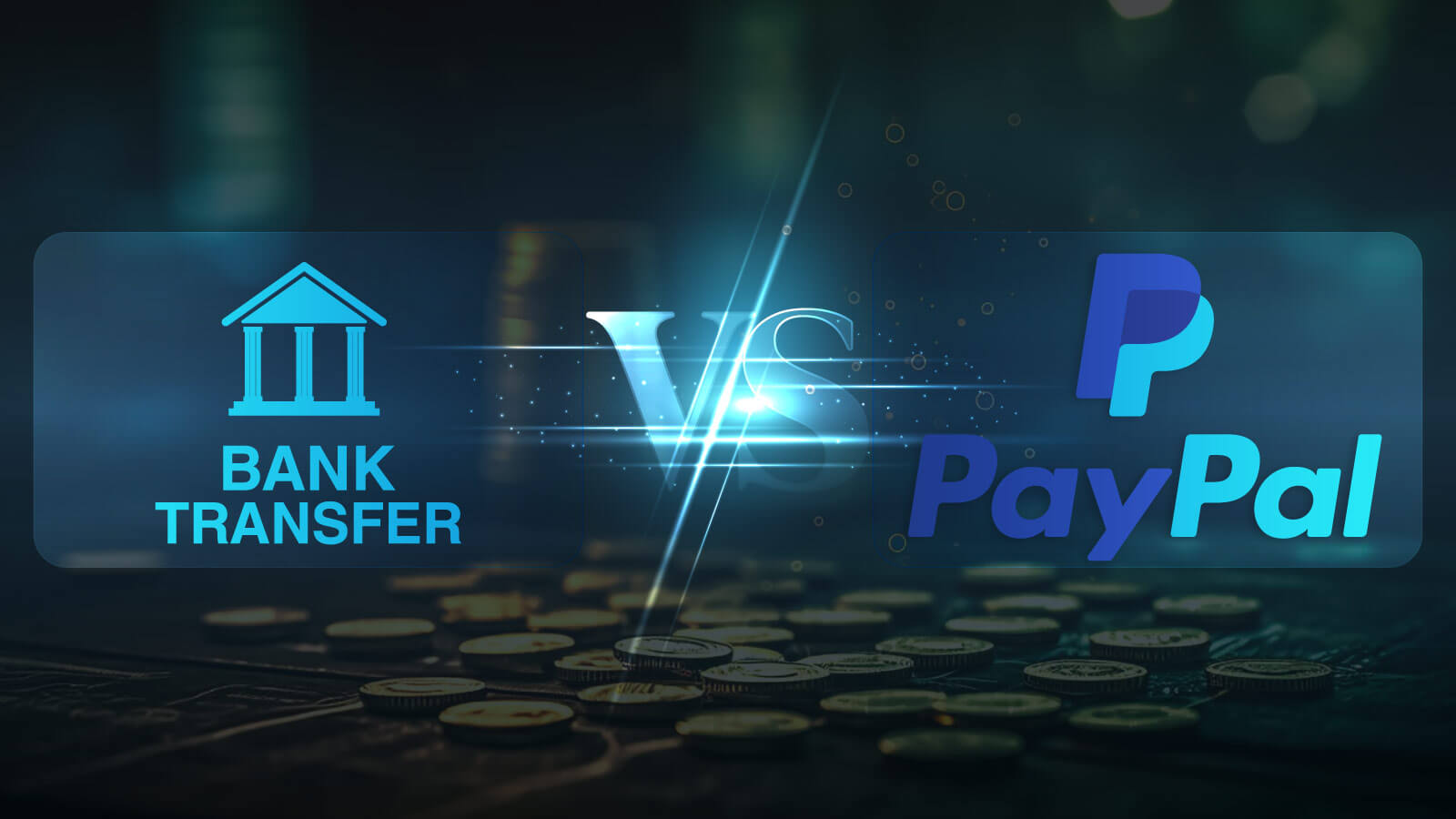 At KingCasinoBonus.uk, our team of gaming experts provides the gambling community with tips on improving the gambling experience through the right choice of the most convenient payout casinos in the UK.
You'll still find a few details about these two banking options by examining the fine print. For example, specific terms exist for their processing times, limits, and fees. So read on and find out how these two popular payment options differ, which can help you decide on your next visit to your favorite casino.
Here's everything you'll need to know about PayPal and bank transfers, a fee comparison, their pros and cons in setting up an account, and our tips and recommendations.
PayPal – Best for convenience and low fees
You can use your PayPal balance account to send money without worrying about the fixed fee, provided both users have an account in the platform. It's the same process when you fund your casino account using PayPal's service.
Most PayPal casinos don't charge fees for account deposits and withdrawals. However, specific costs are involved when using a PayPal account outside the casino, like withdrawing your winnings to your preferred bank account, credit or debit card, or using currency conversion.

Also, PayPal offers some of the quicker payouts with comprehensive currency coverage. Money from PayPal typically arrives in minutes.

You'll be happy that PayPal doesn't require annual and monthly maintenance fees. However, the deposit and withdrawal limits may vary depending on the casino.

Players will also love the low deposit in most online platforms, such as £5 deposit gaming sites, with a maximum of £5000 to £10000 as a transfer amount.
And did we mention that there's an app to use when you access your account? Downloading an operator's mobile app gives you quick access to your PayPal account, allowing you to monitor the transactions anytime.
Bank transfer – Use it for more extensive account deposits and payouts
Let's talk about bank transfer, a traditional payment option in UK casinos.
Bank transfers are a reliable option for many since they allow the individual to transfer money confidently.
This payment facility often features a higher transfer limit; often, it exceeds £5000 in most UK casinos. The amount you can withdraw at a time depends on the operator, but it's substantially more significant, allowing our high rollers to execute their plans.

A higher limit and reliability are two of the biggest reasons we like international bank transfers.

However, there are a few drawbacks to using bank money transfer services. Compared to PayPal, a bank transfer may require a higher minimum deposit or withdrawal amount, and transfer speed may take three to 10 business days, depending on the bank's policy.

And then there's the standard Know Your Customer or KYC policy of the casino relating to bank transfers.

Finally, the specific casino charges a fee for each transaction.

To avoid fraud and promote a transparent account transaction, a casino may verify your bank account and transfer details first. This due diligence will set back your transaction request by a few days.

Bank transfer transactions may require players to share personal information, which some high-rollers might want to keep private.
Wrapping Up – Payment Suppliers' Perks
In the table below, you'll find the main perks of each payment provider that may help you decide on which one to use:
| Features | PayPal Transactions | Bank Transfer Transactions |
| --- | --- | --- |
| Limits | Withdrawals of up to £15000 | Withdrawals of up to £100000 |
| Processing Time | Instantly | You can get your money in 3-10 days |
| Fees | No transaction fee | Withdrawals can incur a fee of 1-2% at some casinos |
| Security | Encryption and other security measures | Robust security protocols through banks |
High-rollers should assess which payment method aligns best with their gaming habits and financial goals, ensuring a seamless and secure gaming experience. Whether you opt for the security of a bank transfer or the convenience of PayPal, rest assured that both methods have advantages and limitations.
PayPal Casinos in the UK
Here are some UK gaming platforms where you can use your PayPal card for transactions:
Casushi Casino: you can deposit up to £5000 and withdraw a maximum of £2500

Mr.Q Casino: has no withdrawal limits

At Magic Red and Pink Casino, you can deposit and withdraw as much as you want
Jackie Jackpot has limitless deposits and £50000 withdrawal limit.
Final Thoughts – Pick the Payment Option That Suits You Best
Comparing and selecting the best new online casinos can be overwhelming. In addition to their license reputation and game availability, you'll need to consider the payment facility and its fee. This requirement becomes more crucial if you're a high roller who needs complete support from deposit to withdrawal. It's a good thing there are at least two reliable options – bank accounts and PayPal. Most UK casinos accept both for claiming the promotions, but what should you prioritize?
While bank transfers allow bigger transaction sizes, PayPal outperforms most high-rollers based on faster processing, no fees, and strong security. The convenience and speed of PayPal make it the top choice despite slightly lower limits that may require multiple transactions.
So, for VIP players looking to get the most out of their experience, PayPal should be the go-to payment method at casinos where available. The quicker you can access funds, the faster you can raise the stakes.