The Romanosky Roulette Strategy Explained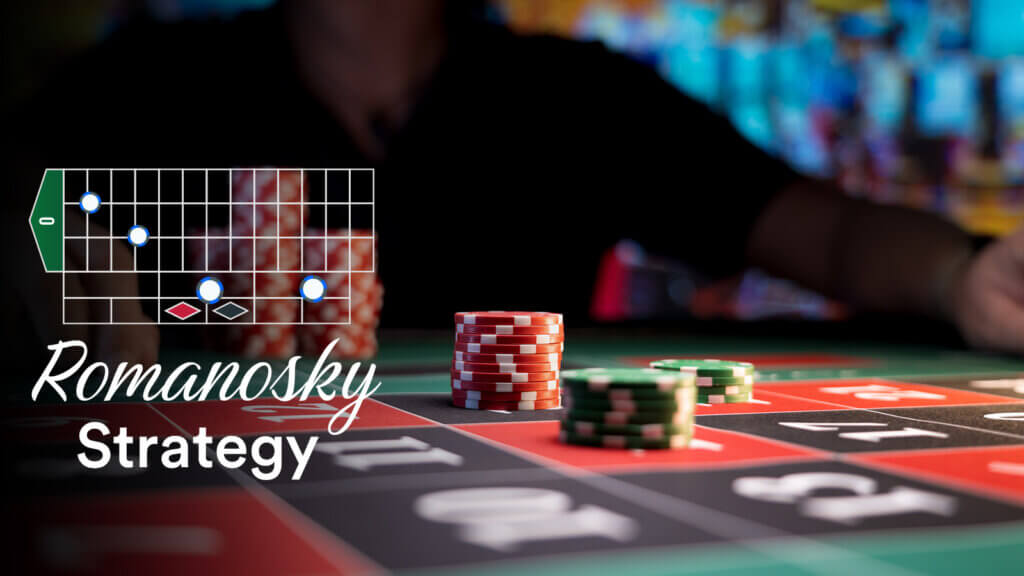 The Romanosky betting system is highly popular amongst Roulette players. The strategy has a high success rate and will help you minimize your losses. But how does it work? Stay tuned to discover what this method entails and how to use it correctly!
What is the Romanosky Roulette System?
This represents a group of bets that require you to cover 32 numbers on European Roulette wheel. By using this strategy, you will be betting on eight units and leaving five numbers out.
This is perhaps the most popular Roulette system that doesn't limit you to even-money bets. However, it requires a substantial bankroll since you need to cover most numbers on the wheel.
While it may look so, this system isn't very complicated. One essential aspect you need to remember is that there are six different bets in this system.
How Does the Romanosky Betting System?
You can only use this betting system on a single zero wheel. This excludes American Roulette and other variations featuring 00 pockets. Check out the differences between European and American Roulette to understand why this strategy won't work on the latter.
You shall wager on 32 numbers at eight chips per round according to this strategy. You can select from six different types of Romanosky bets. But be careful not to overbet! This is one of the Roulette mistakes you should avoid. Start by placing small wagers and work your way up after getting the hang of the strategy.
Whichever type you choose, your winning and losing rate remains 86.5% and 13.5%, respectively. For all options, the outcome of your round is a loss if the ball lands on 0.
Romanosky bet 1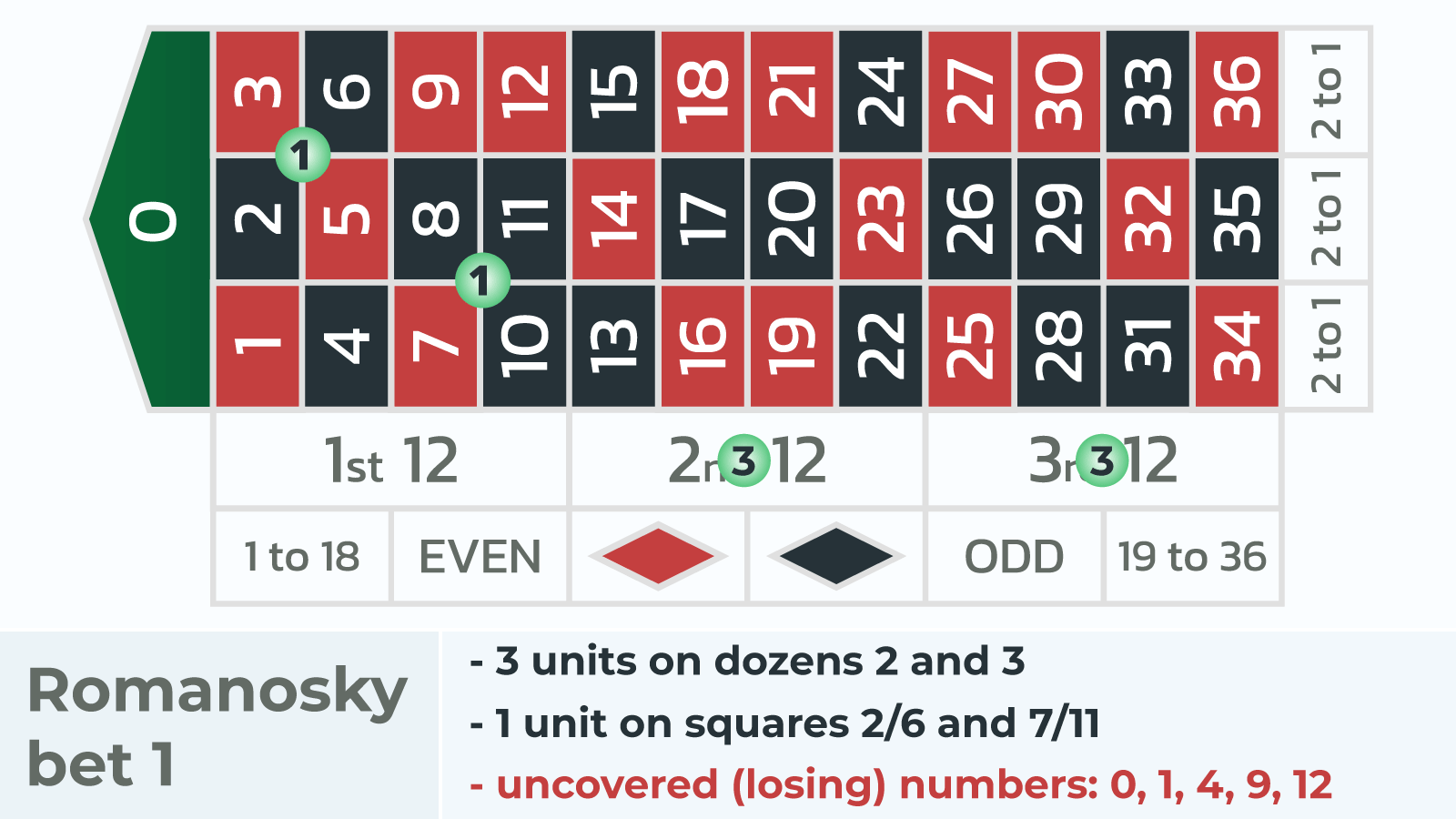 This wager requires you to stake 3 chips on dozens 2 and 3. While one of your units should be on corners, the other should be on 7-11. Uncovered or losing numbers in this variation are 0, 1, 4, 9, 12.
Romanosky bet 2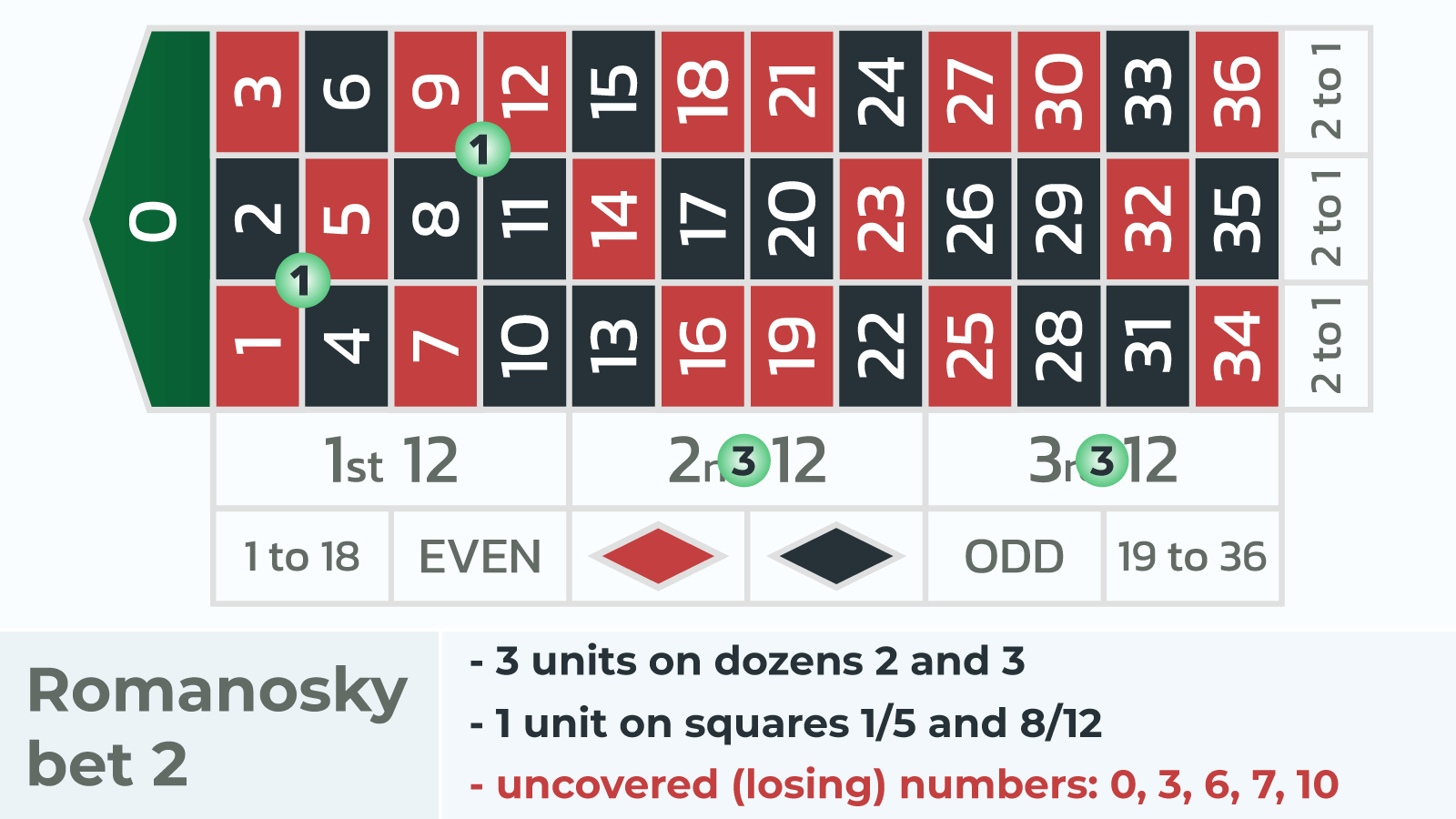 According to this second method, you shall place three units on dozens 2 and 3. One unit on 1-5 and another on 8-12. The losing numbers in this method include 0, 3, 6, 7, and 10. The profit and odds of winning are similar to the first method.
Romanosky bet 3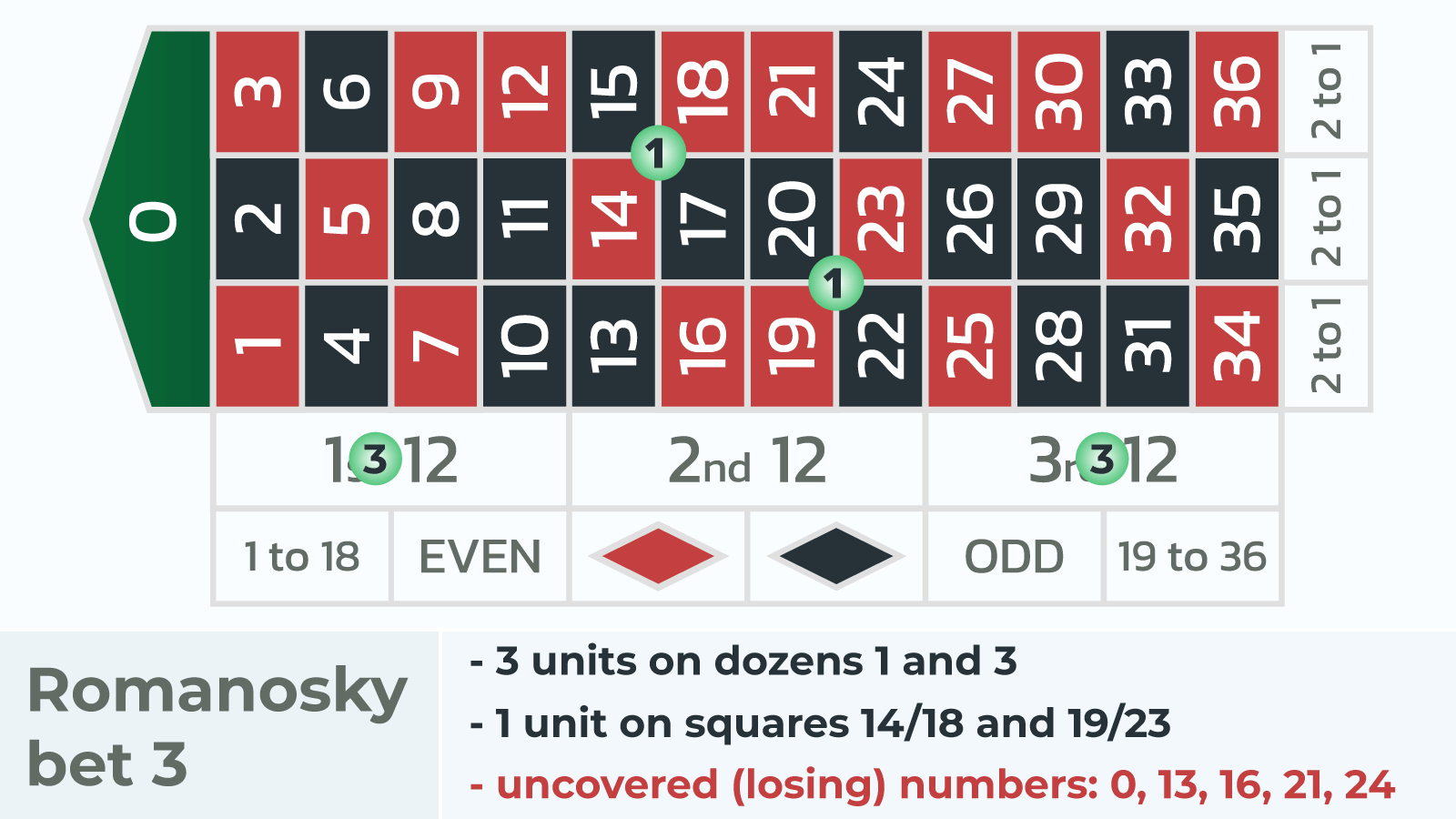 Here, place three units on dozens 1 and 3. One chip on corners 13-17 and another chip on 20-24. The uncovered figures include 0, 15, 18, 19, 22. As for the winning odds, they remain the same.
Romanosky bet 4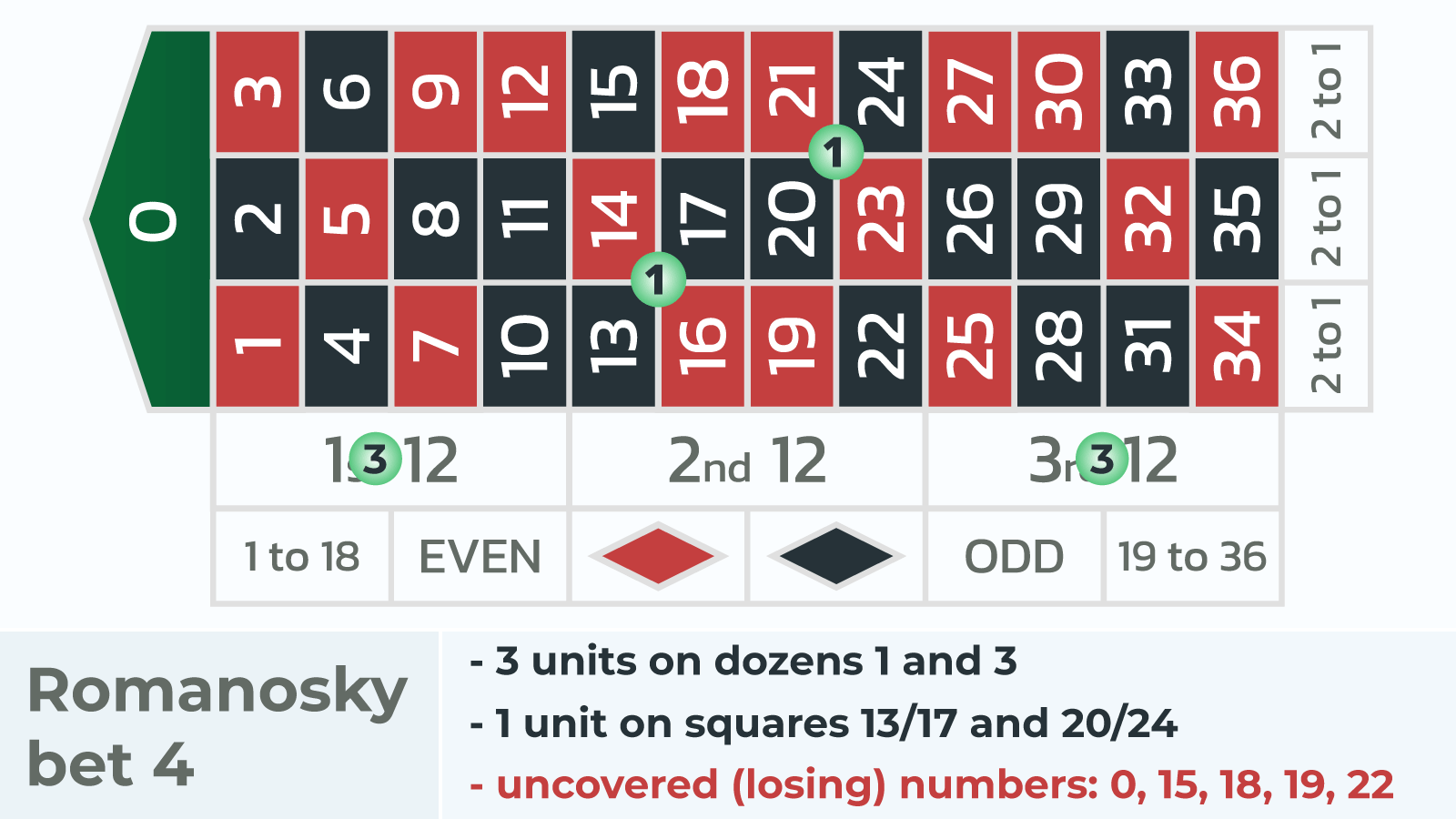 Just like the previous method, this bet requires you to place three chips on first and third dozens. After that, place one unit on 13-17 and another on 20-24. The numbers which are not covered are 0, 15, 18, 19, and 22.
Romanosky bet 5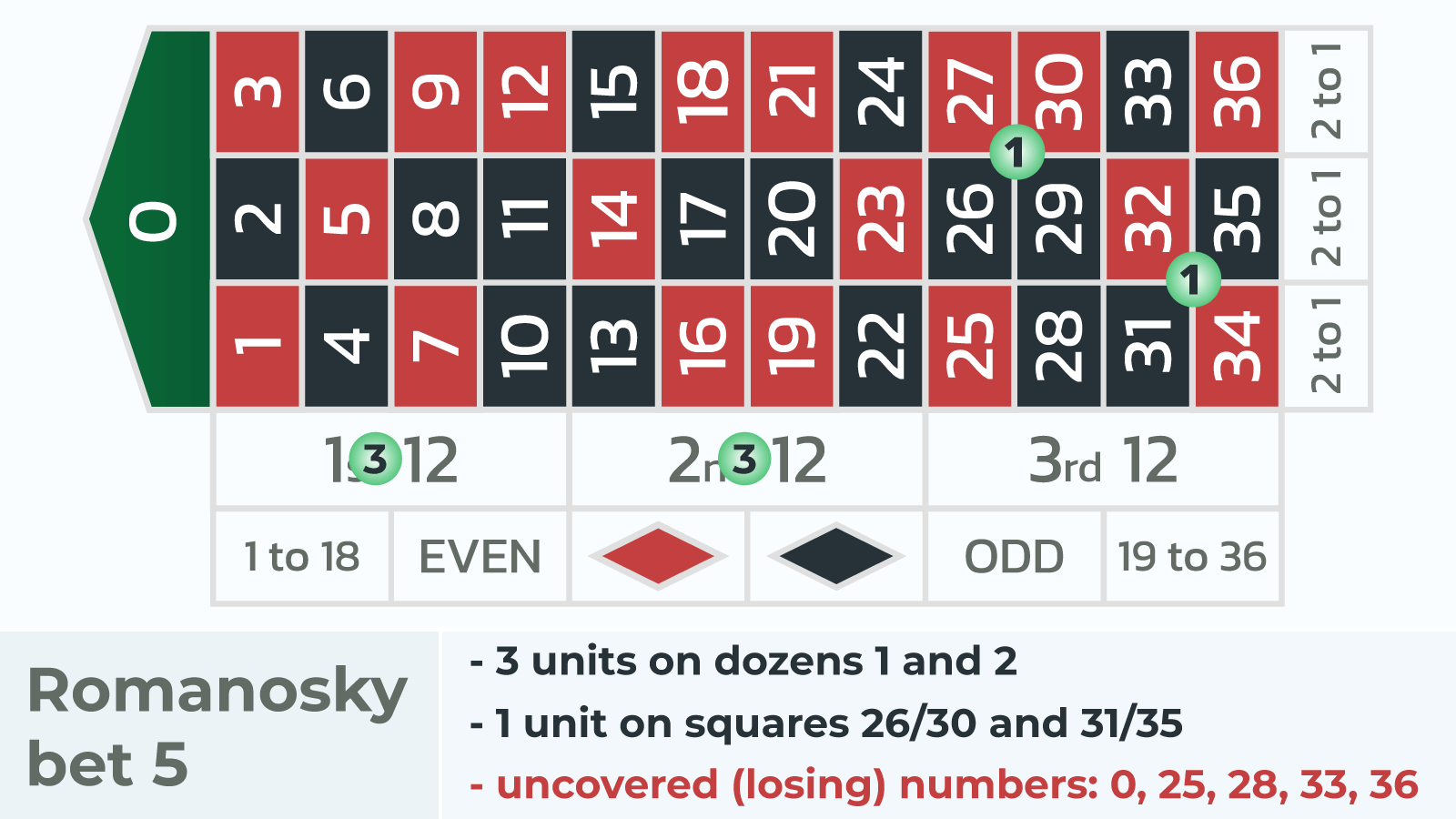 In this situation, you shall place three chips on dozens 1 and 2. After that, place one unit on corner 26-30 and another on 31-35. Losing numbers include 0, 25, 28, 33, and 36. Profit and winning chances are the same as with the previous wager types.
Romanosky bet 6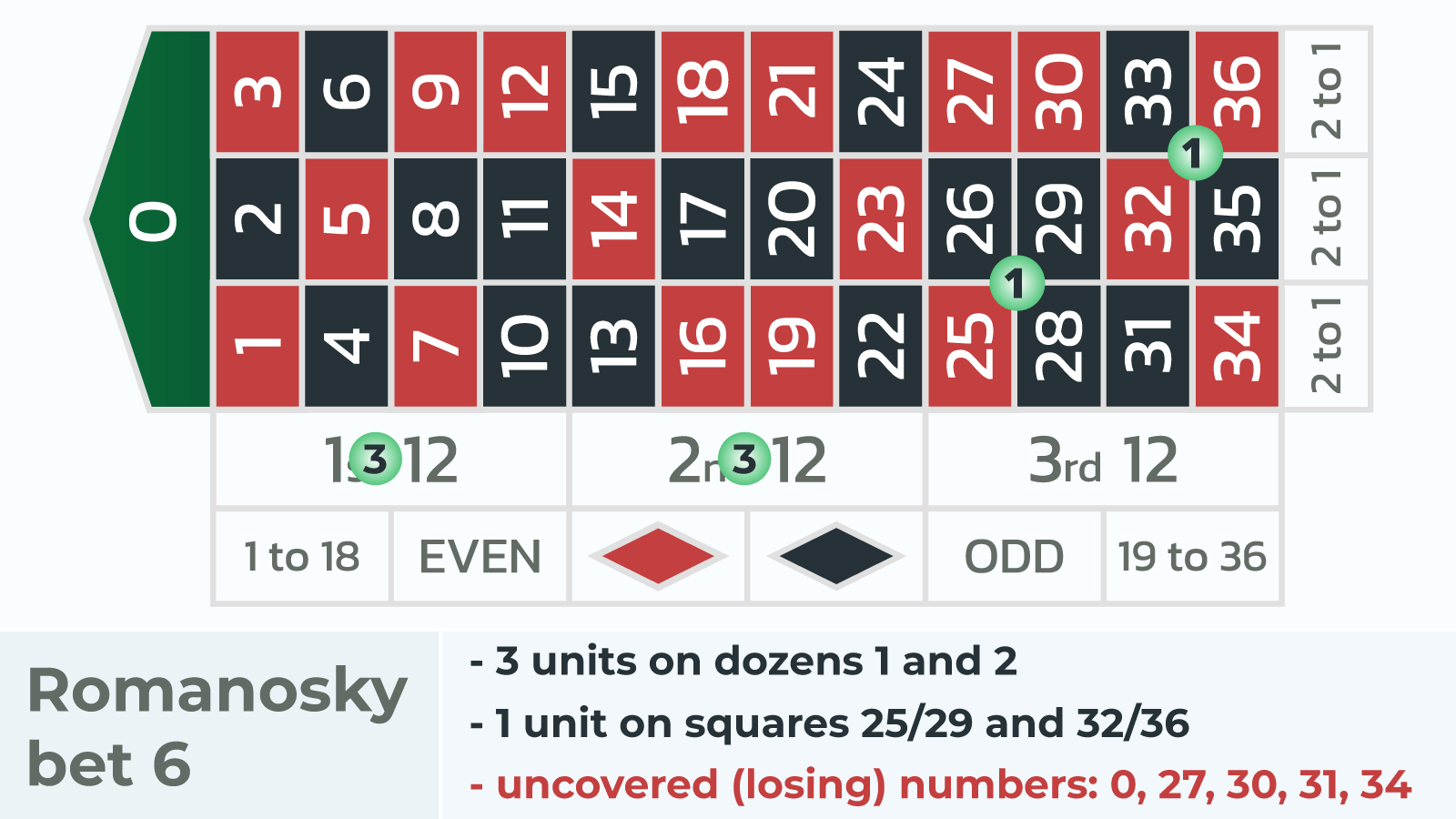 The last method states that you should place three chips on the first and second dozens. Then put 1 unit 25-29 and the other on 32-36. Your losing numbers include 0, 27, 30, 31, and 34. With the odds being 86%, you can win with a single bet.
However, you can also apply this wager type on corners 25-29 and 31-35. Hence, you won't cover 0, 27, 30, 33, 36.
Risks When using the Romanosky Betting System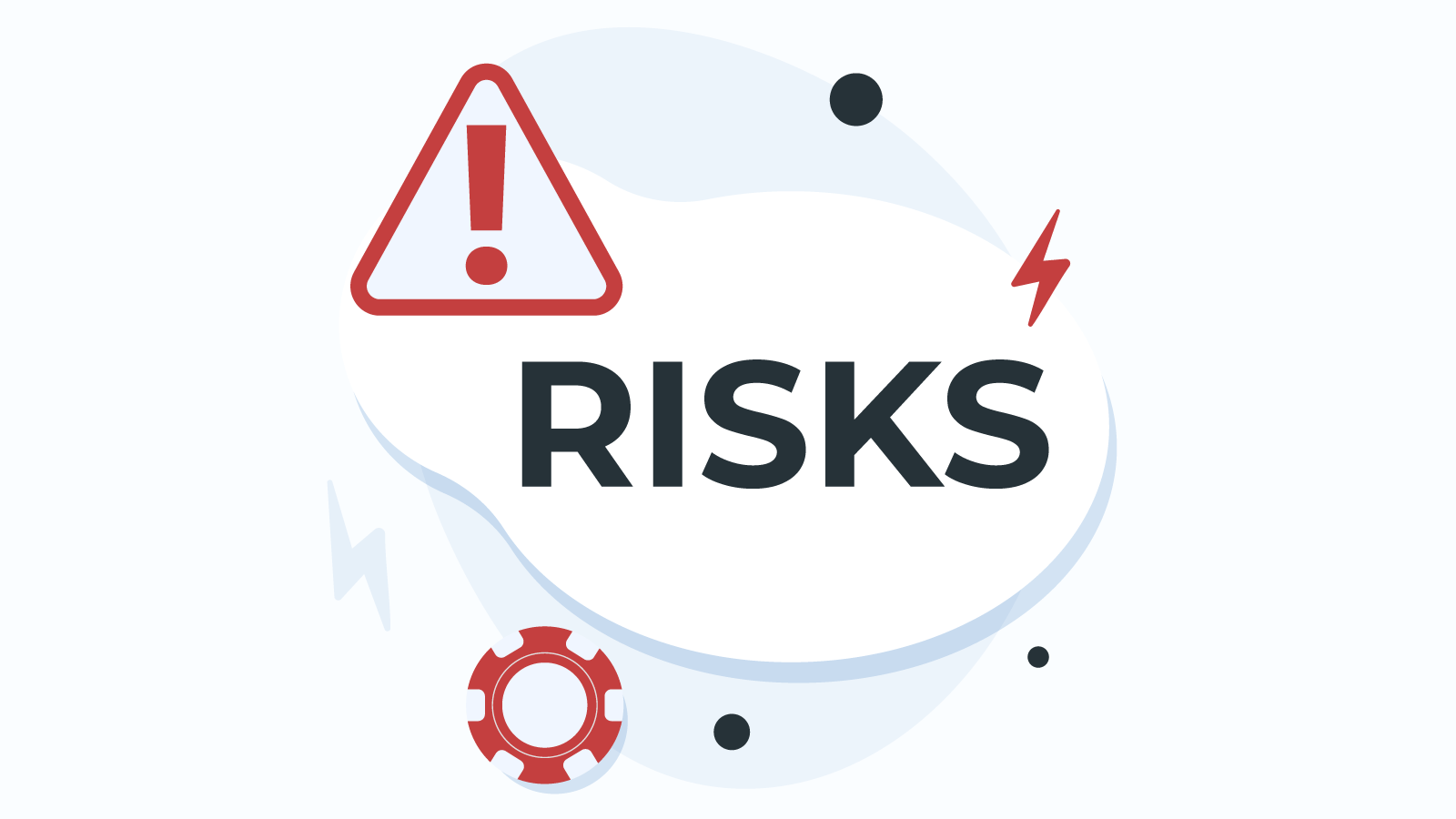 Without a doubt, the odds of the Romanosky Roulette system are appealing. However, like other Roulette betting strategies, it comes with several risks.
Irrespective of the bet type you choose, your stakes will always be high compared to your winnings, especially when there is no guarantee of a winning bet.
Hence, the strategy is not exactly safe for your bankroll. While the winnings may cover a big part of your losses, the system is not ideal for new players or for those with an average bankroll.
Besides that, the betting system does not affect your winning odds or the house edge. However, the limitations of this strategy don't have to stop you from trying it out. You just need to find the bet type that works for you and take your time to analyze each wager.
And if you're not ready to commit with real funds, you can always claim a bonus to help you test out the strategy. You may scroll through several promotions for new players to find something to your liking. We recommend redeeming an offer with bonus funds, as they can be used on several game types. After learning how the strategy goes, you may proceed to use your real bankroll. But don't forget to be cautious with your spending!