Live Dealer Games Security On Online Casinos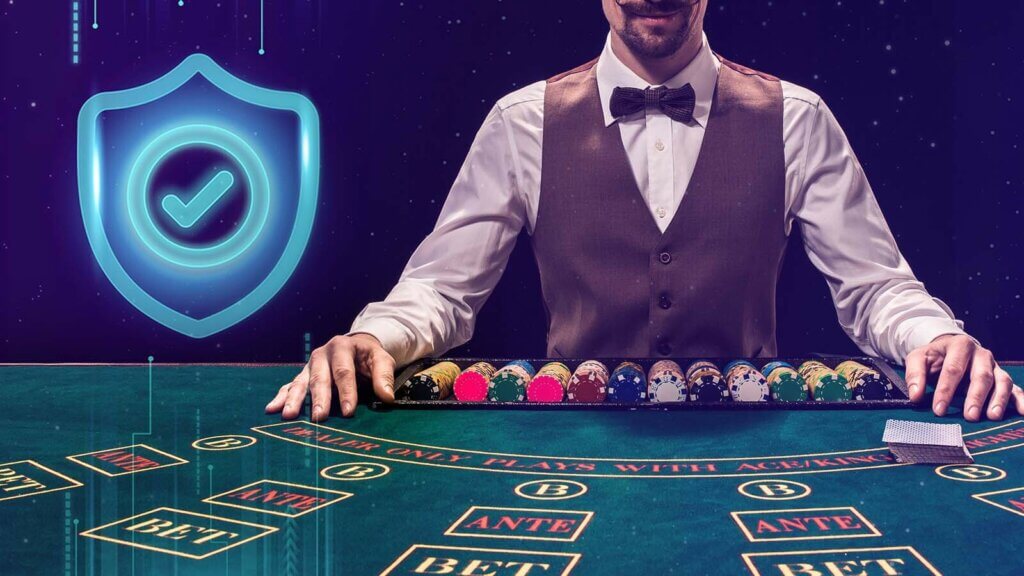 Security is a top concern when it comes to online casinos. This article outlines the various aspects of live casino security and explains them.
Live Casinos Security Components
Everything happening online is at risk, and online live dealer casinos are no exception. That's why online casinos implement security measures to protect sensitive player data and funds.
Some of the most prominent security components are encryption tools, firewalls, and a licence from a regulatory body.
Additionally, there are responsible gambling tools to ensure no problem gambling occurs.
Licences
The UK Gambling Commission regulates gambling activities across the United Kingdom and issues a licence to any gaming provider that meets the criteria. That is why when you're picking an online casino to play live games, make sure to check for a UK licence.
This signifies that all the games on the platform are regulated and independently audited.
Playing in a licensed casino ensures that all your rights as a player are respected.
Moreover, you can rest assured that the results of the games are random and, more importantly, fair.
Encryption And Safe Payments
Any safe casino will have encryption protocols in place. Usually, this encryption protocol is a Security Socket Layer (SSL), but some platforms employ Transport Layer Security (TLS) protocol.
These protocols provide online casino security by encrypting the player data to become unreadable to anyone without a key. The casino has the decryption key and can access the player data whenever needed – but no one else can.
However, encryption protocols in licensed casinos don't just encrypt personal information; they also encrypt all the payment details and ensure safe transactions to and from the platform.
Debit cards are the most common banking method on UK gambling platforms.
These cards are connected directly to the player's bank account, so the payment information must be kept safe.
Self-exclusion Programs
The self-exclusion schemes allow players to ban themselves from a casino. These schemes, also known as Responsible Gambling tools, are designed to help people battle gambling problems.
Those that want to control their spending in a casino environment can also impose limits. Players can set daily, weekly, or monthly limits and determine the maximum amount they can wager in a specific timeframe.
This feature is an essential part of the overall live casino security, and it's designed specifically for players – the casino doesn't benefit from it in any way.
However, the financial and emotional well-being of the players must be protected, hence the implementation of this security measure.
Are Live Dealer Casino Games Safe and Fair?
There has been much speculation regarding the fairness of live dealer casino games; people believe they are easier to manipulate than machine-operated games such as slots. However, specific measures ensure the right to the outcomes of the live games.
Safety in Live Casino
The first thing you need to consider in a live gaming platform is the dealer. Pick one operated by a trained and licensed dealer when choosing a live studio.
Also, when picking a live game, choose one that a reputable software provider develops. Not only is the quality superior, but these providers often hire their dealers – experienced professionals who understand the importance of online casino security.
The audits are pretty important, too – whether or not the games are independently audited by third parties, like the eCommerce Online Gaming Regulation and Assurance (eCOGRA).
If the games are subjected to an external audit, there's no doubt they're secure.
Live Casinos Fairness
Live operators have a way of ensuring the outcomes of live tables are random, i.e., not rigged. The RTP, or the Return to Player, is one thing that allows you to play at fair online casinos.
The RTP is a percentage that shows players how much they can expect to win back in the course of the game – the average is around 96%. This ensures the house edge is not too high, and the operator can't keep most of your wagers.
Everyone Is Watching The Table!
Let's not forget that the game is streamed in real-time, and plenty of people are watching. All the players at the table observe the dealer, but managers keep it for an added layer of online casino security.
The team responsible for streaming also monitors the game at all times to ensure the stream is uninterrupted.
With that many people observing the game, there's no room for cheating; if something isn't by the rules, someone is bound to notice.
Are Live Casino Games Rigged?
People often shy away from live casinos because they believe the games are rigged. However, this is untrue, especially with reputable platforms that value their players.
On regulated platforms, each live game is monitored, which means that all bets placed by the players are recorded and appear on a screen for the dealer to see.
The dealer has to do exactly as stated on the monitor, or the studio manager will get involved.
Additionally, gaming platforms use RNGs (Random Number Generators) and PRNGs (Pseudo Random Number Generators) when any outcomes need to be digitally determined. These programmes take the values, i.e., bets, and put them through a complex equation to produce random, unpredictable results.
The combination of monitors and RNGs or PRNGs makes it nearly impossible to manipulate the game, so the live games in any reputable casino cannot be rigged.
When you see that the platform uses RNGs or PRNGs, you'll know that the live casino security is fair.
The Dealer & the Cards: What's the Connection?
The dealer's primary responsibility is to deal cards. Of course, this does not apply to roulette, but when it comes to card games such as blackjack and baccarat, the dealer has a very prominent role in the game.
In addition to dealing with the cards, the dealer will manage the community cards and remove any discarded cards.
They also need to notify poker players when antes or blinds are coming up. Anything card-related depends on the dealer.
Live Online Casino Dealer Caught Cheating
Have you heard about live dealers cheating in online casinos? One prominent example involves a GGL dealer operating a blackjack table.
The dealer was caught on camera taking the card from underneath the one that was supposed to be dealt with.
Tips To Fast Check A Live Online Casino Security & Fairness
Check the casino licences and make sure that it has a UK Gambling Commission licence

See whether the platform has SSL or another type of encryption that protects players' data and funds

Make sure reputable game providers supply the live section

Find out whether the gaming site uses RNGs or PRNGs to determine the outcomes of the games

Check the RTP rates and choose games and providers offering an RTP above 96%

Get information on whether third parties independently audit the games

Consult the Privacy Policy to see whether the operator sells any of your data to third parties

Read the Terms and Conditions to learn more about the casino's operations and what rules it has to adhere to
Experts' Point of View
Live casino security is essential because it assures that a player's personal information and money are safe and that the outcomes of the games are fair and random.
When players know this, they're more relaxed, and they can focus on enjoying the game instead of worrying about being cheated on during the game.
Luckily, many reputable top online casinos in the UK take all the necessary measures and provide top-notch security. And better yet, it's pretty easy to check whether a platform it's safe to play on a particular platform.
Consider the above tips when choosing a live casino and considering what game to play.
Going through an online casino security checklist, you can see if the platform fulfils all the criteria to be deemed a safe site for UK players.