The Best Gambling Anime – Top 8 Shows Any Fan Should Watch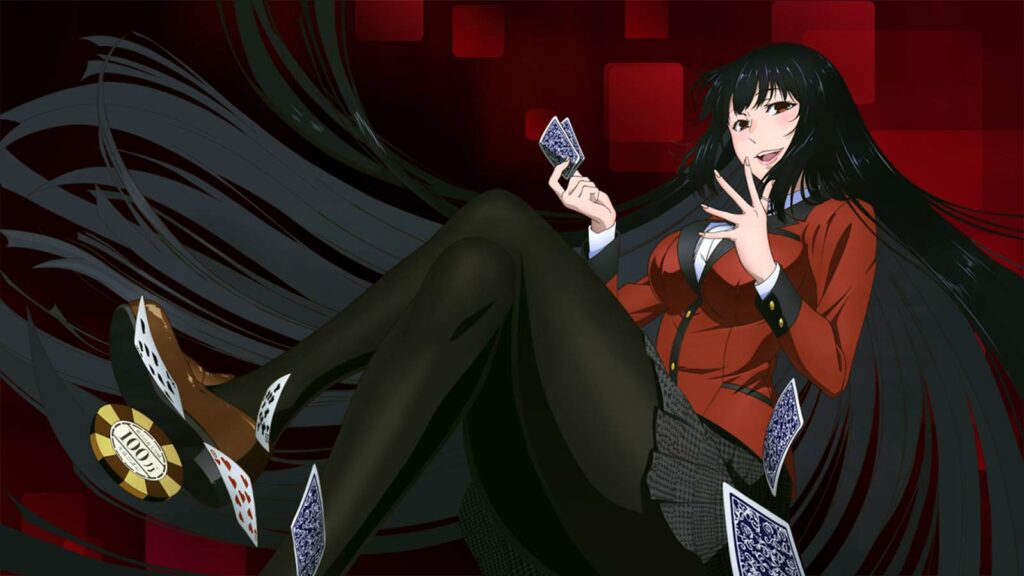 Gambling anime are quite popular among the otaku community. According to statistics, nearly 3.5% of the entire world watches anime shows regularly. Most of you have heard of Death Note, Full Metal Alchemist, or Naruto, but did you know that there are hundreds of Japanese cartoons that come with different themes, including gambling and casino games?
In today's article, we will dive into the world of gambling anime. While in western culture, poker and blackjack are the most popular games, in Japan, mahjong is the crowd's favourite. Some of the shows on our list are older, while others were just recently released and include elements from modern online casinos, similar to the ones we enjoy in our free time. Let's find out what are the top 8 anime about gambling:
C: The Money of Soul and Possibility Control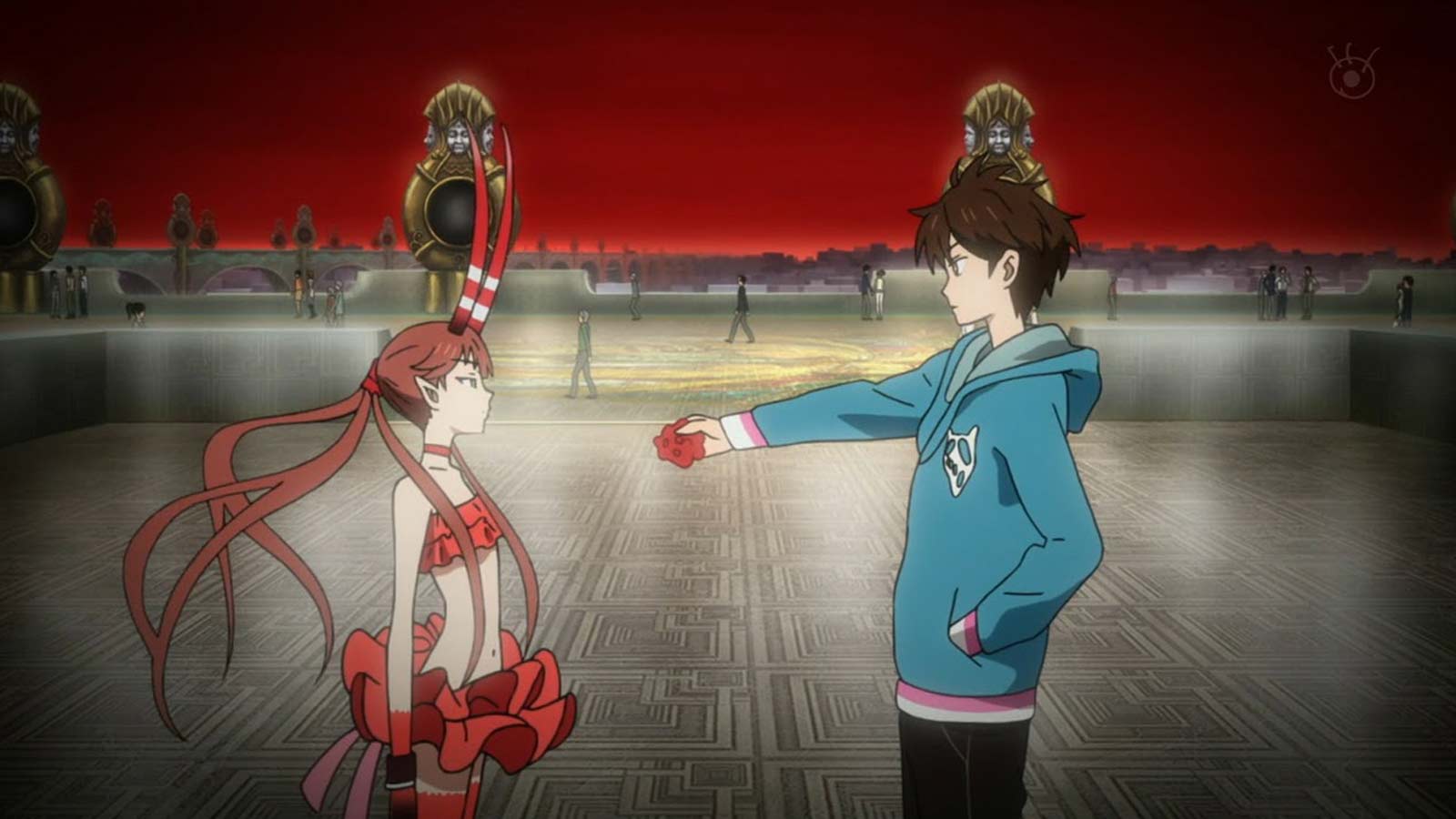 In a country where the economy is burning to the ground, second-year Economics student Kimikaru Yoga understands the situation too well, as he is surrounded by people that live in luxury but still struggle to make ends meet.
Yoga's life takes a turn when Masaki, a stranger wearing a top-hat, invites him to the Eastern Financial District, where there is a lot of wealth, as long as you wager your future as collateral. While he was skeptical at first, greed triumphs over reason, and Yoga accepts the offer to overcome poverty and receives the mantle of an "Entre."
To his surprise, the new district is an alternate dimension built similar to his world, where Entres are forced to participate in duels called "Deals," where they must stake their collateral.  Yoga quickly adapts to the new world, hoping to protect his future and wealth. He soon discovers how much money he is worth.
This mystery thriller will keep you on your toes, and you will always have to think in advance of the character's next move.  C: The Money of Soul and Possibility Control is an 11 episode gambling anime that is binge-worthy during your free time.
Mahjong Legend Akagi: The Genius Who Descended Into The Darkness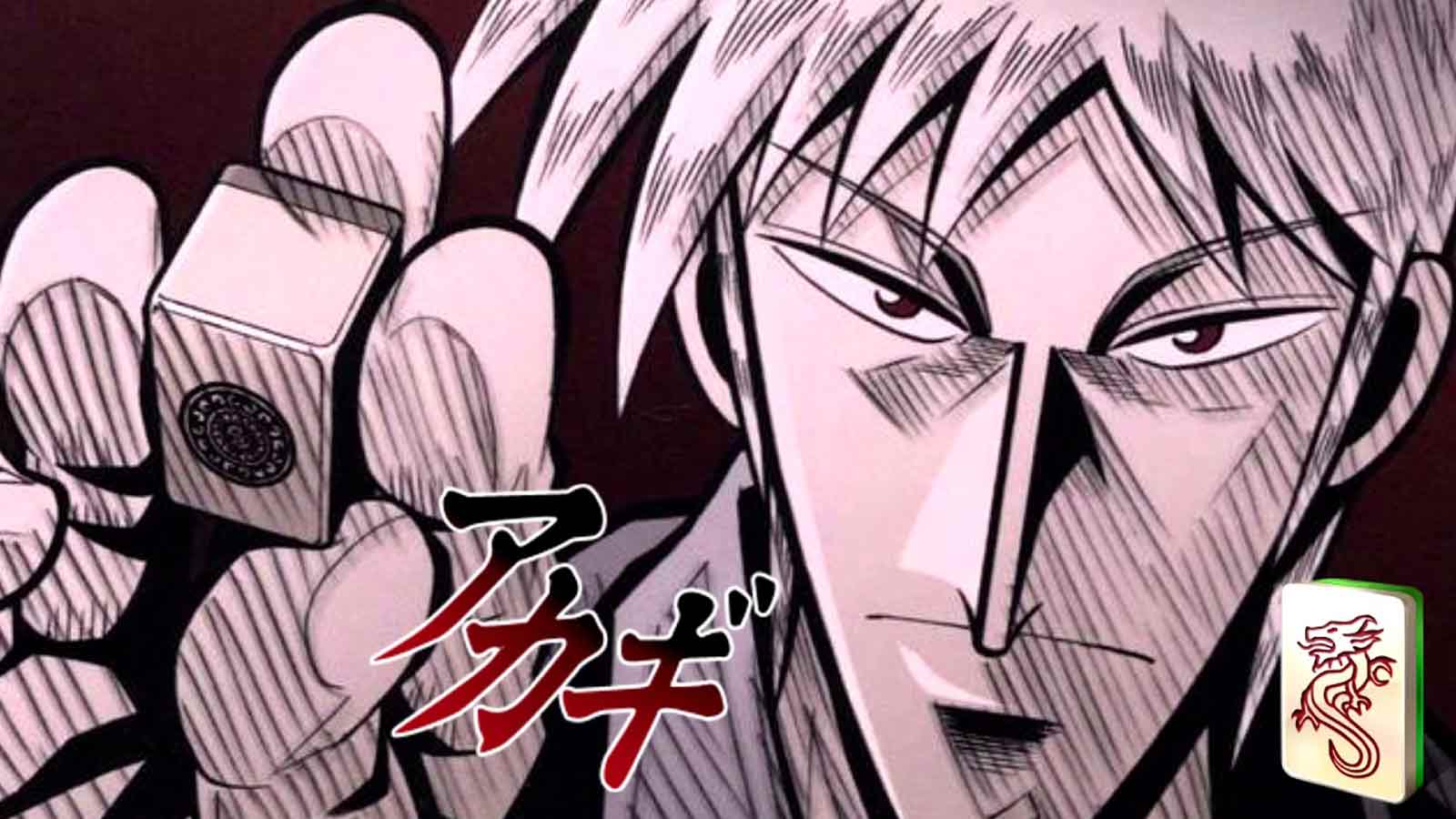 Released in 2005, Touhai Densetsu Akagi: Yami ni Maiorita Tensai is a gambling anime about mahjong. Set in the post-WWII era when Japan was recovering from the bombing of Hiroshima and Nagasaki, this show is a reminder that people were barely surviving from regular jobs, so they had to turn to illegal gambling to survive.
Mahjong is commonly known as a game you play with family and friends. However, this casual game is also played in the darkest corners of Japan's society. Nangou is a compulsive gambler that has to pay a massive debt of over 3 million yen. In his despair, he thinks that the best idea to get out of it is wagering his life on a game of mahjong against the Yakuza.
As the deadly game progresses, Nangou finds himself getting closer to death and moving further away from the prize. Luckily, the game is interrupted when Shiregeru Akagi bursts into the gambling parlor, trying to hide from the police. The Yakuza are quite upset by the disturbance, so Nangou passes the game to Akagi, who had no clue how to play mahjong.
After quickly learning the rules, Akagi starts playing, to the amusement of the mafia, who thought that they will have their most facile win ever. Unfortunately for them, the 13-year-old kid is a born winner at gambling who doesn't fear death. He wins the game and saves Nangou's life, but this is only the beginning. If you love psychological thrillers, you should follow Akagi's journey of becoming a legendary mahjong player.
Kaiji: Ultimate Survivor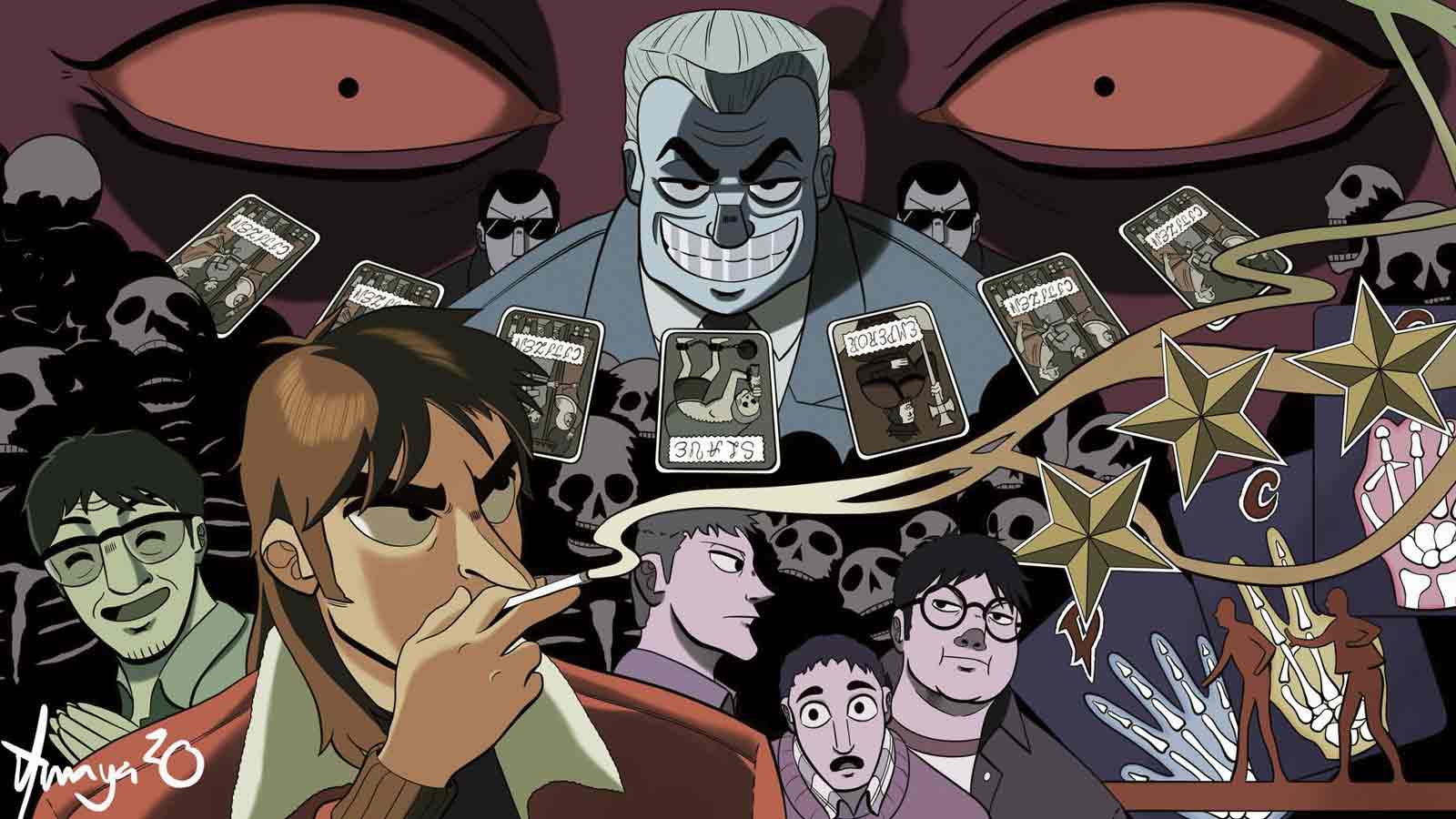 Inspired by the manga series written by Nobuyuki Fukumoto in 1996, the Gyakkyou Burai Kaiji was bought by Madhouse in 2007 and adapted into a 26 episode gambling anime televised series. Because the show was top-rated, Nippon TV created a continuation of the series, and soon after in 2009, the franchise was turned into a live-action movie trilogy.
Kaiji Itou, the protagonist, is a loiterer who wastes his life drinking beer and stealing hubcaps. One day, his life takes a turn when one of his former co-workers tricks him into inheriting a considerable debt to the Yakuza. To pay it, Kaiji is offered a shady deal that requires him to gamble on a cruising ship illegally.
Forced by the circumstances, Kaiji accepts the deal, only to find out that a life of torment and hell awaits him. Kaiji is now riding a roller-coaster of deceit, mind games, and cheating. This mind-bending anime is a psychological thriller in which the main character has to fight not only other gamblers but also the secrets of their psyches.
Kaiji has to learn the hard way that the real human nature comes to the surface when you're against the wall. In his strange cruise on the illegal gambling ring, he understands that the most dangerous aspects of life are greed, paranoia, and the survival instinct. Before you join an online casino, we highly recommend you watch this psychological gambling anime. Kaiji: Ultimate Survivor should be on your watchlist if you call yourself a true gambler.
Saki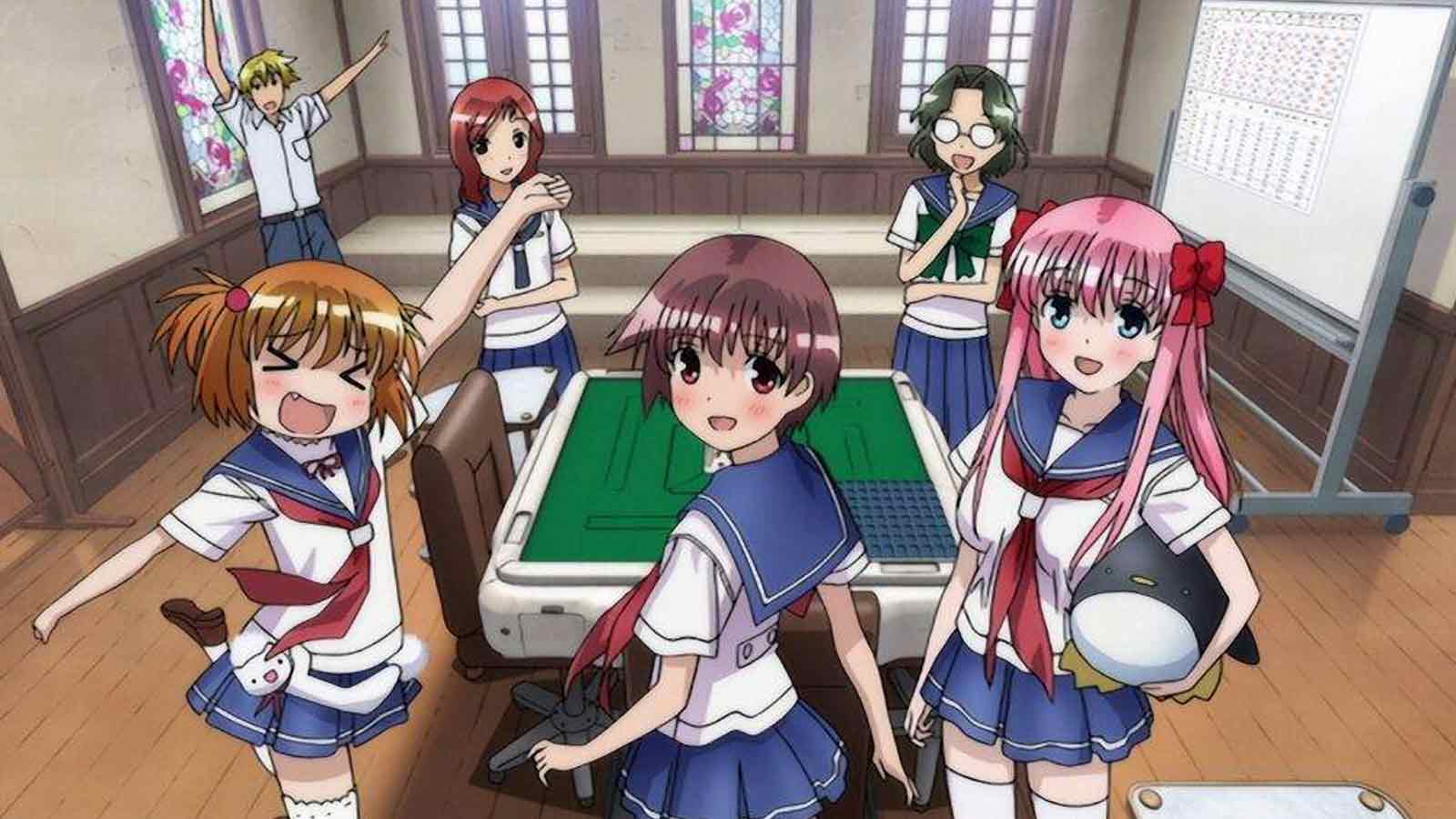 Saki is a great gambling anime that combines elements from Kekgurui and Akagi. The main character, Saki Miyanga is a first-year high school student that completely hates mahjong because the game affected her life in the past.
When her friend Kyoutarou Suga invites her to join the school's mahjong club, Saki discovers that she has the unique talent of revealing patterns, which is crucial to winning the game. After playing a few rounds, the club's president Hisa Takei notices Saki's unique playstyle, despite her attempts to hide it.
Her unconventional mahjong playstyle gives the young girl a massive edge over her opponents, and she quickly makes her way to the top. Saki's success damages her relationship with Nodoka Haramura, the champion of the previous year. However, she clears her misunderstanding with Nodoka, and they become best friends.
Throughout the show, Saki slowly starts loving mahjong once again and focuses on reaching the primary goal of the club – winning the national tournament. There are 25 episodes of Saki, and while it might not be the most intense gambling anime on the list, it is still quite enjoyable.
Usogui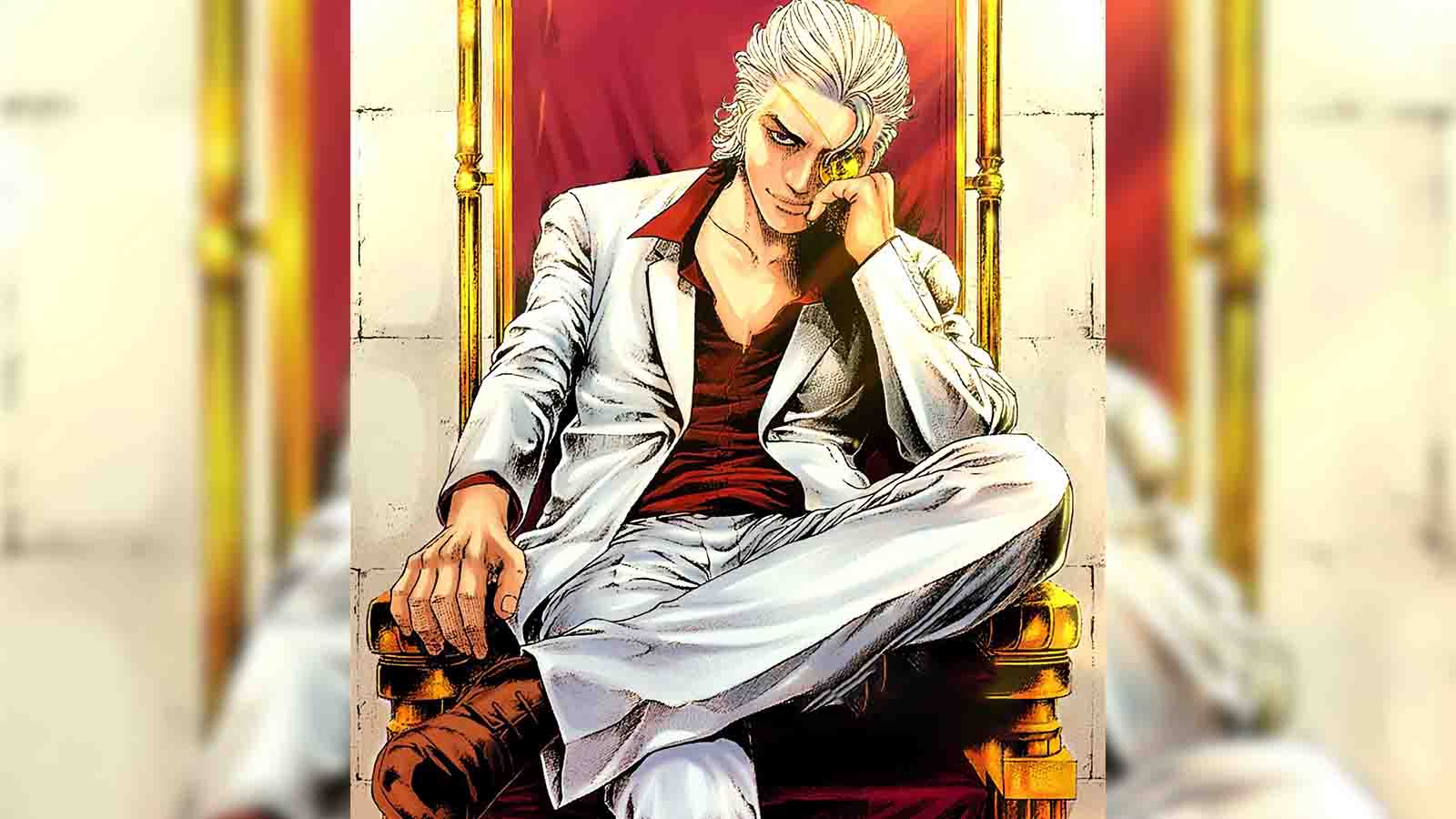 In the world of Usogui, some gamblers bet their lives as the ante. This psychological gambling anime is an apparent reference to the dangers of illegal gambling, where you need to use violence if you want to protect your winnings. 
This complex anime series has a deep story, and the plot takes a while to make sense. In Usogui, a powerful and violent organization called "Kagerou" is in charge of ensuring the integrity of the life-threatening gamblers.
Follow the adventure of Baku Madarame, a.k.a Usogui (which translates to The Lie Eater) as he tries to gamble against insane opponents at impossible games, like Old Maid, Hangman, or Escape the Abandoned Building. His final goal is to out-gamble everyone and take control of the organization of Kagerou and destroy it.
Of course, Usogui is a gambling anime and should be taken with a grain of salt. However, the show's philosophy and how it illustrates every type of gambler that exists out there is surprisingly accurate. Many critics have referred to this televised series as an excellent lesson for gambling addiction.
One Outs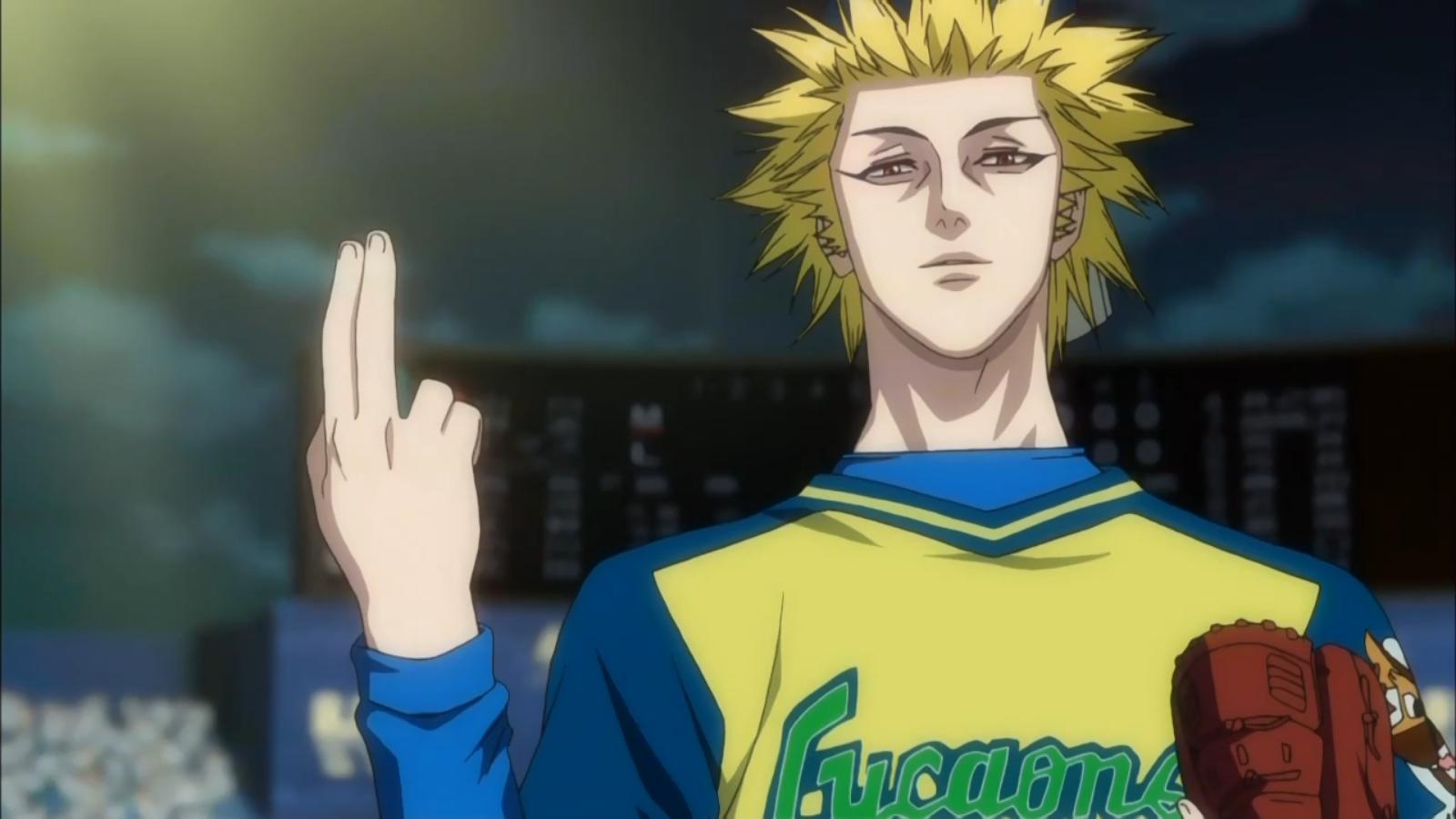 Toua Toguchi is a pro baseball pitcher with a burning passion for gambling. To make money on the streets of Okinawa, he plays a simplified version of baseball called One Outs, holding a record of 499 wins. Of course, in typical anime fashion, Toua has some supernatural abilities, being able to throw a "fastball" at over 134 kmph.
Impressed by Toua Toguchi's unique baseball skills, Hiromichi Kojima, a veteran slugger, scouts the pitcher to join his unsuccessful baseball team Saikyou Saitama Lycaons. While Kojima hopes the young prodigy will lead the team to qualify for the championship, Tsuneo Saikawa, the owner of the group, views Toua as a threat to the income generated by the organization. The reason is that Tsuneo is scheming to make easy money from betting.
Toua Tokuchi is ultimately against losing on purpose because he is a natural winner at baseball. Therefore, he proposes a deal Tsuneo can't refuse – for every "out" he pitches, Toua gets 5 million yen, but every run he gives up will cost him 50 million yen.
One Outs is a 25 episode anime series that shows the depths of baseball betting and the psychology behind being a talented player forced by circumstances to lose on purpose.
Legendary Gambler Tetsuya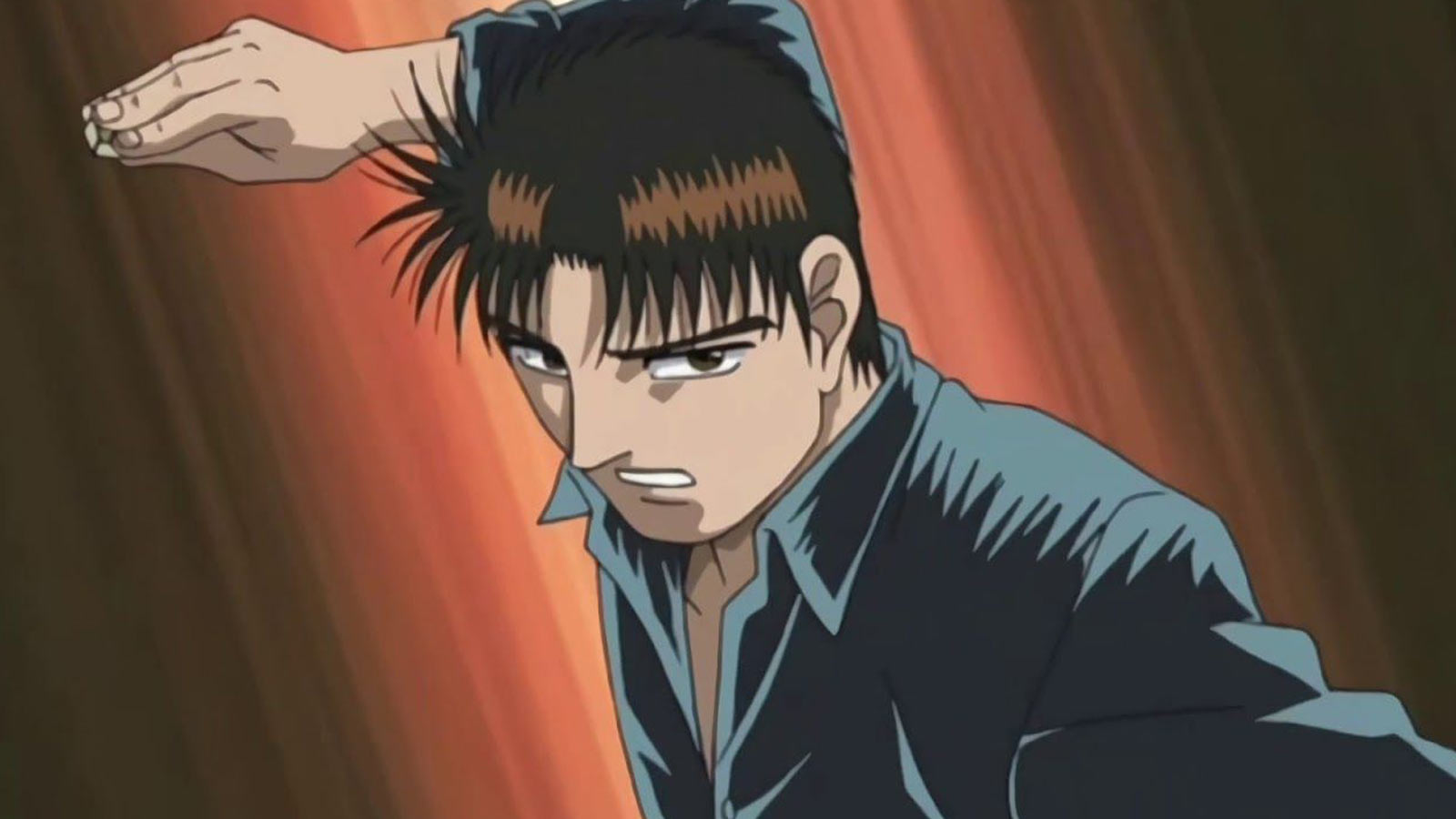 After World War 2 ended, the only profitable way to make a living in Japan was illegal gambling. That's because Japan was rebuilding itself from the ruins, and the wages at that time were incredibly low. Even basic necessities like food and shelter were hard to come by, so mastering a casino game was the best solution.
Tetsuya, a young talented gambler, survives by illegally playing mahjong for money. While the mahjong prodigy is gifted and mops the floor with his opponents, his career takes a wrong turn when a cheater called Boushu-san leaves him penniless. At this moment, Tetsuya understands that the only option to truly win every time is learning how to cheat. In his words: "It's only cheating when you get caught. Until then, it's a winning strategy".
In the world of Tetsuya, cheating is viewed as a skill, and not doing it could cost you everything. In fact, the mahjong pros were fighting to discover the opponent's cheating strategy, while trying to conceal their own by making certain moves. The show is very captivating, and you will learn a lot about gambling, especially if you're familiar with mahjong.
This gambling anime first aired in 2000, and is one of the most impressive shows in the list, even though it is about mahjong. The main character, Tetsuya, is inspired by the real-life legend Takehiro Irokawa who earned the nickname Hourouki Mahjong. In true anime fashion, the story is romanticized, but the realism infused in the show makes Legendary Gambler Tetsuya believable and enjoyable even for non-anime fans.
Kakegurui – Compulsive Gambler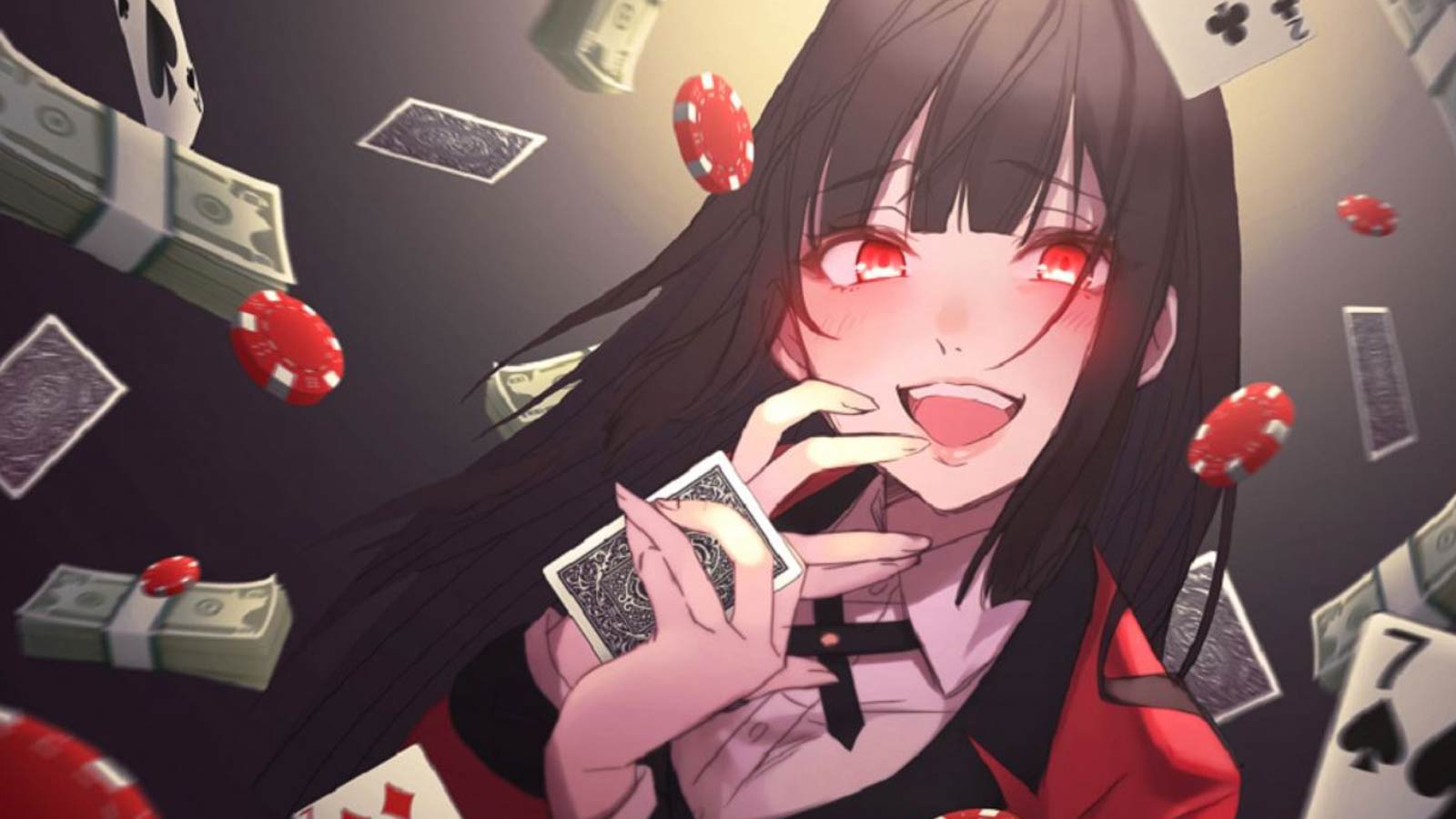 This gambling anime was first introduced in 2014 as a manga written by Homura Kawamoto but made its debut as an animated series in 2018. Kakegurui is set in Hyakkou Private Academy, a high school where students are rated based on their gambling abilities.
Most students at the academy come from wealthy families, and the children are housed and trained to become the most exceptional professional gamblers in the world. Pupils bring their own money to school and gamble in various casino games, learning how to manipulate others and deal with money. The winners will be triumphant, becoming the top players in the world, and losers that fail to climb the school's hierarchy will become "house pets."
Yumeko Jabami, a naïve transfer student, is the protagonist of Kakeguri. At first, she seems like the reason why she joined the gambling school is to try her hand in some poker games. However, she carries a dark secret. Yumeko is a compulsive gambler that doesn't care about winning, but rather lives for the thrill of gambling. Her only goal is to challenge the leaders of the hierarchy in games of chances and enslave them by using all the aces she's got up her sleeve.
In her process of outsmarting everyone in Kakegurui, Yumeko makes a lot of enemies. The student council is continuously trying to bring her down because they're starting to lose their advantage as she's quickly climbing up the ladder.
Will she become the best gambler in the world or a house pet like all the other losers? Find out by watching Kakegurui, an exciting gambling anime story that streams on Netflix.
Valuable Lessons from Gambling Anime
This marks the end of our list with the top 8 gambling anime that you shouldn't miss out. While there are lots of other animated series that cover the topic of casino games, we've concluded that the ones we've mentioned offer you the most insightful gambling lessons. Before you grab a casino promotion and embark on a mysterious adventure, make sure you understand the risks of illegal gambling.
While gambling is a common theme in anime, the real focus of these shows is more on the casino culture, and how risky illegal betting can be. For instance, mahjong is a family game, but at its core, it saved thousands of gamblers during the post-war crisis in Japan. However, many of these mahjong players lost their lives to the mafia after they couldn't pay up the crippling debt that they acquired while gambling.
Anyone can enjoy gambling anime since they have a psychological nature rooted deeply in the story. Of course, you should take these shows with a grain of salt and try to understand the message behind them.