How Many Decks in Blackjack Are There?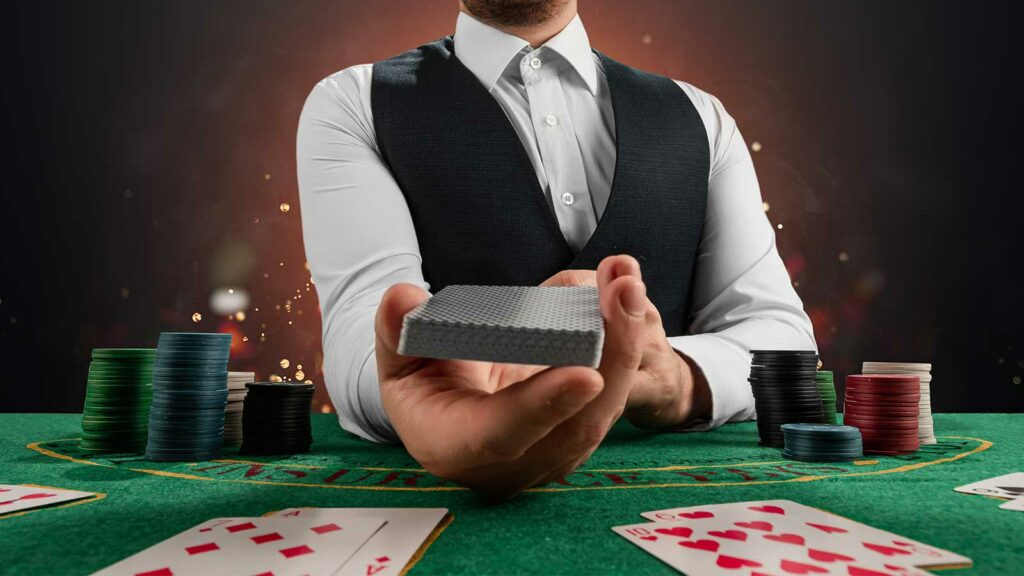 Are you curious to give Blackjack a try? Here's what you need to know about the gameplay and how the rules influence the house edge.
The main aim of our guide
One of the most critical factors impacting Blackjack is the number of decks used. Not only can it affect your house edge, but it can also determine the success of your strategy and payout limit. That's why knowing this information is essential before you play it for real money.
Standard Blackjack decks of cards range from one to eight. However, finding a UK casino site offering games with a higher number of decks wouldn't be out of place. 
How many decks do casinos use for Blackjack?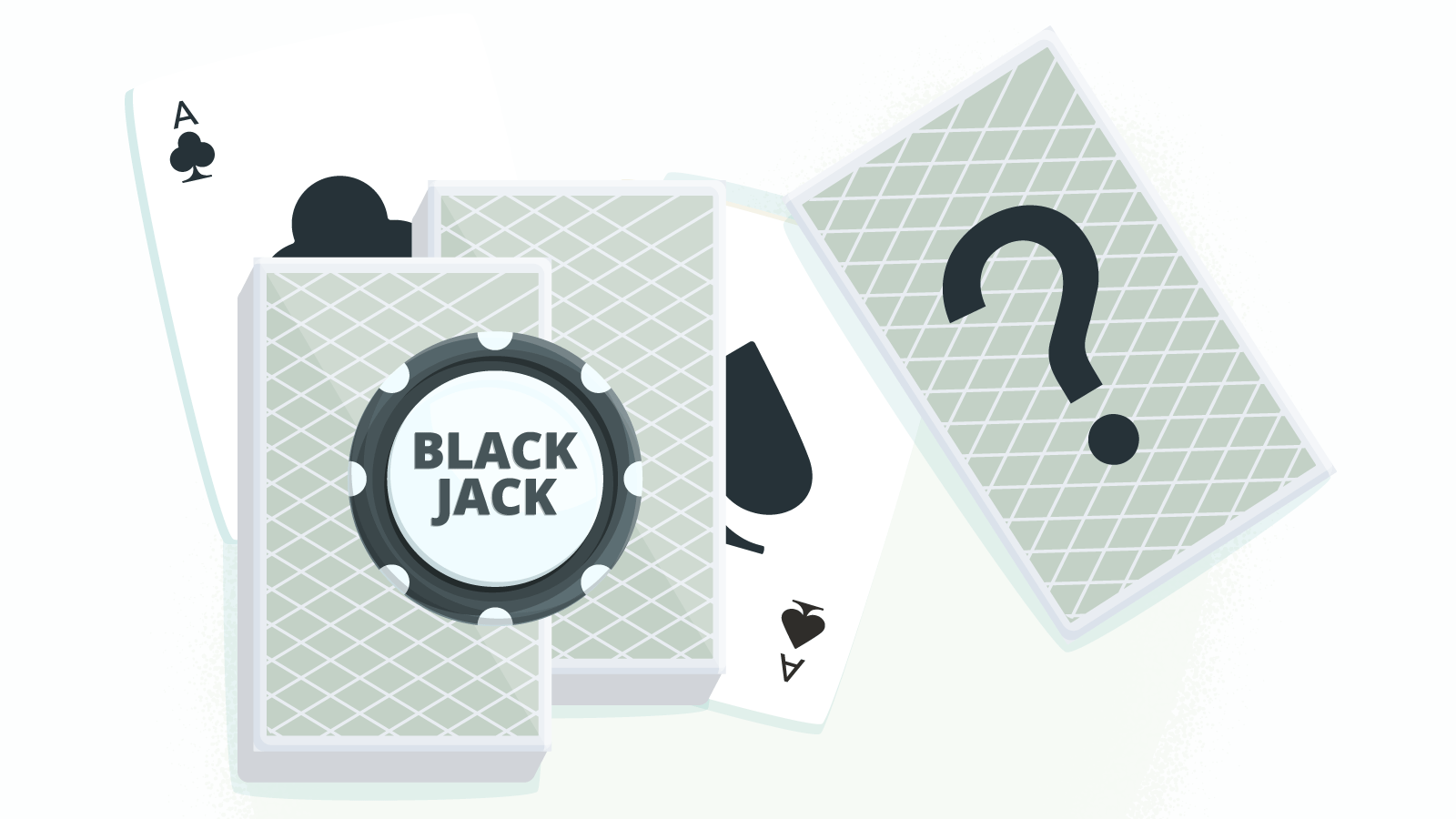 While people play a random game of 21 with one or two packs at home, land-based and online casinos usually feature tables with six to eight packs of 52 playing cards.
Although single deck variations still exist, they aren't as common as six or eight-deck games, which have fast become the industry's standard number of decks.
How many cards do casinos use for online Blackjack games?
Like brick and mortar versions, online Blackjack games usually feature between six to eight decks of cards. However, you will still find single-deck options available at some internet casinos.
The plus side of single-deck Blackjack
One of the reasons players love playing single-deck games is because it aids in card counting. With only one deck, you can easily calculate the remaining cards and use them to your advantage.
However, it is challenging to apply this method online because the Random Number Generators (RNGs) casino sites use it to automatically shuffle their cards. 
Playing single-deck or multi-deck 21 variations online still opens you to several perks and favourable house edges. 
The Blackjack number of decks used by live dealers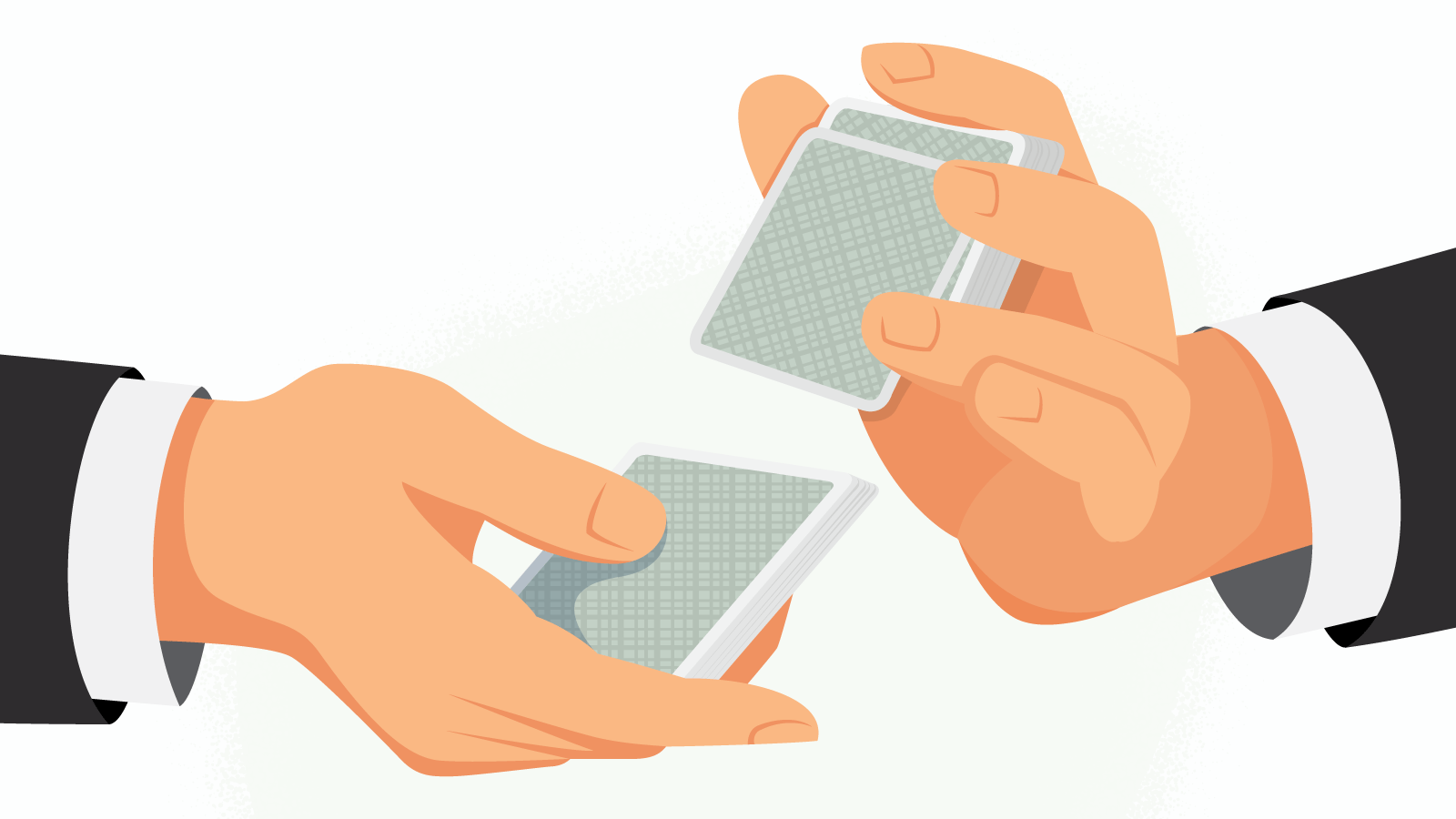 Live dealer game tables for such games usually use eight decks of cards. But, you will also find options with six packs of cards. To ensure fairness, operators guide the usage of packs in live games with several rules. For example, some games enable auto-shuffling like traditional online variations, while some burn their cards.
What does "burning" mean?
In this context, burning means removing the top card and the face-down cards from the deck before the round starts. Burning can also take place at other points before a new game starts.
Live casino games give you a more realistic experience and some online Blackjack casino bonuses. 
You will be playing against professional human dealers in real-time. However, the live game shares similar features and basic rules with traditional variants.
Why do some Blackjack sites feature fewer decks?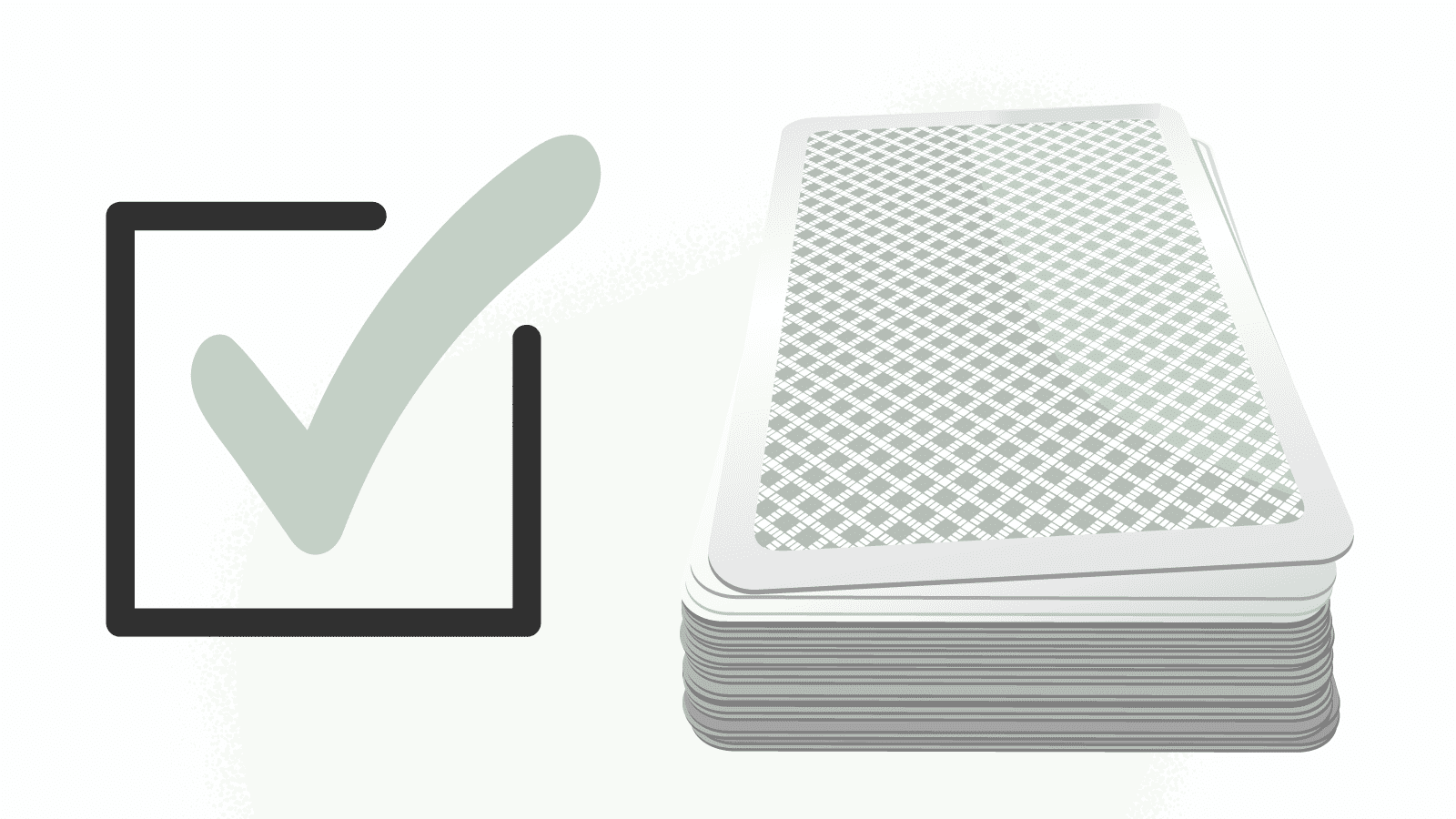 Every player finds single-deck variations more appealing because of their low house edge. Online platforms that wish to be competitive in the industry offer games with smaller packs. 
Some websites put some things in place to ensure they don't get "burnt" from offering lower packs' games. Random Number Generators (RNGs) make it almost impossible for players to count cards online.
Payout examples and our advice
Some casinos offer a 6:5 payout for single-deck games rather than 3:2. This further tilts the advantage towards the house, but it's a loss for the player in the long run. If you wager $20 and win on a 3/2 single-deck pontoon variant, your winnings would be $30. But, for the same bet, you will get $24 on a 6:5 game.
Irrespective of the number of packs, we recommend playing only games with a 3:2 payout powered by new UK online casinos.
The Blackjack number of decks and the house edge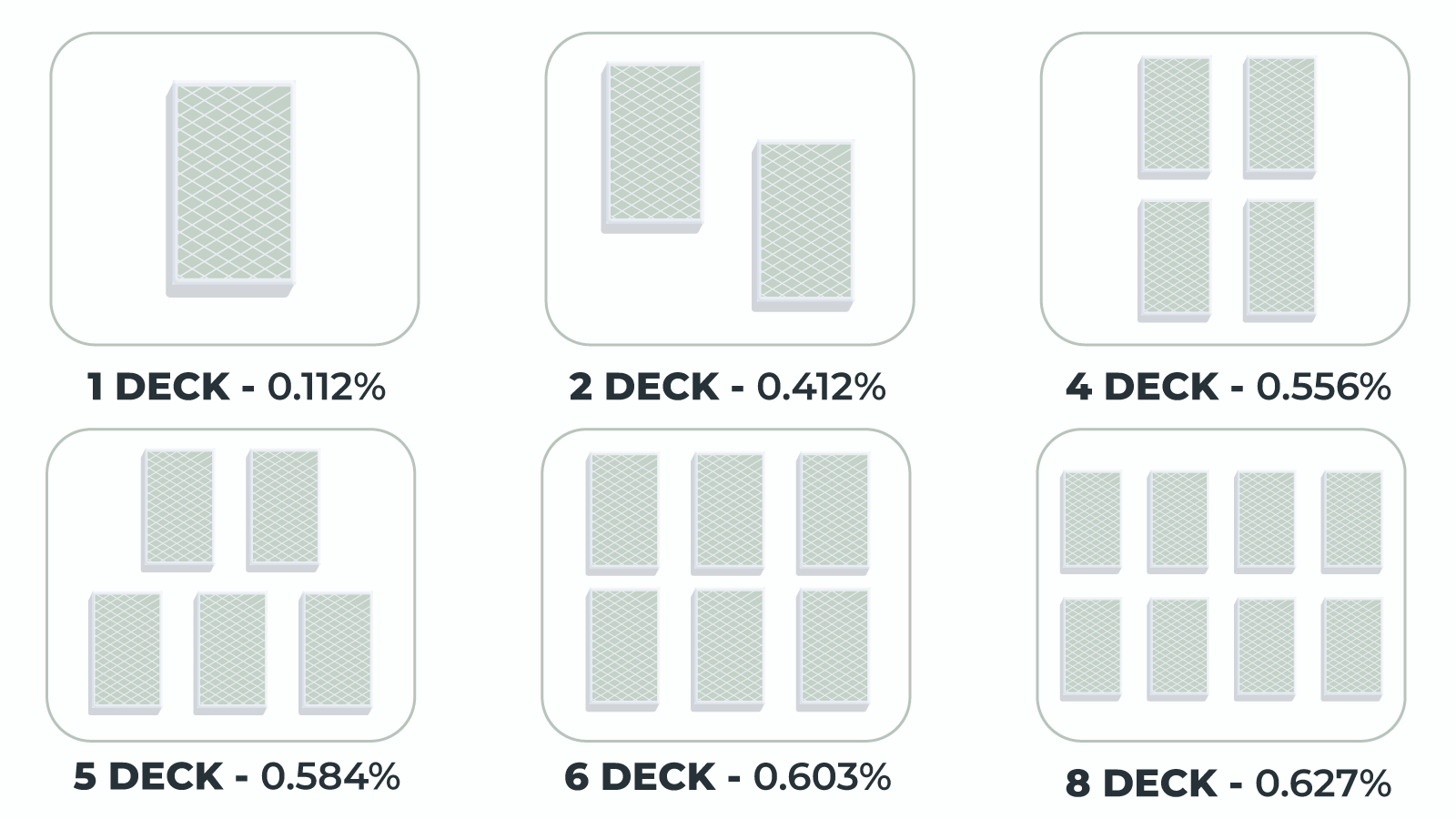 It is general knowledge that playing multi-deck variants can negatively impact your long-term strategy. While the house advantage of a single deck game is 0.112%, it increases to 0.412% on double-deck versions. The Standard 6 and 8 packs at online casinos come with 0.603% and 0.627%, respectively.
There are several ways the packs of cards contribute to its house edge. Experts will point to the ease or difficulty of card counting on single and multiple hands. 
The chances of getting a natural Blackjack
Let's say you are playing a single-hand game, and one of your hole cards is an ace. Your probability of getting a blackjack is 16/51 or 31.373%. 16 represents the quantity of 10s or face cards available out of the remaining 51 cards. If you play a two-deck game, your odds reduce to 32/103 or 31.068%.
This may look like a slight difference, but it can significantly affect your win rate in the long run. 
As the decks increase, your odds of winning become less favourable.
Blackjack is favourable for the gambler when played fairly
While some of the best online casinos from the UK  offer decent gameplay, sign-up bonuses, and good chances for their players, using six to eight packs of cards, others tend to use disadvantageous strategies. If you want to try it, ensure your chosen casino offers equitable rules.