Andy Cole Interview: Premier League's Hottest Topics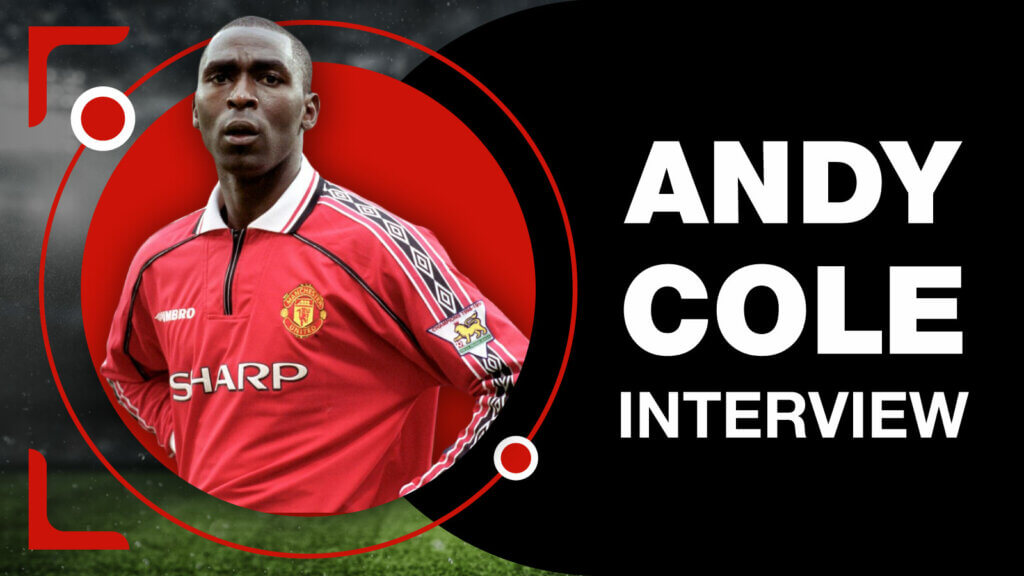 KingCasinoBonus has sat down with legendary Premier League striker and treble-winner, Andy Cole. Find out all the exclusive statements!
Interview with Andy Cole: Highlights
The 51-year-old warned that Jude Bellingham will already have a plan set in place for where he wants to go in the summer, and if Liverpool can't afford the teenager, they should sign Declan Rice instead.
Cole suggests Manchester United should look to sign Victor Osimhen ahead of Harry Kane so they can focus on building for the future rather than instant success, which he compared to Manchester City's model under Pep Guardiola.
Q1: Who would help Man Utd more in next season's title race?
AC: "It depends on what Manchester United are looking for. No doubt they'll have options, but it depends on the fee as well. Harry Kane is 30 years old next season, and Victor Osimhen is currently 24 years old, and he's already done a lot at his age too.
Italian football is difficult, so there will be no doubts that he can adapt to the Premier League. If Manchester United want to pay £100m for a 24-year-old or a 30-year-old, you have to look at it in the long term.
The only value Manchester United can get from Kane is if he can win them the Premier League. Meanwhile, Osimhen is near the same age as Erling Haaland and look what he's doing at the moment.
If Haaland stays at Manchester City for another four years, he'll still be worth £100m or more, so it depends on what Manchester United are looking for."
Q2: Should Man United buy success with Kane or build the future with Osimhen?
AC: "Unfortunately in football, everyone wants instant success, but that does not guarantee a bright future for the club.
Look at Manchester City, they did not have instant success and look at them now. The players Pep Guardiola brought in were always young, and he could still sell them for a decent price if he needed to.
That's what I think Manchester United should do because they have been caught too many times bringing in players for ridiculous fees and on ridiculous wages who have run down their contracts, I don't think they can afford to be caught in that position again."
Q3: If Newcastle qualified for the Champions League, could they emerge as a candidate for silverware?
AC: "Newcastle don't need to try to sign Harry Kane, they already have a very good centre-forward in Alexander Isak, I really like him.
Isak has scored a few goals recently, and he offers something totally different to Callum Wilson. Isak is more mobile, can run at defenders, has great awareness, can take the ball on the half-turn to get his shots off and runs in behind too.
Newcastle have Isak and Wilson as backup, I'd be very surprised to see them try to sign any other striker, not just Kane."
Q4: Who would you rather keep on the right wing, Jadon Sancho or Antony?
AC: "If I was a striker in this Manchester United team and saw Antony was playing on the right-wing, I'd be pulling my hair out because I know that I will never get a cross my way on his weak right foot.
If I was making a run into the box, I would not expect anything because he always chops back onto his left foot. The game has changed now and what managers want from wingers is different.
Antony has had a tough first season in the Premier League, he's finding his feet, but I don't think he expected the Premier League to be as hard as it is.
Now defenders who play against him know there is no element of surprise because he always wants to come back on his left foot."
Q5: Should Jadon Sancho look to revive his career elsewhere in the summer?
AC: "I really hope it works for Jadon [Sancho], but he never seems to come back well from breaks such as the World Cup, the start of this and last season. I just hope he can get back to the level he knows he can get back to.
It's easy for ex-players and the media to say 'he needs this and that', but I just hope he can get back to his top levels. Sancho needs to do a Marcus Rashford, he needs to get back to basics, believe in himself and recover his form."
Q6: Frenkie de Jong is again linked with a move to Man Utd. Is it worth another summer saga?
AC: "I look at it from the outside, is Frenkie de Jong the midfield player that could do a job for Manchester United? No, he's not.
De Jong is a very good player, and there is no disputing that, but if you look at last season's transfer saga and you have to wonder why would Manchester United want to put themselves in that position again?
They need to go for players who actually want to come to the club like Casemiro did. Going in for De Jong again makes them look desperate, this is Manchester United football club we're talking about here, if you don't want to play for them then move on to your next option.
It's not like Manchester United is a non-league football club, the answer to the move should be yes or no, not a maybe.
I'm looking at the two games Barcelona played against Manchester United, and you can see they were not the better team. But if they win LaLiga, De Jong will be thinking what's the point in him leaving Barcelona, especially if they fix their financial problems."
Q7: Is there anyone else you would like Man Utd to sign?
AC: "I just want Manchester United to know they can go out there and attract any top player. It's not about money, these top players that are available will all be fought for and paid a decent wage anyway, so that makes no difference anymore.
Players will look at their chances to win the Premier League, FA Cup or League Cup and the Champions League. Everyone wants to win their domestic league and Champions League.
Look at Real Madrid's form in LaLiga compared to when they play in the Champions League, it's like they play two separate teams, but it's just a case of mentality."
Q8: Harry Maguire was being booed by fans against Fulham. Whom should he join if his time at Old Trafford is coming to an end?
AC: "If Manchester United decide to sell Harry Maguire in the summer, he needs to take any option he can get. There is no doubt he'll have multiple clubs in for him.
But Erik ten Hag will have to make the decision to sell Maguire or not, he'll make a decision based on the future of his defence. Manchester United has spent over £200m on centre halves in recent years, before Ten Hag came in and then spent another £50m on Lisandro Martinez, couldn't they have spent this money on centre forwards instead?
Maguire has found it hard to play for Manchester United, but when he plays for England he's one of if not the best centre-backs we have.
There are no weekends off at Manchester United off, one week off and everyone will say how bad you are. If Maguire moves on, I hope he takes the best option for his family and his career."
Q9: Emmanuel Adebayor has reportedly retired today, what do you make of his career?
AC: "Emmanuel Adebayor was a fantastic player, he was so talented, and the goals he got showed he had great ability. Adebayor had it all, but he was a misunderstood individual like myself. I loved watching him at Arsenal, Manchester City and Tottenham, he had so much talent.
[about him scoring against Arsenal] I didn't find his celebration against Arsenal disrespectful. Adebayor got abused for 95 minutes, saying stuff probably about him, his family or anything else, but because the way he celebrated it was disrespectful to the fans. Does it make sense?
He got abused for 95 minutes, so he deserves to celebrate any way he wants to. It's not like the fans were polite. Adebayor would not have done what he did if he did not receive abuse from the Arsenal fans, you can't have it all your own way."
Q10: Why can't Phil Foden kick on for England?
AC: "Phil Foden is a really special talent. If you look at some of the best European sides, they never have the same team and tend to mix up their starting XIs.
But we have persistence in England that we have to play the same line-up every time, why doesn't Gareth Southgate take 11 players and not a squad then?
Foden is England's future, he's so talented and graceful on the ball, yes he can go through a lack of form, but he has a whole lot of potential.
I look at Ivan Toney, he plays for Brentford and scores all the time, but somehow he did not go to the World Cup. Now people are talking about him not getting into the England team. If Toney does not play well, people will say he's not good enough even though it will be one or two appearances, that's how impatient the media can be. At the end of the day, it's what the manager feels and what team he wants to play."
Q11: Harry Maguire was included in the England squad despite struggling for game time at Man Utd. What did you think of that?
AC: "Things have changed for England now. It used to be if you were playing well for your respective club, you'd have a great opportunity to play for England.
Now that's changed, I'm not going to say Harry Maguire should not start for England because of his lack of game time with Manchester United. But I do feel sorry for the players who are playing well and can't get into the England team, Fikayo Tomori was fantastic last season but got nowhere near the World Cup squad.
This season has been a bit tougher for him, but he's still playing week in and week out for AC Milan, one of the biggest clubs in the world.
It's a general thing with international managers not picking players in form, not just Gareth Southgate. In the past England have taken injured players, so it's not just Southgate, it's more England in a nutshell."
Q12: With Aaron Ramsdale on form and Jordan Pickford at the other end of the table, will Gareth Southgate switch his goalkeeper?
AC: "Aaron Ramsdale has to be very patient to eventually start ahead Jordan Pickford, it's similar to the Peter Shilton and Ray Clemence situation England had before. The goalkeeper spot has always been competitive for England, it's just the way it is."
Q13: Is Ivan Toney close to challenging Harry Kane for a starting spot?
AC: "Ivan Toney is not good enough to rival Harry Kane for a starting spot, but he will be a very good option off the bench. Toney has proven he is a very good player at Premier League level, now he needs to prove it on the international stage. I've loved watching Toney over the past two years, he's done it the hard way too, going from Northampton, Newcastle, Peterborough and multiple loans. He's some guy."
Q14: How do you see England vs Italy and Ukraine going?
AC: "Italy in Naples will be a very tough game. I feel like it will be a draw, the Italians will be fired up because they did not qualify for the World Cup and they are the Euros reigning champions. After we went 1-0 up in the Euro final, the Italians dominated us after. I predict it to be 1-1.
This game is a chance to get revenge. But England usually looks back on defeats against any team they face, one team could have beaten England 20 years ago, and we'd still want revenge."
Q15: And Ukraine, how do you see that game going?
AC: "England will comfortably beat Ukraine. I was having this debate with someone else recently, but England always gets favourable groups in international competitions, especially the Euros. We beat them 4-0 last time, and I won't be surprised if we do it again."
Q16: Will Newcastle struggle to keep hold of Bruno Guimaraes this summer?
AC: "It will be very hard for any team like Manchester City, Real Madrid or anyone else to get Bruno Guimaraes out of Newcastle. They have the financial backing now so they can turn down any offer they receive for him.
If Newcastle get top four, I think they will spend a lot of money in the summer because they can attract a lot more players, but they will be aware of Financial Fair Play.
Except for Alexander Isak and Guimaraes, Newcastle don't have any outstanding superstars, and they need to be able to score more goals. However, they are a very good team, clean sheets are no problem for them if they can score more goals than they will achieve Champions League football."
Q17: Should Man City pounce on the opportunity to sign Kieran Tierney?
AC: "I like Kieran Tierney, he's had a few problems with injuries, but he is talented. If Arsenal are prepared to sell him, he would not be struggling for options.
If Manchester City are in for him, I could see that working, but he'd be competing with Ben Chilwell who is linked to Manchester City too. Tierney will want to play, and if he doesn't continue to get any game time, he'll be looking to go somewhere else in the summer.
If you look at Tierney's situation previously, you have to ask what did he actually do wrong? He's never let Arsenal or Mikel Arteta down, of course, he's had a few injuries but he's always played well.
He's a kid with a brilliant attitude. If he sees a chance to get more game time I'm sure he'll put his head down and work for it, but I would not be surprised if he took the option to move on and play more."
Q18: Arsenal seems to be favourites to sign Declan Rice in the summer, is that the right move for Rice or should he go to a team like Chelsea or Liverpool?
AC: "Declan Rice has been inconsistent, and also what does he actually do? Is Arsenal the right move? They already have Jorginho, Thomas Partey, Granit Xhaka and Mohamed Elneny just signed a contract extension.
Someone has to move on because Mikel Arteta won't be able to keep everyone happy. Is Chelsea the right move? I'm not sure either because they have just bought Enzo Fernandez and other midfielders. It will be interesting who he chooses. But with the £100m price tag West Ham have put on him, I would not pay that.
If Liverpool are interested in Rice, then I'd be looking at that midfield if I was him because they need a rebuild. It looks like Liverpool plan to start all over again in the midfield, and also it's not like they're a bad team, they will bounce back next season."
Q19: Evan Ferguson looks to be the next big striker in the Premier League, should one of the top teams snatch him up?
AC: "Evan Ferguson is only 18 years old, and he'll want to continue playing games. If he went to Manchester United now, it would stump his growth.
At his age, he just needs to play more games, he's shown he can do it in the FA Cup against Grimsby, I want to see more from him in the Premier League."
Q20: Where would you Karou Mitoma recommend he goes to develop even further?
AC: "Kaoru Mitoma should enjoy his time at Brighton. I love their whole model, they only paid £2.5m for Mitoma and if he moves on, he'll probably cost £50m-£60m. Apparently, Brighton already have a replacement for Moises Caicedo if he moves on in the summer.
I love the way Brighton buys players for next to nothing and then sells them on for a fortune, and I hope it continues to work for them.
Mitoma should have the hope and expectations of a big move, but only time will tell if that happens because this is his first season in the Premier League. Mitoma has made a fantastic start to his career."
Q21: Alexis Mac Allister has been linked heavily to Man City and Arsenal too. Where would you go if you were him?
AC: "Alexis Mac Allister would be a good buy for Arsenal and could replace Granit Xhaka. But then if Declan Rice went too, how would they all fit in? Mac Allister had great energy and contributed to some great goals in the World Cup.
This kid has it all, and he will have loads of options in the summer. It will be hard for Brighton to hold onto him. They will make an absolute fortune on him because he only cost them £7m, I can see him going for at least £60m in the summer.
Fair play to Mac Allister, he's come from South America and impressed straight away and at a fashionable club like Brighton too."
Q22: Liverpool may be unable to compete with Real Madrid or Manchester City's spending for Jude Bellingham, but is he crucial for their rebuild?
AC: "The midfield is where Liverpool are really struggling with and need new additions, but the £120m price tag on Jude Bellingham would be hard for any club to try to pay for. Even Manchester City and Real Madrid would struggle with that price.
Bellingham needs to decide what path he wants to take, if he joined Liverpool he would definitely make them a better team.
Where Bellingham ends up is based on what his original project was when he joined Borussia Dortmund. Dortmund must have known how long he wanted to spend in Germany because he would have had a plan.
Bellingham would have no trouble going to Real Madrid and living in Spain because he's experienced how to do it in Germany already. But Real Madrid already have Eduardo Camavinga and Aurélien Tchouaméni.
They are probably the most talented young midfielders in Europe, so it would be hard competition.
So Bellingham will have Manchester City as an option too with Ilkay Gundogan's contract running out, Bernardo Silva wanting to go abroad and Kevin De Bruyne is not getting any younger.
Bellingham won't care about money, he'll care about where is best to develop his game."
Q23: What would you make of Richarlison's antics if you were his teammate?
AC: "Richarlison definitely has a different personality to your usual football player. But if you look at his career, he's not a goalscorer, even though he's scored great goals in the World Cup.
Richarlison knew when he joined Tottenham that he would not be able to play week in and week out as a centre forward because he was never going to play in front of Harry Kane.
If he's honest with himself, he should know that he should not be playing week in and week out in front of Kane. You have to look at both sides, why did Tottenham bring him in and why did Richarlison choose to go to Tottenham? It's a double-edged sword.
It's all going off at Tottenham, the manager has lost the plot, Richarlison has lost the plot, and it's an unhappy camp. When things are not going well, sh*t happens."
Q24: Should Chelsea do their utmost to keep Ben Chilwell even with Marc Cucurella as a backup?
AC: "It's not the first time Manchester City have been linked with Ben Chilwell. Let's not forget that Marc Cucurella played under Graham Potter at Brighton, so he knows what he wants from him.
Chelsea need to address how many players they need to get rid of and what kore players they plan to bring in. Chilwell will be one of those players who will find out what position he's in when it comes to the summer."
Q25: Is Erling Haaland not suited to Man City despite scoring 8 goals in 2 games?
AC: "If Erling Haaland made a mistake going to Manchester City, then I made a mistake every season when I played football. When Jamie Carragher originally made that statement, he was on around 30 goals in all competitions.
A month and a bit later, he's now on 40 goals. Where is the mistake? When Manchester City play to his strengths, and Haaland improves even more, will it still be a bad move? But hey, what do I know about playing centre forward… I give up!"