Exclusive With Louis Saha: Premier League Insights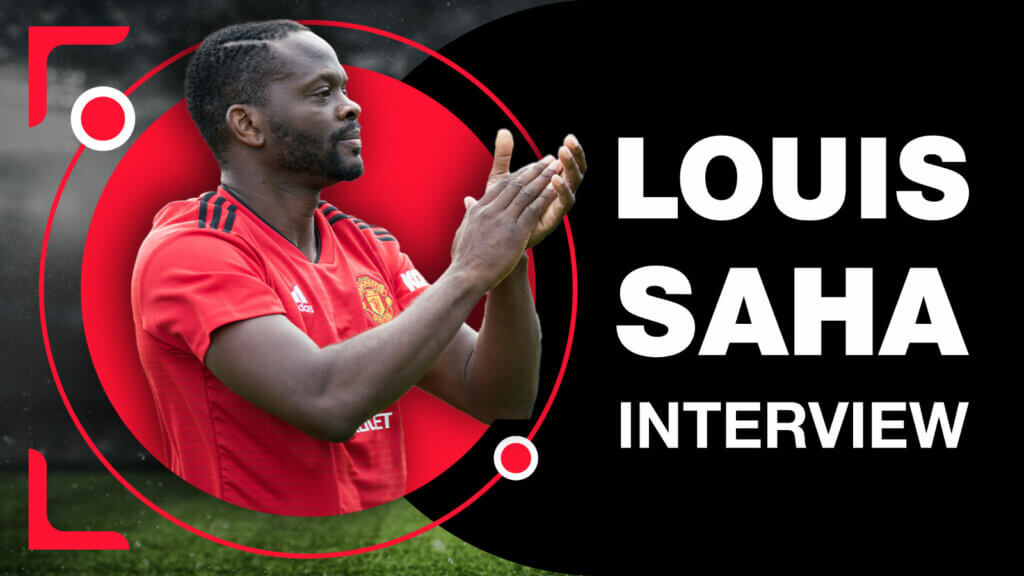 Former Manchester United French star Louis Saha shared his thoughts on the latest and hottest football topics, in an exclusive interview for KingCasinoBonus. The football legend discussed the managerial potential of Wayne Rooney, along with his support for Andre Onana and even some score predictions for upcoming matches.
Saha's experience at top Premier League clubs, allowed him to deliver a unique perspective on the current state of football and what it takes to achieve the highest level of success. Throughout the interview, he offered honest assessments while maintaining his innate class and thoughtfulness.
What were your thoughts on the Brentford game?
LS: "The Brentford game was a classic Theatre of Dreams kind of game, especially towards the end! We were all getting ready to discuss another poor game and another bad scenario, but United ended up with a great win and three points.
"That's exactly the spirit fans want to see. The game was frustrating until injury time, but Scott McTominay did brilliantly to hold back the discussion that would have occurred over Erik ten Hag and the pressure on him."
What do you make of Andre Onana's start to life at Old Trafford?
LS: "Onana has had a very bad start and he hasn't had a game where he's been able to save the team. He's very good on the ball and he was signed to give Man United another option in terms of playing style, but his ability hasn't compensated for his performances yet. It's good to have a modern goalkeeper, but his main job is to make saves. It's obvious that Onana is frustrated – you can see it on his face.
"He cost United the game during midweek and we're starting to see the consequences of his mistakes. He's still a talented goalkeeper, though, and he'll have to work hard to defy what's currently going on. Onana is clearly stuck in his head and perhaps he has to physically adapt to English football. I'm still confident, though, and I'm backing him to turn his form around despite the debate around his signature. United have to move on from David De Gea as he won't be coming back! The discussion around Andre Onana will continue, but I'm still backing him."
Do you think Onana is an upgrade on David de Gea, based on what you've seen so far?
LS: "From what we've seen from Onana, I wouldn't say he's an upgrade on David de Gea. However, I'd add that Onana only has to upgrade his performances by 20 or 30%. Once he does that, then he'll eliminate his mistakes and start making the saves we all know he can make. Overall, I'd say that Onana is an upgrade on De Gea due to his calmness on the ball.
"If I look back to last season, I remember Man United putting tremendous pressure on their own defence from trying to play out from the back and Onana has the potential to help fix that. We're not seeing that so far, and everyone who loves Manchester United will obviously know that he's having issues at the moment. As I said before, I still think Onana has the ability to be an upgrade."
Are Tottenham now title contenders? From what you have seen so far, who wins the league and who finishes top four?
LS: "From what I've seen, I'd say Tottenham are definitely contenders for the Premier League title. The players are clicking, and you can see they have the quality and physicality to compete. They don't overthink things and they know exactly where to be, when to pass, and when to run. They're also starting to figure out what to do when things aren't going well – something that's key when you're trying to go all the way. Everybody knows how the Premier League is a marathon, though, and international breaks can disrupt momentum.
"Players can get injured or lose form, and that can massively affect any team. I hope Tottenham remain consistent, though! I have no problem with them winning a trophy, even though I support Man United. I always look at the team who deserves the title more, and you can clearly see that there's a new dynamic at Tottenham. They're faster, more physical, and they're starting to dominate games. They've been very impressive."
It's early days this season and who knows what could happen. However, who do you think is going to win the league, and who do you think will finish in the top-four?
LS: "I still have Manchester City as favourites for the league trophy as they have a team built for winning the Premier League. There is, however, the threat of Liverpool, with their spirit and consistency, and they'll be challenging.
"Arsenal deserve mention, too, due to what they achieved last year, and now we have an emerging Tottenham. That'll be my predicted top-four this season! Man United are already quite behind, and it's looking unlikely that any other teams will compete for the top-four."
Why don't you think Manchester United will finish in the top-four?
LS: "It doesn't look like Man United will finish in the top-four at the moment. However, if the team starts clicking and if the forward players start building partnerships, who knows what could happen. The midfield needs to start clicking, too, as they're looking too slow and predictable. They're relying on one or two players to create, and I haven't seen enough of Mason Mount yet.
"His creativity is nowhere to be seen! I didn't see any positive runs from him against Brentford! His timing is off, too, and he can't make chances by playing like this. I hope that the players find their groove, and once they do, they'll be hard to play against. They have the energy, and when players like Bruno Fernandes start making those passes, I'll be more confident in Manchester United."
What did you think of the £60 million fee for Mason Mount? Is that a fair reflection of his quality?
LS: "I think Mason Mount can be a lot better, but I'd say the fee was too much. I think Chelsea were playing a game with the fee, even if the market is very competitive and a lot of players have moved for similar fees. People will always have an opinion on transfer fees, and there'll be people who think even Haaland and Mbappe cost too much!
"It's just the nature of football. I'd say, based on what we've seen, Mason Mount isn't performing and I've seen Casemiro play more offensively than Mount! That's a crazy thing to say, but it's true."
Your ex-teammate, Wayne Rooney, is being linked with a move to Birmingham. Would that be a good move?
LS: "I think Rooney to Birmingham would be a great move. It was great for the MLS to get Rooney's football brain and experience, but I'd like to see him back in the UK and bring Birmingham to another level. I think he can do that. Rooney was a great player and he can be a great coach one day. I'm excited."
Did you see signs at Man Utd he would go on to be a great manager?
LS: "Being a great manager is hard because it's not always up to you! You need to have a team that fits you, and it's hard to get that. If that doesn't happen at a club, then people will tag you as not being a great coach! Instead, they'll say you're only a good one who's not in the company of Guardiola or Sir Alex Ferguson.
"I wouldn't say Wayne is a great coach just yet, with full respect to him. He is, however, a great lad with some great ideas. We'll see how far it goes for him, but I've got no doubt he'll be a successful manager. Wayne always wanted to learn and he always had an eye on improving players around him. I remember him having, even from 18 years old, the quality. He's a very smart man and you saw that with him being able to play in so many different positions. Being a great player isn't always enough to be a great manager, but it's a strong platform to build from."
Jadon Sancho is being heavily linked with a move away from Old Trafford in January. Would he make a good signing for your old clubs, Tottenham and Newcastle? If not, where?
LS: "Nobody disputes the fact that Jadon Sancho is a great talent. However, it's obvious that there is something wrong with his mentality. I am not happy with his communication and, no matter where he goes, he'll have to improve that. Sancho needs to realise it's not always managers' fault, and if Tottenham and Newcastle go for him, they'll have to ask him to change his parameters as they're all wrong at the moment!
"He has to perform and work hard on the training ground. Nobody should ever doubt a player's commitment! Speculating about where he's going to go, I'm afraid the reality is that he has to fix himself."
What have you made of Jadon Sancho's overall tenure at Manchester United?
LS: "Sancho's tenure has been frustrating as you can occasionally see moments of brilliance from him and he's clearly a great player. However, he needs to realise that truly great players are able to deliver in difficult times. He's scored some goals, delivered some assists, and showcased some skills, but he hasn't contributed on a consistent basis, nor has he truly contributed to United's rebirth.
"He's a few good games, but that's not enough – especially considering how talented he is. I know it's not easy to be consistent, but that's his job and that's what he signed a contract for. I know I'm generalising, but this generation of players need to get their mindset right. They need to perform for the fans and they need to accept the frustration when it's not going well. That's my take on it."
Reports suggest Man Utd and Man City will battle it out for Karou Mitoma. Would he make a good signing for the Red Devils?
LS: "I would like to see Mitoma arrive at Old Trafford. He's a very exciting player and he never seems to have any doubt of the ball. He'll bombard defences with offensive moves all the time, and I love his energy and the way he plays with a smile. Mitoma is great to watch, and his attitude would be perfect for any club. Some players think too much, but Mitoma relies on instinct. You can tell he's worked very hard on the training ground to achieve this, and now he's got to a point where he looks like a natural.
"Managers know exactly what they're going to get from Mitoma, and he'd be a strong asset to any club. He'd be very exciting at Manchester United as they tend to have wide players who overthink. They play as if every defender is quicker than them, and that's why they don't often dribble or cross as much as they should. They're too worried that they won't get past defenders! They need to be more direct, and the only United forward who possesses that directness is Rasmus Hojlund. The other players are thinking too much."
Do you think that's a product of the system? Or the management? Or the size of the club?
LS: "The management needs to provide the foundation where the players won't feel as they have to do so many things. Man United need to rectify that to get the best out of their wide players! They need to stop being treated like kids – they aren't! They're big stars who need to be courageous and show leadership. They must be spoken to and coached in a way that allows them to have the courage to make decisions – regardless if those decisions are right or wrong. They don't need to be perfect all the time.
"That's why they're overthinking things at the moment. If there's a thing they want to do on the pitch, they should do it! I wouldn't blame all of this on the manager, though, I'd say it's everyone who's involved with the players, both on and off the pitch. Perhaps they have ideas that are making them overthink."
France have a big game against the Netherlands coming up. What are you predicting?
LS: "France's game against the Netherlands will be a big one. France are playing well at the moment and are top of the group. They have a tremendous bunch of players and Deschamps is in a great position. He can go anywhere in the world and find a French wonderkid!
"It's an exciting time, and the team needs to keep doing what they're doing. I can't wait for the game. France will be the favorites, but let's see what happens."
Gael Clichy said he believes Manchester City are the only club who could tempt Kylian Mbappe out of his proposed move to Real Madrid, but that would be "game over" for football. Do you agree? Do you think any more Premier League clubs could tempt Mbappe?
LS: "I heard that Kylian Mbappe could be tempted by Man United! I understand why Gael said City, though! It would be very exciting to see Mbappe in the Premier League, and I'd agree with Gael when he says City landing him would be game over. He'd guarantee at least 30 goals and at least 15 assists every league season.
"He's a very clever player, too. I think that Manchester United would be a great decision for him as it'd be a bigger challenge than the other clubs he's linked to. However, I think Real Madrid will be his next destination. Every Premier League, regardless of who they support, would want him! Even if he plays for a rival."
When we return after the international break, Man Utd play a struggling Sheffield United away. What are you predicting for that?
LS: "I think the international break will help Manchester United a lot, and the Sheffield United game is the perfect opportunity for them to embrace the risk-free philosophy I talked about earlier and I think there'll be a better squad dynamic after the break. Players will need to look at themselves and remind them that their form hasn't been acceptable.
"They're about to regularly play three games a week, and they'll need to step back and reevaluate their performances. The break will allow them to do that, and I think the dynamic will be a lot better afterwards."
Do you have a score prediction?
LS: "Yes, I think Man United will win 2-0. It'd be great for Onana to keep a clean sheet, and it'd be great to see Rasmus score. I can also see Mason Mount scoring."
Marcus Rashford is struggling for form at the moment. Why do you think that is?
LS: "I've always said that, after signing a new contract, players go through a period where they've been trying to prove a point. After the contract is signed, players will have spent a lot of energy and they'll face the backlash from that endeavor. Mentally, Rashford is not the same, even if he has the same potential as he did before. The link-up play of the midfield is not helping, though, and I would like to see him go further forward.
"United's game often looks too predictable and they're obviously missing players at the moment. I'm not sure if they need to introduce a surprise-factor with players moving around. That could help Mason and Bruno get more creative! I'd say Casemiro is the most forward-thinking midfielder at the moment – something that I find a bit strange. He's the one who's getting forward! That's not normal. The squad needs to find balance, and once they do, Rashford will benefit from that."
Rasmus Hojlund has impressed lately. From what you have seen so far, does he have the potential to be Man Utd's best striker in years, joining the likes of Rooney, Van Nistelrooy, and Saha?
LS: "I think Rasmus has the quality to be right up there. He has an eye for the goal, too, even if he's not getting the best service at the moment. He just needs to develop the connections with his teammates. Having played with Van Nistelrooy, I'll say there's no equivalent! If you find a player like him, let me know! There's no way he can be like Ruud, as much as I want Rasmus to do so. United also need players like Beckham, Giggs, and Scholes! Van Nistelrooy had those players around him and he was able to read the game of his teammates. It's impossible to do that at the moment.
"Nobody can read what Mason Mount can give you right now, for example. People have a better idea of what Bruno Fernandes can do, but he needs to find the right balance. United's creativity shouldn't only come from him. Teams will figure that out quickly, and I'd say United have asked Casemiro to do too much. Mason Mount has a lot of responsibility, but I'm not seeing evidence he can carry this out yet. I'm not blaming him only, but he's causing a bit of a delay in attacking build-up. Defenders know how to make Rashford's life difficult, that's why you're seeing him give the ball back to the midfield. That leads Rashford to doubt himself. It's looking very difficult for all of them at the moment."