UK Gambler's Rights & Obligations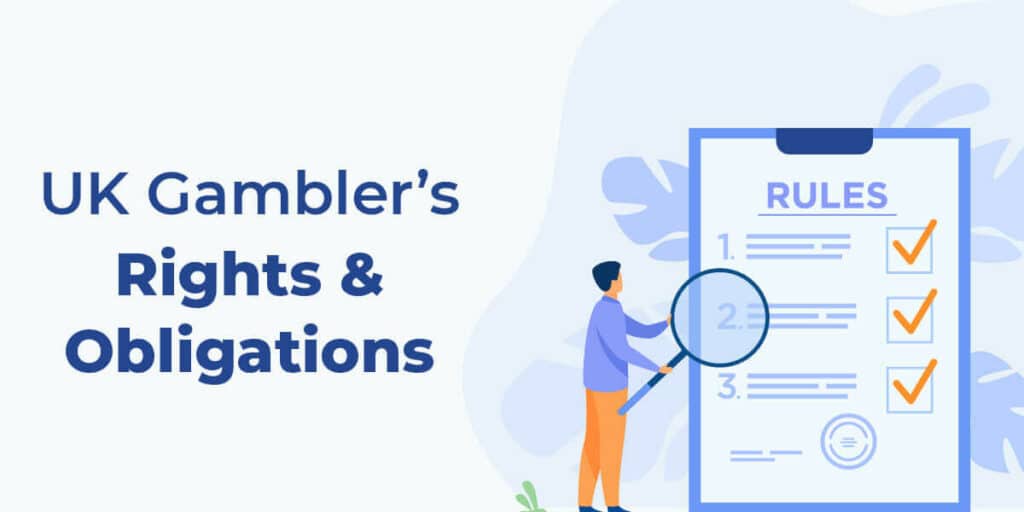 A complete guide to fair sessions
The team of casino experts at KingCasinoBonus has created a guide for UK gamblers, presenting their rights in a straight-forward manner. We start from fundamental questions and directions you should follow to the legal reasons and details. We finish by updating you on the current regulation debates and changes.
The aim of this guide
One of our guiding motivations is to be your trusted casino guide. We believe it is vital for you to know what you are allowed to do and what is owed to you before starting to gamble.
Why should you use our guidebook?
Browsing and selecting answers from the current laws can be an overwhelming and exhausting process. We know that legal stuff is not an easy read; therefore, we make practical text summarizing the essentials.
The same goes for heavyset financial dealings and rights. But there's no need to further than this page for these tips either. We know how you should handle your gambling money (and how the casino should handle it), and we tell you with no smoke and mirrors.
You are invited to consult the sections below and learn more about your rights as a gambler through our expertise. We hope that our objectiveness and experience help us in our duty as a casino advisor.
Authorities and rights: the baseline
Before we go into our detailed description, let us answer a couple of basic questions that matter the most in our online and offline gaming sessions.
Can you gamble in the UK?
Yes, you can. In the United Kingdom, you can engage in various types of gambling-based activities, like casino games (in-person or remote), sports betting, race betting, bingo, and lottery raffles, etc.
The regulations involving each of these may vary slightly in terms of what you can do. Still, we tackle such differences in this page.
Tips: Pick casinos that are already listed on our site since they have already been tested and verified by legit casino experts and players.
Who regulates offline and online gambling?
All of the main aspects we discuss here are decided by the United Kingdom Gambling Commission or the UKGC for short. This is an independent governmental authority that bases its work on the 2005 Gambling Act.
The UKGC is working on the part of The Department for Digital, Culture, Media and Sport (DCMS). Their areas of expertise range from sports, media and digital economy, amongst other things.
Interesting fact: DCMS has responsibility in digital entertainments, but also occupies himself with Olympiad events, like the London 2012 Olympic and Paralympic Games.
They went through two name changes since the 1990s, in the PM terms of Tony Blair and Theresa May.
Places to gamble
Gamblers cannot place bets on any unlicensed places, no matter their nature or their setting, online or brick-and-mortar. However, people can make personal social bets. These situations are called betting syndicates.
Betting syndicates: definitions and legality
A group of people can make bets together, outside of a betting house. They are legal as long as the person collecting the bets does not make any profit from it or they do not collect a cut of the standard stakes.
Such occurrences are often met in workplaces, and they are lottery draws in nature. As long as proceeds go to charity, they are overlooked by the enforcement authorities.
Be aware: Pub owners should not engage in betting slips games, nor should they encourage customers to play any unregulated actions.
Interesting fact: In 1961, George Alfred James opened the first licensed casino in Port Talbot Wales. The lobby and restaurant could host up to 400 people at once.
Legal age for Gambling
Depending on the gambling activity in question, the legal age for gambling is either 16 or 18. All people over 18 can engage in any legally organized luck-based or skill-based games.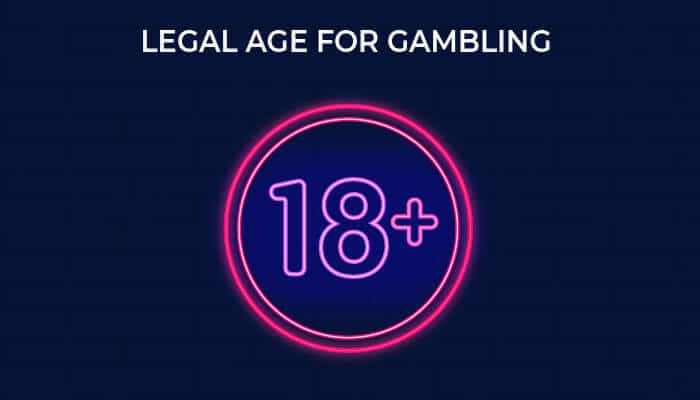 The required age for gambling
| | |
| --- | --- |
| Required age | Activity typology |
| 18 | Brick-and-mortar casinos, online casinos, slot machines. |
| 16 | Lottery draws, Scratchcards, Football pool bets. |
| Any age | Private bets, travelling-related bets, arcade machines. |
How does this detail compare with other countries?
Generally, the EU countries are consistent with a universally accepted minimum age of 18 for bets and stakes of any kinds. However, some German states and Greece have raised the bar to 21 years old. This is on the same principle as across the Pond, in the US.
Child protection against gambling
Gambling businesses have certain obligations, specially designed to protect underage individuals from exposure to wagers.
How does that reflect in reality?
All casinos, no matter if they have physical rooms or they operate strictly online, are obligated to verify that all their clients are over 18. This is done in the KYC procedures, where the team verifies the validity and details of the user's identification papers.
Targeted ads will also have to specifically not target children. In simple terms, this means that an online casino cannot place ads in online environments that are constructed or aimed for children and adolescents. This is especially important for video game stores, lobbies, and other online places with a young age demographic.
How to check if your fundamental rights are respected
This section will show you time-efficient ways to inspect if the casino/website respects your basic rights as a gambling customer. For this, we take each right individually, advise you on how to proceed and explain a bit about each issue.
1. Know the casino is UK licensed
You should never play your money on a place that has no official, governmental regulation. The way to check if your chosen platform has the UKGC approval is by looking either in the website's footer or their terms and conditions.
Conversely, you can search your casino's teams and UKGC licence, and you will see that the first result should be the business details on the UK Gambling Commission's website. By clicking it, you will also find out things like sanctions, sister sites, and a unique reference number.
Why is that important?
Licences are the things that ensure stability in the site's terms, a fair play in terms of your games, unbiased attitudes, and many more details that we have detailed in our other pages.
Important: All casino websites operating with UK customers have to have been tested by the UKGC.
2. Recognize fair terms of use
Gambling businesses are required to make their terms of use easy to find, follow, and be understood. Thus, you need to look for the button/page that redirects you to the terms and conditions and read them attentively.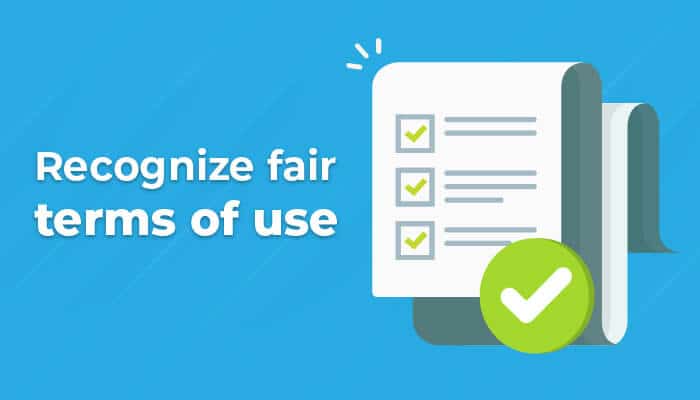 How should they look like?
These rules have to contain all the necessary information from games to payouts and data collection. They also must be made available to you in English, in a variant that is easily understandable.
If you believe that the agreement is not biased towards the casino more and your opportunities are fairly set, you can start gambling. If you understood what is being required from you and what is given to you, then you can start gambling.
Why are these rules of use important?
The bet that you enter through a gambling business is a contract. The casino will have to make the terms of use clear to you, as these are the rules you will engage in
Recommendation: Our KingCasinoBonus reviews are mostly based on statements in terms of use.
3. Find resources for safe gambling
A casino is required to give you external links to platforms that deal in safe sessions and also in solutions for you to minimize or stop your gambling altogether, temporarily or entirely. They should offer links and informative texts.
What are the main topics that concern casino safety?
In our opinion, inspired by the statements of the UKGC, two main things need to be tackled. Mental health solutions for risk and problem gambling, a thing we have talked about in our Responsible Gambling page too. Even so, see the best three options currently available to use for free.
| | |
| --- | --- |
| Name of the institutions | Ways of contacting them |
| GambleAware | Phone number: 0808 8020 133, 24/7 Chat |
| GamAnon | Email, In-person meetings |
| Gamblers Anonymous | Email: [email protected] |
Maybe you need a middle way between the complete prohibition of gambling in your life and regular gaming. In these cases, you can install and use Internet filters that can eliminate any gambling site from your browser and store searches for your set period of time.
There are two options that we have tested and that we recommend:
Gamban;

GamBlock.
Tips: Most casinos that we have seen recently also allow you to impose limits on your spending and your game sessions. Use these options so as to avoid complicated situations.
4. Learn the rules of the games and bonuses
Casinos should provide the rules of the game they offer, somewhere easy to find. Usually, they are posted under the main game category page or next to each game individually.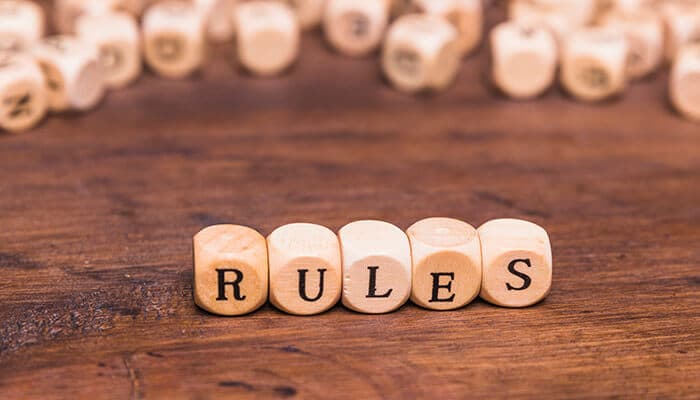 Since you are staking money on the options there, you should be transparently informed on how the game works, how the bets work and you also need to have technical details like RTP, for instance.
Be aware: Certain game strategies may be considered to be unlawful by the casino, meaning that employing them may result in a permanent ban.
An essential aspect of online wagering consists of the offered incentives. Their terms are unique and may change depending on the type of bonus we are talking about. These details should be, like all the other vital information, fair and transparent.
5. Your gaming account transparency
Your unique gaming account is based on your personal data, and it has certain settings that are either pre-set or chosen by you, for example, your gaming limits.
How is the data shown?
You should be able to check out data for how many hours you spent playing, as well as a complete history of your transactions.
It is your right to know what happens to your data, personal or digital traces that you leave every time you use any online service.
Recommendation: Before setting a new account and playing with real funds, read the privacy policy set by the website.
6. Your funds must be protected
To find the exact settings and formats on how the casino protects the funds in your account, both the ones you deposited and the ones you received as bonus funds, you need to look in the financial part of the terms.
The UKGC has defined three levels of protection:
No protection whatsoever. This means that the funds you have left in your gaming account are considered to be part of the business profits in case of insolvency.
Medium safety. This means that the customer funds are kept in a separate place from the business' funds, and you could somehow get them if the casino goes bust.
High safety. External bodies handle the gaming account funds in a completely separate place. This means that if the casino goes bust, you will be able to get your money back in a decent timeframe.
Tips: You might want to spend money through more than one company, rather than having big sums in one place.
How does that stand legally?
The Consumer Rights Act states that the product for which you pay money in a transaction has to be delivered safely and satisfactorily.
If what you receive something unfitting, unsatisfying or anything else powerfully negative, you deserve refunds or to have the product changed, in 30 days.
7. Make a complaint
There are several levels to a casino complaint. Your first attempt is to reason with the support centre and fix your issue through the internal mechanisms available.
If that is not an available option, you might try to contact an ADR and take up your issue there. This is the preferred round, also recommended by the Gambling Commission since it does not involve a trial in a court of law.
8. Choose marketing strategies directed at you
When you sign up, you will likely be asked how you want to be contacted for with promotional materials like newsletters, new releases, latest bonuses, etc. Usually, you will be contacted with texts or emails.
It is your right to choose the medium in which these ads delivered to you. You also have the right to change your mind and choose different settings or stop them completely.
Tips: You can stop receiving texts by texting "STOP" to a phone number that is given to you by the casino.
There are harsher ways to stop text marketing. You can either contact your mobile operator or an ICO, Information Commissioner's Office authority. But these are extreme situations, which are reached by you in rare cases.
Interesting fact: ICOs in the UK can cooperate with authorities from other countries so that you can be protected from unwanted marketing from foreign places.
9. You have the right to enter EU lotteries
As long as the competition clearly states that it accepts punters from the United Kingdom, you have the right to enter gambling competitions in the EU space. Of course, each case will depend on the game type and its unique rules.
For example:
Since 2004, Brits can enter in the pan-European raffle titled EuroMillions. They can both enter with a regular ticket or in more complex ways. They include subscriptions that enter you automatically with tickets with a set number of months.
Your obligations as a UK gambler
Again, we have to reinstate that a bet is a contract that you have entered with the online gambling establishment. The same goes for when you click 'Agree' on the site's terms of use.
From this perspective, you too have a particular list of points that you must always follow. These are your gambler obligations. Because we want your session to be smooth and problem-less, we will explain what you have to do and what to necessarily avoid.
1. You must be 18+ to wager online
As established, minors are not allowed to access casino games, no matter if they are held online. Unless we are talking about certain game machines, the National Lotteries, or football pools, minors cannot bet or gamble.
Thus, when you open up a new online casino account, you have to be over 18, and you will prove it when the KYC procedure is requested to you.
This when your age and identity are validated by the casino team-members. It usually happens immediately after you create your profile, and the casino lobby may be partially or totally locked unless you complete it.
Recommendation: Take clear pictures of the ID that you send (driver's licence, NHS card, property papers), so your sessions will not be postponed.
Interesting fact: Some casinos may ask that you prove that the funds you're about to wager are yours, by requesting you to send them a recently paid bill; usually not older than three months.
2. Respect the terms of use statements
The terms and conditions play the role of the legislation within the casino platform in question. Thus, the site has the right to eliminate you from the customer list if you have violated said terms.
Since this is one of your obligations, you need to be very careful when you pick a casino. If this seems overwhelming to you, you can rely on our expertly crafted casino reviews, on any of our pages.
Tips: The reviews are like a shortcut scan of a site's terms and policies. Find the highlighted information and see what we consider of importance.
Respecting the terms is not uniquely your responsibility. The casino has to act just like they stated in their base text, and if they want to change an aspect after you've become a member, they need to notify you.
Also, we mention this frequently, and we reiterate here: the terms of use have to be fair, unbiased, and written in simple English.
3. Do not cheat
You have to respect the fact that gambling relies on chance, in a wide variety of scenarios. Thus, you cannot use any sort of cheating strategy when you play online. These include classic approaches like card counting in Blackjack or using bugged software to mess up the RNG encoded in-game.
Interesting fact: Card counting in Blackjack is almost impossible to do in modern time because the dealer will use more than 4 or 5 decks at a time.
If you attempt and tamper with the software that is being used, you will definitely be excluded from the casino permanently. You can even expect the casino to press charges against you, depending on the severity of your deed, and if you derived profit from illicit ways.
Be aware: Your data can be submitted to other casino corporations after you cheat, creating a ban for you on websites you have not yet visited. Please refrain from cheating at all times.
4. Do not pretend to be someone else
This issue has two facets, which we'll tackle one by one.
When you create your account, you cannot use someone else's papers to confirm your identity. Impersonating someone is a crime and will be punishable outside the casino laws.
Do not log in and play with someone else's account. The profiles we have, social or casino-related constitute part of our privacy. Using someone else's profile is a violation of their privacy and data.
Both of these issues are serious, and you should be careful with them at any time.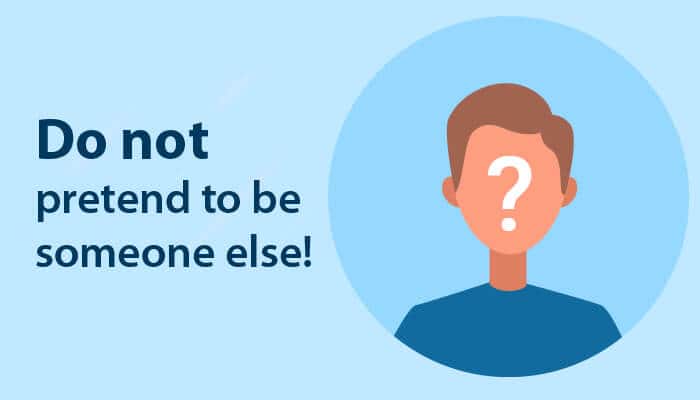 Tips: Make sure to play from a private IP address and not a shared one. If more than two people log from the same IP, their accounts could be locked.
5. Do not play to launder money
It is not permitted, under any form, to fund your gaming account with funds derived from illegal activities. When you will sign up to a new casino website, you will see, either in its terms or as a pop notification, a statement regarding the funds you will stake.
Be aware: Money laundering is a serious offence, no matter if it is done via online casino play, or not. It will be followed by fines and up to 14 years of imprisonment.
How do casinos check this?
Online transactions may be hard to follow, so casinos check the authenticity of your funds by performing certain checks on you. They will ask at the beginning of your profile usage (and even randomly throughout the time you use their site) to submit proof of funds, like employment or inheritance papers.
Tips: If you are fair with your funds, avoid looking suspicious by making small and consistent transfers to your account. Also, wager what you send in, don't just deposit and cash out.
6. Don't fund illegal activities with casino wins
If you ever hit the jackpot or a series of lucky reels, do not use that casino funds to perform any illegal activity or any harming activity.
Funding any sort of unlawful activity with the funds you have won puts you and your loved ones in danger and decreases the built trust that casinos push to have in the communities.
Tips: Follow our advice and think of gambling as a fun activity. Leisure activities should be safe, sharable with your friends and peers and worthwhile.
We strongly advise our users to take these notes into account and direct their gambling to a truthful and correct path. Also, you can share these insights with a loved one that gambles, to make sure that they stay safe.
Notes on House – Patron relationship
Now that we have covered the essential grounds in the previous parts, it is time for us to tackle some issues of medium importance. Thus, this section contains information on:
A short comparison of your rights versus the casino's;
The December 2021 Parliamentary debates on gambling rights;
What are the major offences in this field and their consequences.
Rights on both sides
For reasons relating to clarity, you need to know a bit of what casinos can do, offline or online. But the table below also has a column concerning you too.
| | | |
| --- | --- | --- |
| Issue | Punter | Casino |
| Taxes | 0%* | 15% of their annual profits |
| Licence | No need for one | Need to be granted one by the UKGC |
| Conditions to play | Need to be of legal age | Need to follow the UKGC Practice Code |
*Please note that the 0% is relevant for amateur gamblers. If you base the majority of your income from professional gambling competitions, then you will have to pay certain taxes.
December 2021 Parliamentary proposals
The last month of 2021 brings news to the gambling legislation that we have based this text on. British MPs will discuss a set of changes to the Gambling Act of 2005, journalistic sources mention. They might not be grand changes, but as far as our research goes, they aim at changing:
The allowed terms for sports sponsorships;

The maximum sum staked in one casino bet;

Funding addiction treatment for those affected;

Different testing ways for new betting products.
Important: This is an on-going issue that we will try to best update with certain details. However, we will have to wait and confirm things before stating them as errors, so some aspects may be updated in a couple of days from the moment they were stated on other sources.
Obligations and penalties
There has to be the other side of every coin. This is why we dedicated this sub-section, where we reinstate the importance of following the laws and inform you about the consequences that may come when that is not fulfilled.
What happens when an under-age person is caught gambling?
In case a teenager below 16 gambles or bets, or an under 18 person attempts the things they still don't qualify for, a fine will be issued, which may go up to £1000.
What happens when a place offers gambling opportunity with no licence?
This is a severe violation of the Gambling Act (2005), and it can be punished with any of the following: up to 51 weeks of prison and a fine that goes up to £5000, or a combination of the two.
The same type of possible punishment of either a fine or imprisonment will be available for people that employ gaming machines (slot machines) without a special permit and without respecting the state conditions.
What happens when a business advertises abusively?
Again, these violations can be punished with up to 51 weeks of imprisonment and up to £5000 in fines.
Ending remarks on UK gambler rights
We hope that this page was the result you were looking for when looking for more information on your rights as a casino player or sports bettor. All in all, your rights are similar to any other customer in the UK, and casinos have certain immovable obligations to you.
Know that you know more about your status and the rights that you have, you can play safely! Be gamble aware!
Further reads: