Online Live Casino Technology Explained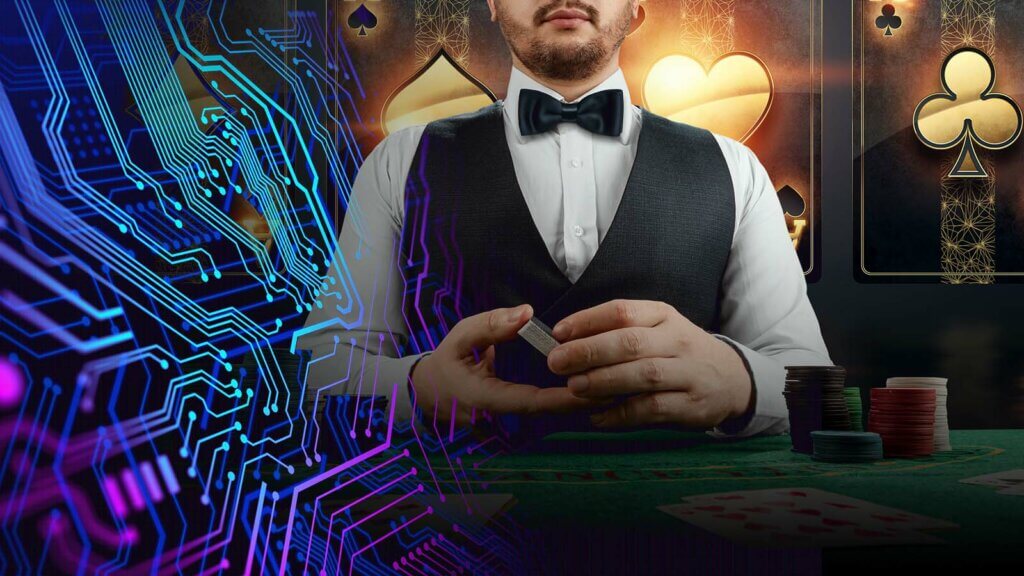 Live casino technology has advanced so rapidly that realism is now rated 46% or higher by players in user surveys. This guide provides an insider look under the hood at the riveting tech powering today's live dealer games.
You'll uncover how specialized cameras, sensors and software combine to immerse you in real casino ambience from home. Discover how dedicated studios operate to broadcast pro dealers globally to any device in real time. With a sneak peek behind the scenes, you'll gain a new appreciation for the technological prowess that makes live games smooth, social and shockingly lifelike.
Ready to explore the fascinating tech that has live casino realism rated off the charts? Let's dive in!
How Does a Live Casino Work?
Live Dealer casinos allow players to participate in real-time table games. These games are hosted by dealers and then streamed to players in many territories worldwide.
To allow players to participate in the game, the casino uses remote servers that accommodate many people at any time. The players place real-time bets and watch the game in real-time.
All servers hosting live games are protected by different security measures that ensure the player's data and funds are completely safe during the real dealer game.
Example: Live Roulette
When a player enters a real dealer roulette game, they can immediately see the stream of the game currently taking place. You are invited to place a bet; if there are minimum or maximum bet limits, they will be displayed on the screen.
For instance, you place your bet by choosing a sum and clicking on the Roulette table at the bottom of the screen. However, even though you're placing a digital bet, the result is determined by an actual spin of the wheel and not a computer.
The dealer's task is to spin the ball and announce the spin's outcome. The ball's landing decides the outcome, so it's completely random. While the game unfolds, you can talk to the dealer or other players at the table.
Why Don't Live Casinos Use Robots?
Much speculation exists about the live casino dealer being replaced with a robot. However, most casinos still assign the role of dealer to real people – and there are a couple of good reasons for this.
First, robots can malfunction, and the game is void if the dealer is not operating correctly in a live environment. That leaves the casino to deal with many dissatisfied players.
But the following reason is essential – people love human interaction. When people play a real dealer game, they want to feel like they're chatting with the dealer in a brick-and-mortar casino.
The fact that a real dealer is present in an online casino makes the players feel more relaxed. Plus, they're assured that the outcome is random; if robots are involved, people will be more likely to doubt the result.
Critical Details For Live Dealer Casinos
Once you know what these new casino sites in the UK look like and how the games go on, you must understand how live casinos work.
The following sections will explain all the components that help a live dealer casino work properly and how all the features are available to players.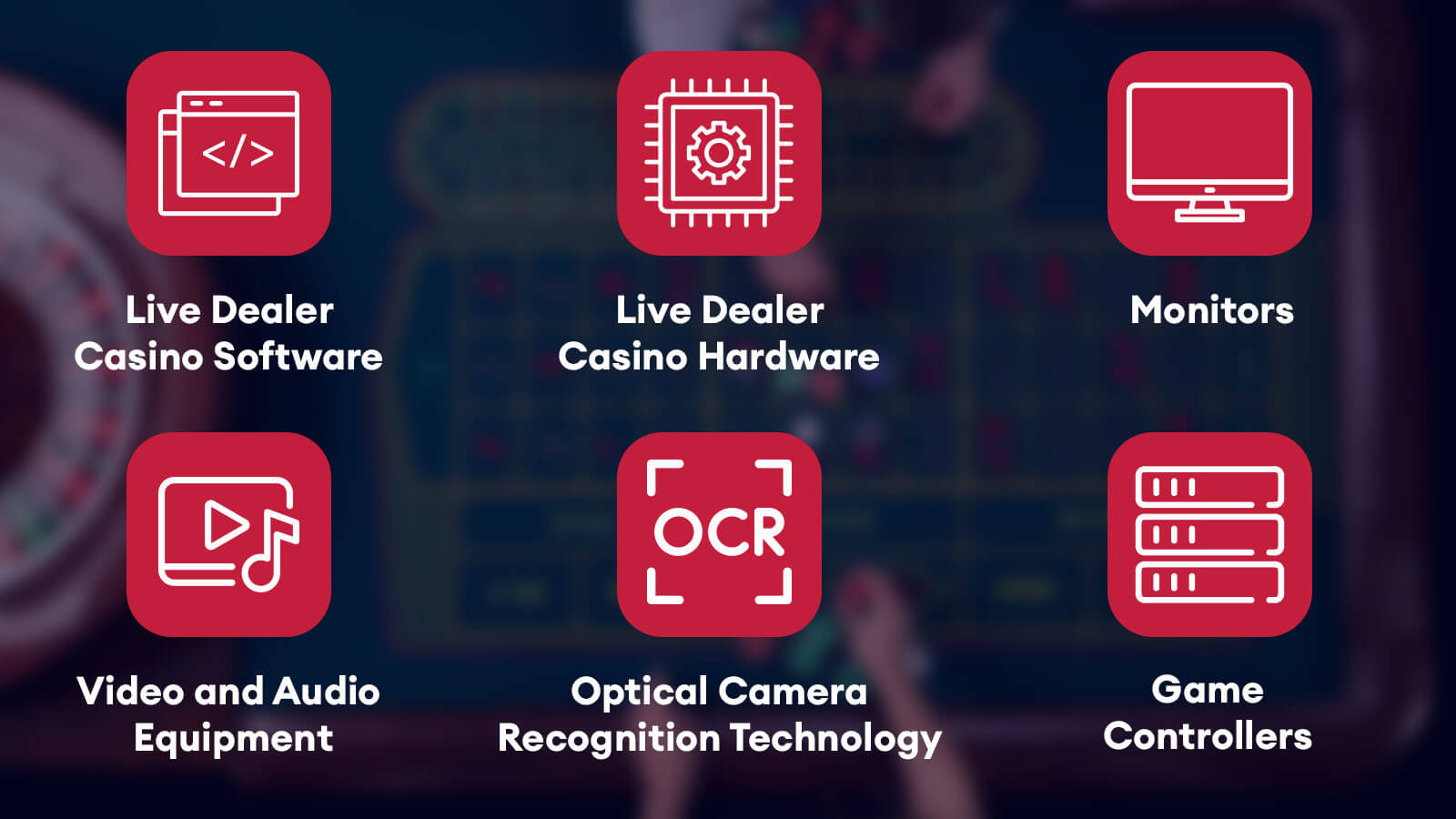 Live Dealer Casino Software
All live casinos are powered by sophisticated software that allows high-quality streaming without glitches or interruptions.
Another thing that distinguishes this software is that it enables a high-quality stream without overpowering the CPU on the players' devices.
The live dealer casino software comprises various components responsible for the overall game execution.
Software Components for Live Casinos
Optical Character Recognition technology

GCU computer software
Live Dealer Casino Hardware
The live casino hardware includes all physical equipment without which the casino's operations are impossible – tables, monitors, cameras, etc.
So, in addition to the software essential for the players to access the games, online casinos need to invest in quality equipment that allows dealers to lead the game.
The hardware also ensures the software has all the necessary data to convert the game to a stream and present it to players.
Hardware Components for Live Casinos
Monitors

Video equipment/HD cameras

Audio equipment/microphones

GCU computer box
Monitors
The monitor is located in the dealer's viewpoint, allowing them to see all bets as players place them. Based on what dealers see on the monitor, they take the appropriate action on the table, e.g. deal a card or place a bet on the Roulette table.
Most live casinos have one monitor per table, usually intended for the dealer. Still, some studios have 2 or 3 monitors per table observed by the dealer and the studio manager/s.
It's a misconception that the dealer can see you or your screen while you're playing; they only receive a notification on the monitor that a new player has joined, and that's the only reason they know you're there.
Video and Audio Equipment
Live dealer casinos are equipped with HD video cameras that record the game, and this feed is then streamed to the participating players. The audio setup records everything the dealer says, and in a new live casino UK, players can even talk to the dealer through this technology.
The type of equipment varies from casino to casino, but those platforms that want to include slow-motion in their feed use high-end 4k or HD cameras to get the desired effect.
Most studios equip their dealer with a clip-on microphone, but some use the traditional boom mic. If there's a boom mic, it's usually right above the table, and players can see it.
Clip-ons are more discreet and may produce a more precise sound.
Optical Camera Recognition Technology
The OCR technology records everything happening in the live studio; for example, it tracks each card dealt on the table or each spin of the wheel.
Then, this analogue information is converted into digital values displayed on the players' screens.
This technology is essential for all online casinos because it showcases the transparency of the game, allowing players to see each of the dealer's actions and everything happening at the table at all times.
Game Controllers
The Game Control Units are computers, usually shaped like a black box and attached to the table.
This live casino technology receives and records all game information and configures it to be displayed in the stream.
This is both hardware and software technology simultaneously; the little black box makes the hardware part, while the sophisticated software does its job inside.
New Technologies and Their Applicability in Live Dealer Casinos
The rapid development of technology is starting to be evident in online casinos; new technologies are being implemented in some gaming sites, so it's best to learn more about them.
Virtual Reality systems have been viral lately, and some casinos are beginning to use them to provide a more immersive gaming experience. Then, there's Artificial Intelligence; some platforms added AI to their software, removing the human element from the gaming experience.
AI in Live Dealer Casinos
AI technology can make the betting process quicker and simpler. Some platforms have replaced live dealers with intelligent computers, but these are few.
AI technology is still pretty new, so there are definitely some challenges. That's why, for now, AI still can't replace the person taking on the role of the dealer.
There's also not a lot of data on AI in online casinos yet, so it's hard to analyse its use and even harder to predict the future.
VR For Tech-Gamblers
The VR experience is fun, and it can give players in the live casino an even more immersive experience.
However, this technology requires players to have an additional piece of equipment at home – the VR set.
With the VR set, players can experience everything they would in a brick-and-mortar casino.
Live Casino Technology Recap
| | | | | |
| --- | --- | --- | --- | --- |
| Component | Type | Function | Importance | Displayed/Out of Sight |
| Monitors | Hardware | Display players' actions to the dealer | 10 | Yes |
| Video and Audio Equipment | Hardware | Records the audio/video for the live feed | 8 | No |
| Optical Camera Recognition Technology | Software | Translate data from the studio to digital form for the players | 9 | No |
| Game Controllers | Hardware + Software | Receives game info and configures it for the stream | 9 | No |
Sum Up
Live casino technology has advanced significantly in recent years, making the online casino environment feel like a real-life casino.
Real-time streaming is an essential feature of live casinos, but what players enjoy even more is the human interaction.
Watching the dealer lead the game and being able to communicate with them is what makes live dealer casinos so attractive and, for the time being, irreplaceable. If you want to discover the latest advancements in live casino technology, we advise you to try the latest games with a live dealer casino bonus on sign-up, such as the free chips provided by Grosvenor Casino.
FAQ
Are live dealer games played in real-time?
Each game is live-streamed, and players can place bets according to what they see on the screen. So, yes, they're live.
You can also communicate with the dealer during the game, so you'll be assured the game is in real-time.
Is there a way to win in live casinos?
The casino games are by chance, so all you can do is rely on luck and hope it works in your favour. However, you can learn a few tricks for each game to increase your chances of winning.
Different winning strategies depend on whether you're playing Roulette, Blackjack or another real-time game.
What is behind live casino software?
The software in live casinos combines computer technologies that enable streaming, provide the necessary information, and allow players to place their bets in real time.
There are many complex software components. For example, there's a separate software program for streaming and another for the game's interface.
Which software tools are used in live casinos?
Optical Camera Recognition technology is used in all live dealer casinos. Some casinos have started using VR technology and even implemented AI into the games.
However, there's still a long way to go until VR and AI are everyday occurrences in live casinos.