Will The Global Gambling Market's Worth Grow as Predicted?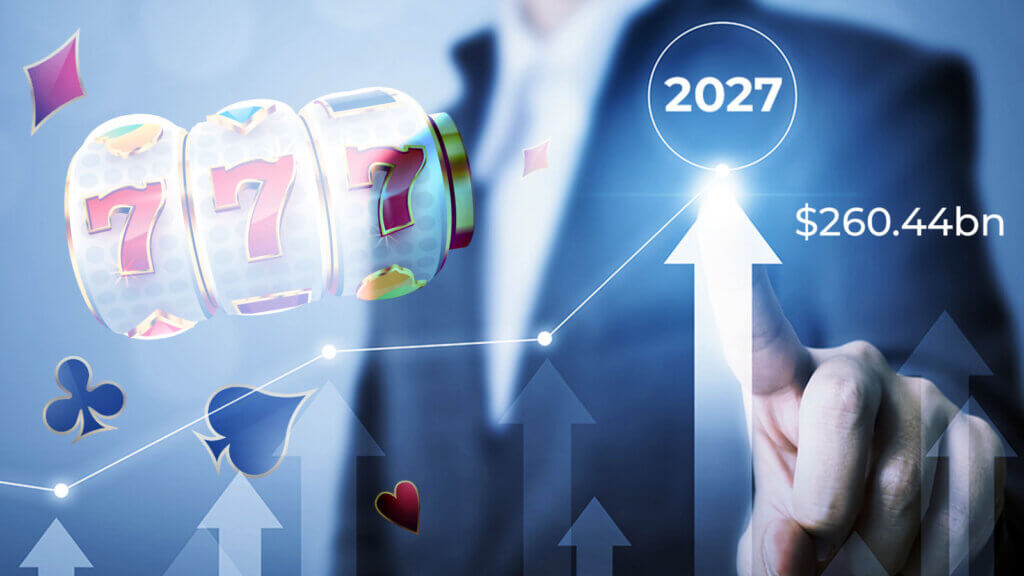 The global gambling market has reached a 1% increase yearly. It's predicted that by 2027, it might reach over £260bn.
What Is Included within the Global Gambling Market?
When we talk about the global gambling market, we need to pay attention to every gambling branch, given that all contribute to the gambling industry's worth.
This includes land-based establishments, online casinos, remote and land-based sportsbooks, lottery, mobile gambling sites and their apps, VR and AR gambling apps, and crypto casinos.
Categories, platforms, and geographical landscape segment the gambling industry into types of games and specific sectors.
Certain branches in the gambling market are more significant than others and are the driving force for the exponential increase of its size.
Crypto, VR and AR gambling are the newest markets predicted to push the industry's growth.
Products and Services Taken into Account
The main contributors to the total revenue are the casino games and the bets placed in sports betting.
However, there are far more products and services that come with playing at online or offline establishments that contribute to the gambling industry's worth.
Some of them include the following:
Conventional Casino Gaming Services

Gaming Tables

Online Casino Gaming Services

Accommodations

Food

Beverages
Online iGaming Industry Main Focus
In 2021, the online gambling market exceeded $60 billion. With various forecasts and predictions, the industry could see a massive increase of 86% by 2028.
With these projections, the market size could exceed £114.4 billion.
If we dissect it even more and go by regions, we can check out the forecasts for Europe, North and South America, and the Asia Pacific.
Latin American countries like Brazil, Mexico, and others are just starting to implement some online gambling regulations.
By 2026 Brazil could come in with a market size of £1.6 billion, whilst Mexico with £1.15 billion.
The US gambling market statistics
The US is next, with its online market size reaching £8.5 billion in 2021. Looking ahead, the US can get an increase of 8.7% by 2027, which accumulates to around £14.7 billion.
Shifting to the Asia Pacific online gaming market in 2022, it reached £19.5 billion. By 2028, the region could see an 11.39% increase and reach £37.5 billion.
An overlook of Europe's market
Finally, we come to Europe, where the online gambling market size reached £34.6 billion in 2021.
The forecasts show that the region will experience a gradual 7.9% increase by 2027, which can grow to £56.8 billion.
New Online Gambling Trends Encourage Growth
New technologies and creative inventions are popping up and are increasing the popularity of several types of online gambling.
Mobile casino gaming is becoming the norm, as most gambling sites are starting to create dedicated mobile apps and fully optimize the website for mobile browsers. This allows players to play on the go, wherever and whenever they like.
Cryptocurrency has been the main topic in the gambling world for some time, and in recent years, you have undoubtedly seen crypto casinos and betting sites advertised.
Mobile Gambling Sites and Apps Gain Momentum
In the last two decades, desktops were the usual way of accessing gambling sites, but now it's crucial to access mobile gambling sites or apps.
The primary factor for the popularity of mobile gambling is the increasing number of people who own smartphones.
Manufacturers are starting to create and develop affordable mobile devices that reach all parts of the world.
This way, online casinos and sportsbooks can provide services to multiple markets, regardless of the country's technical infrastructure or economy.
Cryptocurrency Casino Software is Booming
There are tons of top online casinos and sportsbooks today that either allow and accept transactions via crypto or run entirely on crypto.
Most players see these types of iGaming sites as more secure, a place to remain completely anonymous and get an entertaining experience.
Online Gambling Companies Are Diversifying the Offer
Augmented Reality and Virtual Reality are the next significant technological steps. While the two are closely related, they have their differences.
VR and AR video games have been around for years. Now, a new trend is starting to emerge where VR and AR gambling is beginning to make noise.
The difference between AR and VR is that AR adds some aspects to your surroundings, items, characters, etc., while VR creates a new environment right before you.
This concept has been implemented into the online gambling world, with players able to walk into virtual casinos and start playing their favourite games.
Do you think mobile gaming is advanced? How about playing on your smartwatch? That's right; we might see this become the newest trend, as some gaming providers are already working on making their platforms compatible with intelligent wearables.
Regions with Most Gambling Businesses
As of 2023, there are over 4305 global casino and online gambling businesses, according to IBISWorld.
This is a 7% increase from 2022. In recent years, the number of businesses in the global casino and online gambling industry has seen an average 7% increase yearly.
If we go by regions, the highest number of businesses in the global casino and online gambling industry are located in North America, with 44.
Europe comes in next with 34, and South America with ten businesses.
Highest-Grossing Online Gambling Businesses
Flutter Stars Group

GVC Holdings

Bet365

Scientific Games

The Stars Group