Genting International Casino Review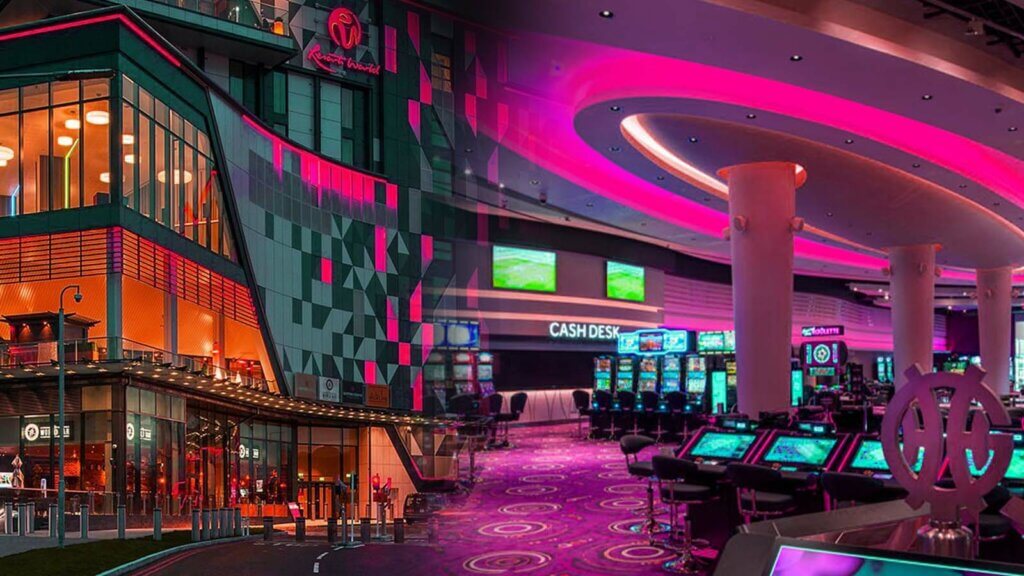 Genting International Casino is one of the largest casinos in the UK, offering its customers premium gaming products and high-quality hospitality services. While the venue isn't London-based, we reviewed it due to its prestigious reputation and recommend it as one of the top casinos in the UK.
Genting Ratings
| | |
| --- | --- |
| Overall Rating | 4.7 |
| Slot Machines | 5/5 |
| Games | 5/5 |
| Staff & Service | 5/5 |
| Loyalty & Rewards | 5/5 |
| Atmosphere | 4/5 |
| House Rules | 4.5/5 |
| Player's Feedback | 3.8/5 |
| Operator | 5/5 |
Rating and Review Process for Genting International
We reviewed Genting International Casino based on several factors, including but not limited to games, rewards and offers, staffing, gaming facility and much more. We considered all these factors and rated the casino based on a rating system of 5 stars.
How we inspected Genting International Casino
Date of visit: 11/29/2022

Time of visit: 14h – 16h

Initial bankroll: £100

What we played: Roulette

Final bankroll: £0

Next visit: 05/29/2023
What we looked at
We accessed the casino games: numbers and features and the gaming atmosphere to ascertain if it's conducive for gamers. Also, we read and analysed the casino's house rules to see if they are too strict.
What we found
Address
Resort World, Pendigo Way, Marston Green, Birmingham B40 1PU, UK
Open hours
12 PM – 5 AM
Membership
Not required
Minimum age
18
ID checks
Yes for non-members
Game types
Blazing 7s

Blackjack

Three Card Poker

Baccarat

Roulette

Live E-tables

Dragonfire Roulette

Slots

Tables
31
Slot machines
100
Gaming terminals
40
Payment
Cash, Card, Chips
Average betting range
$0.25 – $1200
Free drinks (Canada)
Yes
Restaurant
Yes
Hotel
No
Poker tournaments (UK)
Tuesday and Friday
Genting International Slot Machines – 5/5
Genting International Casino UK has 59,180 square feet of gaming space, with more than 100 different slot machines, all playable on high-definition screens, and an oversized video wall.
Slots we played at Genting Casino
| Slot machine | Payout rate | Minimum bet | Maximum bet |
| --- | --- | --- | --- |
| Genie Jackpots | 94.01% | £5 | £1,200. |
| Pig Wizard | 94.69% | £5 | £1,200. |
| Super Diamond Deluxe | 94.12% | £5 | £1,200. |
How many slot machines does Genting International have?
Genting has over 100 slot machines, playable on high-definition screens. As a gamer, you can choose from a vast library of slot games on the casino's slot machine.
Do the slot machines accept coins? (UK)
No, the casino slot machines do not accept coins.
Slot machine providers
IGT

Playtech

FSB Technology
Local progressive jackpots
The jackpot prize amount ranges from £1,000 to £50,000; you can play popular slots like Mega Fortune Quest, Lucky Gems Bonanza and Treasure Trove Deluxe to have a chance of striking a jackpot.
Genting International Casino Games – 5/5
We rated the casino games based on five game types; their low minimum bet and high maximum bet, and the number of tables. Genting Casino has an excellent gaming floor with 31 live gaming tables.
Game types
Roulette

Blackjack

Poker

Craps

Baccarat

Sic Bo
Betting limits
All betting limits for table games at the Genting Casino are displayed at each table so you can see them before gaming. 
| Game | Minimum bet | Maximum bet |
| --- | --- | --- |
| Roulette | £0.5 | £1290 |
| Blackjack | £0.5 | £100 |
| Poker | £0.5 | £250 |
| Craps | £0.5 | £500 |
| Baccarat | £0.5 | £1000 |
| Sic Bo | £0.5 | £500 |
Do I need special VIP access to place a high-limit bet?
You don't need special VIP access to place high-limit bets.
Genting Casino Poker Tournaments
Genting Casino hosts poker tournaments every Tuesday and Friday. All tournament games are self-dealt. Also, you can reach the customer at: contac[email protected] to learn more about their poker tournaments.
Staff & Service – 5/5
Aside from gambling at Genting, the operator is famous for offering customers hospitality services. In Birmingham, the venue is located in a resort with a four-star hotel, cinema, spa, a shopping mall with around 50 retail outlets and numerous bars and restaurants.
Food & Drinks
The complex where the casino is located has many bars and restaurants, one of which is Robata Bar & Grill, located in the Genting Hotel. Gamers can enjoy an extraordinary dining experience with a food menu inspired and carefully curated fusion of European, Australasian and Pan-Asian cuisine. Also, for those who want a good drink, the restaurant has spirits, Oceania wines and packaged Asian beers.
Also, there is the Fahrenheit Grill: to enjoy mouth-watering steaks and a broad menu of international dishes, like Chicken Curry and rice, a Lebanese spiced chicken breast sandwich. The menu also includes shakes and desserts. You can visit the Fahrenheit Grill daily from noon to 2 AM. All prices for food and drinks at these restaurants are average.
How much do you tip at Genting Casino?
Unlike other casinos, tipping isn't allowed at Genting Casino, regardless of whether the table is losing money. But when gaming at the casino, it's also vital to ask staff if tipping is allowed.
In all, if they allow tipping at the time of play, it's up to you to tip any amount you feel suits you. Some gamers tend to tip dealers about 1%-5% of their winnings. Regarding tipping servers or other staff members, it's okay to tip 10% to 15% of the bill for food and drink services.
Does Genting offer free drinks?
If you're a regular customer at Genting Casino and become part of My Genting Rewards, you get complimentary tea, coffee and draught soft drinks whilst gaming. Also, you get a 10 per cent discount on all beverages.
Is there a buffet at Genting?
The casino doesn't offer a buffet but might include one in the future. But in general, most operators don't provide customers with buffet service.
Parking
The Genting casino has a nice parking space, but you must pay to park your car. You can book your parking space online or at the location. Parking prices can cost anywhere between £3-£22. 
Accommodation
The Genting Hotel is situated near the main venue. You can book the hotel online; it's a comfortable place to stay for all gamblers who want to. Hotel prices differ, but you need at least £100 to book a room. The hotel has a spa, and there are lots of spots to eat, drink and play, and if you want to shop, there are shopping outlets.
Do you tip room service at Genting Hotel?
Tipping a room service should be based on your experience with the accommodation and is not mandatory. As a general rule, you can offer 1-10% of your total expenses at the hotel. 
Are there smoking areas?
The casino has strict rules regarding smoking; no one is allowed to smoke indoors in any building owned by Genting. However, you have access to a special area dedicated to smokers.
Security
Being a modern casino, their security team comprises a physical security force. These trained professionals patrol the casino and respond to calls for help and reports of criminal and suspicious activities. Then a specialised surveillance department operates and monitors the casino's closed circuit television(CCTV).
Loyalty & Rewards – 5/5
The casino has a loyalty and reward program named My Genting Rewards. It's easy to join. All you need to do is sign up. When you sign up for the casino's newsletter, you get many freebies, like drinks, games and exclusive offers.
How does the Genting Casino rewards program work?
For every 100 points, you get £1 worth of points, and for every Genting Point you receive, you get an equivalent to 1p, which can be redeemable on:
Food and drink

Slots and Electronic Gaming play

Gaming Table bets at the Kiosk
You can earn points by:
Playing on e-Tables

Playing slots

Playing table games

Downloading the My Genting App and completing App Challenges
An easy way to earn Genting Points is by completing the in-app challenges.
What you get
Being part of the casino's loyalty and reward scheme, you enjoy the following benefits:
A 10% discount off all drinks you purchase at the venue.

You get complimentary tea, coffee and draught soft drinks when gaming.

You receive exclusive offers when you opt-in to email communications.
How to register for the program
If you're a recurring customer at the casino, you can simply request registration through the app or at the front desk. The casino offers players tailored benefits based on the things they want. Also, The My Genting scheme is created in a way that offers players the best casino experience, offering them a range of exclusive benefits.
Genting International Atmosphere – 4/5
Based on our time in the casino, we observed it's a well-designed venue, providing gambling and hospitality services for years. You will instantly know it's a friendly place to play in. The environment is cosy and convenient.
The design is a modern twist on the classic casino theme, which wants to make players feel like they are in Las Vegas.
View from the inside
Design experience
The Genting Casino has a luxurious design that can be observed through all aspects of the gambling hall. The quality of the materials found in everything from the chairs to the carpet and tables is easily noticeable.
Are you allowed to take photos in Genting International?
Mobile phones/pocket PCs/electronic equipment with digital cameras are generally prohibited at the casino. Nonetheless, the casino manager may allow you to take pictures on special occasions. But be aware that although you can take photos at the casino, you aren't permitted to take pictures next to the gaming area as photography is strictly prohibited.
Location and surroundings
The casino's location and surroundings are clean, secure, and, most importantly, luxurious. The Genting casino has been a leader in the hospitality industry, so it's only fitting they have a quality environment with lots of facilities, services and products suitable for all visitors.
Do you need a passport to visit Genting Casino?
You do not need a passport, but you must be over 18 years old to gain entry into the casino. So if you must prove your age and identity, you should provide the casino security or staff with any form of identification. 
Events
Live events and shows are usually hosted at the venue, so there are times when entertainers come and perform at the entertainment centres.
House Rules (T&Cs) – 4.5/5
Analysing the house rules of Genting, there is nothing out of the ordinary or rules that do not make sense. We recommend you carefully read the rules of the operator before entering the premises to avoid dissatisfaction. For example, keep in mind you are only allowed to record photos or videos with permission and can't use your mobile phone while playing at a table.
When is the venue open?
Opening times to customers are between 12 PM and 5 AM.
Is there an entry fee?
Entry into this casino is free, you do not need to pay anything.
Do you always need a reservation to play?
You don't need any reservation to enter or play within the venue.
Genting Casino membership details
You need to sign up to become a Genting casino member to gain entry into its physical casinos anywhere in the UK. But don't worry, signing up is very easy, you can do it online before coming on the premises or do it at the front desk when you first arrive. It shouldn't take more than a few minutes and all you need is a valid ID that proves you're over 18.
The dress code
Smart casual is the accepted dress code at the casino. You could wear smart jeans and trainers. You cannot wear football shirts or muscle/vest tops at the casino.
Also, caps are not allowed at the casino; the reason is for security and safety reasons of all casino members. Why so? The security surveillance team must see people clearly on the casino's CCTV system.
Standout rules at Genting
Membership: You cannot enter the gaming hall without becoming a member first.

Drinking: Beverages are not permitted at the gaming tables, so use the casino's small trolley tables.

Cloakroom: You are required to use the dedicated storage space for any large or oversized clothing items and bags. Small handbags or purses are allowed.
Players' Feedback – 3.8/5
Based on players' feedback and reviews online at the casino.has an average rating.
Player reviews
Google – 4.2/5
The Google Reviews are mostly positive, with an overwhelming 52% of them being 5/5, and a total of 726 reviews at the time of writing.
Tripadvisor – 3.5/5
Trip Advisor has an average review of 3.5 stars out of 5 from over 133 visitors at the casino. Some complained about rude security staff, and others liked the game staff.
Most common issues
The casino's Customer support could be more reliable. Based on our assessments of this issue, it's because they have many customers worldwide, and it might take time for the support team to solve players' complaints and problems.
Operator – 5/5
Genting has been an established casino operator for over 57 years. The UK Gambling Commission licenses and regulates all venues owned by the operator. Furthermore, you can find venues from this operator worldwide and in many different locations in the UK.
Who owns Genting International?
The Genting Casino is owned by The Genting Group, headquartered in Wisma Genting in Kuala Lumpur, Malaysia. They also own resorts, hotels, clubs, and restaurants, besides gambling services.
Other casinos by the same operator
Genting Casino Blackpool

Genting Casino Bolton

Genting Casino Bournemouth

Genting Casino Brighton
Contact info
| | |
| --- | --- |
| Website | https://www.gentingcasinos.co.uk/contact-us/ |
| Email address | [email protected] |
| Telephone number | – |
Who are the Top Competitors of Genting International?
Victoria Gate Casino

Grosvenor Casino
Genting vs Victoria Gate
Genting and Victoria Gate Casinos offer largely similar services in terms of gambling experience. Genting takes the edge with a more complete experience, offering customers the full resort treatment with accommodation, shopping malls and several restaurants available at every venue.
Victoria Gate Casino is the best for slots
What Victoria Gate takes the edge for is its slot machine collection which has 75 more games than Genting.
Genting vs Grosvenor
Grosvenor is regarded as one of the leading gambling services providers in the UK. However, Genting offers players a better-rounded casino journey, offering them a larger gambling hall, member benefits, and live events, like concerts and shows.
Grosvenor Casino is the better alternative for lower minimum bets
Grosvenor offers its customers more affordable opportunities to place wagers across all games in their catalogue. Genting caters more towards high-rollers and seasoned gamblers.
What sets Genting International apart from its competitors?
Its years of experience in the gambling industry prove it's an established casino, and the casino offers its customers 
Great land-based and online gambling services.

An excellent hospitality service.
Pros and Cons
Pros 
You will find a great collection of games with over 100 slot machines, 40 table games and 40 e-tables.

The casino has an excellent hospitality service, including restaurants, late bars, accommodation, and shopping malls.

Being a loyal customer is highly rewarding, you can earn access to exclusive perks and promotions, which might improve your overall experience.
Cons
Customer service support is difficult to contact only through e-mail.

To gain entry into their gaming facilities, you need to become a member, which most players might find uncomfortable.
Is Genting International Casino Your Best Place to Play?
Genting Casino provides customers with a luxurious gambling experience that feels like a Las Vegas top casino. You have access to a complete resort with accommodation, several restaurants, shopping outlets and many more. The live events and tournaments hosted by the operator aim to please even the pickiest visitors of the venue, and in our opinion, they do so very well.