Victoria Gate Casino Review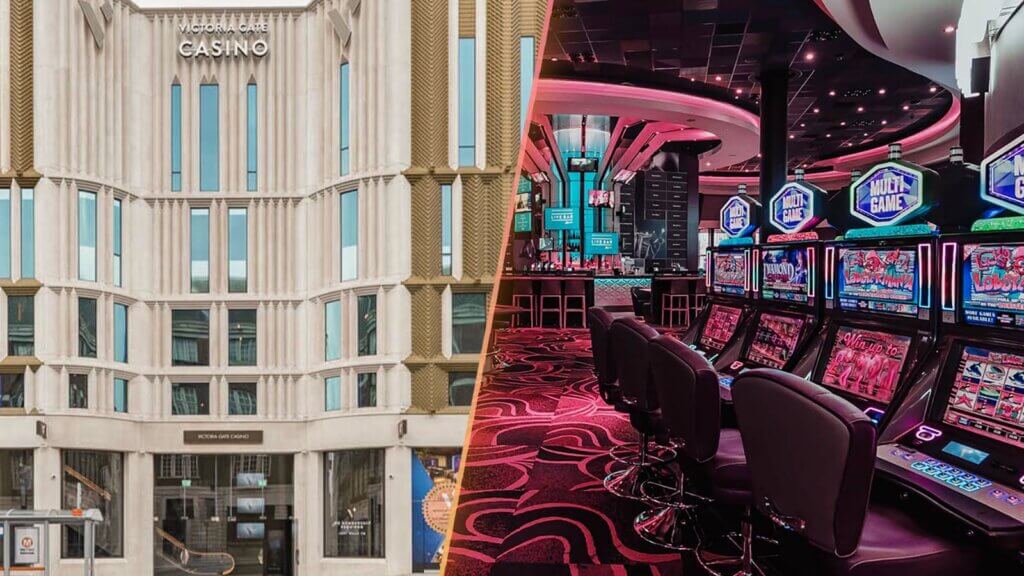 Located in the heart of Leeds City, Victoria Gate Casino has become one of the most sought-after destinations for gaming and entertainment. Read on to learn more about its gaming options, amenities, loyalty programme, rules and customer service.
We'll even see how it stacks up against some of its main competitors so you can make an informed decision next time you decide to visit a casino in Leeds.
Victoria Gate Casino Ratings
| | |
| --- | --- |
| Overall Rating | 4.4 |
| Slot Machines | 5/5 |
| Games | 4/5 |
| Staff & Service | 4/5 |
| Loyalty & Rewards | 5/5 |
| Atmosphere | 4.5/5 |
| House Rules | 4/5 |
| Player's Feedback | 3.8/5 |
| Operator | 5/5 |
Rating and review process for Victoria Gate Casino
To thoroughly review Victoria Gate Casino, we assess a number of factors from an analytical perspective. We give our opinion based on this, as well as looking at the more objective criteria outlined below. If these are met, certain sections may receive a top score of 5/5.
You can see more reviews (and how the criteria compare) by viewing our expert ratings on other regional venues, such as the Manchester 235 Casino.
How we inspected Victoria Gate Casino
Date of visit: 07/10/2023
Time of visit: 14h – 16h
Initial bankroll: £50
What we played: Slots
Final bankroll: £100
Next visit: 08/20/2023
What we looked at
There are different rating criteria we explore in the reviewing process. We observe the gaming selection and its features, as well as pricing, house rules and promotional packages, to draw a conclusion as to the value it can add for players. This is done by providing key metrics that can be compared against industry and competitor standards.
In terms of objective criteria, we review the diversity (and quality) of live events available. We also look at the accommodation, quality of dining experience, customer service and the general atmosphere to give our opinions and recommendations.
What we found
| | |
| --- | --- |
| Address | Victoria Gate Eastgate Leeds LS2 7JL |
| Open hours | 24/7 |
| Membership | Not required |
| Minimum age | 21 |
| ID checks | Yes for non-members |
| Game types | Slots, blackjack, roulette/electronic roulette, three card poker, casino war, and punto banco |
| Tables | Blackjack, roulette, punto banco |
| Slot machines | 140 slot machines |
| Gaming terminals | 80 gaming terminals |
| Payment | Cash, Card, Chips |
| Average betting range | N/A |
| Restaurant | Yes |
| Hotel | Yes |
| Poker tournaments (UK) | Variety of poker tournaments with a prize pool up to £20,000 |
Slot Machines – 5/5
Victoria Gate Casino offers almost 200 slot machines from more than three top gaming providers, including Novomatic, WGS and IGT. They provide a wide range of special features and jackpots up to 10,000x.
Slots we played at Victoria Gate Casino
| Slot machine | Minimum bet | Maximum bet |
| --- | --- | --- |
| Dolphin's Pearl | £0.10 | £100.00 |
| Book of Ra | £0.02 | £5.00 |
| Lord of Ocean | £0.04 | £100.00 |
How many slot machines does Victoria Gate Casino have?
The venue provides 175 slot machines across a wide range of types, including classic, video, progressive and jackpot slots.
Do the slot machines accept coins?
The main acceptable means for playing the slots is with chips that can be paid for with cash or a card. While cash may be accepted at betting tables, coins cannot be directly inserted into the slot machines.
Slot machine providers
Local progressive jackpots
A sizable number of the slots provide jackpot prizes that are attainable at different intervals within the games. Dolphin's Pearl and Book of Ra are examples of slots offering jackpots as high as 10,000 x your stake.
Casino Games – 4/5
This section will cover information about the game categories, highlighting their distinct betting limits, as well as the poker tournaments available at the location.
Game types
Live games: 24 live tables comprising of blackjack and roulette

Poker: 10 tables available (with over 100 seats in a dedicated zone)
Betting limits
| Game | Minimum bet | Maximum bet |
| --- | --- | --- |
| Roulette | 50p | £200 |
| Blackjack | £3 | £5000 |
| Poker | £3 | £2000 |
Can anyone bet the highest limits or do you need special VIP access?
Anyone is allowed to bet the highest limit without needing VIP access. This means that new players can bet as much as £5000 on blackjack in a single sitting.
Victoria Gate Casino poker tournaments
The venue offers regular poker tournaments, including Texas Hold 'em, Omaha Hi-Lo and Bounty Hunter. Tournament prize jackpots range from £5,500 – £20,000.
Staff & Service – 4/5
In this section, we will assess the hospitality elements, including food and drink options, accommodation, tipping, parking and security.
Food & Drinks
The venue specialises in a range of snacks and light meals at affordable prices. You can find food ranging from English breakfasts to pizza and cheeseburgers, as well as many pubs. The cost of casual food and drinks ranges between £3 – £12, which is very reasonable when compared to other operators.
The drinks menu boasts a selection of house spirits, classic cocktails, craft beers, wines, champagnes and soft drinks, with the alcoholic beverages being a bit more on the pricey side.
The location makes provision for a few sit-down restaurants, such as the trendy Indigo Sky, the classic Italian eatery La Cucina and the sophisticated V Bar & Grill. There are four bars that include The Palm Court Bar, The V Bar, The Rose Garden Cocktail Bar and The Sports Bar, offering a different atmosphere and price to suit all budgets (and moods).
This being said, the operator caters more for relaxed dining at affordable prices rather than a destination for high-class cuisine.
How much do you tip at Victoria Gate Casino?
There is no mandatory tipping at the location. However, the standard tipping etiquette is to leave a gratuity of 10-15%, depending on the service provided. If you are particularly pleased with your experience, you could opt for a larger tip of up to 20%.
Does Victoria Gate Casino offer free drinks?
The venue doesn't provide free drinks. However, it offers visitors the opportunity to get drinks as low as £4 from Sunday to Thursday during the location's Happy Hour (at its designated bars).
Is there a buffet at Victoria Gate Casino?
There's an all-you-can-eat, 50-person buffet available at the Curve Bar, which includes classic British favourites and global cuisine. To ensure your seat, it's important to make a booking ahead of time.
Parking
Parking at the location is priced at £5 from 5 pm to 6 am. However, members are allowed to pay a discounted price of just £2 for parking.
Accommodation
The location does not have a dedicated hotel. However, there are a number of hotels within close proximity that guests can explore. Some of the top-rated ones are The Queens Hotel, Dakota Leeds and DoubleTree by Hilton.
All of the hotels mentioned are rated at least 4.5 stars. The average cost of accommodation at these hotels is about £60 per night, which is quite reasonable.
Do you tip room service at Victoria Gate Casino?
In the UK, it is customary to tip 15-20% when receiving room service at hotels (but not mandatory).
Are there smoking areas?
The location is a completely smoke-free environment, with smoking being strictly prohibited inside the premises. This includes all forms of tobacco and e-cigarettes. However, some of the hotels close to the venue make provision for smoking areas.
Security
By standard, the operator sets in place security measures to ensure that guests are safe. Besides having bouncers who are armed with metal scanners at the designated points of entrance, there are also strategically placed cameras to monitor the activities within the casino.
Loyalty & Rewards – 5/5
In this section, we will look at the loyalty programme – how it works, what you get and how to start claiming your rewards.
How does the Victoria Gate Casino rewards program work?
The loyalty program is one of its most attractive qualities. Upon registration as a member, you are assigned a Bronze card, which comes with its own set of perks. Higher tiers of the rewards program include:
Silver

Gold

Black
The higher your rank, the more benefits are available to you. The only downside is that customers have reported that the renewal of membership plans can be tricky (not automatic).
What you get
Free play offers

Exclusive access to special events

Complimentary parking

Exclusive viewing areas for all big events

Access to pre-book a table
How to register for the program
To sign up for the loyalty program, simply visit the operator and register with your valid ID – you'll automatically be assigned Bronze status. You are required to pay a membership fee, but it is quite reasonable.
Casino atmosphere – 4.5/5
In this section, we will assess the atmosphere by looking at its décor and location, as well as the events it holds for an enhanced customer experience.
View from the inside
Design experience
The gaming location boasts impressive décor that combines classic elements with modern touches to create a truly unique atmosphere. The walls are decorated with opulent golden wallpaper and marble accents, while contemporary chandeliers add light and drama to the room. Richly-hued carpets line the floors throughout, with dark leather furnishings adding an air of luxury to the space.
The location has multiple large TV screens and plush lounges, which are ideal for sports viewing. It also boasts four bars, each one offering a different atmosphere with the décor to match.
Are you allowed to take photos in Victoria Gate Casino?
There is no restriction to discourage people from taking photos. Whether you want to take a selfie against the backdrop of one of the many gaming tables or one of their special events, you're free to document your experience.
Location and surroundings
This casino is located in the heart of Victoria, Leeds, making it a notable attraction site. The ultra-urban surroundings where the venue is situated, coupled with the rich historic architecture of the buildings, create an overall ambience that reflects luxury.
Do you need a passport to go to Victoria Gate Casino?
You're expected to present a valid ID document. If you are a registered member, you can simply present your card to gain access.
Events
The operator makes provision for regular live events to further enhance the experience for guests. There are live performances (such as magic shows, theatre and music concerts), gaming tournaments and special events, like Valentine's Day and New Year celebrations. It also offers exclusive events tailored towards its VIP members.
House rules (T&Cs) – 4/5
In this section, we will look into how favourable the terms and conditions are (house rules). It will also address the availability and cost of entering the casino.
Opening hours
Victoria Gate Casino is open 24/7. Guests can enjoy slots, table games and live entertainment all night long, with the bars and restaurants also open until late.
Does Victoria Gate Casino charge entry?
You are not required to pay any entry fee to gain access. All you need is your valid ID card (and money to place your bets).
Do you always need a reservation to play at Victoria Gate Casino?
You don't need to book a reservation to enjoy most of the amenities provided by the casino. However, if you're looking to host a buffet with your friends at the Curve Bar, it is advised (if not mandatory) to make a reservation.
Because the location can get quite busy, we also recommend that you pre-book a betting table if you're planning on going with a large group (this perk is available to members only).
Victoria Gate Casino membership details
Although it is not mandatory to become a member, being one could give you access to some impressive perks. To register for a membership, simply visit the casino with your valid ID card.
Dress code
The venue expects customers to be appropriately dressed before allowing access to the premises. What is deemed "appropriate" is subject to the discretion of the management. However, the dress code is described as "semi-formal", meaning that sportswear, ripped jeans, and open footwear are not allowed.
Standout rules at Victoria Gate Casino
Here are some of the standout rules that you should be familiar with:
Customers are required to provide formal identification once attaining certain financial milestones, which is in compliance with AML/CTF legislation

Slot machine or electronic gaming machine cash-out tickets cease to be valid and transferable after a 90-day period. As such, players might have to forfeit payment after exceeding this window

Customers are forbidden to have any cordial relationship with the staff

For slots promotions, it is mandatory to stake all promotional funds before you're allowed to cash out

Free play offers cannot be exchanged for cash

To be eligible to enjoy the perks of the free play, customers are expected to redeem it in full within the validity date

Free play promotional chips/credits/tickets can only be used on the day they are issued

Promotional stakes are not returned on winning bets
Players feedback – 3.8/5
This section will document some relevant information about player reviews on Google and Tripadvisor.
Victoria Gate Casino player reviews
Google – 4/5
755 reviews average to a "very good" rating on Google. Players praise the operator for its excellent sports betting and gambling options, including a quality selection of roulette, blackjack and a dedicated poker section.
However, many customers seem to have issues getting in, with the bouncers described as "discriminatory" and refusing access to guests who are suspected of being even mildly intoxicated. On-floor casino customer service has been criticised, particularly with regard to ordering (and receiving) alcoholic beverages.
Tripadvisor – 3.5/5
Of the 329 reviews on Tripadvisor, the feedback seems to be extremely varied, with "excellent" and "terrible" rankings scoring the highest. Players highlight the appealing interior, games selection and availability of sports betting – with many large TV screens for easy viewing.
However, customer service reviews are very mixed, with some players calling the staff "friendly", while others refer to it as "the most pitiful experience a customer may have".
Most common issues
According to popular opinions from customers, here are some of the common issues:
Renewing membership plans can be tricky

Despite serving alcohol on the premises, the operator has a very low tolerance for intoxicated customers. You may be denied entry if even mild intoxication is suspected

Drinks could be served in better glassware to fit the overall aesthetics of the venue

On-floor gambling drinks are relatively expensive

Limited on-floor customer service

It can be very busy and noisy at peak hours
Operator – 5/5
Who owns Victoria Gate Casino?
Victoria Gate Casino is owned by VGC Leeds Limited. The company is registered by the UK government under the company number 09098468. It is worth noting that the company is authorised to operate gambling activities by the UK Gambling Commission.
Other casinos by the same operator
Victoria Gate Casino is the only casino owned by the proprietor, VGC Leeds Limited.
Contact info
Who are the top competitors of Victoria Gate Casino?
Two venues that come close as competitors are Napoleon Casino and Grosvenor Casino. In this section, we will be doing a side-by-side comparison of them.
Victoria Gate Casino vs. Napoleons Casino
Victoria Gate Casino provides far more gaming options when compared to Napoleons Casino. It offers over 175 slot machines and as many as 24 live betting tables, which is a huge contrast to the 18 slot machines and 12 live tables provided at Napoleons Casino. Moreover, it is open 24/7, which includes its live bar and lounge; however, Napoleons Casino is only open from 12 pm to 6 am.
Such restrictive opening hours would be a dealbreaker for players who love to play at casinos round-the-clock (especially earlier in the day). Victoria Gate Casino also seems to have a better lineup of live performances when compared to the latter. When we also look at the diversity of promotional offers made available by both casinos, it appears to come out on top.
Napoleons Casino is best for a fine experience
Napoleons Casino doubles up as a restaurant, so it comes as no surprise that it delivers a premium fine dining experience at affordable rates. This is an area that beats Victoria Gate Casino, which specialises in more casual dining (with few fine dining options).
Victoria Gate Casino vs. Grosvenor Casino
Victoria Gate Casino offers a broader range of options within each type of game – slots, roulette, blackjack and poker. This is in contrast with what is available at Grosvenor Casino, where there are fewer slot machines, live tables and poker tables available. Both casinos are open 24/7.
In terms of live events, Victoria Gate Casino outperforms the latter, given that it offers a better lineup of live performances throughout the year. However, although both casinos offer a range of promotional packages, Grosvenor beats the former, given the diversity of promos made available.
Grosvenor Casino is the best alternative for promos (and casual dress)
Grosvenor Casino makes an effort to provide not just promotional bonuses for its casino offerings but also for its sportsbook customers. The casino offers a "First Deposit Bonus", as well as various daily and weekly promotions.
While Victoria Gate Casino can be somewhat restrictive in terms of its dress code, Grosvenors Casino is more forgiving, allowing customers to enter the premises in casual wear.
Read our review of Grosvenor Casino to learn more about its unique benefits.
What sets Victoria Gate Casino apart from its competitors?
One area where it stands out from its competitors is the variety of gaming options available. Not only does it offer more game types, but it also ensures that there is a wide range of tables and machines to play at. In addition to an abundance of slot machines, it provides 24 live betting tables and a dedicated poker section with 10 tables and a variety of tournaments.
Both Napoleons Casino and Grosvenor Casino pale in comparison, especially when it comes to their slots and poker offerings.
Pros and Cons
Pros
Over 175 slot machines available

24 live tables available

Dedicated poker section (10 tables)

Availability of sports betting

Large TV screens for sports viewing

Luxury-themed interior design

Impressive lineup of live performances

Special events throughout the year

Attractive loyalty programme

Affordable food and drinks

Low charge for membership plans

Free entry to the casino
Cons
Dress code can be restrictive (no sportswear allowed)

Renewal of membership plans is not a straightforward process (not automatic)

On-floor customer service can be limited at peak times

All-floor alcoholic beverages can be expensive

Fewer options for fine dining (casino specialises in snacks and light meals)

No dedicated hotel
Is Victoria Gate Casino your best place to play?
If you want a large selection of slot machines and poker game options (including regular tournaments), Victoria Gate Casino may be for you. It's also an excellent destination for watching sports, sports betting and live entertainment. Its luxurious yet modern décor will make you feel right at home.
Casual dining at affordable prices, with a few sit-down restaurants, will appeal to customers of all budgets. Given this fact, it's quite surprising that the dress code is relatively strict.
Due to it being so popular, you may find it busy and noisy at times, with limited on-floor customer service and few fine dining options. However, if you're looking for pure casino gaming at its best in Leeds (along with an attractive loyalty programme), we highly recommend this venue. Just be sure to read and understand the house rules before playing.
Check out more London Casino reviews for other popular venues in the UK.