The Economic Impact of Bingo In The United Kingdom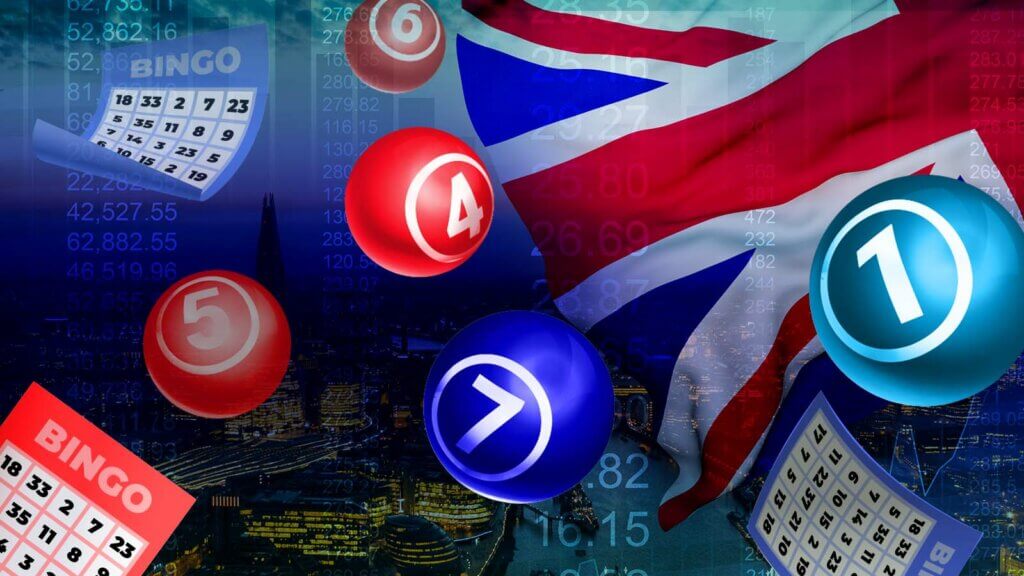 Bingo isn't just a game that can bring earnings to players; it also impacts the UK economy. Here we look at how the market affects the country's economy.
History of UK Bingo
Bingo has a long history in the United Kingdom, dating back to the early 20th century. It originated in Italy in the 1500s and was brought to the UK by travelling fairs and circuses.
Initially, the game was known as "housey-housey" and was played in music halls and pubs. During the 1930s, a version of the game called "tombola" became popular in working-class communities.
It was not officially legalised until 1960 when the government passed the Betting and Gaming Act, which regulated commercial bingo halls.
These halls quickly became a popular form of entertainment.
Nowadays, it is also often played online and has become increasingly popular in recent years as it is more accessible and convenient for many players.
The Modern Bingo Industry
After the modern version of the game was introduced in the UK in the 1960s, the industry experienced significant growth.
More halls began to spring up across the country, and the game quickly became a popular pastime, particularly among older adults.
During the 1970s and 1980s, it faced competition from other forms of entertainment, and the industry experienced a decline in popularity.
In the 1990s, the industry began to come back, thanks to the introduction of electronic gaming machines and the expansion of halls and clubs.
In the 2000s, the industry faced new challenges. However, it adapted, and nowadays, the experience is famed for evolving and adapting to new technologies and changing consumer preferences.
As such, many operators have diversified their offerings to include other forms of gaming and entertainment.
Online Bingo UK
The appearance of new bingo sites further helped the industry grow in several ways. It increased accessibility, making it available to a broader range of players and eliminating the need for players to travel to play the game.
Online bingo sites offer new formats, such as online tournaments and games with progressive jackpots like the ones found on bingo sites with slots or dedicated slingo sites. Because online games are relatively cost-effective, operators can offer players bigger rewards and bingo bonuses.
Overall, playing online helped revitalise the industry by making it more accessible, convenient, and cost-effective.
They also included a pay-by-phone bingo option and PayPal bingo accounts to double down on this trend so players can find the game even more easily accessible.
UK Bingo Today
Most players in the UK are women, with more than 75% being female. The survey also found that most players are aged 55 and over, with around 60% of players falling into this age group.
The same statistics also suggest that around 10% of adults in the UK have played the game in the last 12 months, and about 15% of adults aged between 55 and 65 have played it at least once in the past year.
Patterns suggest that older players tend to go for the social aspects of halls and clubs, whereas younger players are likelier to play online.
It is also worth noting that online games have attracted a younger demographic in recent years, with a significant increase in players aged between 18 and 34.
What Makes Bingo So Popular in the UK?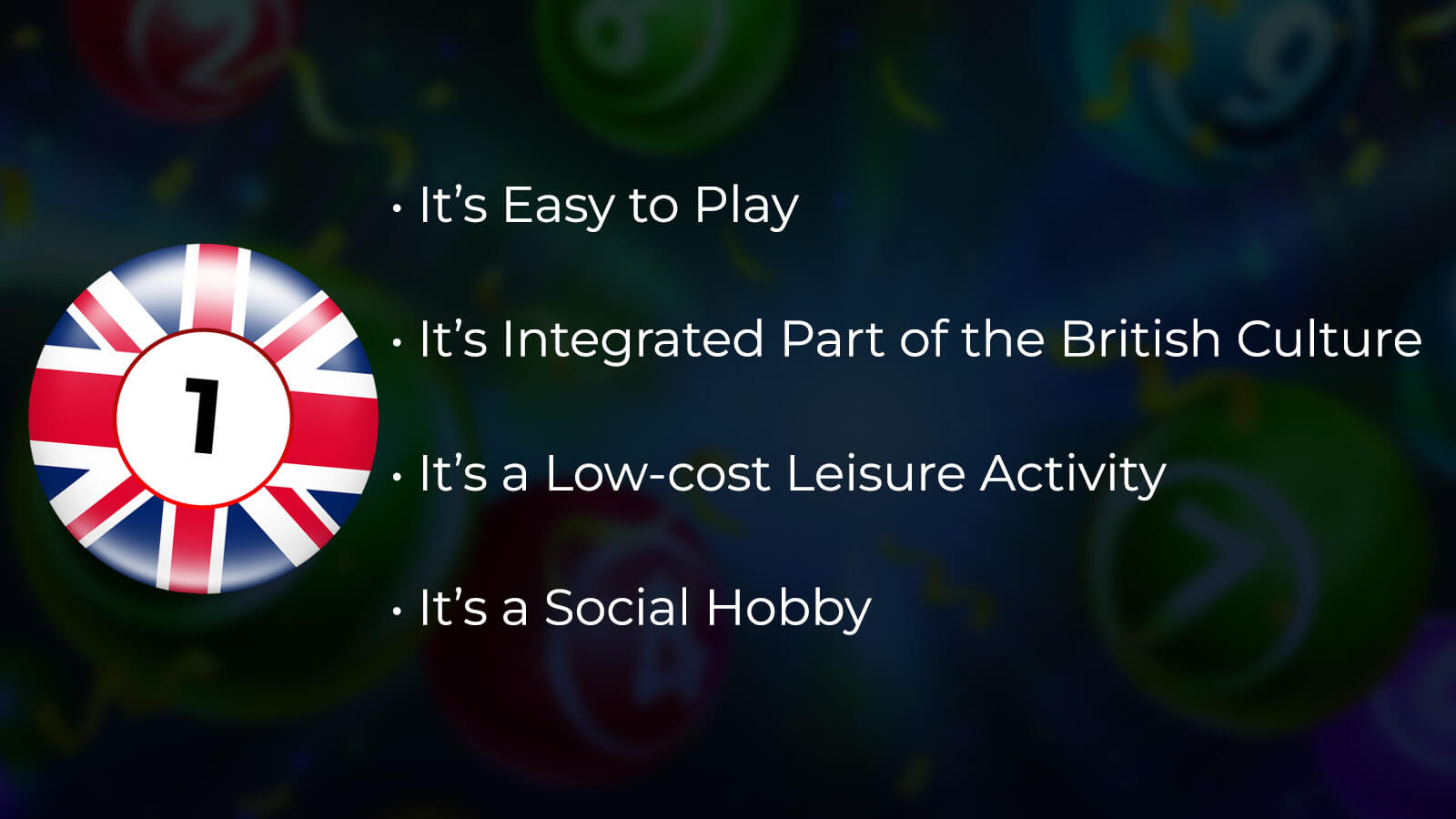 There are several reasons why this game has remained a popular pastime in the UK.
Not only can it offer players excitement and anticipation, but the variety of games available these days makes it appealing and convenient for more players.
This highly adaptable game changes with popular culture and increasing technologies – which is why the game will not go out of fashion any time soon.
UK Bingo Is Easy to Play
Bingo is a simple game that is easy to understand and play, which makes it accessible to people of all ages and backgrounds.
You simply choose the number of tickets or cards you want to play and wait for your numbers to be called out. If you play online, you don't even need to do that.
UK Bingo: An Integrated Part of the British Culture
Bingo has a long history in the UK, dating back to the early 20th century, and it has become a traditional pastime for many people. It is as synonymous with British culture as a cup of afternoon tea.
If you head to any traditional seaside town or holiday camp, there will undoubtedly be games to play – and tourists looking to try them out.
A Low-cost Leisure Activity
It is an affordable form of entertainment and has the potential to offer large prizes and jackpots, making it an attractive option for many people.
You can play as many cards or as few as you like and play according to your budget.
A social hobby
Bingo has a vital social aspect, as it is often played in halls or community centres where players can interact with one another.
There are weekly clubs in local halls, breakfast groups and all different innovations to encourage players to mix.
The game's social aspect has been reinforced by online gaming communities, where players can chat and play with other players from around the world.
UK Bingo Contribution to the National Economy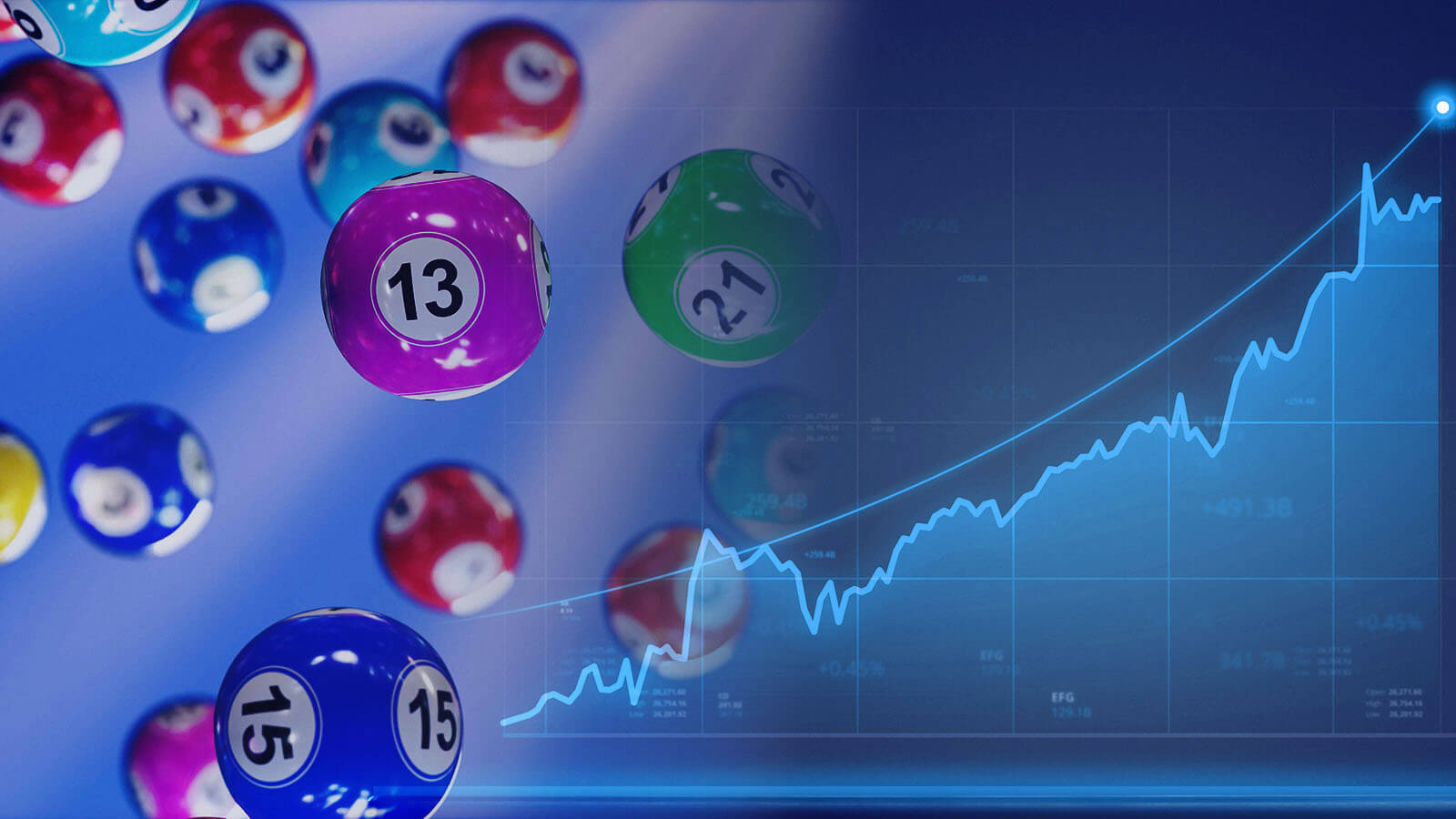 Bingo has made a significant contribution to the UK economy over the years. According to a report by the Bingo Association, this particular industry in the UK was worth approximately £1 billion, and it employed around 10,000 people.
The bingo industry contributes to the economy in several ways
Tax revenues: paying taxes on their profits

Job creation: Creates jobs in numerous areas – online and staffing for halls and clubs

Halls and clubs generate income for local businesses such as bars and restaurants

Many operators support local community organisations and charities

It is a popular pastime among tourists, and it can help to attract more visitors
Facts and Figures
In Great Britain, according to Statista, the Gross Gambling Yield of the industry shows a slight negative trajectory between April 2015 and March 2021.
However, from April 2020 to March 2021, it yielded around £246.17 million.
It was predicted that this would grow to at least £388.63 million the following year – a significant increase.
What Taxes Do Bingo Companies Owe the Government
Bingo companies owe taxes to the government in several ways: First, corporation tax: They must pay corporation tax on their profits.
They also must pay Value Added Tax (VAT) as they are required to charge VAT on the sale of tickets and other goods and services, and they must also pay VAT on their purchases and expenses.
Other costs include gaming duty on the GGY from their bingo UK games and machine games duty because any company that operates electronic machines and games must pay machine games duty.
Land-based businesses must pay business rates on their properties and payroll taxes: These companies must also pay payroll taxes, such as national insurance contributions, on the wages and salaries they pay to their employees.
Taxes may vary depending on the location, and the laws are subject to change.
Bingo companies are responsible for ensuring they comply with all the tax laws, regulations, and requirements of their jurisdiction.
UK Bingo Employees
The number of employees is constantly changing. However, according to a report by the Bingo Association in 2019, the industry in the UK employed around 10,000 people.
This includes employees in halls and clubs, as well as those working in the offices of online operators and suppliers.
However, the number of employees in the land-based and bingo online UK industry is constantly changing over the years due to various factors, such as the closure of clubs and halls plus the shift to online gaming.
In recent years, playing online has become increasingly popular. Although this created job opportunities in IT, customer service and marketing, the number of employees in halls and clubs has likely decreased.
The Future of UK Bingo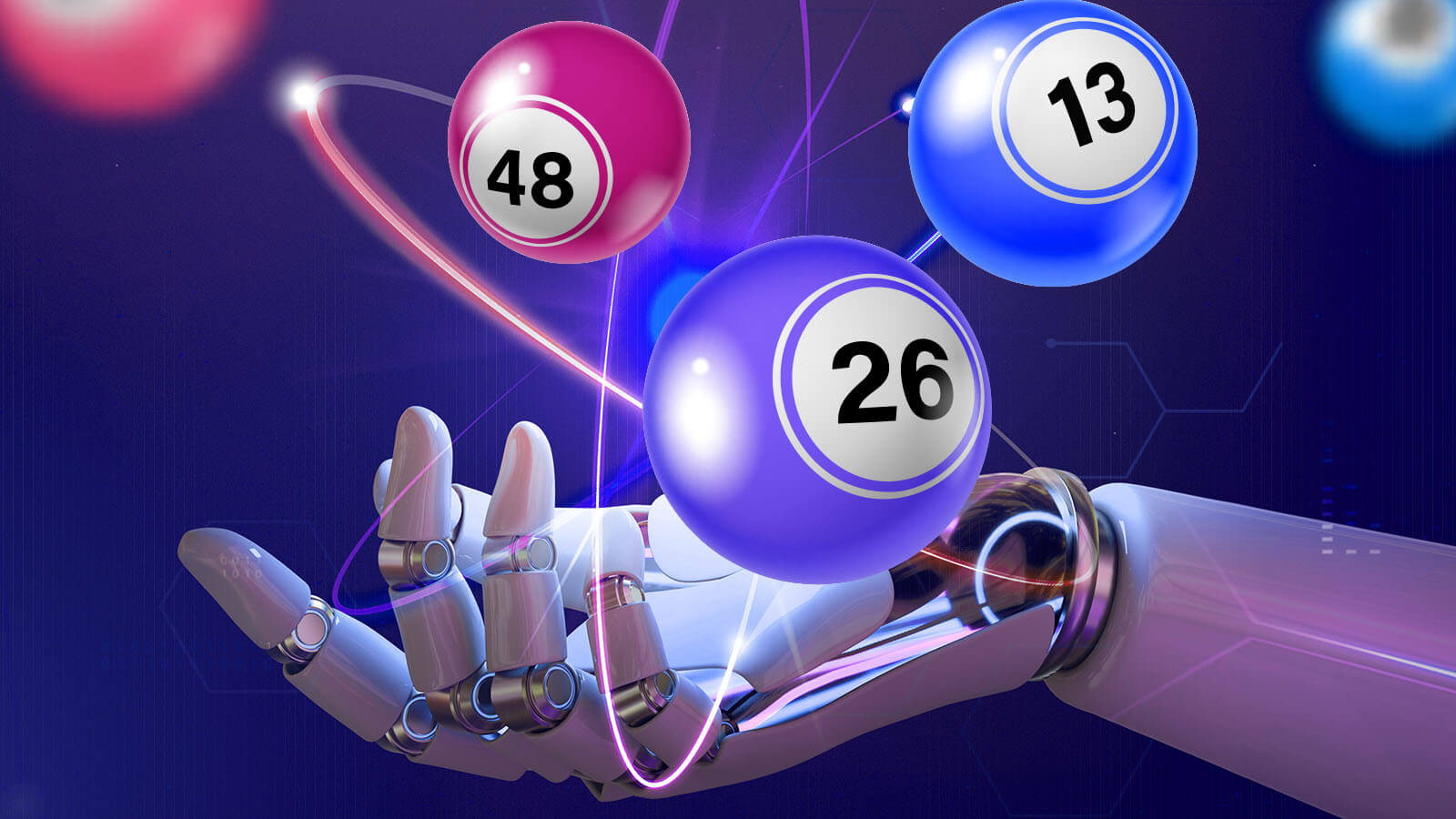 Several factors, including technological advancements, changes in consumer preferences, and government regulations, will likely shape the future of bingo in the UK.
The continued development of technology is likely to significantly impact the industry as more players are expected to move to online and mobile platforms.
The ageing population in the UK is likely to continue playing a significant role in the evolving industry.
Still, with the younger generation getting more into online gaming, it must adapt to attract a younger demographic.
There will be adaptations and changes, games will improve, and audiences will get younger.
This game moves with the times, and, as such, the financial future of bingo and online bingo UK is set to be very exciting.
FAQ
When Did Bingo Start in the UK?
Bingo started in the UK in the 1500s and instantly became very popular. However, it wasn't officially legalised and regulated until the 1960s.
Is Bingo Big in the UK?
Bingo is relatively big in the United Kingdom. Bingo halls have been a staple of many British towns and cities for years.
Although the number of physical bingo halls has declined in recent years, many have been replaced by online bingo sites, which have seen a significant increase in popularity.
Why Do British People Play Bingo?
Some people enjoy the social aspect of bingo, as it is often played in community halls and clubs where people can meet and socialise.
Others enjoy the thrill of competition and the potential to earn prizes.
Bingo is also considered an easy, low-stakes game accessible to players of all ages and backgrounds.