In-depth guide for the Gamstop self-exclusion scheme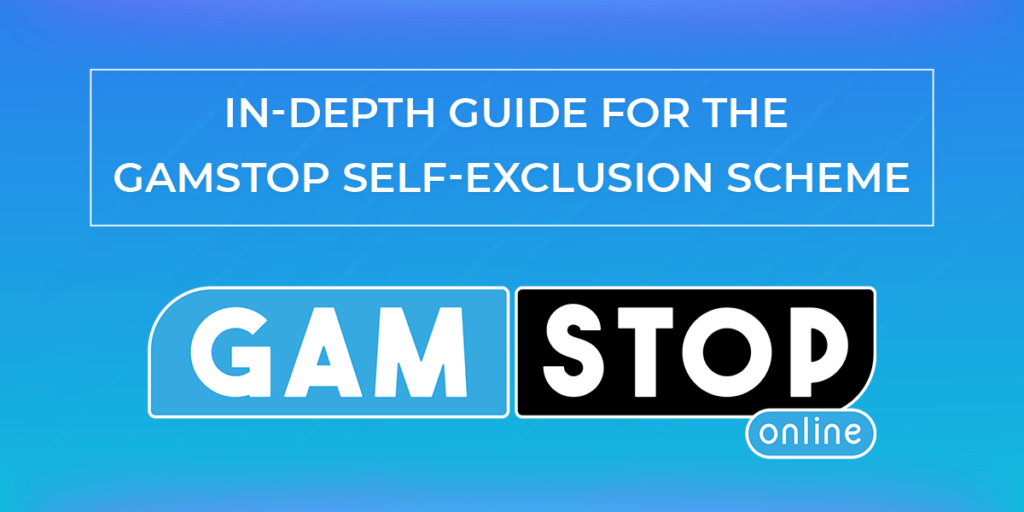 Gamstop is a free gambling self-exclusion service launched in April 2018 that allows British players to restrict their access to online casinos. Until now, over 50000 people have enrolled in the program and successfully blocked their gambling activities from online casino sites and apps that are operated under a licence by the UK Gambling Commission.
Do you think that you need a break? We fully understand your situation and want to help you make the best decision. Lucky for you, starting from 31st March 2020, all online operators licensed by the UKGC, except for lotteries, are required to be a member of Gamstop, which allows all British gamblers to self-exclude from all platforms within a few minutes.
Keep reading to discover a complete guide on the benefits of joining Gamstop.
Gamstop gambling self-exclusion guide
To successfully register in the Gamstop self-exclusion program, you will need to follow these steps:
Navigate to the Gamstop official website;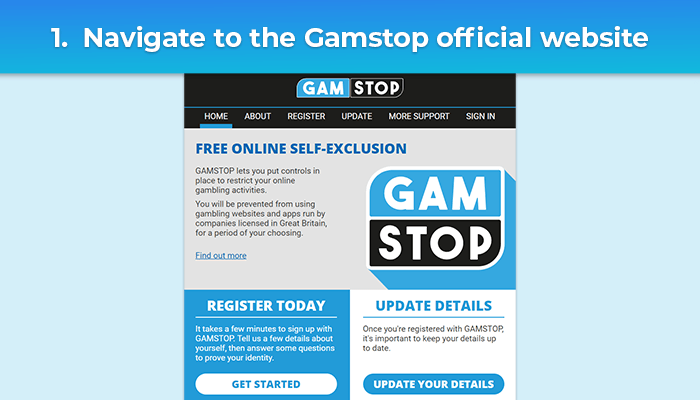 Tap the "Get Started" button located under "Register today";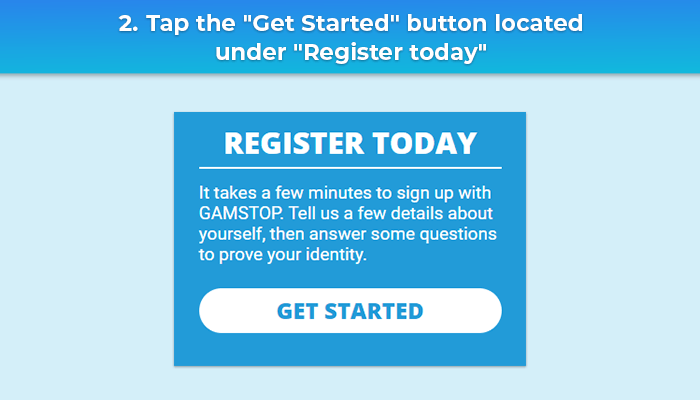 To sign up, provide your best e-mail address and confirm your account;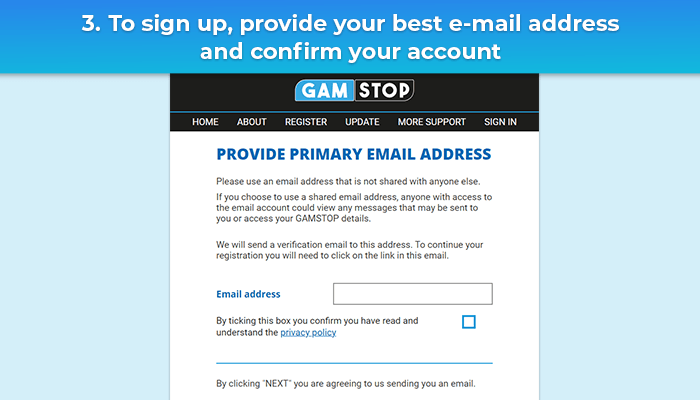 Now that your account was created, the site will ask you for personal details to successfully block your access to gambling platforms.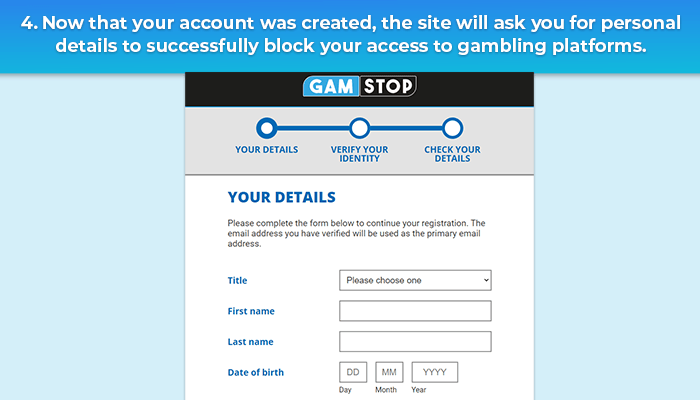 Gamstop recommends offering as much personal information as possible. This way, the self-exclusion process will be more straightforward, and they will be able to restrict your access to all online casinos you've ever played on.
Here is the complete list of the personal details you need to provide:
Current address and postcode, as well as any postcode from previous residences you lived in;
Date of Birth;
Any current or previously used phone numbers;
Any e-mail addresses that you currently used or have used in the past.
I signed up for an account on Gamstop. Now what?
Once you have successfully confirmed your account via e-mail, you will receive an additional e-mail containing additional information to help you deal with gambling addiction. Please note that the self-exclusion might take up to 24 hours to become active.
Once Gamstop is activated, you will be restricted from gambling activities from all licensed casinos in the United Kingdom for a minimum period of 6 months, 1 year, or 5 years, depending on the option you've selected upon registration.
During this time, you will not be able to cancel your exclusion until the minimum exclusion period selected has passed. When your minimum exclusion time has expired, you will have to contact Gamstop via phone to request removal, or it will remain in place until you do so.
If you want to get the most out of your Gamstop exclusion, make sure you set up your account correctly and keep it up to date whenever you change your address, e-mail, or phone number.
Be advised that self-exclusion on Gamstop will not automatically trigger the return of your withdrawable funds from the casino operators where you still have active accounts. Gamstop takes no responsibility in returning funds, so you will have to do it manually.
For more information, check out our article on responsible gambling, where we will explain in detail how you can prevent spending more money than you should and avoid viewing the casino as a primary source of income.

Be aware: Gamstop is a service available only for residents within the United Kingdom.
Gamstop not working
Here's how you can fix it
While Gamstop and the UKGC are working hard on delivering a high-quality service to those in need, there might be situations in which players who have self-excluded will be able to gamble without confirming their identity. The online casino operators are responsible for ensuring that these situations are kept down by implementing agreements to prevent them.
If you ever find yourself in the situation of gambling in an anonymous environment while you're on the Gamstop self-exclusion list, it's essential to inform the operator. By doing this, you could potentially help them identify weaknesses in their procedures and improve them. You can also notify the UKGC directly, as it can provide valuable information regarding potential weak spots in their system.
According to the official UK Gambling Commission site, here is the complete list of information that you need to provide if you want them to consider your request and allow them to share your personal information with the company:
The date you've joined the Gamstop self-exclusion service;

How you informed the operator that you want to self exclude;

The casino's confirmation that the self-exclusion was activated;

The period you wanted to self-exclude for;

The exact dates you were able to play in the casino even if you thought that you were self-excluded;

Any details regarding communication you've had with the company since you gambled with them.
All the details you provide will be used to determine if it's a regulatory compliance issue or a system error. However, you won't obtain any refund of money spent on gambling, so requesting it in your complaint won't help you.
Recommendation: In addition to joining the self-exclusion program, you could consider installing blocking software that restricts your access to gambling sites.
Gamstop UK contact
If you need additional help with your registration or want to update your self-exclusion period, you can reach the Gamstop customer support team via one of the following channels:
Phone: 0800 138 6518, available 7 days a week between 10 am and 8 pm;
E-mail: [email protected];
Live chat: available 7 days a week between 10 am and 8 pm.
For situations that require more specific solutions, like when Gamstop is not working on a particular gaming platform, we highly suggest contacting the team via live chat. From our experience, their answers are prompt, and they will offer you a solution within minutes.
Gamstop API – The Advanced filtering system for marketing lists
Please note: API is an acronym for Application Programming interface, representing a software component that acts as an intermediary allowing apps to communicate with each other.
To facilitate the self-exclusion process, the organization developed Gamstop API, a software responsible for filtering casino operators' marketing lists and blocking the enrolled users from all ongoing SMS and e-mail campaigns. To comply with the UKGC regulations, all online casinos must link tp Gamstop incorporating the API into their system.
Here is the exact process that gambling platforms must follow to enable marketing list filtering:
The operator integrates Gamstop API, creating a list of all the marketing materials from a preset data setup;

The list is then uploaded to the Gamstop database;

The organization checks the entries and validates the request;

Gamstop analyzes the data and looks for matching records;

Once the database is correctly sorted, the self-exclusion entries are compared with the rest of the data;

The operator receives a notification of the modifications in the database and will get access to the system, allowing them to download and analyze the modified data.
But why would you care about all these technical details?
Well, the main benefit of knowing about Gamstop API and how operators implement the marketing list filtering system is that you have a complete understanding of what happens to your personal information once you've signed up for the self-exclusion service.
In case you're still receiving text messages or e-mails after you've enrolled in Gamstop, make sure you notify the customer service team via one of the available channels. The organization will analyse your case and check whether that operator is compliant with the self-exclusion requirements. Once you request an investigation, you will stop receiving promotional messages shortly after.
List of casinos that work with Gamstop
At KingCasinoBonus, the player's safety is our main priority when it comes to online casinos. Thus, we created a database of the best online casinos that are secure and offer you maximum protection against gambling addiction. Most of the online casinos we review are members of Gamstop, and they use high-performance security measurements that ensure you will be protected from irresponsible gambling behaviors.
Here is a breakdown of the best casino operators on our site that collaborate with Gamstop:
Paddy Power Games;
Betfair;
32Red Casino;
888 Casino;
PokerStars Casino;
NetBet.
Recommendation: To quickly identify casinos that are part of Gamstop, we suggest scrolling down to the footer on their main page. If the Gamstop logo is visible in the footer, it means that the operator is a direct collaborator with the self-exclusion organization.
The bottom line
Sometimes, you might feel overwhelmed by your casino losses and feel the need for a break. We teamed up with a psychologist to address the issues of addictive gambling behavior and find out precisely what happens in the gambler's brain.
Based on our analysis, we consider that joining the Gamstop self-exclusion program is the ideal solution that can prevent impulsive gambling and overspending. On top of that, their marketing list filtering system will eliminate any external factors, so you can safely take a break from unwanted addictive gambling behavior.
For a safe casino experience, remember to gamble responsibly and learn more about bankroll management. This way, you will avoid spending money that you can't afford and play casino games for fun.
References used in this article: