Best 10 casinos you must visit in London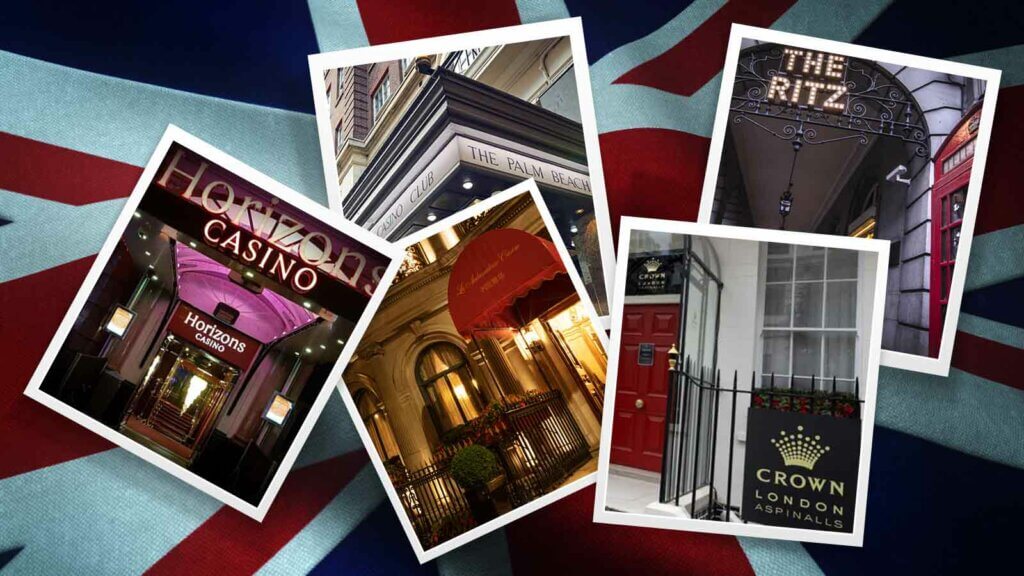 Long ago, gambling in the UK was divided into parts. Exclusive clubs could be found in London where the aristocratic class would play. At the same time, the lower class gambled in hidden locations that did not resemble those of the aristocrats. While wealthy men gambled without any worries, lower class establishments where always closed by the police.
London's first casino was opened in 1828 by William Crockford with the help of the Duke of Wellington who sponsored Crockford's club. The business helped William to become on of the richest men in England. Gambling became legal only in 1961. This move was made by the government in the hope that they would be able to gain more control over this booming industry. In the following period, the number of betting shops and casino raised considerably. The change also came with the foundation of the United Kingdom Gambling Commission, the authority that ensures that the industry follows all the rules.
In the present, there are many casinos in the United Kingdom, but not all of them qualify to be in the top ten. With so many physical locations available, it's hard to decide which casino is right for you. We did a research and came up with a set of qualities that any location should have. Besides a wide selection of games, a good casino must offer comfort to its players. Given that they can spend a longer period of time there, they must have at disposal various services such as bars, restaurants, terraces, places to relax and more. Following those criteria, we put together the following list.
10. The Ritz Club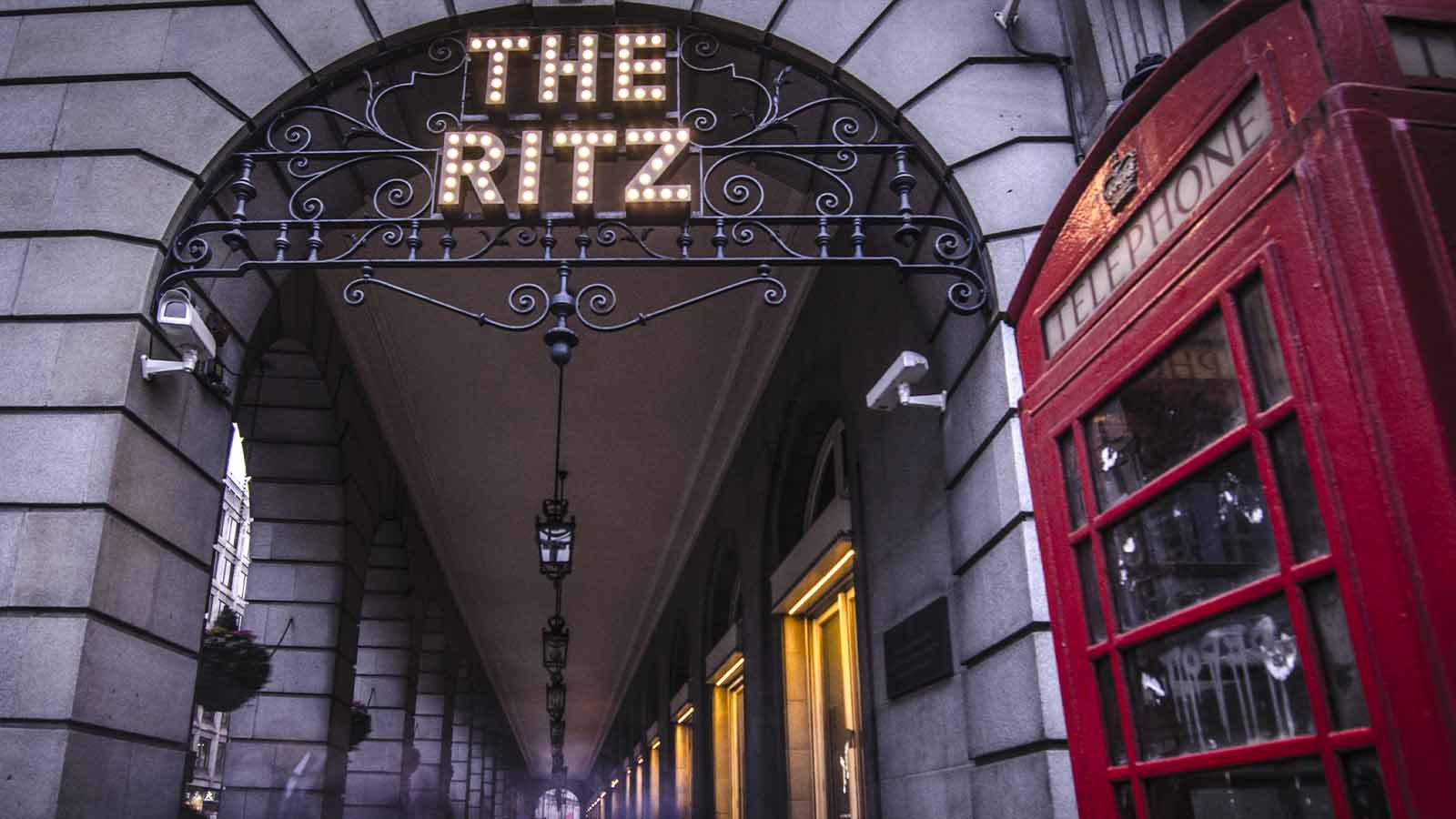 The Ritz Club is a luxurious gambling destination that offers high-quality table games like Roulette, Blackjack, Three Card Poker and Punto Banco. There are eight tables on the main floor and various separate rooms and three private salons. Although it is a popular choice amount British players, this location doesn't have any slots or electronic games.
The restaurant available serves breakfast, lunch and dinner. All of the dishes are prepared by London's best cookers. The menu contains dishes inspired from various cultures, starting with Chinese to Indian and Middle Eastern.
Clients can book private events within the club such as business or special meetings. The staff is well-trained and ready to serve for any occasion. Those who desire to have a more exclusive experience can even use the limousine service.
Address: 150, Piccadilly, London, W1J 9BS
Phone: 44 (0) 20 7499 1818
9. Horizons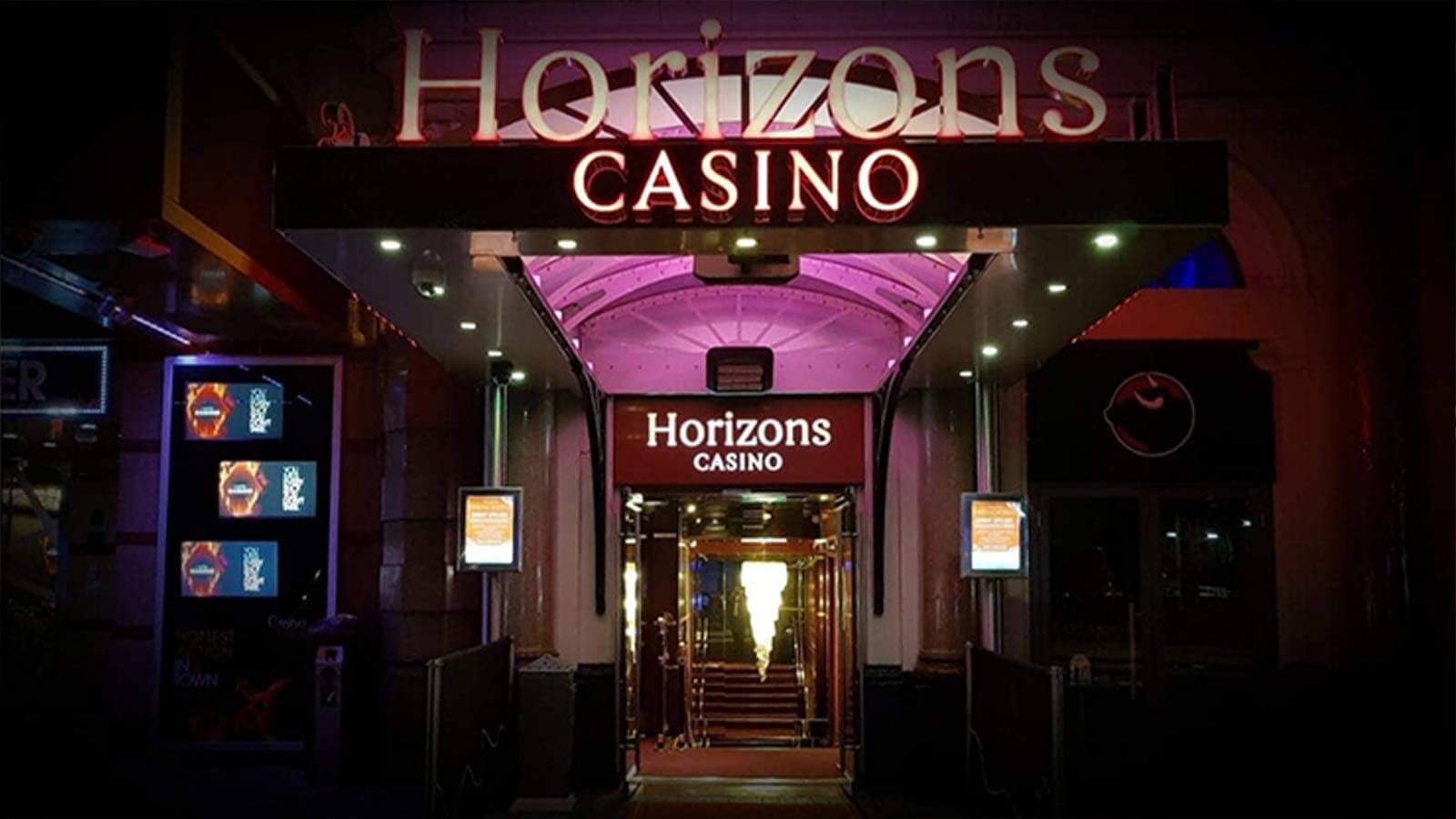 Horizons casino is a membership only club. However, an open-door policy is discussed for the future. The casino offers many types of games, starting with traditional ones like American Roulette, Blackjack, Baccarat and Three Card Poker.
Besides table games, Horizons also offers various slot machine titles. Clients can choose from Riviera machines, Crystal Dual slots, Gaminators or six Dominators which have a linked progressive jackpot of up to £20,000.
When it comes to food, they have a diverse and complex menu. It is suitable for all types of people as it is inspired by different cuisines (Chinese, Malaysian and Singaporean). Visitors can serve red and white meat, fish, seafood and even vegetarian dishes. At the end, the meal can be finished with a delicious dessert or a cocktail from the bar.
Due to the membership only policy, the casino offers a more exclusive vibe to those who are gambling there.
Address: Queens House, 1 Leicester Square, London WC2H 7RN
Phone: +44 (0) 20 7494 3126
Email: [email protected]
8. Les Ambassadeurs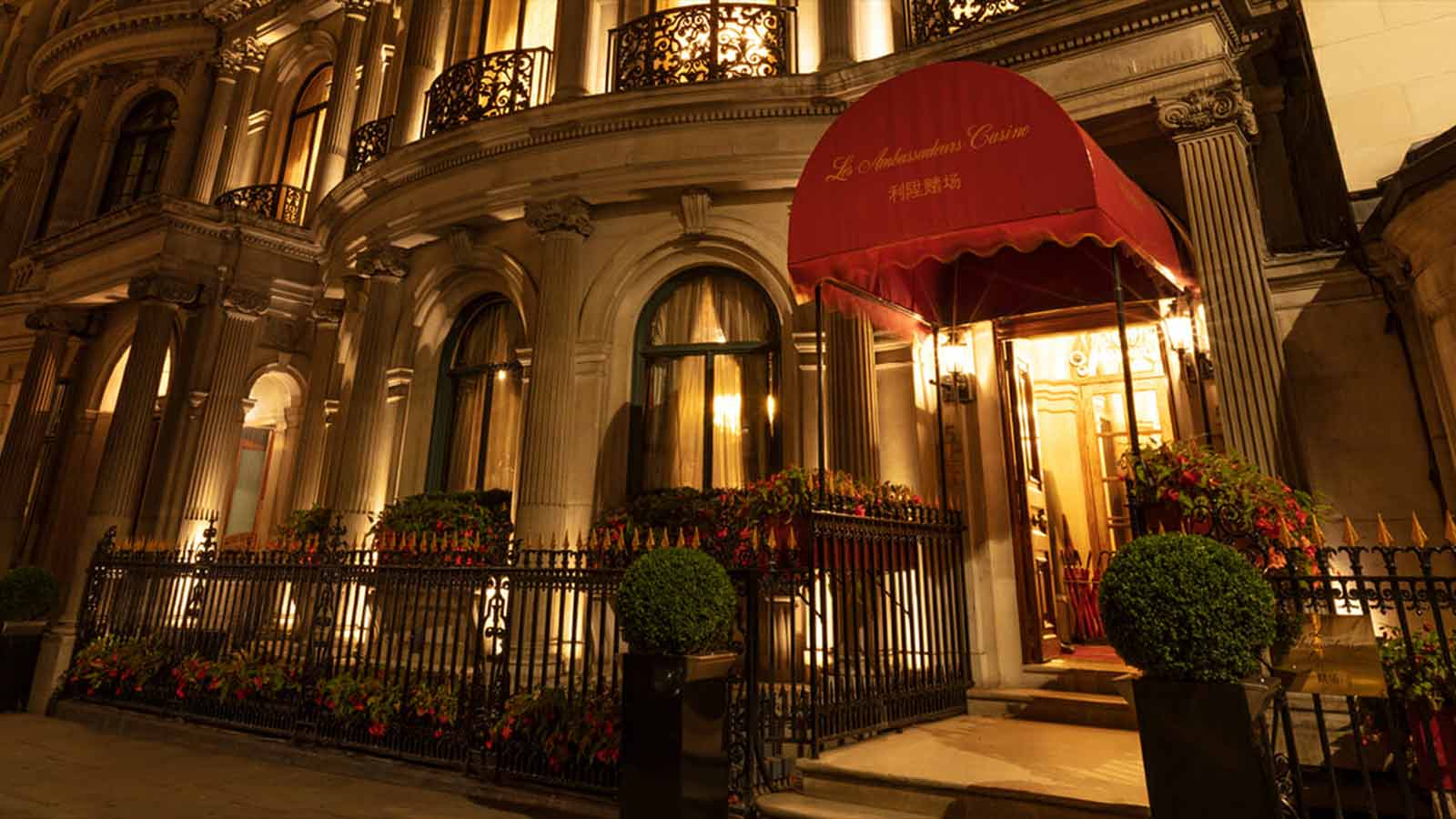 Mostly known as "Les A", is a club and casino established in 1961. This casino is one of London's most exclusive gaming and dining clubs since the beginning. The distinguished vibe and sophisticated setting made the location appear in the James Bond movie.
The casino has a main floor with 16 tables where gamblers can play Roulette, Baccarat, Blackjack and Three Card Poker. Those who prefer a more intimate vibe can take advantage of one of the private rooms available. On top of that, Les Ambassadeurs has outdoor gaming area.
Visitors can enjoy international and contemporary cuisine alongside a wide-raging wine and champagne list. After serving one of the dishes prepared by top-chefs, clients can have a look at the Cuban and pre-Castro Cigar menu in the outdoor smoking garden.
Address: 5 Hamilton Place, Mayfair, London, W1J 7ED
Phone: 44 (0) 20 7495 5555
7. The Colony Club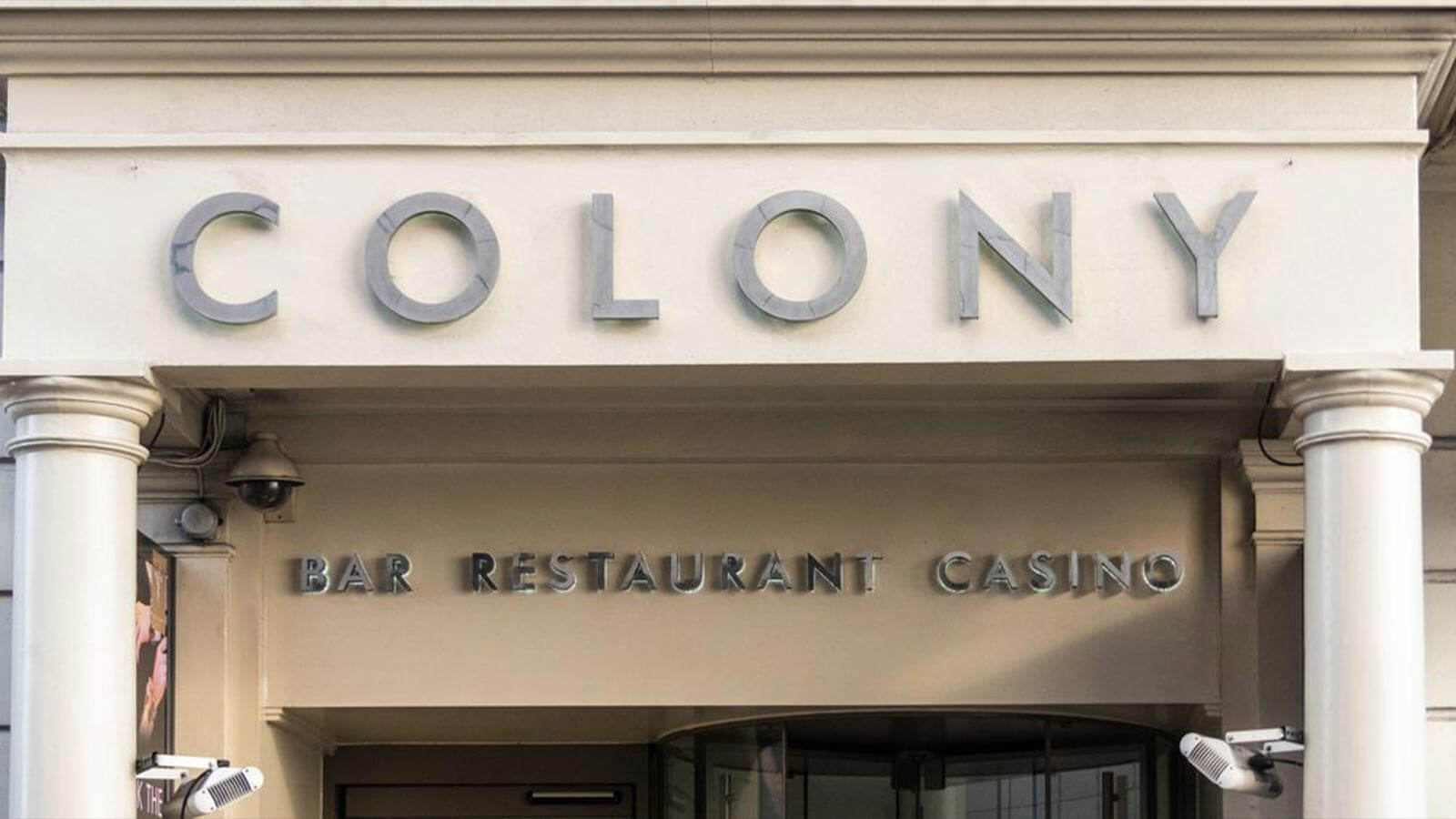 The Colony Club has over 20 table games where clients can gamble on popular strategy games. Besides classics like American Roulette, Blackjack, Baccarat and Three Card Poker, players can try out Electronic Roulette terminals, Live Roulette games and Jackpot slots.
The casino also has private rooms with up to three game tables where players have access to private smoking room area. This is a good thing for those who want to enjoy a gambling session away from all the curious eyes.
Visitator can enjoy here an extensive menu of Japanese dishes Sushi, Sashimi and Teppanyaki. Those who prefer simpler dishes can try out the European Cuisine.
Address: 24 Hertford St, London W1J 7SA, United Kingdom
Phone: 44 (0) 20 7495 5000
6. The Golden Horseshoe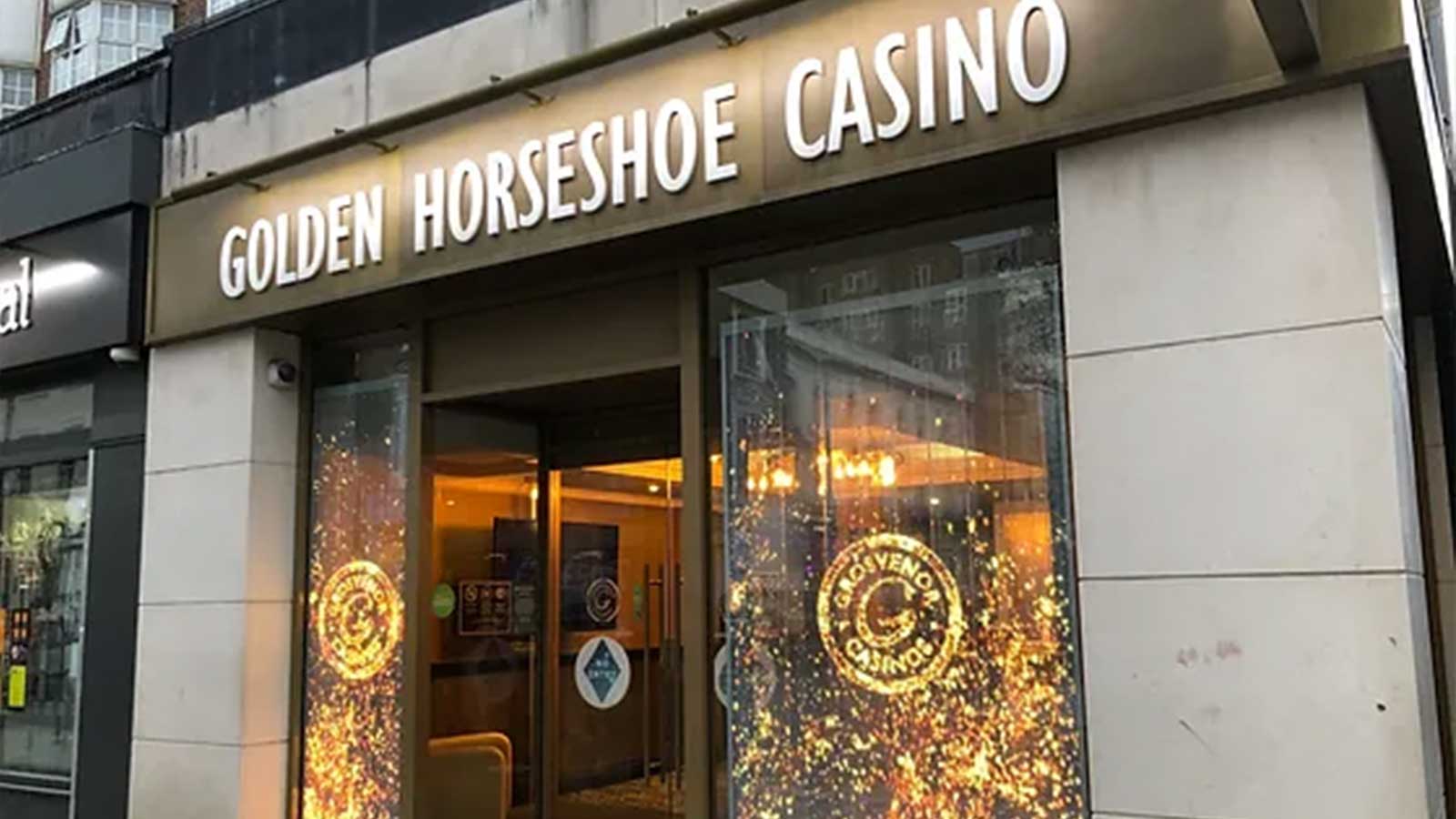 The Golden Horseshoe is one of the larges gambling locations in the UK. Visitors can play here Craps, Baccarat, Chemin de Fer, Roulette, Blackjack and Punto Banco, with bet limits of up to £5,000 a game. This casino is part of the Grosvenor chain, so the location doesn't lack the sophisticated décor and luxurious vibe.
The impressive game floor, complex menu and learn-to-play sessions will make any player feel welcomed.
Address: 79 – 81 Queensway, London, W2 4QH 
Phone: 44 (0) 20 7221 8788
5. Maxims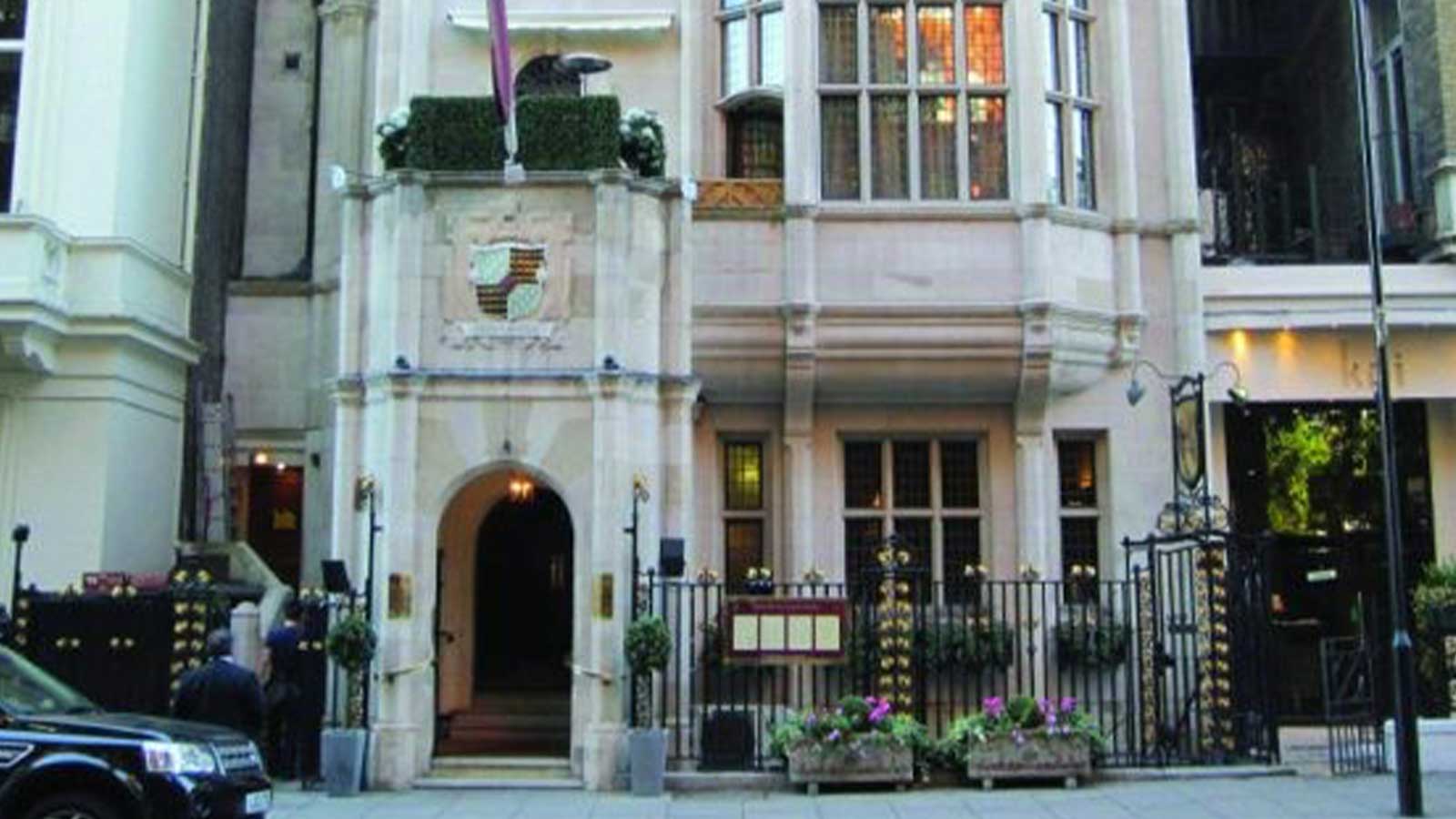 The 19 century building is the host of an elite UK casino that was established in 1862. In the beginning known as "Palace Gate Hotel", Maxims casino offers a traditional atmosphere where players can perfect their hand on various skill products. There are over 26 gambling tables where players can bet with various stakes.
Maxims clients can take advantage of the Whiskey Lounge Bar that comes with a collection of over 60 assortments of single malt scotch, Bourbon's, and whiskies from around the globe. The casino's restaurant is specialized in international cuisine and the menu contains a complex list of fine wines and champagne.
The club also host various events like Christmas celebration or New Year's Eve party or culinary events like Japanese Whisky Tasting. The casino comes with a relaxing atmosphere and a friendly staff.
Address: 1a Palace Gate, Kensington, London, W8 5LS
Phone: 44 (0) 20 7581 0337
4. The Palm Beach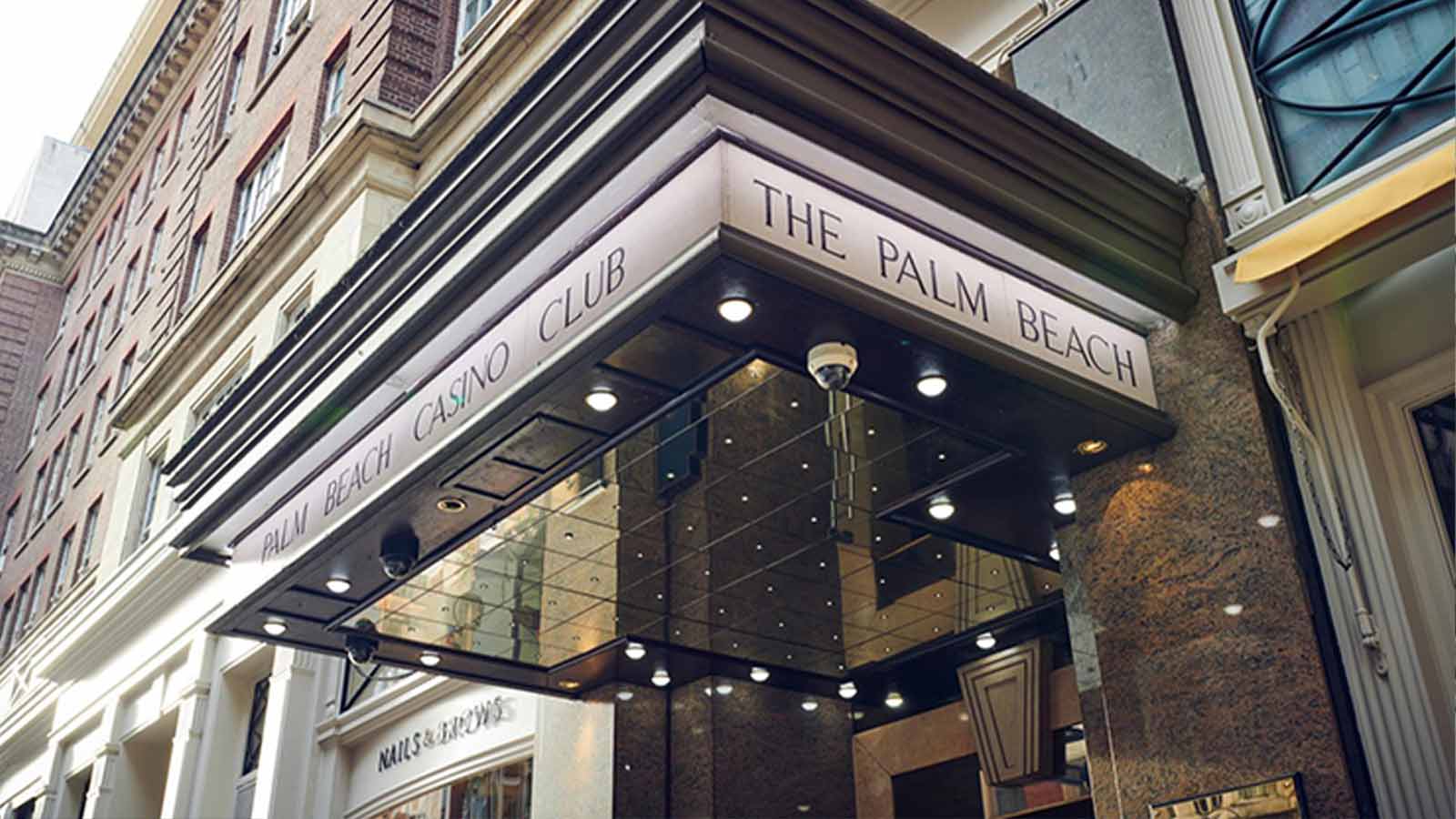 The Pam Beach has 24-hour opened table games, and a late-night restaurant and bar. In the past, the casino worked only on membership access. However, now the location is opened to everyone who wants to enjoy a gambling session in a state-of-art atmosphere.
The location offers many slot machines and progressive jackpots besides the classic table games. Poker enthusiasts will be thrilled to find that The Palm Beach has a room exclusively available for poker games. While playing, visitors can enjoy fine dining receipts, high-quality wines and various cocktails.  
From time to time, the casino holds themed nights and belly dancing events alongside DJ shows and other events.
Address: 30 Berkeley St, Mayfair, London W1J 8EH
Phone: 020 7493 6585
3. Empire Casino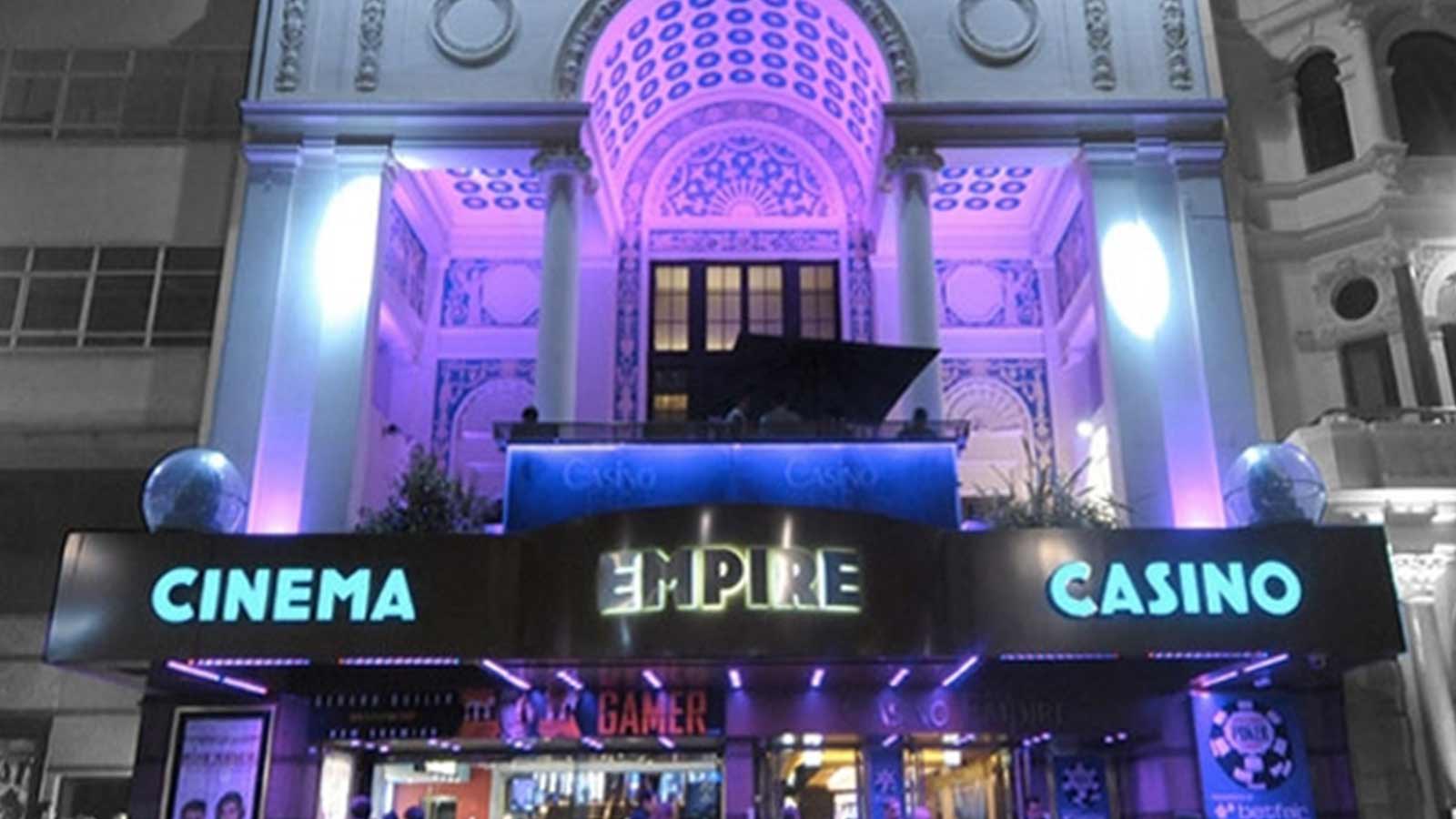 Empire casino extends across two floors. Clients can enjoy over 80 electronic games, 40 slot machines, a poker room and lots of table games alongside the unmistakable Vegas vibe. Gamblers can play Three Card Poker, American Roulette, traditional and progressive Blackjack, Punto Banco and Pai Gow. Those who enjoy playing poker can even enter daily tournaments.
FuLuShow restaurant offers authentic pan-Asian cuisine like lobster, stir fried beef and wok style prawns. The casino has several bars where visitors can serve wine, beer, cocktails as well as snack foods.
One interesting thing about this casino is that they offer 'packages' that allow players to have a unique experience. For example, the Iconic Package comes with a 30-minute poker session, four sliders, a free bet, a Monte Cristo cigar and access on the VIP terrace.
Address: 5-6 Leicester Street, London WC2H 7NA 
Phone: 44 (0) 20 3014 1000
Check our full Empire Casino London review.
2. Crown Aspinalls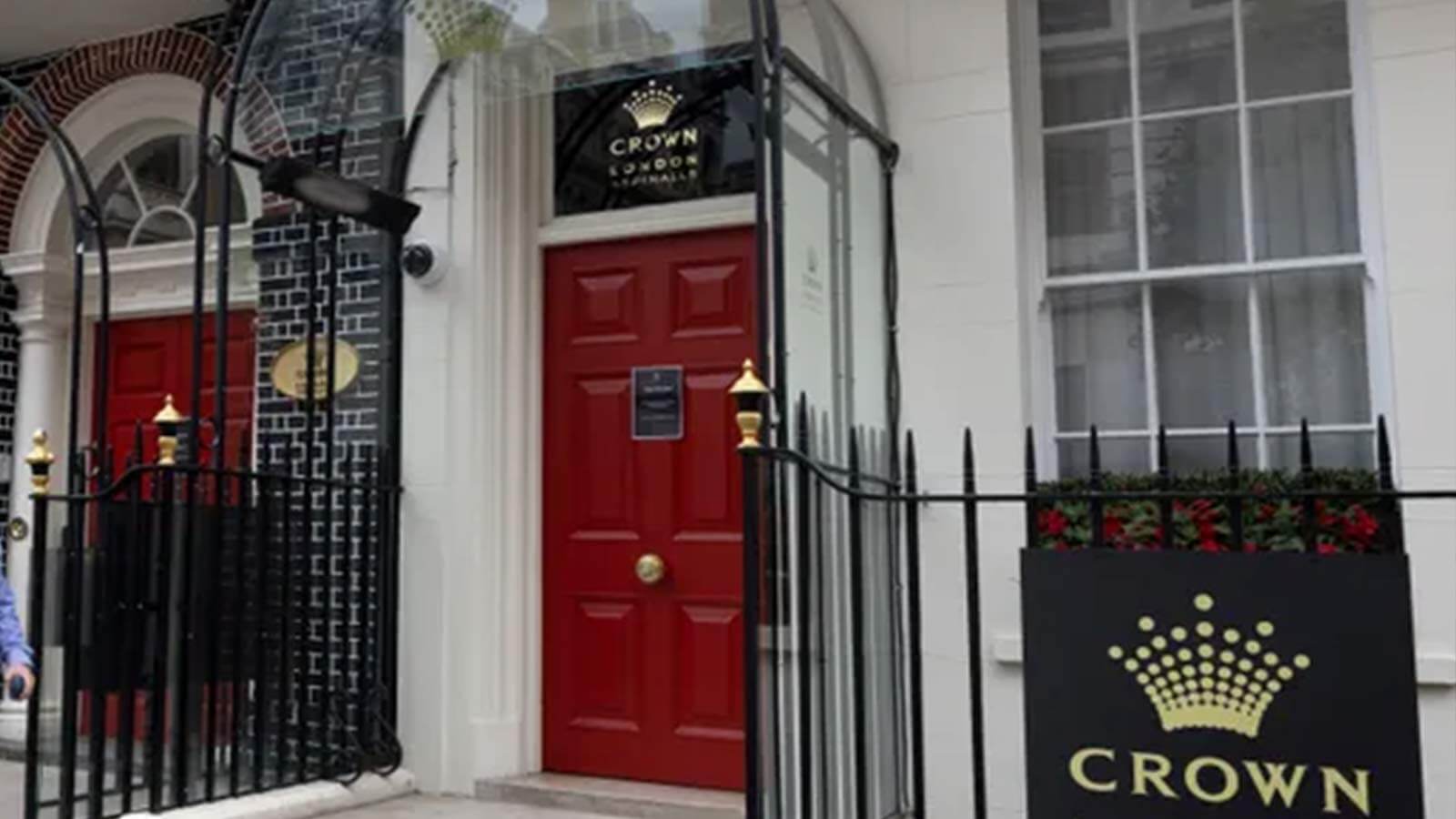 A private gambling club, Crown Aspinalls was launched in 1960 and it became one of the world's famous clubs. Visitators will find here 16 tables where can be played games like Baccarat, Blackjack, Roulette and Three Card Poker. Besides this, there are three private salons where gamblers can play in privacy. Those who prefer outdoor gaming have at disposal a terrace with gaming tables and a place to watch sports events. Poker lovers can even participate to the regular tournaments or private poker nights.
Those who desire to dine here will be served with dishes made by Chef Nicola Ducceschi inspired from the Italian, Asian and Lebanese cuisines. As for the bar, clients have a large portfolio of alcoholic and non-alcoholic beverages at disposal.
The casino hosts several events with the occasion of the holydays or other events.
Address: 27-28 Curzon St, London W1J 7TJ, UK
Phone: 44 (0) 20 7499 4599
1.  The Hippodrome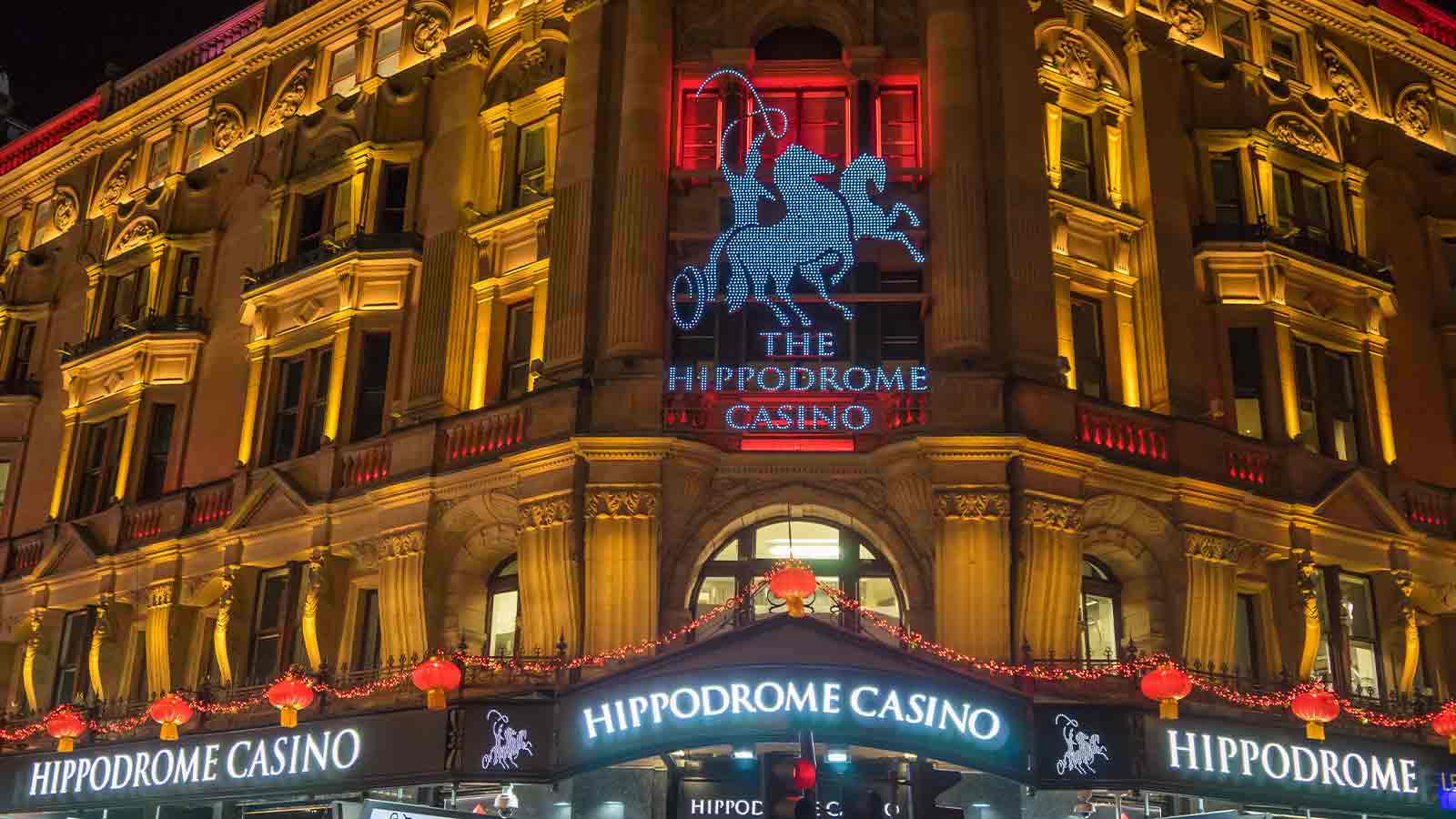 At the top of our list is The Hippodrome. One of the oldest londonese casinos, this place has various qualities that make it one of the top choices. The Hippodrome is one of the largest casinos in the UK, being spread over four floors. Visitors will find here PokerStars LIVE deck, a restaurant, 325-seat cabaret, and music room, six bars and an indoor smoking terrace.
The casino has over 45 tables where are played games like Roulette, Blackjack, Three Card Poker, Dice, Pai Gow, Baccarat and Casino War. Besides this, clients have at disposal over 100 slots and electronic machines include 6 IGT GL20 Slots, 10 Dominator slots and 97 Novomatic Roulette machines with top games such as Live Roulette Dealer and Electronic Wheel games. The games also feature jackpots like Mega Kong Progressive Jackpot and Cash Fever Progressive Jackpot.
The Hippodrome is a walk in freely casino, so it means that everyone can walk in. But make sure you have the legal age and your ID with you to pass security.
As we said at the beginning, we reached this top following a set of features that we looked for in each location. There are certainly many other good locations in the United Kingdom, but these ones made their way into our top thanks to all the facilities they offer.
Read our full review about Hippodrome London Casino
Address: Cranbourn Street, Leicester Square, London WC2H 7JH 
Phone: 44 (0) 20 7769 8888